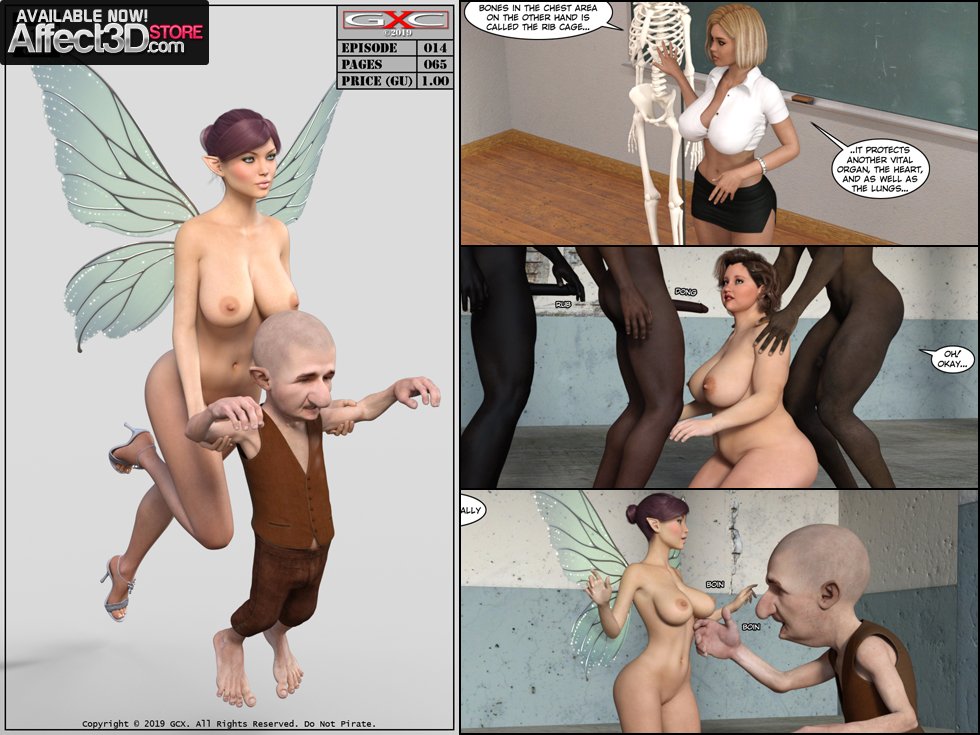 The story continues with the latest from GCX, Episode 014, now available in the Affect3D Store!
While teaching the class about the skeletal system, Xandra is surprised to have the skeleton come to life and grab her tits. Cock out and ready to penetrate, someone comes to her rescue and stops Xandra's students from attacking. Meanwhile, Mrs. Dickinson has come to an abandon area in Threeid City. Johnson's gang of buddies have come to finish what they started last time. Taking off her clothes, two of them work on her luscious tits while the third glides his tongue across her cunt. A hot threesome quickly ensues and Mrs. Dickinson can't get enough of all the thick cocks.
Unknowing to her, Elder Kanor notices what's going on and can't help but get a hard on. His faerie companion that was being shown the city, is a bit confused with what's going on. Elder Kanor explains that mating can happen whenever you want in the human realm and asks for her to help relieve him. While a little hesitant, she agrees and makes herself grow as big as a human. She kneels down and Kanor begins to finger her, sending her into a frenzy. He then thrusts his cock inside of her and she is overcome with how good it feels. Elder Kanor is able to cum and thanks the faerie for helping him out. Ya know, just normal things that happen in Threeid City.
GCX Episode 014 spans across 65 images and is available in the Affect3D Store for $7.95!