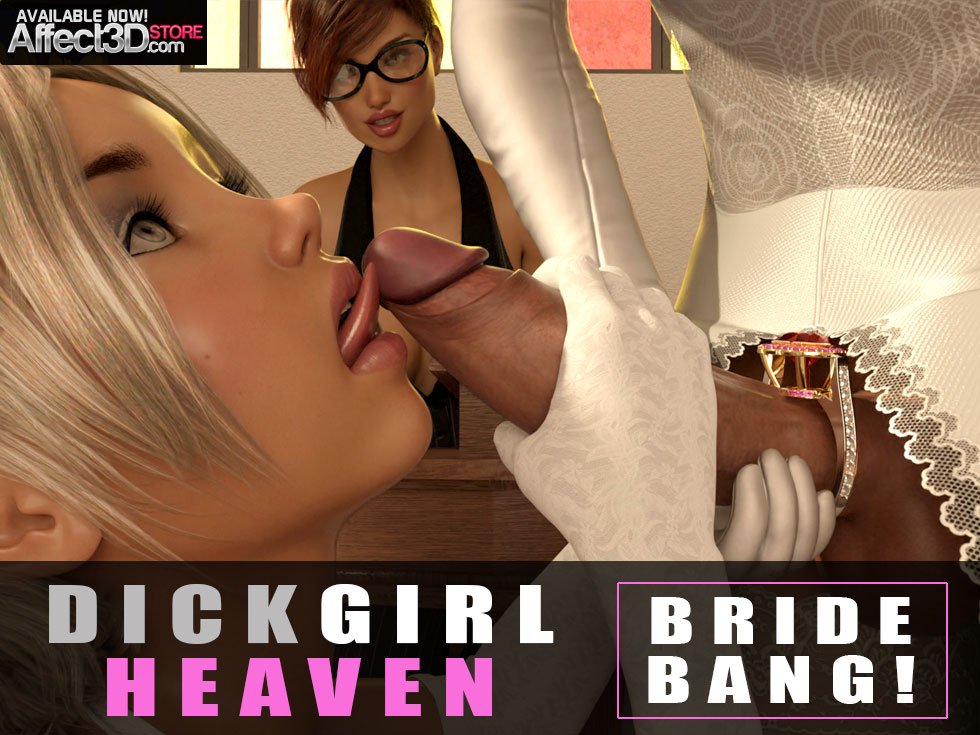 Love is in the air and wedding bells are ringing. However, with this particular wedding things are a bit…different. In Gonzo Studios' Dickgirl Heaven: Bride Bang, now available in the Affect3D Store, everyone gets involved in the ceremony, cocks out and all!
Our brides are having a very small and intimate wedding as it's only them, two bridesmaids and the wedding officiant. It's time to place the ring on eachother and the blonde bride has an extravagant diamond cock ring. The brunette bride separates her dress to reveal her cock as the ring is placed on it. The blonde gets on her knees and wraps her mouth around her brides' member. The brunette then thrusts her cock inside her while the wedding officiant and the bridesmaid remove their clothing to partake in the celebration.
The bridesmaids are also dickgirls and tag team the wedding officiant. She's more than happy to have two cocks to herself. Things heat up as everyone comes together and take turns penetrating the newlywed blonde. This is definitely a night none of these women will ever forget.
Dickgirl Heaven: Bride Bang spans across 74 images containing oral, vaginal and anal penetration, double penetration, gang bang and dickgirls. Included are sexy pinups of the brides, bridesmaids and wedding officiant. Grab your copy today for $7.50!