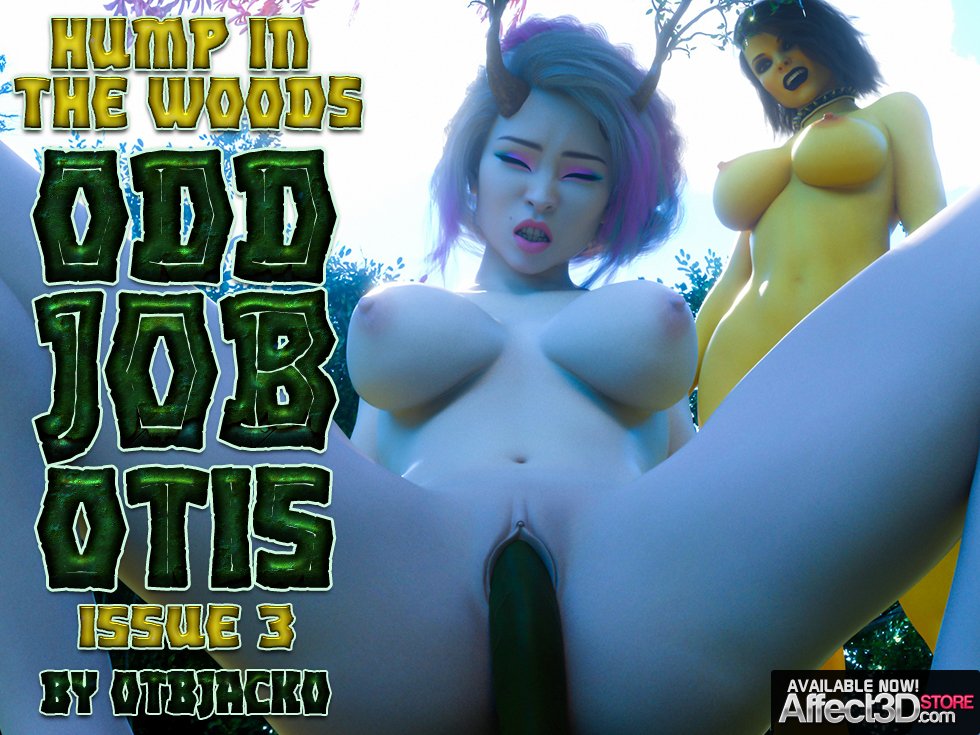 The adventures continue with Otis and the gang in the latest from Otbjacko, Odd Job Otis Issue 3 – Hump in the Woods (now available in the Affect3D Store)!
Otis and the others are trying to find their way back to town but they get lost. Taryn isn't feeling well and walks off to rest. Otis and the other lovely lass look around but nothing looks familiar. Otis turns to her and is wanting to fuck but he doesn't deliver and gets tossed around.
They find Taryn in the forest masturbating and tells the others it's her fault they're in this mess. She reveals that she's a dryad and if she doesn't have sex with Otis then he'll die. She transforms into her true form and uses some magic to get Otis to reveal the true size of his cock. She needs to feed and have Otis come inside of her. Unfortunately it takes too long and their friend decides to lend a hand. Once Taryn has 'fed', she has a little fun with her friend. After an explosive orgasm they continue to find a way to get back to town.
Odd Job Otis Issue 3 – Hump in the Woods contains text and textless versions and has bonus pinup photos which spans across 478 images total! Grab your copy today of Otbjacko's latest for $10.00.