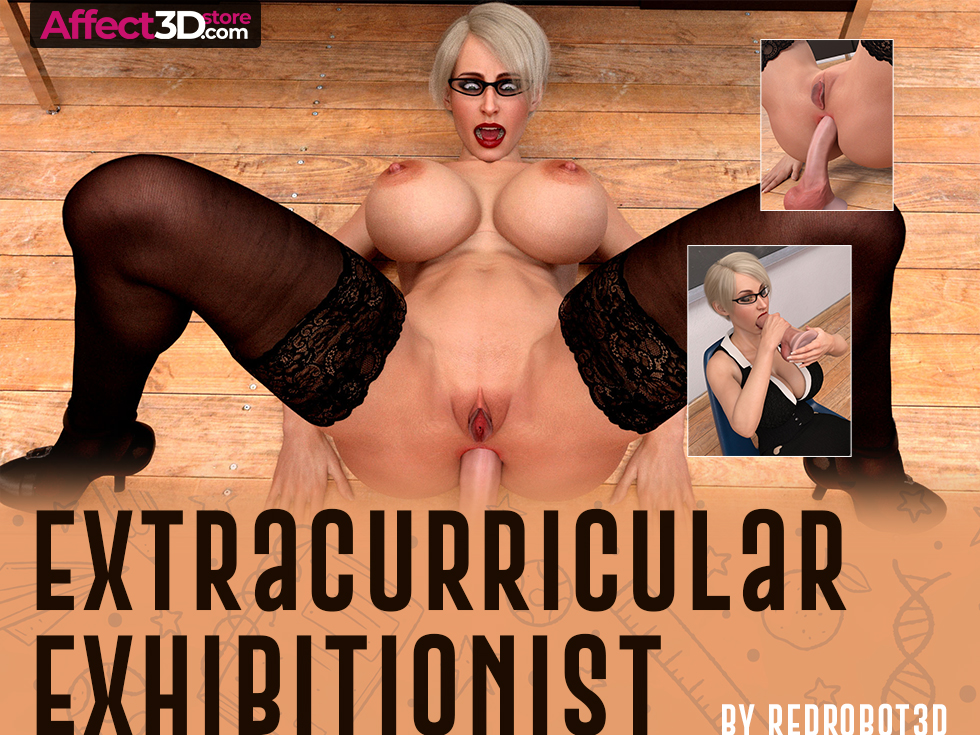 Being a professor can be difficult sometimes. Especially when you feel you have so much more to give in your previous profession. In the latest from RedRobot3D, Extracurricular Exhibitionist (now available in the Affect3D Store), Ms. Bonavenue wants to relive her younger years one last time.
After helping a student with her project, Ms. Bonavenue reminisces on how her previous career and how it was cut short because so many younger women were using social media to send nudes among other things when she could be getting paid thousands for a single photo. Busting a girl for riding a huge dildo in the bathroom to gain more subs, Ms. Bonavenue takes out the monster and envisions how she would teach those women how to make men go wild.
Having quite the show in the empty classroom, the student she confiscated the dildo from walks in on what's going on. She takes this opportunity to record bits and pieces and use it as blackmail. It's one thing to get busted but to have the person who punished you virtually do the same thing?! Naturally it's time for payback.
Once Ms. Bonavenue is done she heads home and goes for another round of self pleasure when her phone goes off. It's a text with photos of her fucking herself with the monster dildo and is told to do exactly what she's told or else these images will be floating around and her career will ultimately be ruined. I wonder how Ms. Bonavenue is going to get out of this.
Extracurricular Exhibitionist spans across 44 images and is available in the Affect3D Store for $9.99!