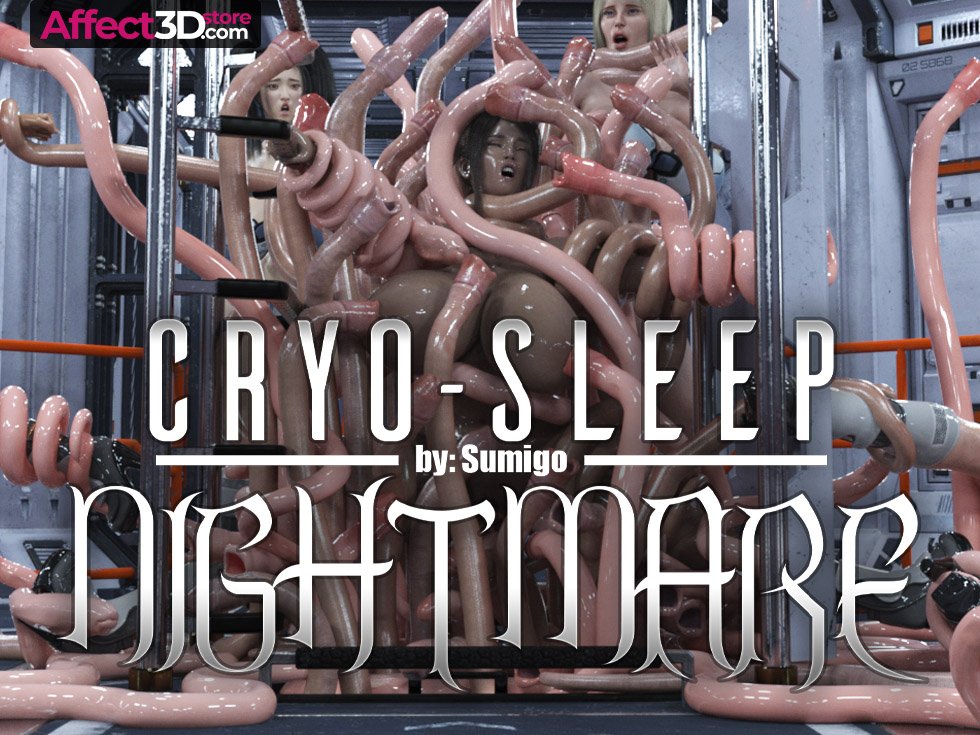 Being in cryo sleep seems like a pretty neat idea. You can sleep during long travels and wake up feeling renewed and ready to go. In the latest from Sumigo, Cryo-Sleep Nightmare (now available in the Affect3D Store), being in cryo sleep may be good but for Captain Raley, Lieutenant Blake and Chief engineer Hitomi, their lives get turned upside down.
During their cyro sleep, an alien ship approached theirs and boarded it. Their technology is highly advanced so the aliens were able to get onboard undetected. The commander gave instructions for his small crew. Verkill was to carry their cargo onto the ship and as a reward, pick a woman of his choosing. He picked Blake and the other crewmember set up a timer so they'd be gone in time for the tentacles to come to life.
The alien ship opened the two cryo chambers and the tentacles acted on pure instinct. Wrapping themselves around Hitomi and Raley – Hitomi is a heavy sleeper so she's unaware of what's going on but Raley was able to wake up and fight off the tentacles. Leaving Hitomi behind Raley tries to signal for help but she's interrupted by an alien dog who subdues her with its tongue and it doesn't take long for it to penetrate Raley. Meanwhile, when Hitomi does wake up, she freaks out over the tentacles being all over her and filling every orifice. She gives in and ultimately enjoys what's going on, the tentacles sense that she's into it and they position her in a way that she can fill every little movement.
Help does arrive on the ship but they're overcome by tentacles. No woman on the ship is escaping the grasp of these horny creatures. And honestly, with how they're able to fill every hole, why try to stop it?
Cryo-Sleep Nightmare spans across 81 images and is available in the Affect3D Store for $10.00!