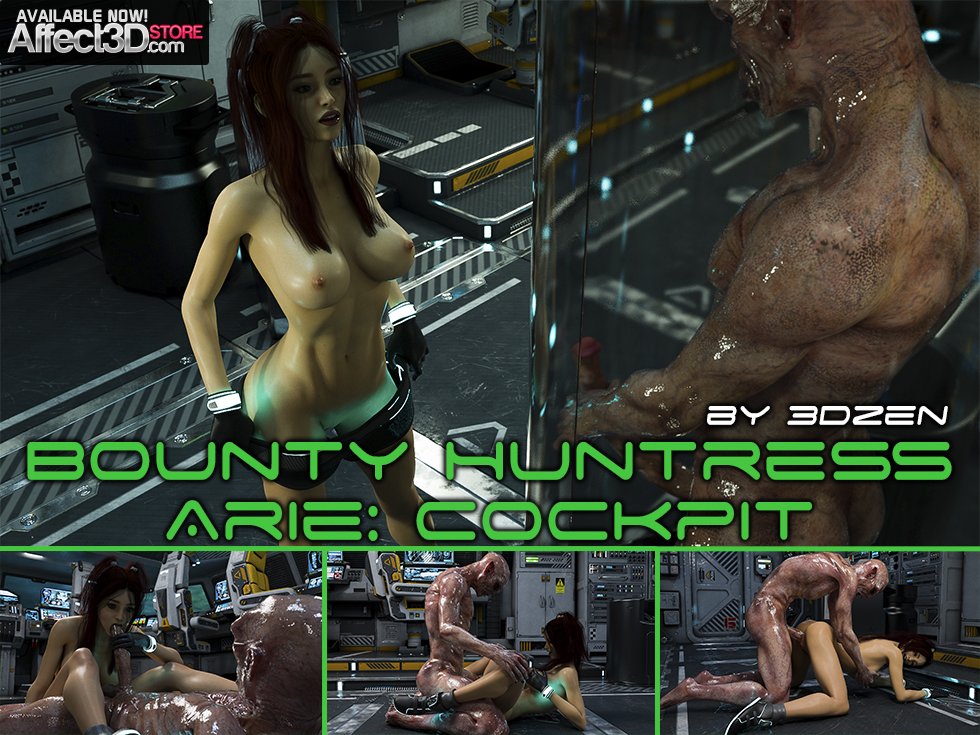 Have you seen that movie with Matthew Mcconaughey set in deep space? Great, cos this isn't it. In fact, this new title, Bounty Hunter Arie – Episode 1, Cockpit, is much, much more. Nor is this 3DZen's first venture into the space genre. No sir! This talented artist is a veteran of space fucking odysseys but today's set is something special. Indeed, it's the beginning of a new series,  surrounding the crazy-hot bounty hunter by the name of Arie. And what better place to start than in the cockpit?
Arie has just captured a highly dangerous biped monster with a massive cock. She has him secured in the cockpit with her as she hurtles through space. Or so she thought. Now, understandably Arie finds herself immensely bored on her ship as it takes her to her next adventure on auto-pilot. She's all alone except for her monster prisoner, there's no one within 50,000 lightyears and she has buck-all to do. That is, besides fool around with herself.
So our busty heroine decides to have some fun. She saunters over to the containment capsule where her monster is sleeping. She wakes him by knocking on the glass tube and promptly begins teasing him with her plump tits. This immediately provokes a reaction as his cock stands to attention. Encouraged, Arie takes things further and strips off, caressing herself before miming licking the monster's cock through the glass. Sated, with a grin on her face she walks off. The monster, having being left hanging, isn't happy though. In a show of strength, he smashes the glass tube container and grabs a hold of Arie.
He begins by licking her pussy (how considerate) before fucking her in missionary. The ravenous fiend then flips his would-be captor over and fucks her from behind. She has no choice but to submit. The alien cums a first time, filling Arie up. Without even pausing though, he thrusts his member between her lips and makes her suck it. She does so willingly sitting and then on all fours, making him cum a second time and showering her in his seamen.
The monster still isn't done and proceeds to fuck Arie around the ship before cuming a final time. Although, I'm sure there's more to come!
This set of 68 HD renders marks the beginning of what promises to be an epic space odyssey! So make sure you grab a copy of Bounty Hunter Arie – Episode 1, Cockpit for $11.99 at the Affect3D Store now! And remember folks… In space, no one can hear you cum.