In all the Gin joints in all the towns in all the world, I'd be happy if the lead detective from Smerinka's new set walked into mine. A quirky reimagining of a movie style long gone from modern cinema, Erected City is about a young female detective who's learning investigative police work with her dick in a willing woman's mouth and a strong drink.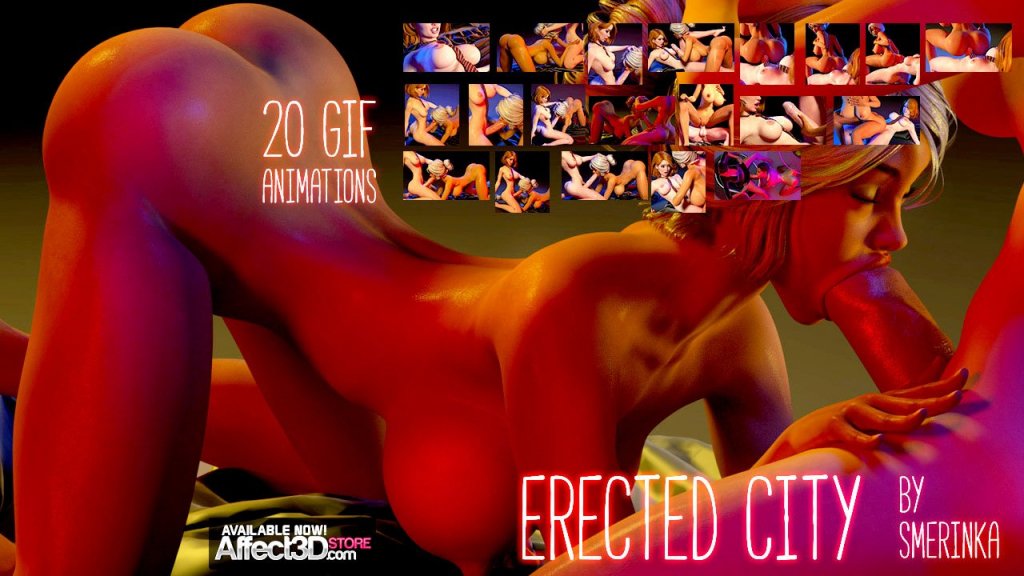 Our main character is speaking with her therapist when we first see her, talking about her booze habit and what she's seeing. It isn't long before you can figure out that our main character has some issues. When she's drunk, her imagination gets carried far away from her normal life. She begins to see women involved with every dick she passes and even one for herself. She also sees these women pleasuring the dicks of women like her therapist who she might not be sure is a dick girl, at least in real life. In our detective's imagination, anything is possible and the city is rife with writhing bodies instead of crime.
What makes this set both unique and spectacular is it's partially animated. If you've checked out the promo above, you've noticed that already. Containing 20 GIFs, Erected City is unique in what it offers to it's viewers. When I talked to Smerinka earlier this year, she mentioned that she'd like to go into animation. Moreover she enjoyed working with it more. This might be a new bar she's setting for herself and what she offers in her sets. I can't wait to see her take it further. The GIFs are mesmerizing, so take a look at the promo video in this post. I know you'll want to put on your detective hats and head over to the Affect3D Store ASAP.
Check out Erected City in the Affect3D Store today for just $11.99!