Today marks a big day for the Affect3D Store, my dear readers. We're coming at you with another huge release! Both SquarePeg3D's newest title Unconventional 1.5: White Glove Affair and Amusteven's Mad Alyss Story Bundle are available now!
Unconventional 1.5: White Glove Affair
Our favorite Avatar cosplayer returns in this new addition to SquarePeg3D's Unconventional series, Unconventional 1.5: White Glove Affair! Available now at the Affect3D Store, SquarePeg3D continues to delight readers with stunning visuals and dickgirl fun!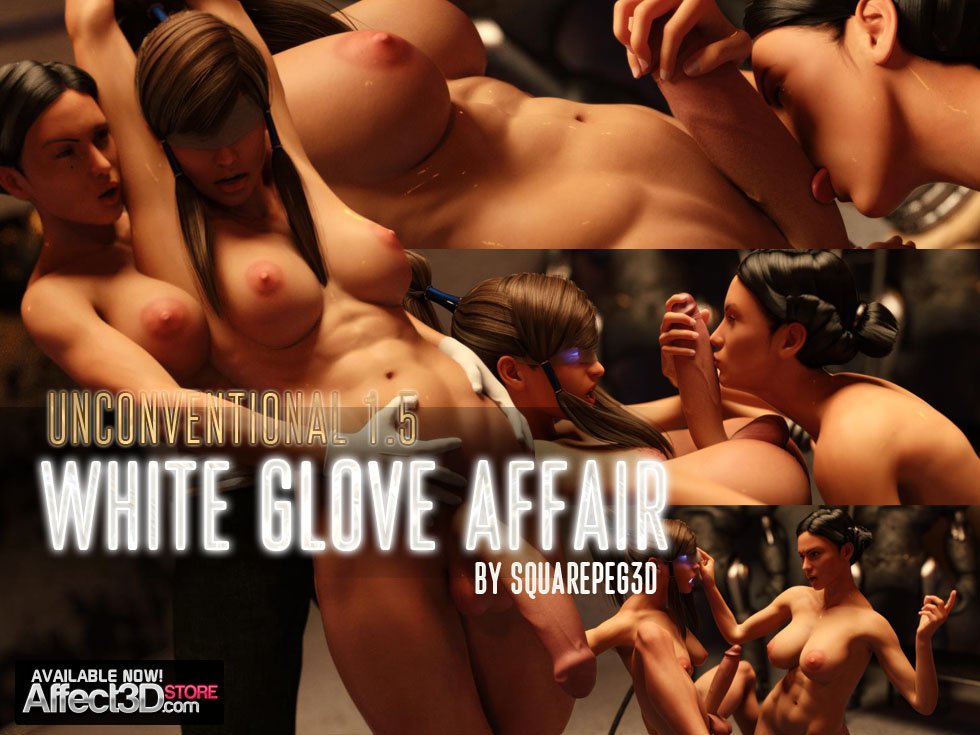 In this set, Jenna is the Avatar—but instead of bending the elements and saving the world, she finds herself locked away by some Metalbenders. Their commanding officer arrives shortly after to conduct a thorough "investigation" of her own…Will the Avatar be able to resist the dexterous, silken touch of her sadistic tormentor? Or will she succumb to the rising lust that threatens to shake her resolve?
White Glove Affair is sure to delight Legend of Korra fans seeking to sate that Rule 34 urge. Complete with a total of 200 images captured in a plethora of visually gratifying angles, this title can be yours for just $9.99!
Mad Alyss 4-6 Bundle
If you already have the first half of Amusteven's delightful Wonderland parody, then Mad Alyss 4-6 Bundle would be the final piece to your collection. Continuing on from the events of the third chapter, Alyss presses on with her quest to quell her rising madness. Follow her wacky tale to the very end for only $19.99.
Mad Alyss Complete Bundle
If you have yet to enjoy this story, the Mad Alyss Complete Bundle is an excellent way to do so. Follow the adventures of poor, sweet Alyss trying to go home as she battles a madness dwelling within her that seeks to claim her at any given moment. With each passing threat and carnal encounter, the voices in Alyss's head grow louder until she loses sight of herself. You can embark on this bizarre, yet enchanting adventure for just $34.95 at the Affect3D Store.
Wicked Dreams Ultimate Story Bundle
If you're a collector like me, then you'd probably want to get your hands on the full story as much as possible. In fact, there's more to Amusteven's world of madness than meets the eye. Readers can now gain some backstory and closure to the events prior to Mad Alyss with the Wicked Dreams Ultimate Story Bundle available now at our store! For just $44.95, you get the entire Mad Alyss storyline including the complete Tanya and the Succubus set. I love it when a story meshes well together. This bundle is one hell of a deal.
Today's a great day for both SquarePeg3D and Amusteven fans and if this is your first time witnessing their talent, welcome aboard. The Affect3D Store is the one stop shop for all your fantasy needs! Stay tuned for more news on the world of 3DX!