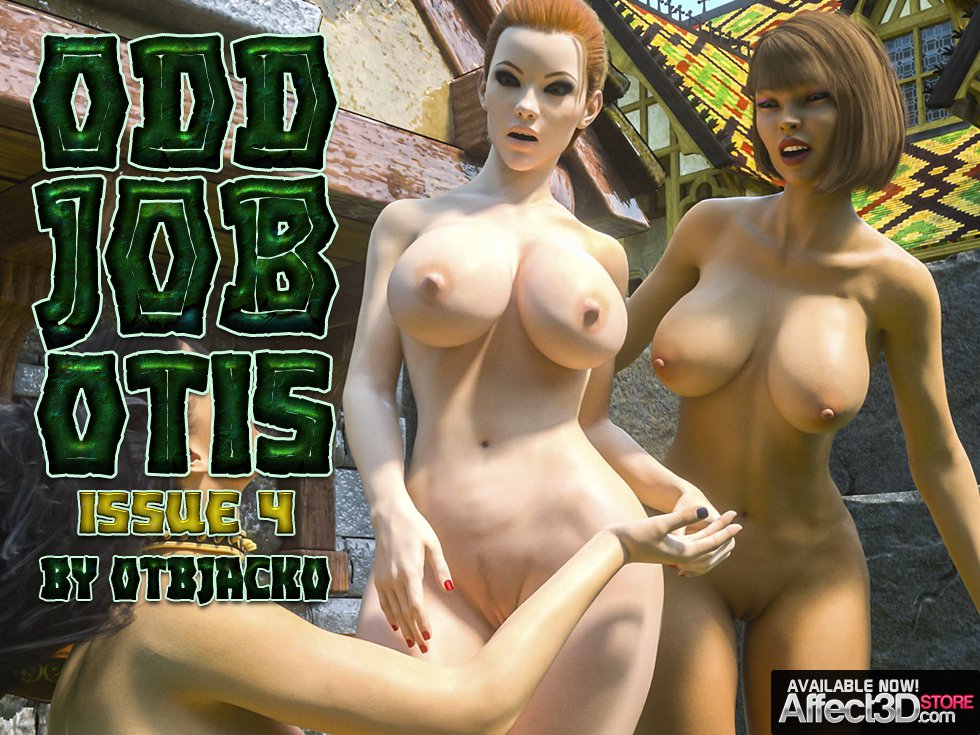 otbjacko's favorite goblin is back in Odd Job Otis Issue 4 – but he isn't getting any this time! With the crew having arrived in town and being stuck watching an alchemist's shop while they go out to restock their wares, Hadeena and Taryn are transformed, naked and bored. Company's coming soon to alleviate that, though, and the gals are more than ready for some fun.
Something new in this series (at least since I last reviewed it) is a graphics update – Otis has had a makeover! It's definitely a shiny new look, and it goes well alongside the shiny naked gals…. though Otis' old look was very in line with his grumpy attitude. Alas, we don't get to focus much on Otis, as his usual cowardly ways have him off and out of view for most of the set!
With Hadeena and Taryn acting as shopkeeper, they question the new shopkeeper who reveals they're looking for some body modifications. Specifically, some 'upgrades' in the T&A departments.
Ah, those precious 'assets.'
Taryn shows off some of the transformation magic and checks out the customer naked before giving her the 'goods'… and then giving her some of her 'goods' to take her for a test drive! A lesbian threesome ensues, filling out the 135-page set with cunt-licking goodness. You can get Odd Job Otis Issue 4 from the store now for $10.00, in versions with and without text. otbjacko's also thrown in 17 bonus pin-ups, so check it out.