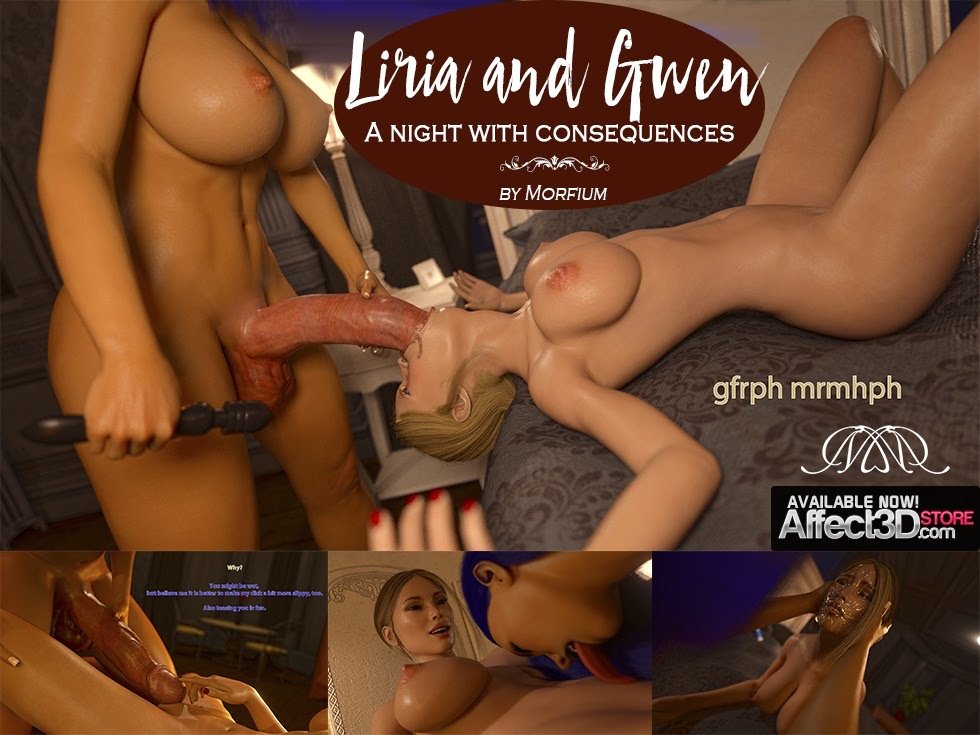 Ever had a one night stand (maybe you picked up in the club) but woke up next morning and something wasn't quite right? Well believe me, it's nothing compared to Morfium's latest release – Liria and Gwen – A Night With Consequences! One busty blonde is in for a night of devilish fun and it's available now in the Affect3D Store!
Liria and Gwen met in a club. The blue-haired futa has brought her new blonde friend back to her playroom and is intent on fucking her hard. What the blonde doesn't know however, is just how hard…
The two babes get down to business as the taller futa strips off and let's the blonde play with her dick and then balls. This turns into a serious throat fucking session as Liria forces her massive cock through Gwen's unsuspecting lips. But this isn't Gwen's first rodeo and she takes all of her lover's inches in one go. Naturally, faced with such great work, Liria let's herself cum, filling her lover's throat and belly with a massive amount of cum!
The pair (once Gwen has recovered from her "drink") go to missionary, Liria lubing up in preparation. She then proceeds to fuck the blonde hard, bringing her to ecstasy before showering her in cum. Indeed, she fucks her so hard that Gwen passes out and Liria cleans up.
When Gwen comes to, something isn't right. She attempts to leave but is caught up by a slightly "enhanced" Liria. Yup, the blue-haired futa has grown a pair of horns and a couple of feet – not to mention sprouting a tail and wings. She has become a legit succubus! Liria then offers Gwen a deal – one with dire consequences. But I'll leave that to you to find out!
I love how Morfium plays around with camera angles and POV shots along with the beautiful lighting. Well done sir! This stunning set of over 140 renders can be yours for $9.99 in the Affect3D Store! And even better, it features a bonus textless version and extra renders!