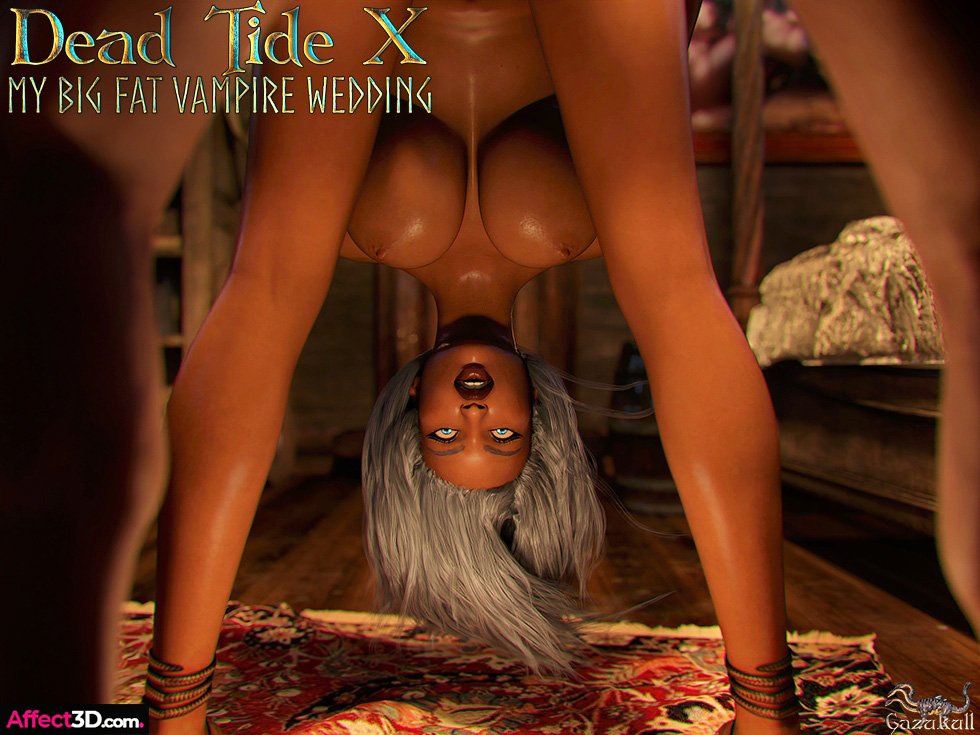 Batten down and unsheath your cutlasses 3DX fans! Today's release is the follow up on Gazukull's Porn and Prejudice trilogy, Dead Tide X: My Big Fat Vampire Wedding! This episode simply blows the adventures of Jack Sparrow out of the water (literally) and it's available now in the Affect3D Store!
We pick up where episode nine left us, with Gwen and the Pornomancer on board the Black Pearl Necklace. Indeed, Gwen is eager for more fun after her last gangbang. So, she sets out to fuck Jaw-Long the Pornomancer. And once she finds him in his cabin she goes about pleasing him.
Yep, she starts off by playing with his ass to get him hard before employing a few new techniques Jessenia, the vampire queen and pirate captain of the ship taught her. I'll let you discover exactly what those are on your own.
A thorough fucking session ensues with blowjob's, 69s, and doggy-style fucking galore. However, when the moment comes for Jaw-Long to fuck Gwen in the ass, he simply can't due to the guilt he feels related to past actions. Naturally, Gwen is furious and leaves the cabin, only for the ship's slut – Ariella – to take her place. She uses her mermaid's powers to get the Pornomancer hard again and take her turn. To cut to the chase, Gwen returns to find and then join in the two other crew members fucking.
When Jessenia finds out (having just had her sidekick Gibs the skeleton fuck her ass, she is furious). Indeed, such actions are unacceptable unless the participants show them for all the crew to see. And so the two babes – Gwen and Ariella engage in a slut-off to prove who is the sluttiest of the two by pleasing members of the crew. They follow this up with a "who-can-squirt-the-farthest" contest. It's at this point that another ship draws alongside the pirate vessel, captained by none other than… Well, check it out for yourself.
There's a lot more to this installment than I've just teased you with. However, I'll leave you to discover those uniquely sexy and kinky scenes! And the best part? This epic episode in an equally epic saga can be yours for a mere $9.99 at the Affect3D Store now!