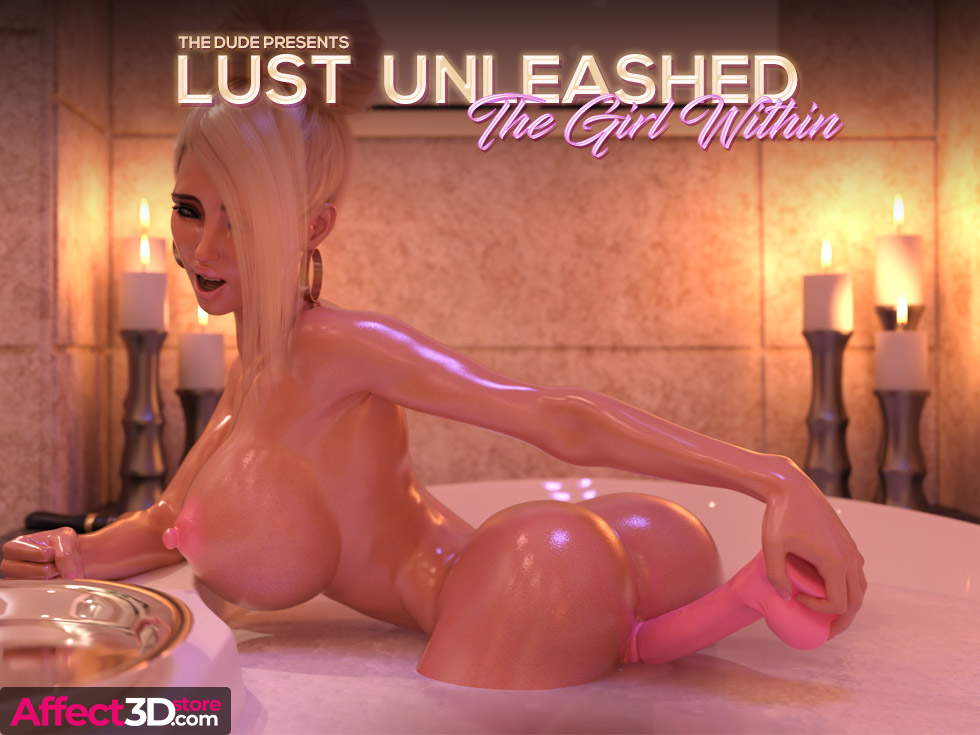 Much awaited, and as announced last week, today we have a very special release from The Dude! Lust Unleashed: The Girl Within is available now in the Affect3D Store!
Today's release takes place directly after the events of The Museum: Remastered. We meet up with Kayla, angry and frustrated as she reflects on the deal she has made with Yelena Berenkova and what it has cost her. Reflecting on events, Kayla is angry with her lack of self-restraint. Her transformation into a dickgirl has put her sexual appetite into overdrive.
The lovely bimbo starts off by kicking over furniture before heading to the bathroom to chill out. As she stares at herself in the mirror, she becomes aroused (no wonder with that body and those pent-up frustrations and desires!). She quickly strips off as her new massive cock grows erect. Once in the bathtub, the blonde sets about sucking her own cock and uses a vibrator plus a massive dildo to fill both her ass and pussy. She struggles to get around her massive tits. This self-love brings Kayla to the edge of orgasm and she finishes herself off with her mouth on the edge of the bathtub.
I'm really enjoying how The Dude is building his girls' stories and origins around them. Can't wait to find out how Kayla continues to vent her desires in the future! This steamy (literally) set contains over 70 images and is available now for $9.95 in the Affect3D Store!