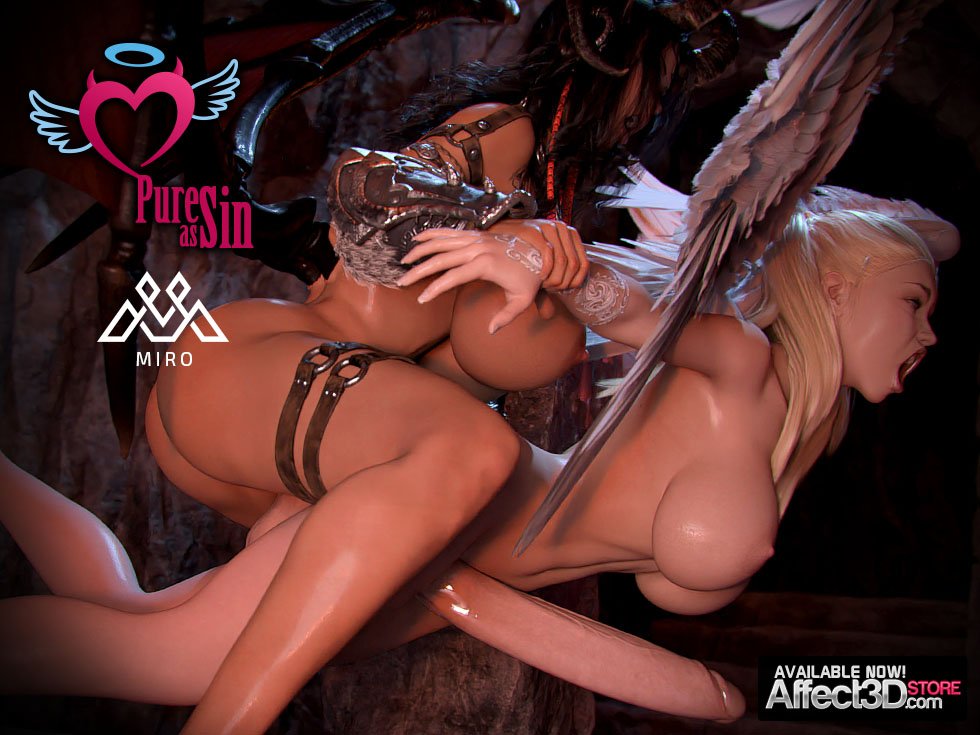 Miro and Affect3D are sharing another one of their Patreon-first image sets with us today: Pure As Sin! If you aren't one of Miro's patron's now is your chance to take a look at some double futanari action from another plane. Pure As Sin is one hell of a fun ride, and I mean that literally!
Here's a little taste of what you can expect:
Before their training is complete, angels are sent to hell for a week of temptation. It's the final test before they can claim their place in heaven. Once completed, they can choose to don their halos or stay below. And whilst many are quickly turned by the power of deception and lust, one particular angel isn't impressed. Indeed, it's Celeste's last boot camp day in Hell and so far she hasn't been converted. Lilith, a succubus from the lust department makes it her mission to corrupt this innocent trainee. Opting to skip formal introductions, Lilith gets straight down to business, brandishing her "tools". Taken completely unawares, Celeste is utterly under her new mentor's control. And, as she feels Lilith's cum trickle over her skin, she takes a liking to this "sin" they call lust. Celeste tastes the fruit of temptation and fucks the demon dickgirl in the ass and mouth before getting a pounding of her own. Smirking at the trainee's lack of experience, Lilith decides to take her time, going deep in the angel's ass and making her fall to her knees. When she's done, it seems Celeste might not be interested in a halo after all.
What's Included
• 206 images HD images in jpg format:
– 159 final images of which 20 cum scene images
– 10 alternative variation images
– 37 outtakes

Personally, I gotta say I really enjoyed this one. The contrast of good and evil and the hot twist Miro puts on this clash of values really gives the whole set another level of sexiness. And I just love how Celeste goes from a perfect being to a corrupt fallen angel. Add to that the fact that we don't really know if she'll stay in hell or not… what a cliffhanger.
But what really makes this piece is the power play. Indeed, what I mean here is the way Lilith plays with her "prey" before dominating her entirely.
Pure as Sin is available in the Affect3D Store now for just $10, and word on the digital street is there will be some short animations added to the bundle later in an update patch. In the interim, however, this collection's 200 images pack quite a punch with self-sucking, foot play, anal, and loads of cum. So be sure to head over to the Affect3D Store now and grab this piece of 3DX art!