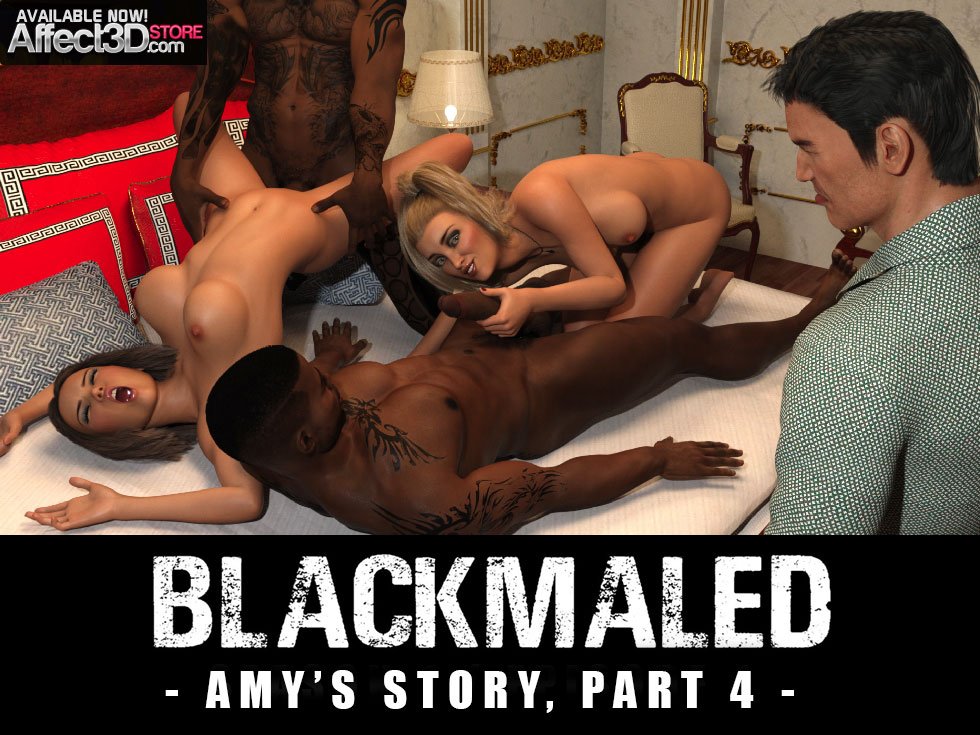 Sexy3DComics' Blackmaled: Amy's Story wraps up today with Part 4 and – bonus! – the Complete Story Bundle! So whether you've been following or are just showing up, you can get the full series for the latest Blackmaled now!
If you haven't kept up to date with it, Amy's Story began with her husband, Martin, wanting to go polyamorous. Martin's unsavory approach backfires on him in this episode.
But only after Amy gets herself off after the events of Part 3 and has some rough sex with Marcus the next day. Mrao.
Meeting up for the double date Martin's planned, Amy puts a wrench into his expectations by bringing two dates. Though it's pretty awkward for her and Martin, Marcus decides to invite Martin and his date up to the suite he's gotten, one-upping Martin's reserved room.
And, well, one-upping him in every other way. 😉
Meeting one of Marcus' friends in the suite, Martin's date is soon tempted into a foursome, the appeal of polyamory working against Martin's designs to bang a young gal. Whoops. 😉 You can see more, along with what happens after, by picking up Part 4 – which is $8.99 in the store.

Of course, if you haven't gotten into Amy's Blackmaled Story yet, then now's the best time as the whole thing is bundled and discounted. All four parts are available for $25.00 in the Complete Story Bundle, which amounts to nearly four hundred pages of naughty affairs, creampies and gang-banging.
Sexy3DComics' specialties, really.