Morfium is a longtime favorite artist here at Affect3D. His fine works, including Rayleen's Dream, bring a playful aspect of sex between women, both with and without a prick lodged between their legs. Utilizing quiet settings, there's an intense focus on the action. Now he returns by bringing along his sexy masseuse Alyssia on more off-hours escapades with Afterwork Massage 2, available now at the Affect3D Store!
When we last saw Alyssia, she offered her customer Elaviel a coupon for a free "full body massage" not unlike what she experienced, which she could give to any of her friends. A certain Celine brought that coupon back after work hours, looking to "relieve" her own stress with the lovely masseuse. But Celine is no ordinary woman: She's well-endowed in all the right places, including a large member between her legs that's "ordinary" for her kind. Just how far will Alyssia go to provide the best "customer service" for this futanari? And how much "stress" can she milk out of her customer's willing cock?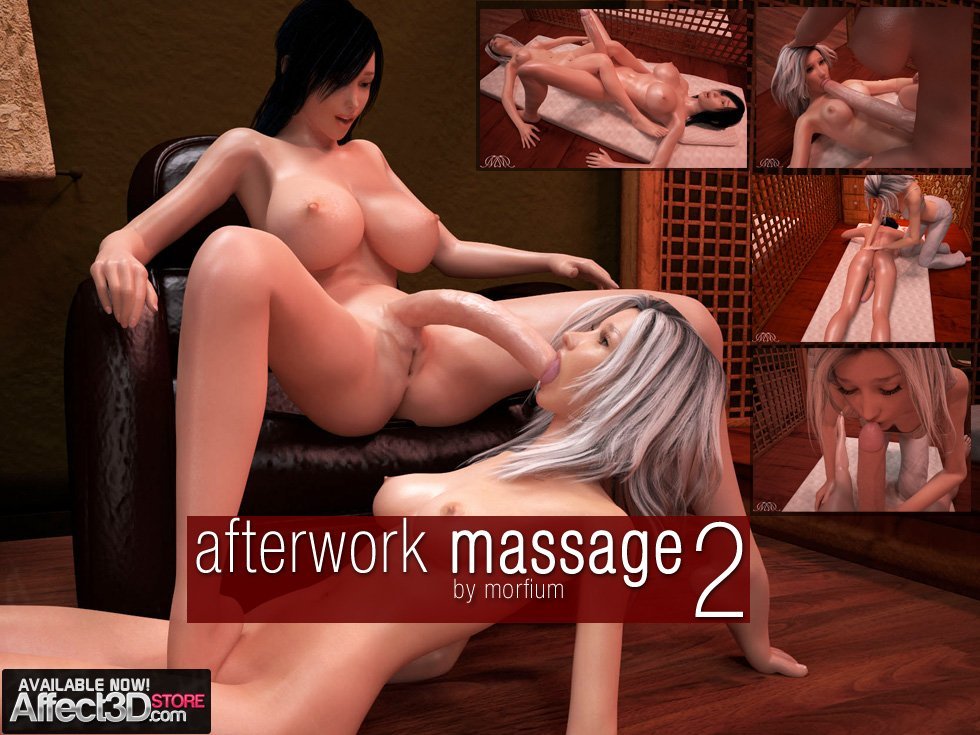 Morfium specializes in minimal environments and straightforward premises. That way, you can get right to the action without too much effort. Plus, with a lovely character like Alyssia going the extra mile to make her customers happy, it always ends in a fun little romp that leaves her satisfied as well. She's certainly thrilled about the prospect of a well-hung futanari asking for special after-hours service!
We want to keep you satisfied, too. That's why we're offering this fine set for only $6.95 for a limited time! That's 30% off the regular price. In addition, if you haven't seen what makes Alyssia such a succulent and successful masseuse, we're bundling Afterwork Massage 1 and 2 together for the low price of $12.95. Don't wait after hours for this deal to go by!