Remember Erin and Vikki? Of course you do! One of the staples of the Affect3D store can now boast a fifth installment, and 3DZen pulls no punches! Erin & Vikki 5: After School Activities has joined the ranks of our impressive futa-focused lineup. And it's available exclusively at the Affect3D Store!
Erin and Vikki can't get enough of each other's bodies, and as the series has progressed, neither can a whole bunch of other ladies. This time the fun has gotten so intense that 3DZen can't even keep all the passion contained to a single room! We meet the title characters as well as Miss Natalie and ponytailed beauty Rachel at their school lockers, just before they part ways.
Erin and Vikki head off to meet with a buxom blonde called Sara, to solicit for an internship at her medical research center. Rachel, however, joins Miss Natalie at her private residence, where she is introduced to housemaid and sex-slave Jennifer in Miss Natalie's elaborate sex retreat! One scene is double futa vs single girl, the other double girl vs single futa. One is an exciting discovery of a self-sucking superstar, the other a domination sequence where Rachel finds out just how Miss Natalie likes to spend her free time with her Jennifer.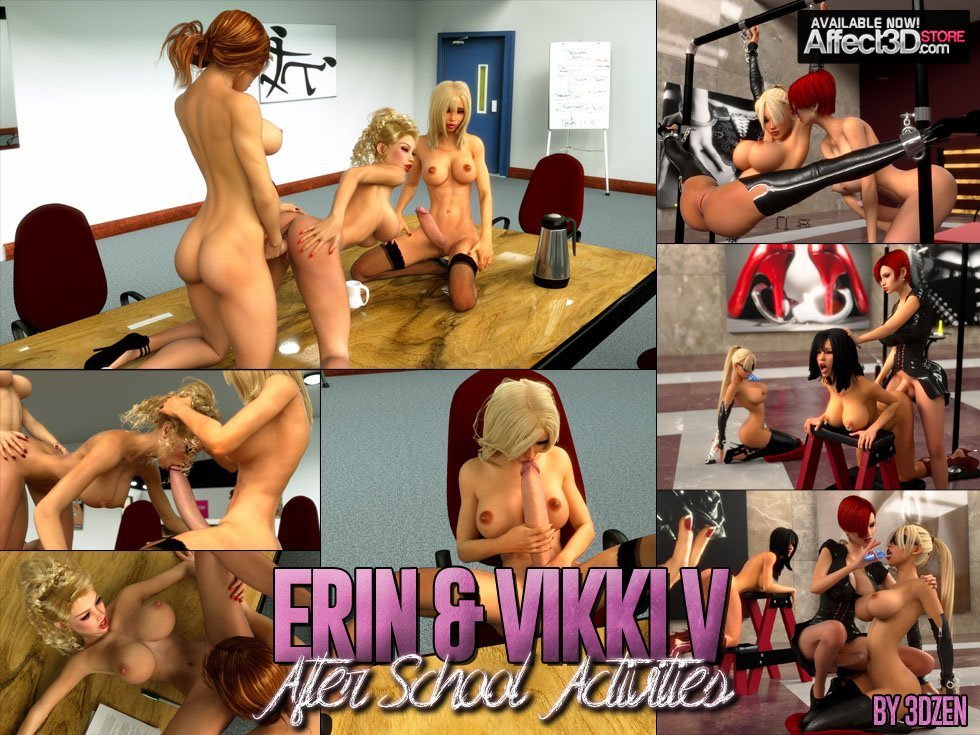 There's content aplenty in this new set, and any futanari fan will have their hands full with this release. Pretty blondes, big tits, tight office uniforms and a bit of bondage to boot, if you haven't gotten acquainted with 3DZen's sexcapades yet, this would be a great time to start!
Erin & Vikki 5: After School Activities is available in the A3D store for only $9.99! So head on over, and get your copy now!