Sometimes, you need a breather when you're out saving the world, especially when you're Hibbli's Knight Elayne. While a valiant knight that has served her kingdom well, she has her struggles, especially when perverted demons and monsters of all kinds ravish her. So it's nice for her to take a break from all that and have some actual fun. Hibbli and Lady Adara present with the next episode of Knight Elayne: Elven Love, now available at the Affect3D Store!
While escorting the drow priestess Chiana to a plague-ridden village in the forest, Elayne and her half-elf companion Ezri decide to rest for the night at an abandoned temple that doubles as a hot springs. The knight is cautious and alert at first, but Chiana gets her to relax. With a barrier provided by the goddess, the demons and monsters are kept from intruding. Since she has nothing to stand guard, Elayne loosens up in the hot springs. As the elven girls fondle each other, the usually wary knight decides to join in and cut loose for a change. Taking and giving pleasure without fear, the three happily surrender to their lust, forming a stronger bond for the troubling days ahead.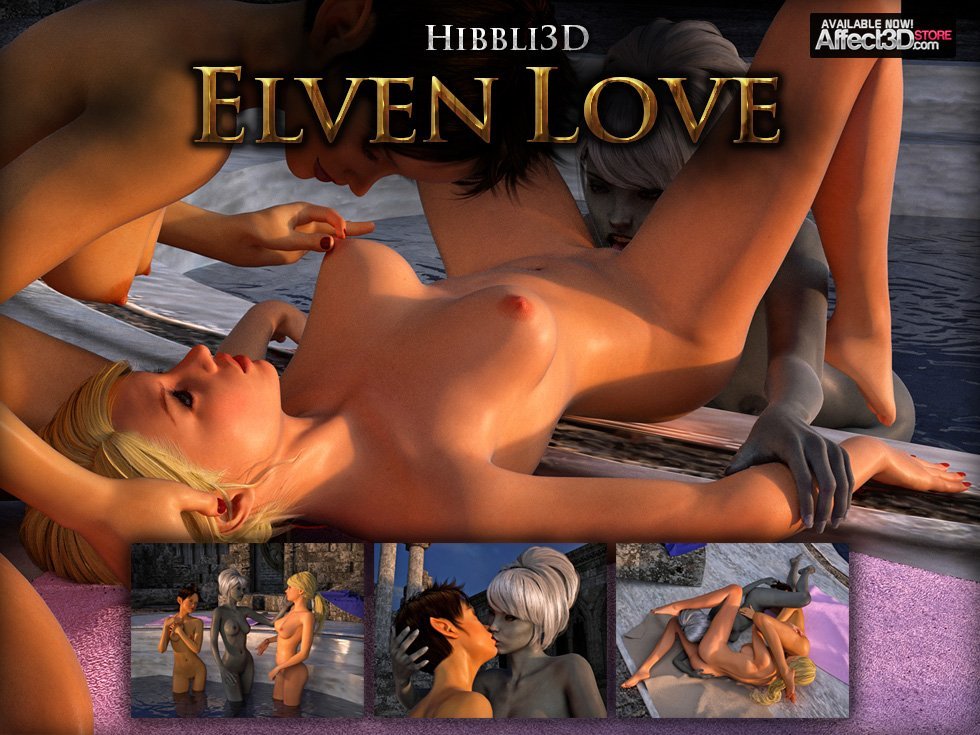 Hibbli and her writer Lady Adara are not afraid of pushing the envelope when it comes to demons and damsels. But with this story, they decide to indulge in a soft, fun lesbian romp that brings no distress and needs no rescue. We hope to see this a little more often. If you feel that demons aren't your style yet still like Hibbli's artwork, you should take it upon yourself to buy Elven Love at the Affect3D Store for the low price of only $8. Get it today!