Neva by Virtual Lust has been the talk of the town here at Affect3D, as it is our first Android app for sale! With teasers showcasing a glimpse of what to expect from this app to a giveaway contest providing a loyal viewer the opportunity to win a copy of this fascinating title, it is safe to say that this has been highly anticipated.
Who wouldn't be excited about this? It's a 3D interactive app! Within it you will be able to manipulate the protagonist, Neva, as she is craving the desires that only a man can fulfill. You start off seeing Neva swaying her hips (as seen in the teaser) as she walks up to a VR helmet. Once she puts it on you are then prompted to choose a level.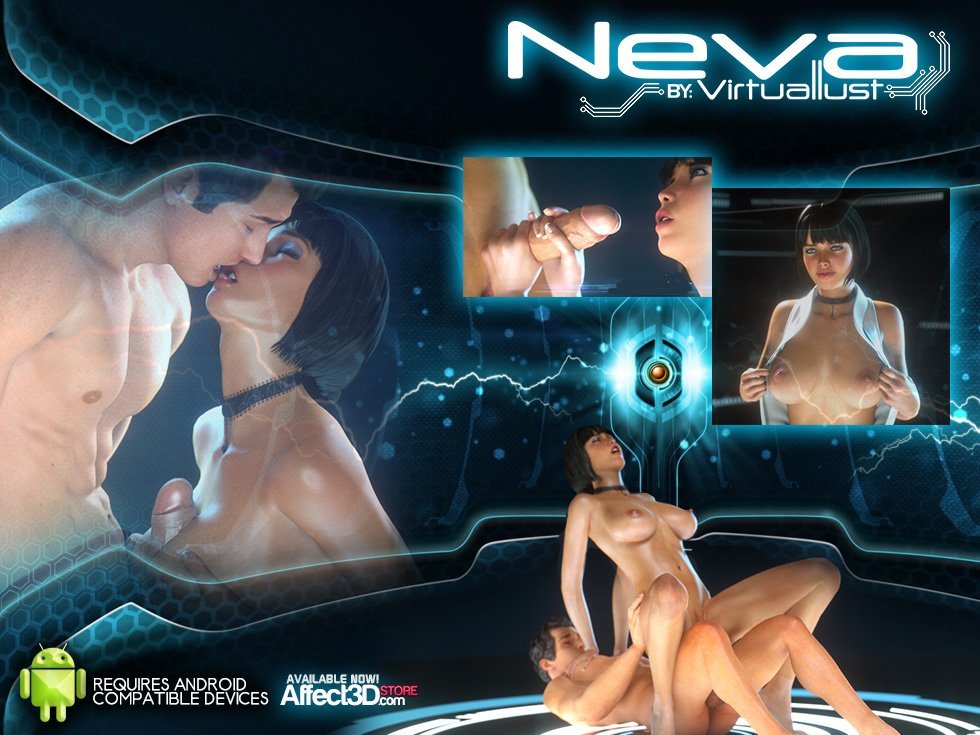 Level one is an introduction to Neva as well as a mysterious man that appears before her. Completely unclothed they are intrigued by one another. Neva then undresses herself and says "I want you to touch me" What happens next may be too much for some to handle. 😉
As you complete levels the interaction between the two get more and more…intimate. From Neva getting on her knees to listening to her moan there is plenty to behold with this app. The outside views also get more 'up close and personal' if you will. Aside from the steamy interactions Virtual Lust has gone above and beyond being intricately detailed with these characters and giving them a life of their own.
Neva by Virtual Lust is available now as an Android app, with the MP4 version available May 21st. To see more by Virtual Lust then look no further. Also, be sure to check out our interview with Eclipse, the artist behind this masterpiece.
You can purchase the Neva app for

$9.95

. However, if you buy the app

between May 7th and May 21st

, you will

get the MP4 version (for PC, Mac, Linux, iPhone, iPad, Android) of Neva free of charge when it's released (scheduled for later this month)

.

The bundled version will cost $14.95, so if you purchase today you will save $5

!
Don't waste any time on this new direction in 3DX. Pick it up today!
Or purchase discreetly at our BMT Micro Store!