Sometimes you need to unwind, especially after a long trip. Masturbation can help you relax by releasing some pent-up energy. If you do that, though, be sure to keep it clean, don't overdo it, and make sure nobody catches you! However, in the event that somebody does catch you, you may find it worth your while to be honest with what you're doing. It could turn your date with Rosy Palms into fun sexytimes! The Dude demonstrates this in his sequel to Sin Sisters: The Museum, Sin Sisters 2: No Rest For The Wicked, now available at the Affect3D Store!
Kayla just returned from her sex-filled visit to Moscow (which we saw a glimpse of in The Museum), and rests while visiting her family's palatial home in America. Her trip left her insatiable, and she yields to her lust at the first opportunity. However, in the midst of her playtime, her stepsister Breanna walks in on her! Kayla attempts to hide her "gift," only for it to pop out. But initial shock turns into intrigue and desire, and soon the girls fill the living room with their lusty moans. From Kayla pulling a Sayako to Breanna offering her ass, there's a lot of fun and lovely bonding to have in this playful romp!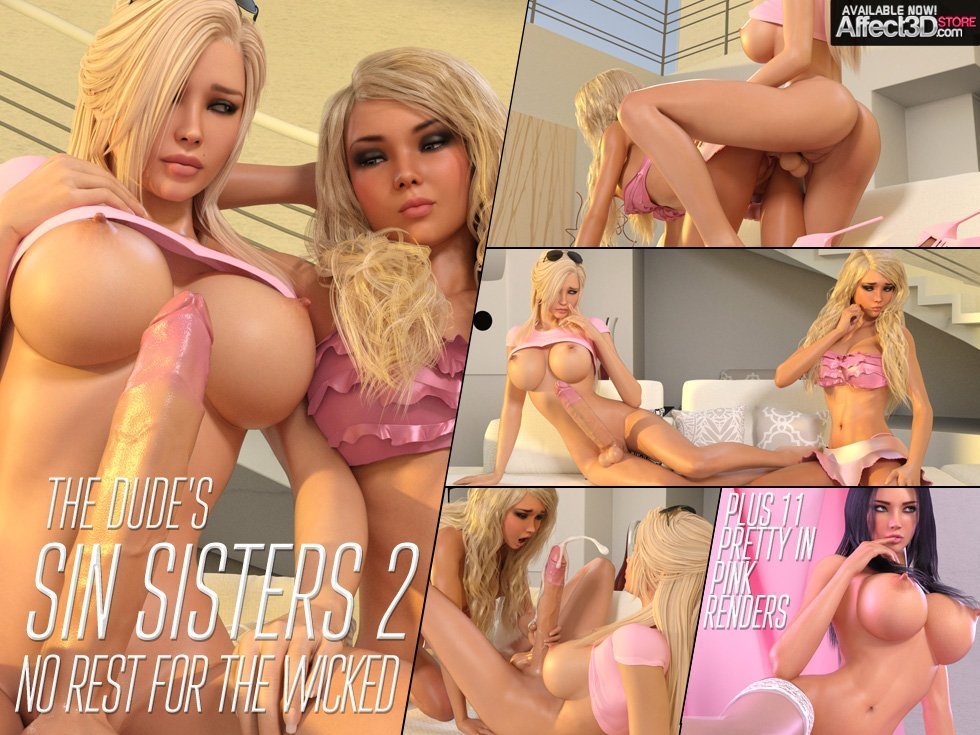 The Dude's work plays up a glamorous view of sex with a lot of ambition and nuance. While The Museum was an intense session filled with the wanton desire of two lovers together for the first time in years, No Rest For The Wicked is filled with playfulness, exploration, and understanding. The structure of the scene makes it possible for more stories to happen, and we can only hope The Dude can continue with these fine, sexy girls and futas. Sin Sisters 2: No Rest For The Wicked is available at the Affect3D Store for $9.99. I wouldn't rest if I were you. Pick it up today!