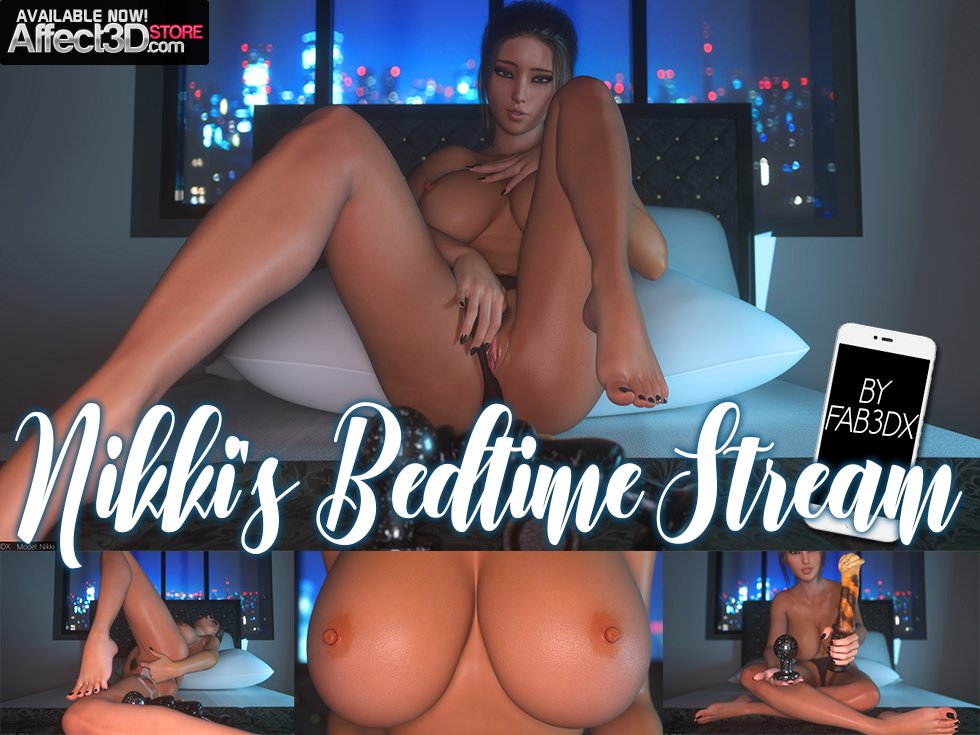 Grab your mobile guys because today's release takes us behind the stunning Nikki's webcam! Fab3DX really showcases a hot and fun little set in Nikki's Bedtime Stream that breaks down the 3DX fourth wall. And it's available now!
I love the complicity the audience is treated to in this piece. Indeed, we viewers are really led to believe we're the ones dictating Nikki's naughty stream!
Fab3DX treats us to one of their hottest models – the busty Nikki who just can't wait to put on a show. And she's got the tools to help! Yup, two massive dildos and a butt plug really help her showcase just how much fun she's willing to have.
The beautiful brunette starts off by teasing us in front of her webcam. All the while, other "viewers" encourage her by typing kinky actions for her to carry out. And so the busty webcam girl strips off her lingerie before fingering and caressing herself. She then proceeds to fill each of her holes with her impressive arsenal of sex toys! What more could you ask for? What a performance! And the artist leaves room for more as a mysterious busty dickgirl joins the brunette at the end of the stream.
Nikki's Bedtime Stream plays around with different genres and an original format, all the while treating us to a fun and steamy set of 61 HD renders (with and without text) plus a bonus set! And it's all available now in the Affect3D Store for a skimpy $12!