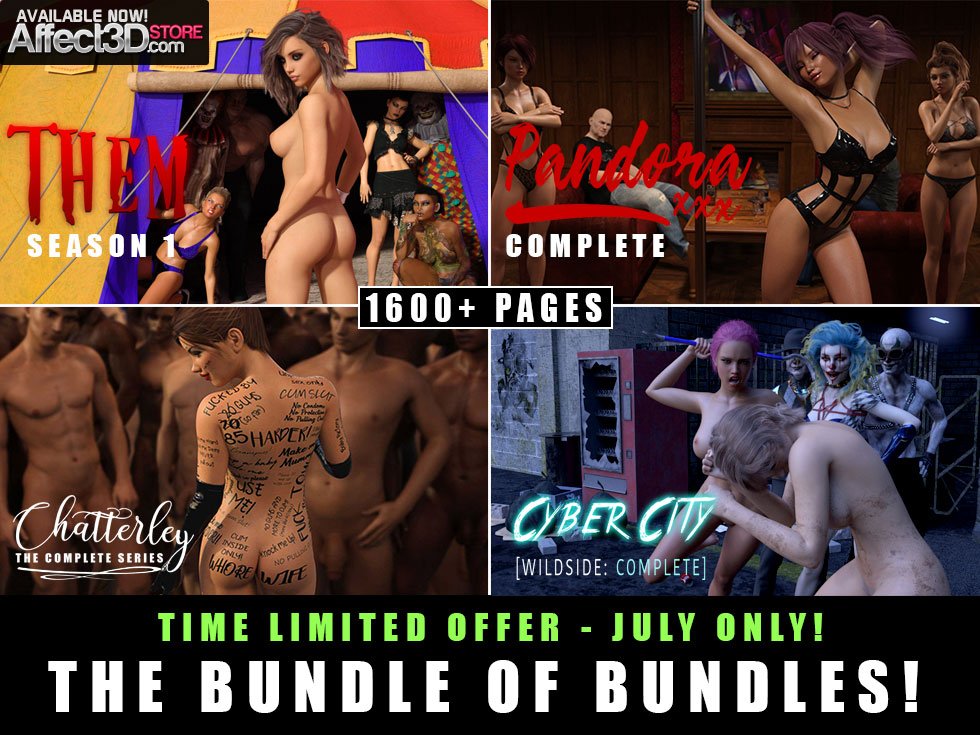 Gonzo Studios is terribly prolific – much to our collective delight! In this lovely July of a much less lovely year, we're getting a very generously priced The Bundle of Bundles from them. A deep sale on multiple bundles packed into one, this Bundle-Bundle includes four complete series.
That's… a lot of fucking. With story!
Here's a (very) brief description of the four series:
THEM (SEASON ONE)
A horrifically lethal (and deviously sexy) Circus of magic, demons, freaks and mayhem – which Rachel gets drawn into looking for her missing sister. This one's a fairly wild ride.
PANDORA (COMPLETE)
Jenny moves to the big city with her boyfriend… to big disappointments. That is until she stumbles into a voyage of erotic discovery in porn!
CHATTERLEY (COMPLETE)
An intensely sensual, rich and attractive couple gets thrown for a loop when Lord Richard gets wheelchair bound from a tragic accident. But that's hardly the end of Lady Christina's sex life once they discover sleeping around!
WILDSIDE (COMPLETE)
A dystopian future becomes realized for clueless luxury resident Layla when she spends a night slumming in the Sprawl. It'll take a very* wild ride in this cyberpunk anarchic zone for her to just survive her new surroundings.
Only available until the last day of July, this Bundle of Bundles contains over 1600 pages of erotic story, deviant fucking, and cum everywhere. Almost literally. Check out the orgies, porn, psychos and cyberpunk now for just $39.99 – an absolute steal for this much smut.