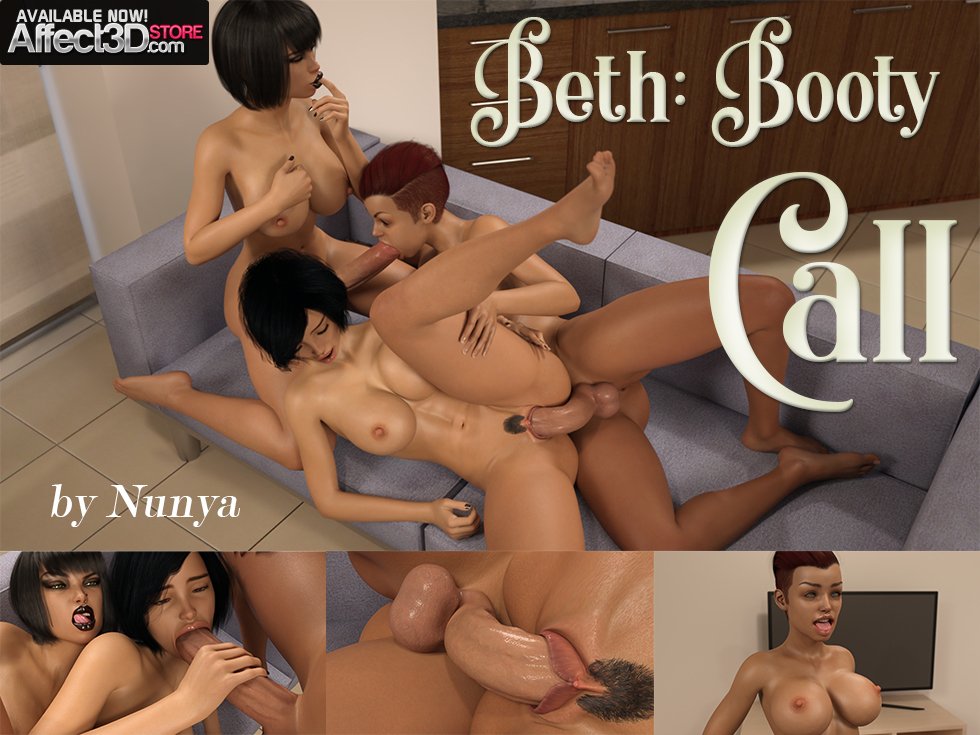 Nunya has a new release for us today and it's one we can all relate to! Beth: Booty Call is available now in the Affect3D Store!
When I say we can all relate to this particular set, I mean the context, perhaps not quite the form. And by that, I mean that I doubt many of us here happen to be a gorgeous futa that has another stunning futa and babe on call to come over and fuck. However, if you do, how fortunate you are!
Nunya reintroduces us to one of their recent characters – Beth. This stunning short-haired redhead is enjoying a chill evening when the inevitable happens… She gets horny. We've all been there. It's Friday night, you've decided not to go out and chill. But then you happen to think of something that gets you hot and bothered. So you have two solutions: either you decide to just fap one out or you're in luck and have someone(s) you can call/text (who calls anymore).
Well, that's exactly what Beth has decided to do. Only she happens to have the means to summon two babes!
At first, it's just Beth and her futa. The pair start by making out before the brunette gives Beth one heck of a blowjob that results in a facial. Then it's the redhead's turn to suck her lover's massive cock. It's at this point that they're joined by a third female friend. This is either Beth's girlfriend or another booty call, but in any case, the pair get to work on the brunette's massive cock. The newcomer is then sandwiched between the two futas. What ensues is a variety of positions from reverse cowgirl to doggy and standing. This happy threesome ends up with a double facial on the brunette babe. What a booty call!
Nunya's Beth: Booty Call could be yours for a mere $10.00! So be sure to snag a copy!