Ayako – Sex Addiction
Did you miss out on the first episode "AYAKO – THE BLOW JOB [Affect3D01]"? The uncensored version of Ayako – the Blow Job is available here.
Let me sum up the story so far: Ayako has been able to withstand her boyfriend's constant understated pressure for sex. But finally after yet another big night out, restaurant included she gives in and treats him to a wholesome blow job, one he's sure to remember. But will she get away with just giving head? Indeed her boyfriend has other plans!
Not only does she not get away with it, Ayako the sexy and busty, innocent blue eyed love kitten is about to get her pussy pounded hard. Only she doesn't know it yet! Her boyfriend is living out pent up emotions over a serious case of sex withdrawl and it seems he won't let up until one of them falls unconscious. Ayako simply plays along at first, but his huge cock and his uncanny ability to explode into ridiculous orgasms at will, stirs up deep feelings in her! A carnal instinct awakens in Ayako and her desire for his cock grows by the orgasm and after several attempts to resist his huge man meat, she finally falls pray to uncontrollable lust, an unquenchable thirst for cum and ultimately becomes addicted to sex!
No effort was spared making this CG collection the best quality possible. The images are huge in size (2250 x 1500px – zoom in to check out all the detail) and the included flash slide show is easy to handle and features some nifty looping of images and of course Ayako's big tits make a welcome return! The title features lots of pussy sex, plus anal, a blow + tit job (both at the same time) and foot job (for all the foot fetish buffs out there). The cum shots are more realistic and explosive even then the first, all 9 of them!
The finale? I have not included preview shots of the final act in the promos, because I don't want to take away from the first viewing. Ayako is lying on her stomach and was just treated to a massive spunk fest. This is where his need to fuck the busty Ayako drives him literally insane, he towers over her grabs her by the arms from behind, thrusts his huge wiener into her delicate love hole and lifts her body an all, up and up until she's suspended in mid air, her feet barely touching the ground! And what happens next, is for you to find out!
Surely you'll want to try this at home, but before you do, make sure get yourself a copy of 'Ayako – Sex Addiction' to see exactly how it's done!
Ok, that's it from me! My last and final hope is you enjoy 'Ayako – Sex Addiction' as much as I've enjoyed creating it!
Ayako – Sex Addiction – [UNCENSORED] Bonus Set
Sex Addiction Bonus – Monster Cock Blow Job
There is a scene after the foot job in Ayako – Sex Addiction where Ayako mounts her boy friend and gets the cow girl treatment. This is an alternate extras scene where instead of riding her bf's cock, she makes him hard and gives him a blow job, only this time, instead of growing a fucking huge cock he's cock turns into an even thicker and longer member, adding another 3-4 inches and to top it all off instead of just letting him fuck her she attempts the unthinkable – yes… she goes down on this bad boy and deep throats him, she takes that big shaft and glides it all the way down her sexy lips and throat till it physically can't go any deeper. Ayako has a lot of will power, so I think she'll go far! But exactly how much of that sublime fleshy appendage will she be able to swallow!?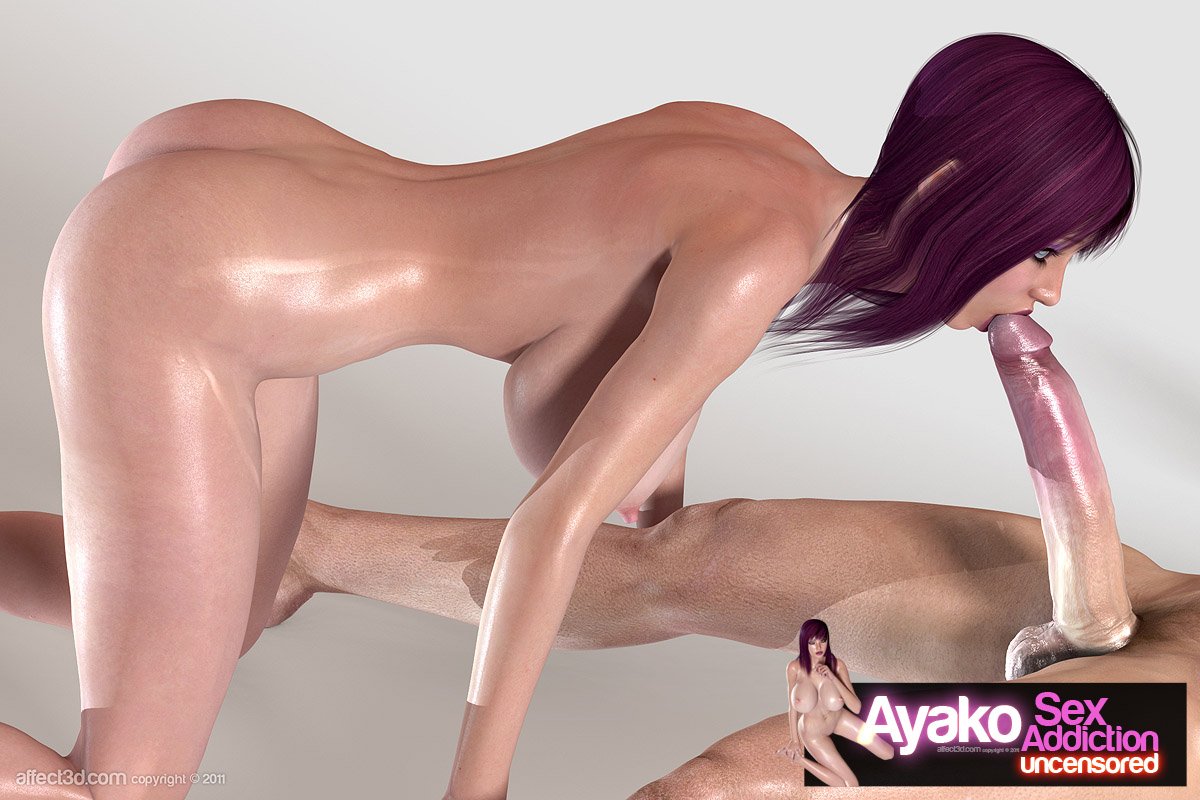 Sex Addiction Bonus – Dick Girl Play (Futa)
Yes, no kidding. Ayako and her twin sister have a little sisterly love going on and one of them grows a large cock. Are you wondering who? How would a dick look on one of the sisters? If you are into dick girls and the idea does tickle your curiosity you will have to see this scene, it is very, very hot. One of the sisters tries to get away and hide her new member. But the other catches her out, strokes her cock and makes it hard and long. Then she starts playing and hand pumping her huge cock… she's completely overcome by the intense sensation as her sister glides her sexy soft fingers up and down her massive shaft, with each thrust the pleasure and ecstasy mounts, and then all of a sudden… oh, just watch it already =)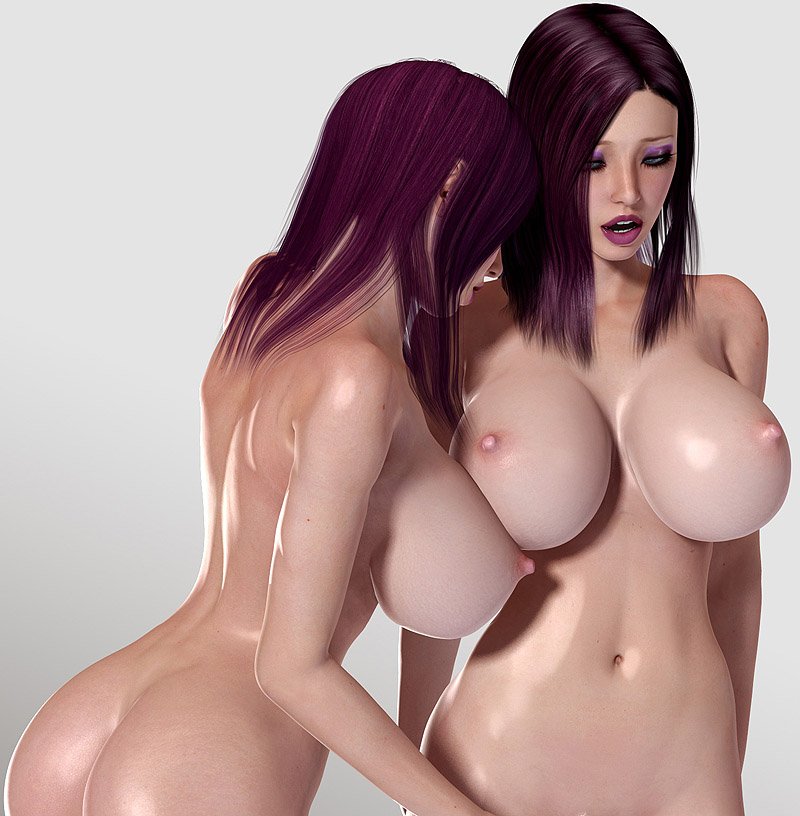 Lots of revised and totally new images
like for example the twin sisters set from the Extra set gets an update, but this time she really does take it up the ass… deep! Ayako holds her twin sisters butt cheeks apart, the dicks slides deep into her tight anal cavity, requiring a substantial amount of power I might add. This instantly set off uncontrollable convulsions in Ayako's sister as she explodes into an orgasm visible by the ecstatic expression on her face!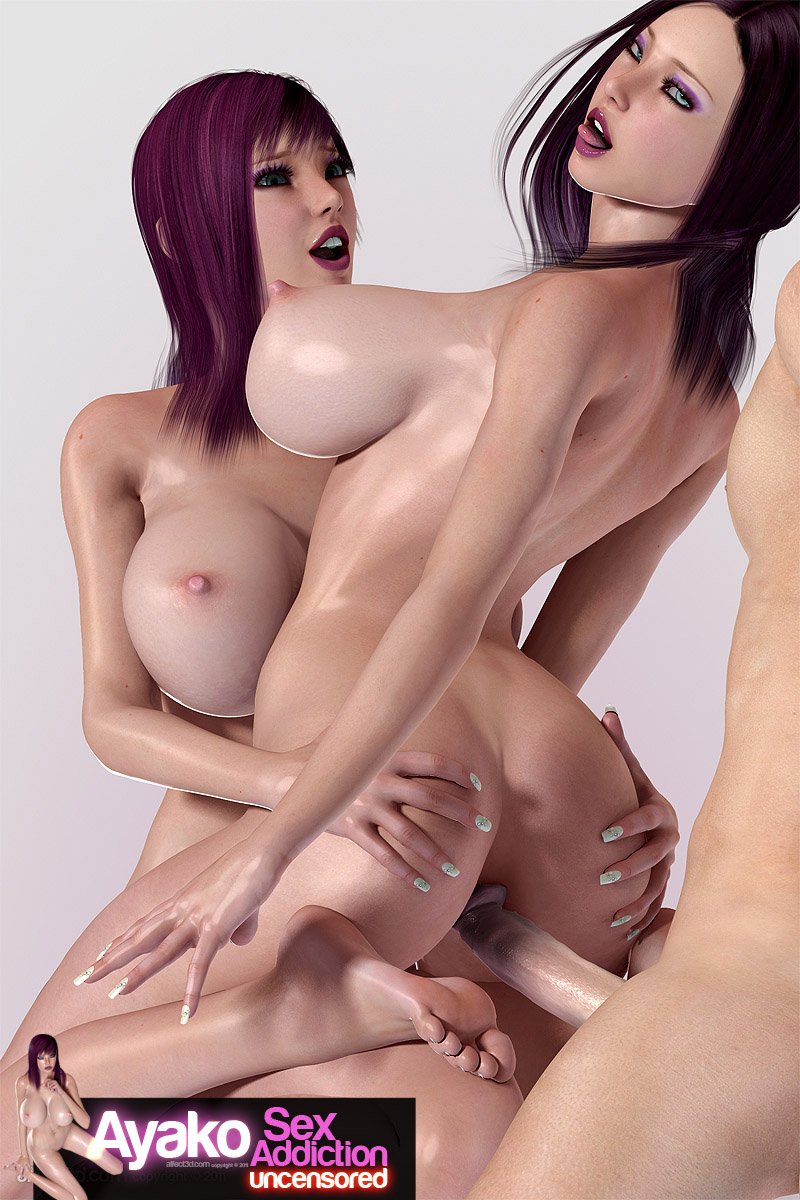 Features
[checklist]
402 hi-res 3D images 2250 x 1500 pixels
flash slide show with easy navigation and fast looping effect
7 positions, 9 orgasms – straight sex, anal, blow job, foot job, tit fucking
8 extras image stets – twin girl play, 2x foot fetish, masturbation, dress-up (Ayako in clothes!), cock sucking and more
the highest quality 3D images I could muster, be sure make use of the zoom button, there's a lot of detail there!
New addition: voice! Hear Ayako for the very first time moan and groan her way to orgasm! Here is a sample of Ayako's voice.
[/checklist]
Bonus Features – Uncensored Version
updated
[checklist]
472 hi-res 3D images 2250 x 1500 pixels
150+ revised/ improved images
70 total new images
2 new extras sets including the 'Monster Cock Blow Job' and 'Dick Girl Sister Love' sets (see below)
[/checklist]
The Vote
I put the continuation of 'Ayako – the Blow Job' to a vote. Over time about a 1000 votes were cast and "Straight Sex" took the top spot, and so pussy sex was the main event for 'Ayako – Sex Addiction'.
So this time around the continuation of the story line is up for a vote again! Got to the vote page and let me know what you'd like to see next.
---
Ayako – Sex Addiction
[UNCENSORED]

version now available
Buy the English version, by clicking on the link below:
Alternate Payment Method via BMT
Buy the Japanese version, by clicking on the link below:
https://secure.bmtmicro.com/servlets/Orders.ShoppingCart?CID=6600&PRODUCTID=66000005
You will be redirected to our BMTMicro Order Form!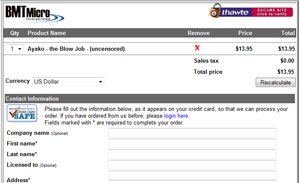 The following payment methods are accepted:


Immediately after your purchase you will be redirected to download your file.
Note to DLsite customers!
Price for customers who purchased this product previously from DLsite is USD$3.95 (78% discount)
Please email your dlsite purchase details to [email protected]
I will send you a the link to a special order form.
---
Ayako – Sex Addiction
CENSORED

version available on dlsite.com.
Buy the English version, by clicking on the link below:
http://www.dlsite.com/ecchi-eng/dlaf/=/link/work/aid/blog_RG12654/id/RE079608.html

Buy the Japanese version, by clicking on the link below:
http://www.dlsite.com/maniax/dlaf/=/link/work/aid/blog_RG12654/id/RJ079608.html

Buy Tara's Assignment
Price: $9.95