Maybe you're a fan that's recently discovered 3DX, but you don't have the futanari itch. Or, you're an artist who's tired of hearing "put a dick on her." Well, here are a few suggestions for artists I think would make for some good straight 3DX.
1. Plot
There will always be a market for a quick fap with no fluff. Live action porn will always do that better. Instead, tell a story. Live action porn will always be worse at that.
Telling the story allows the audience to know the characters. Their desires, fears, goals, and search for meaning will bring greater depth to your scenes and story. Then, the audience will get more than just a quick release of tension. A deeper pleasure awaits.
2. Fantasy/Sci-Fi
This plays closely with plot. Live action porn does this, but the big studios with the budget to do it don't spend Hollywood money on it. As such, it looks like second rate cosplay. In 3DX, you have a much more accessible palette with which to craft richly detailed worlds and characters.
Escapism is really the magic we're selling. The escape is a little disappointing when it is only momentary. However, an immersive world with characters to fall in love with, as they fall in love with each other, makes the escape all the more immersive, and longer lasting.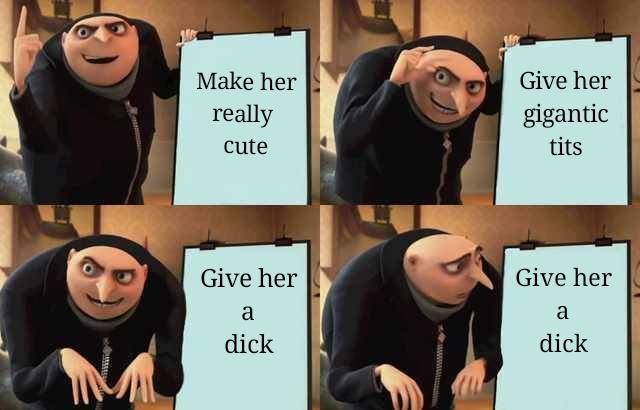 3. Agency
What's even more immersive than detailed worlds and characters? Audience agency. Giving the audience some control of the story, to make it theirs, gives a much larger investment in the outcome. Visual novels and games are a great way to do this, but you could go more meta as well. Use your personal platforms or Slushe to have the audience vote or comment on upcoming aspects of story development.
Don't completely democratize the process, though; you could end up with a hot mess. After all, for the very same reason audience agency matters, creator agency matters too. You need to be immersed in your own work to help convey your passion for it. Not being excited by your own creation is it's own kind of sadness.
4. Relatability
Make the porn relatable. The mainstream porn scenarios of plumbers laying pipe and pizza boys delivering extra sausage are great tropes, but there's not a whole lot to relate to in them. Keep in mind you don't have to set your porn in the "real world" for it to be relatable. Just think of a great date or experience you've had. Or think of how a bad one could have gone better. Embellish that event and drop it into your setting. Now you have a relatable sexual encounter in your richly detailed fantasy setting. People are still people. They tend to act on the same impulses.
5. Play the Long Game
Why does Jeff Bezos have the biggest storefront in the world? He plays the long game. Experiment and refine. Learn and grow. Be patient. Take a short-term loss to build a market for an exponentially larger gain.
Yes, dickgirl porn pays now. However, the straight porn audience is much larger…and always will be. Help us invite that much larger audience to the 3D artform, and the payoff will be huge.
What do you think? Chime in. Is there something you'd like to see more of from straight content?