These diplomatic types may be the kind of people who feel like they are entitled to everything, but they also know how to throw some top-notch parties, I thought as I lounged on the deck of a massive yacht, sipping the best mai tai I've ever had the pleasure of tasting. My bikini maximized the pleasure of the competing sensations of warm sun and cool, ocean breeze. As if that wasn't enough pleasure, a dark-haired woman with a severe bob cut framing a strong jawline was walking directly towards me.
A cream colored, knee-length mermaid skirt and well-tailored blouse clung to mocha skin like a lover. As she stopped in front of me, her vibrant hazel eyes met mine.
"Hi, I'm Delphine."
"Michaela," I replied. A moment of silence passing as we appraised each other.
"How's the mai tai," she asked, a warm, genuine smile spreading across her face.
"Best I've had." Thank you, bikini.
"I've got something better."
"Yeah?"
"I keep an exquisite tequila in my cabin," Delphine offered, extending her hand.
"Well, lead the way," I said, sitting up from the fully reclined lounge chair and taking her hand.
She helped me up and pulled me close, but not quite touching. Not yet. We looked into each other's eyes for a moment, questions and promises passing between us.
"Please, it's right this way," Delphine said as she placed a warm hand on the small of my back. The guiding hand was politely north of my ass, but close enough that I felt a spark of warmth in my belly at the thought or her foregoing her manners. Sure, we're going to her cabin for a drink, but we'll both be disappointed if the chaser isn't sex.
She led me down the inner hall to a single door at the end, guiding me through and closing the door behind us. The room was very well furnished in modern décor. This clearly wasn't a guest cabin. I followed her as she moved to a cabinet placed strategically next to a very plush looking king bed.
She poured a shot of silver tequila from an expensive looking bottle, then placed the glass snugly between her breasts. She then sensuously dipped her finger into the tequila, my face warming at the suggestive display. I watched, hypnotized as she slowly ran her finger over the curve of her breast, leaving a glistening trail in its wake. The alcohol is nowhere near as intoxicating as the flesh it moistened, I thought as she sprinkled a pinch of salt over the line of tequila.
As if the treat couldn't get any better, she took a slice of lime and placed the rind between her teeth, pursing her full lips around the tart fruit. Warmth blossomed out from my center; I was going to have to kiss her to finish the shot. Somehow that made it far more erotic than simply licking salt from her tit.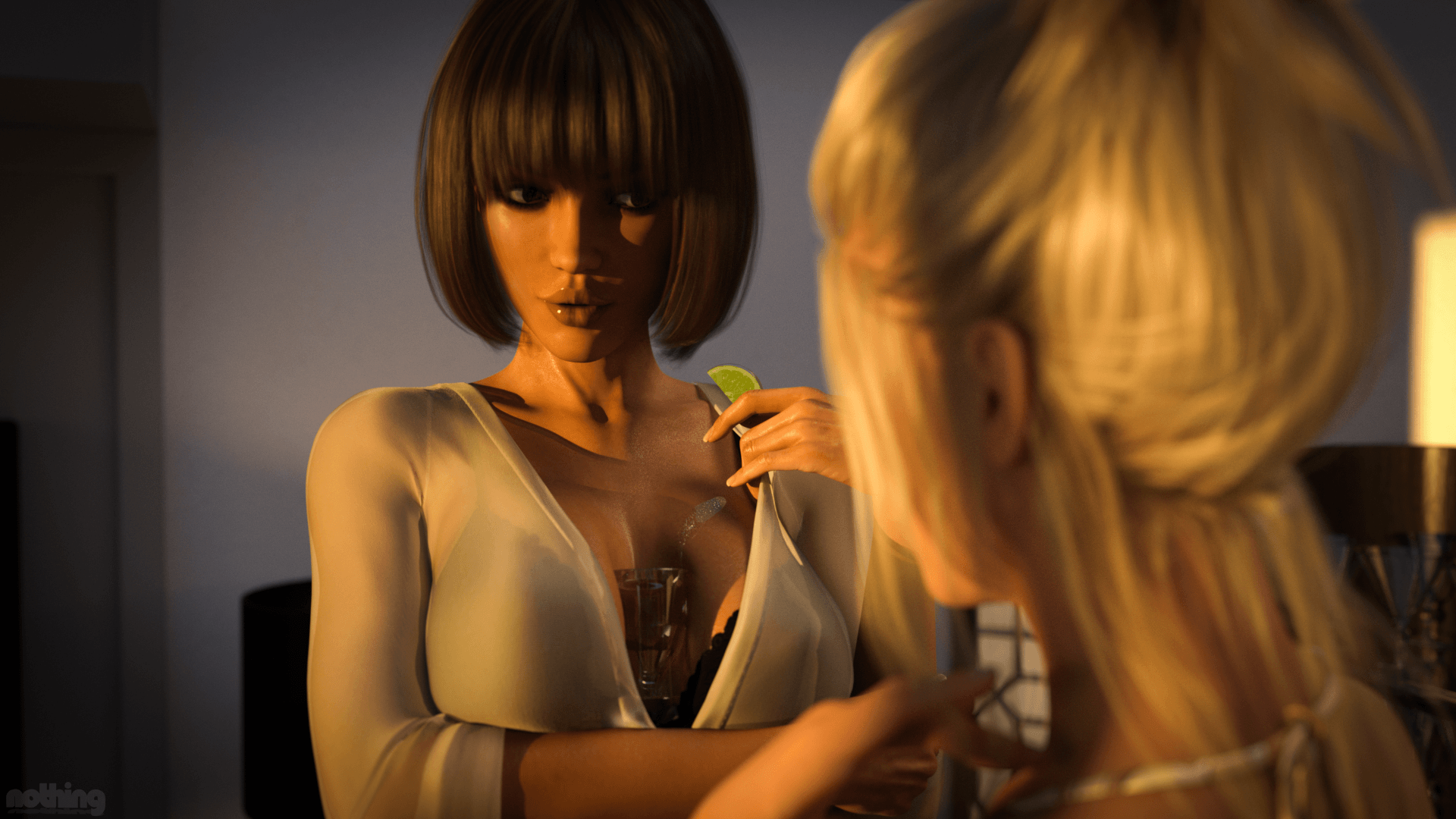 My head was already swimming and I haven't even taken the shot. I placed my hands on her hips, and bent down to lick the salt, taking a little too long to taste her flesh. Grabbing the glass with my lips, I paused to inhale her scent before taking the shot and nestling the glass back in her cleavage. Lightning shot from my lips to my belly, as I claimed the lime, quickly tossing it aside and going back for a second taste of Delphine's lips.
She wrapped her arms around me and kissed me fiercely. I opened to her, entwining my tongue with hers, drinking deeply of her flavor mingling with the alcohol. The gauze-thin bikini couldn't stop my thighs from getting slick as the heat of tequila and arousal mingled deep in my belly.
I slowly unzipped Delphine's skirt, sliding my hand underneath the smooth fabric straining to contain her voluptuous ass. A purr of appreciation vibrated in my throat as I felt the absence of panties, just firm, soft flesh.
"I love a woman who hosts a party prepared for action."
"Oh, I'm more than prepared."
I unbuttoned her blouse, kissing her soft skin as I freed more of her incredible body from each button. Dropping to my knees while undoing the last button, I yanked her skirt down. I stared wide eyed at the thick cock strapped to her leg with a buckled leather garter, and the growing stain where the head was buried in her stocking.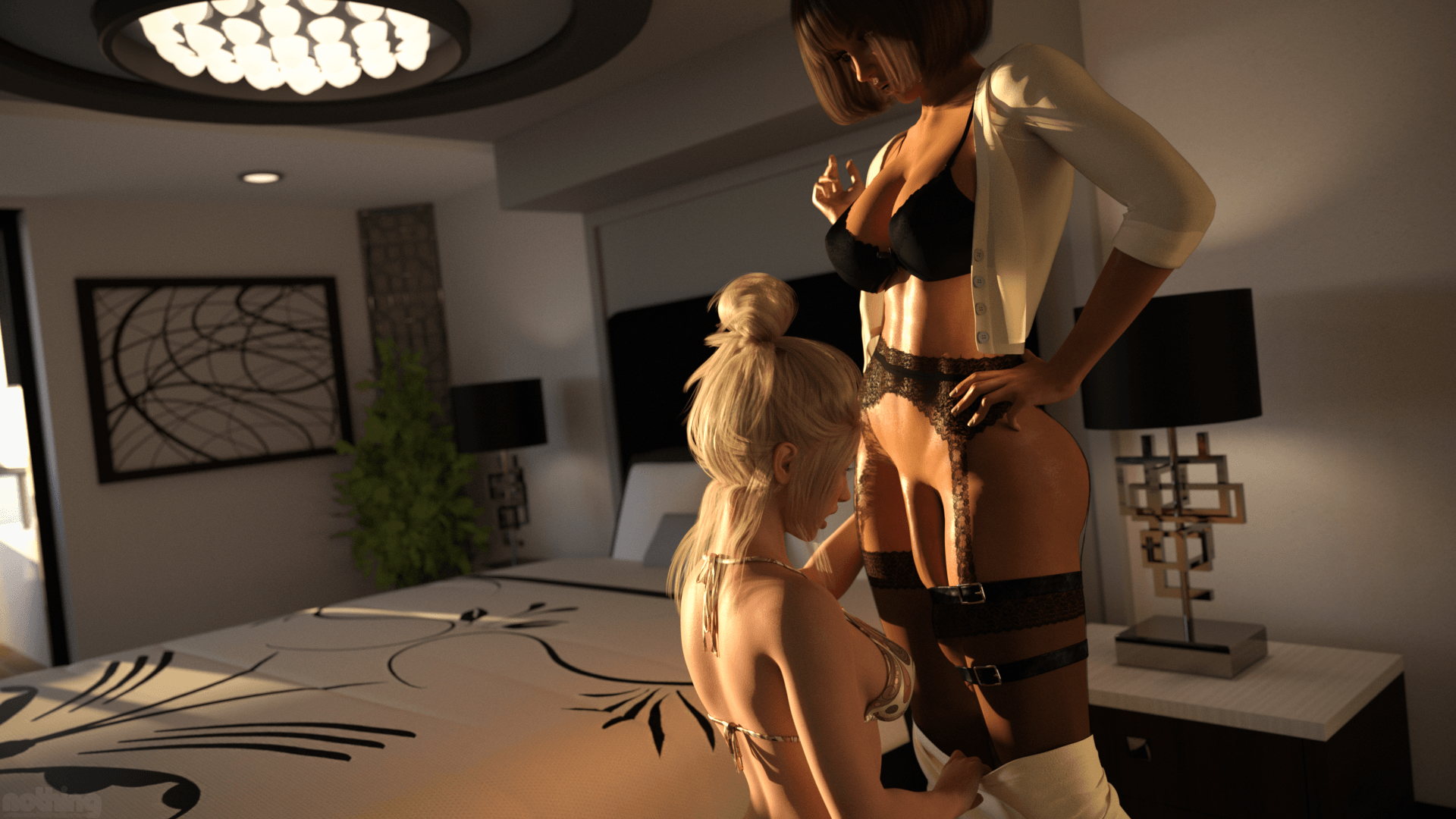 "No way," I gasped with heated amazement.
"Surprise," she replied with mock bemusement.
I placed a hand on her shaft, and felt it twitch, straining against the leather binding holding it down.
"Oh, this is going to be so much fun," I said, a wicked grin spreading across my face.
She gasped as I wrapped my hand around her cock, the back of the shaft slick with arousal running down from her pussy. I slid my hand up, teasing her opening with my fingers, and earning a breathy exhalation of need. I kissed the root of her cock while I slid my fingers inside her, the muscle pulsing as she yearned to be free.
Delphine ran her hand through my hair and cradled the back of my head, while her other reached down to unbuckle the garter. I grabbed her hand and pulled it away from the garter.
"Patience, I'll release you when it's time."
"Time for what? I need you now."
"Don't be in a rush."
I began to run my tongue up and down the back of her shaft while I curled my fingers forward and continued to stroke inside her.
"Oh fuck, if you keep that up I'm going to cum."
"That's the idea," I said as I increased my tempo, hearing the urgency in her voice.
She squeezed my fingers, and I felt her cock pulsing against my tongue as she climaxed, coming with such force she ejaculated right through the fabric of her stocking. She panted heavily in the wake of her orgasm, gently caressing the back of my head.
I pulled her stocking down and licked the salty sweetness still seeping from the head of her cock.
"Wait, too sensitive," she gasped.
"Now it's time. I need you inside me," I purred as I undid the buckle on the garter. Her cock sprang free with a meaty thump against her belly. "Fuck, you're so hard," I said, and grabbed her shaft appreciatively.
"Oh yeah, it's time." She said, pulling the ties on my bikini and watching it fall to the floor. The smokey look in her eyes as she gazed deeply into mine said I was about to get exactly what I wanted. She spun me around and pulled me into her embrace. I was so wet her cock slid effortlessly between my thighs. She cupped my breasts and kissed my neck as she rocked her hips, her shaft pressing against my slit with delicious pressure.
I rocked my hips in sync with her, and her cock rubbed against my clit torturously. I groaned with the building pleasure and pressed myself harder against her cock.
"You feel so good, and I'm not even inside you yet," she groaned as she bit my earlobe. "I want you to come for me, all over my cock."
I reached down and pulled her cock against me as I ground hard against her, desperately wanting to give her my orgasm. Right when I started coming, she bent me over and shoved herself all the way inside me. I cried out. A thousand words flew through my mind, but nothing coherent escaped my lips as I drowned in the most overwhelming orgasm I've ever had.
I didn't even have time to ride the wave before she grabbed my hips and began thrusting savagely. I moaned with each thrust as indescribable pleasure spread throughout my entire body and kept building in intensity.
She slid one hand up my spine to my neck, gripping my shoulder as she pressed herself deep inside me. Her voice joined mine in chorus as she spent herself, liquid heat filling my center. She slumped over my back, panting, and wrapped her arms around me. Then she rolled onto the bed and cradled me in her arms, kissing the back of my neck.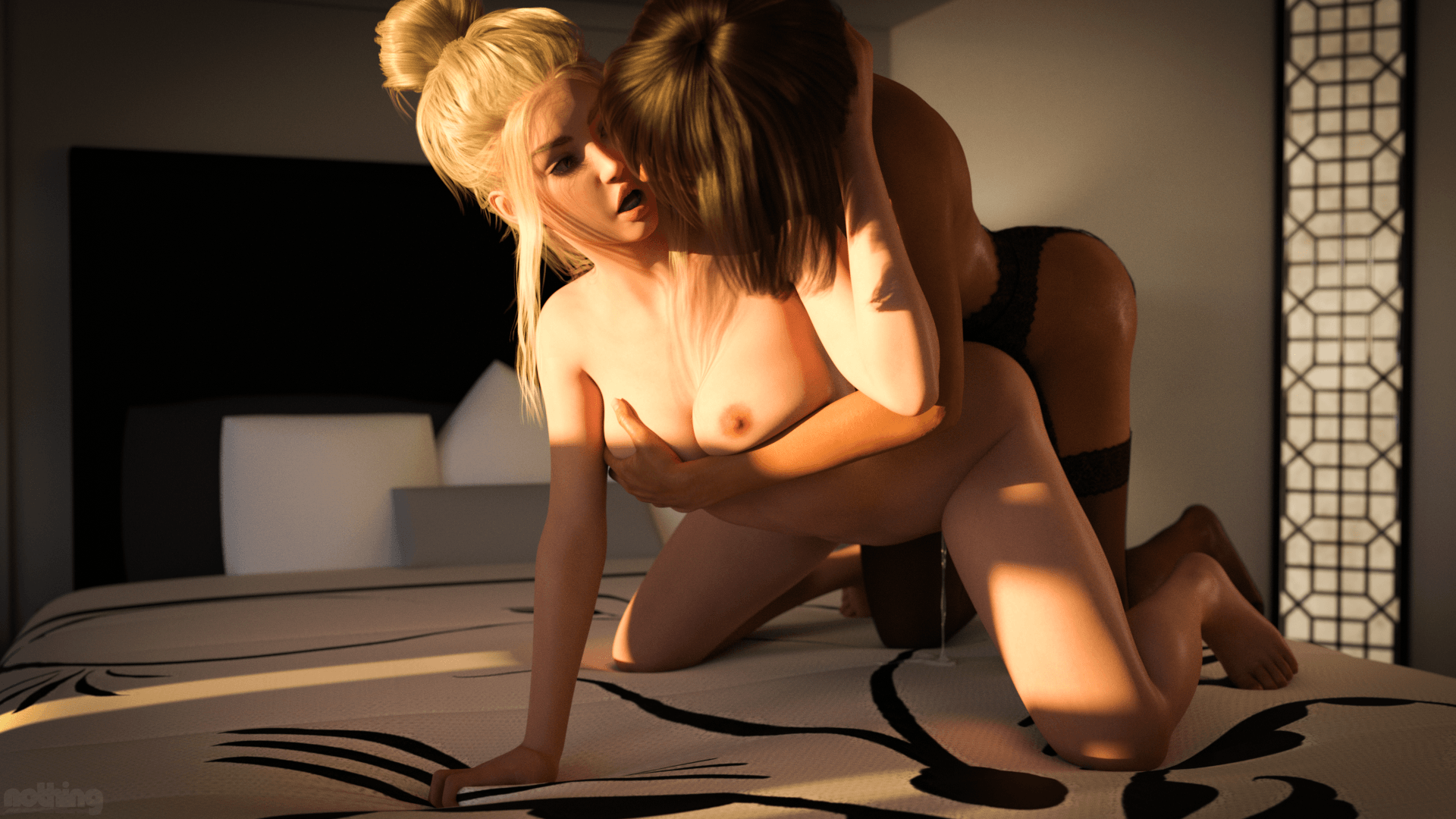 Her cock slipped out of me as she went soft, and I could feel her cum running down my ass. The rhythm of her breathing and exhaustion from such a powerful orgasm lulled me into a deep and satisfied relaxation. I fell asleep as I fell for her.