Alex sat at her desk, fuming. The meeting with the consultants hadn't gone as planned. They refused to supply the second half of a report that was essential to her latest project. Not unless she paid them an advance. Her fingers drummed against her desk, face turned towards the view of the city. The sun was setting and she could hear the office emptying behind her. She envied her employees. A meeting could go badly and they didn't care, as long as they still had a job. They could go home or even better go out on the town. She had to stay and figure out a way to strongarm the consultants. Either that or find someone else to write the report.
Alex heard a knock at the door, she turned, furious at being interrupted. It was her secretary – Alessandra. As usual, the bimbo wore a skin-tight dress coupled with an alluring pair of stockings and high heels. Alessandra was Italian. At first, it had amused Alex that her secretary should basically share the same name. But as time went by the girl had got on her nerves. Not professionally – she was surprisingly good at her job – but physically. Her provocative and flirty nature, her outfits, and that body language that screamed out "bend me over".
And yet, Alex had always resisted. Firstly, because she never mixed work and play and secondly, no one knew what she really hid between her thighs. And of course, there was the likelihood of a lawsuit. So she had hidden the inevitable daily erections her assistant provoked. And now, despite her mood, she felt the beginning of one as Alessandra came, smiling and sexy as ever over to her desk.
"Would you like me to stay late Alex?" Oh and that damned Milanese accent, Alex just couldn't resist.
"No Alessandra, you can go."
The secretary smiled and, for no apparent reason other than to add to her temptress nature, brushed a hand over one of her perfect breasts before telling her boss goodnight, smiling in her flirty manner and heading for the door. That fucking ass, Alex thought to herself. And that bloody attitude. Suddenly, she called Alessandra back.
"Actually Alessandra, if you don't mind, I do have a final task for you." Fuck it, if the little minx wanted to play games, she would play.
The minx turned and faced her boss once more, the same sly smile on her face, "Of course Alex, what do you need?"
"I need you to sort through the cabinet files over there, Alex pointed to a draw near the ground, a few feet from her desk, find the office policy regarding contract management. It should be in the lower drawers."
"With pleasure Alex."
In reality, the brunette boss had no idea where that policy was, or if the office even kept a hard copy. She just wanted to watch her assistant kneel. And so she observed Alessandra walk over to the cabinet, slowly bend over and, in total impunity, get on all fours. Now Alex had a stunning view of her ass, cast in the thin fabric of her short dress that had ridden up her thighs. A thong was clearly molded under the cloth. Alex was fully erect now and her pants were growing incredibly uncomfortable. She quietly unbuttoned them, hidden by her desk.
Alessandra was rummaging through the files, searching for the policy.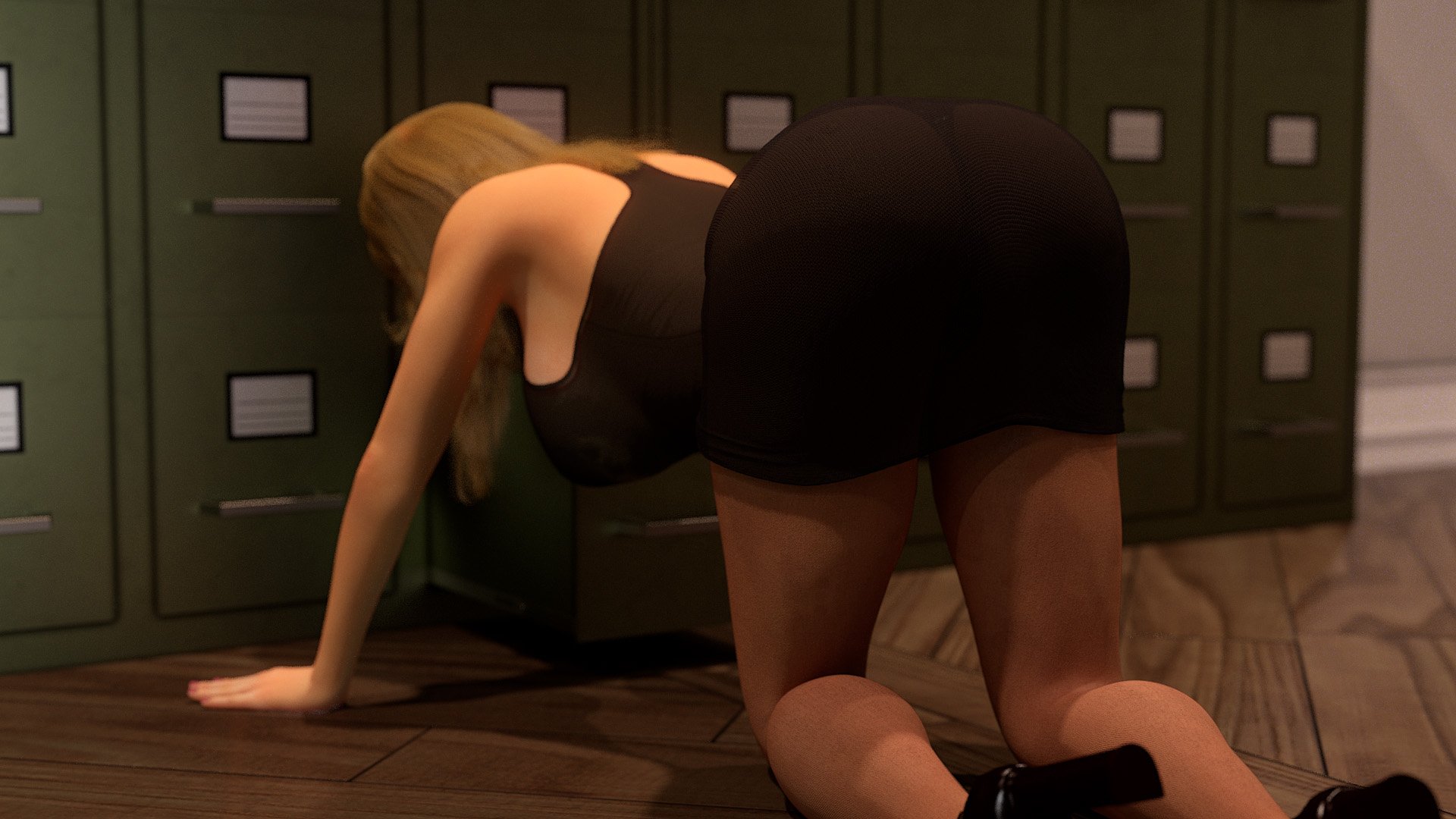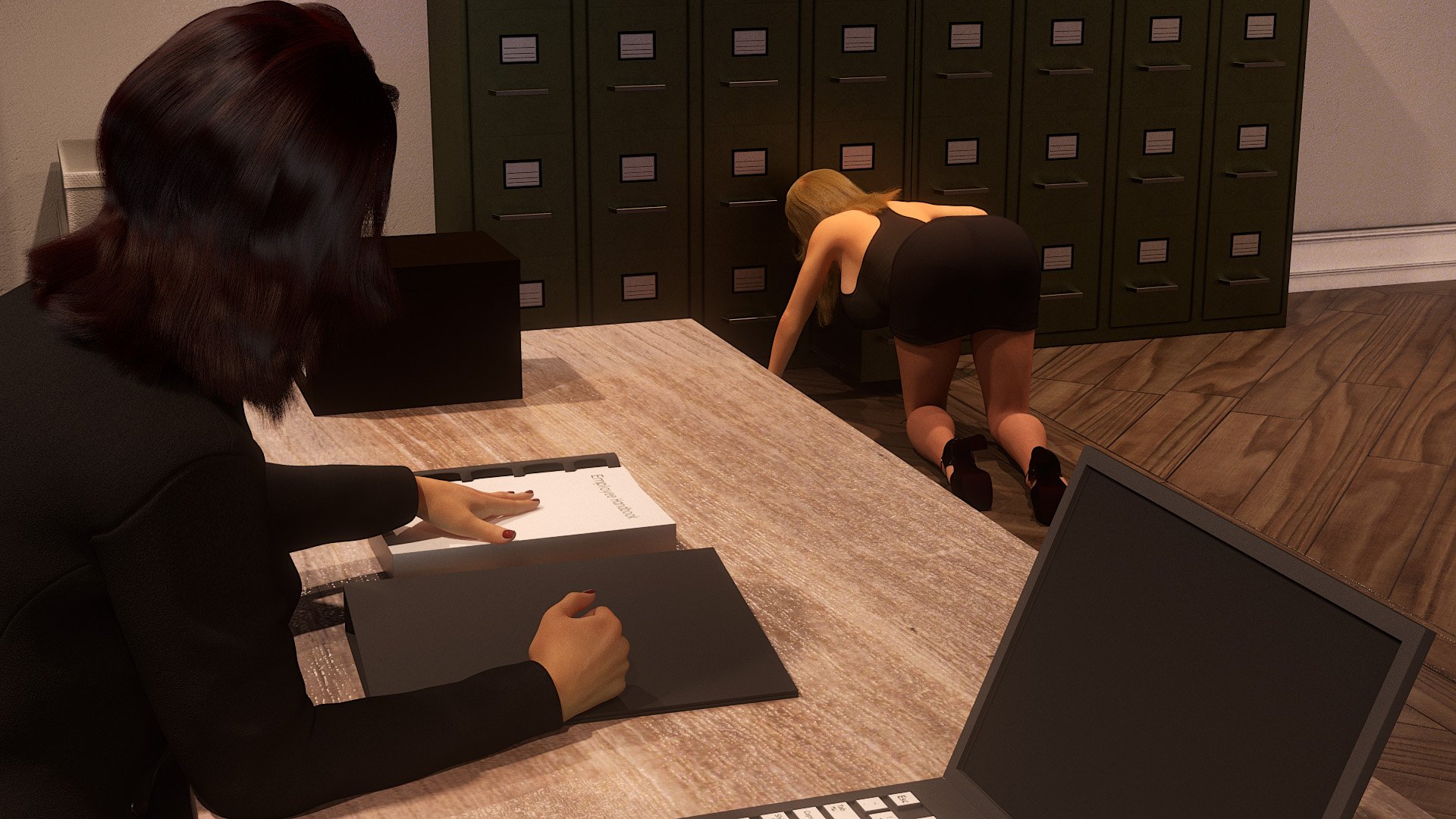 "I don't think those files are here boss." She glanced back over her shoulder, still smiling. "Would you like me to look somewhere else?"
"They might be in my desk drawer." Alex had no idea why she was playing this game, nor where it would end. Maybe she had just finally had enough of the minx's attitude.
It was only as Alessandra knelt down beside her desk that Alex realized she had a full view of her bulging crotch and undone pants. The girl paused, her eyes widening slightly as she took in the sight. There was no doubt about what it could be. She had obviously heard about dickgirls but never met one in the flesh. Rather than panic, however, or even seem shocked, she simply smiled once more and looked her boss straight in the eyes.
"You seem a little tense Alex. Would you like me to help you with that?"
It was too late now, her secret was busted. And so she just nodded. The secretary crawled on all fours under the desk, until she was between her bosses thighs, in front of the chair. Slowly, she ran her hands up the dickgirl's legs, making Alex shiver in anticipation. Alessandra placed her right hand over the bulging mass that was her cock. Her smile widened as she felt the warmth beneath the cloth.
Alessandra then finished unbuttoning the pants and, her eyes once more on those of her boss, slipped one hand inside and grasped the erect member beneath. She gingerly pulled it out, all eight inches now free from the grasp of the fabric. It stood, proud and pulsating between her fingers. Tentatively, Alessandra rand her hand up and down the shaft, stroking it lovingly. Her eyes marveled at its size. And then, with a last glance at Alex, she moved her face forwards, parted her lips and slipped the tip in her soft mouth.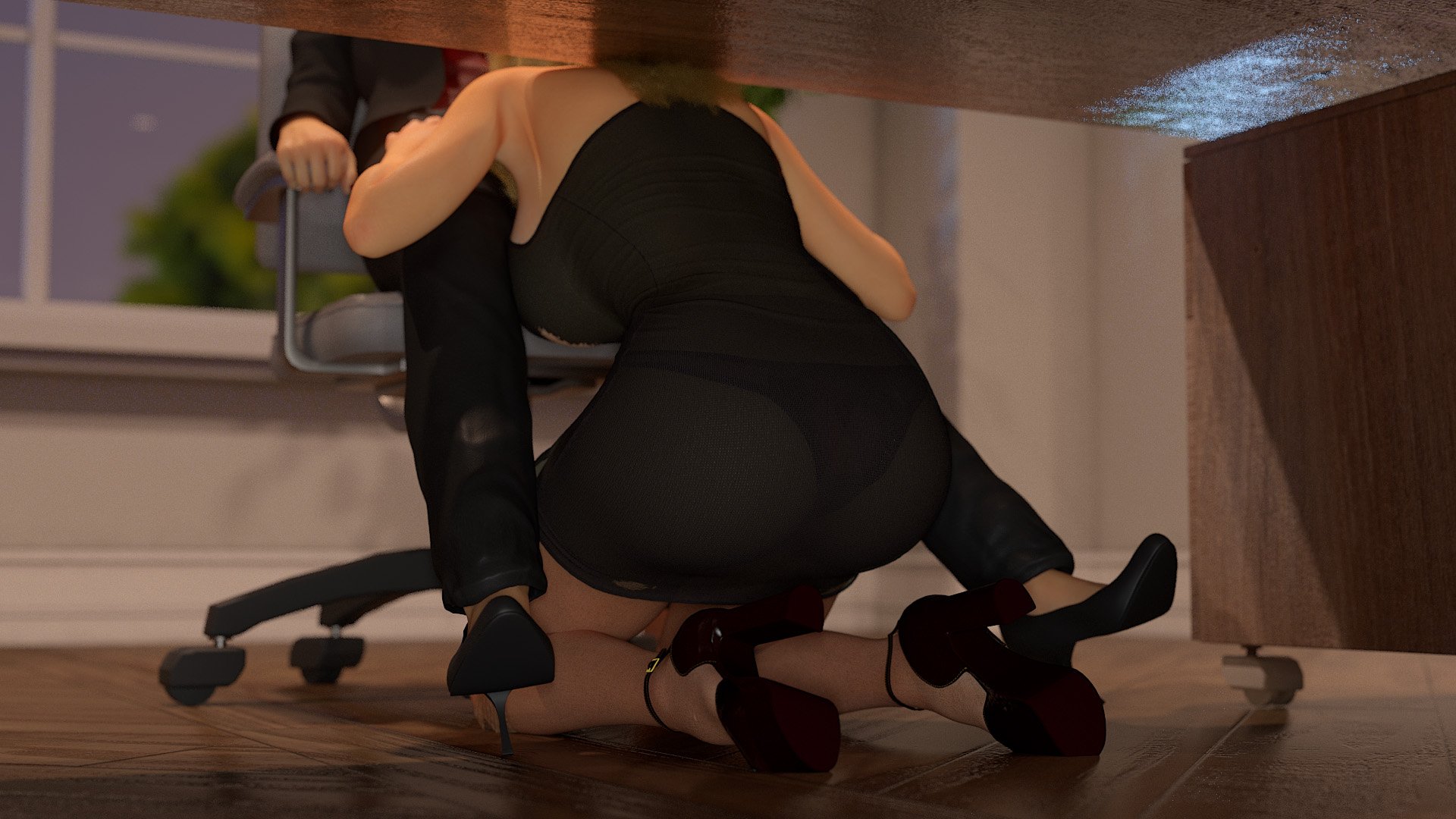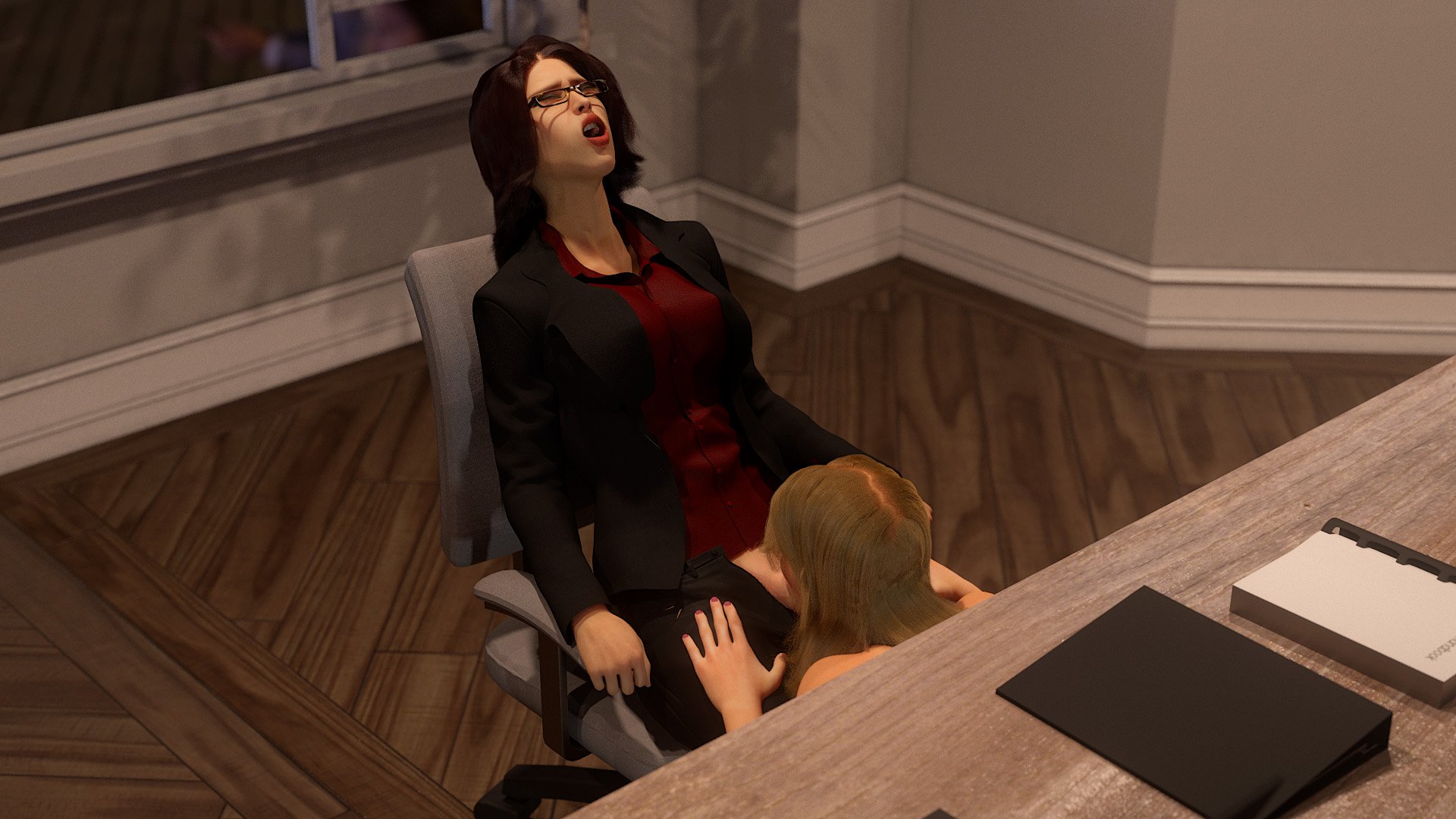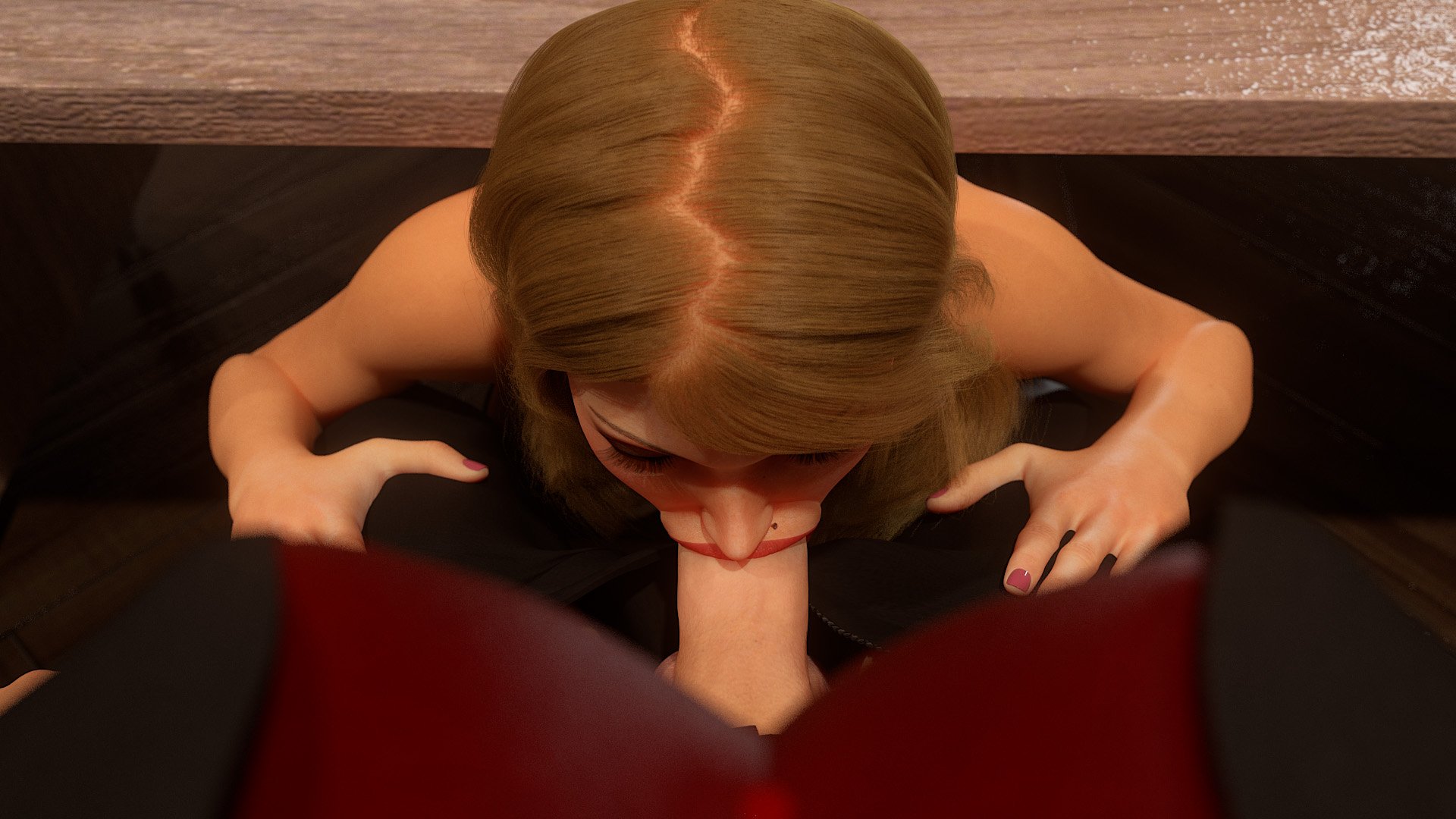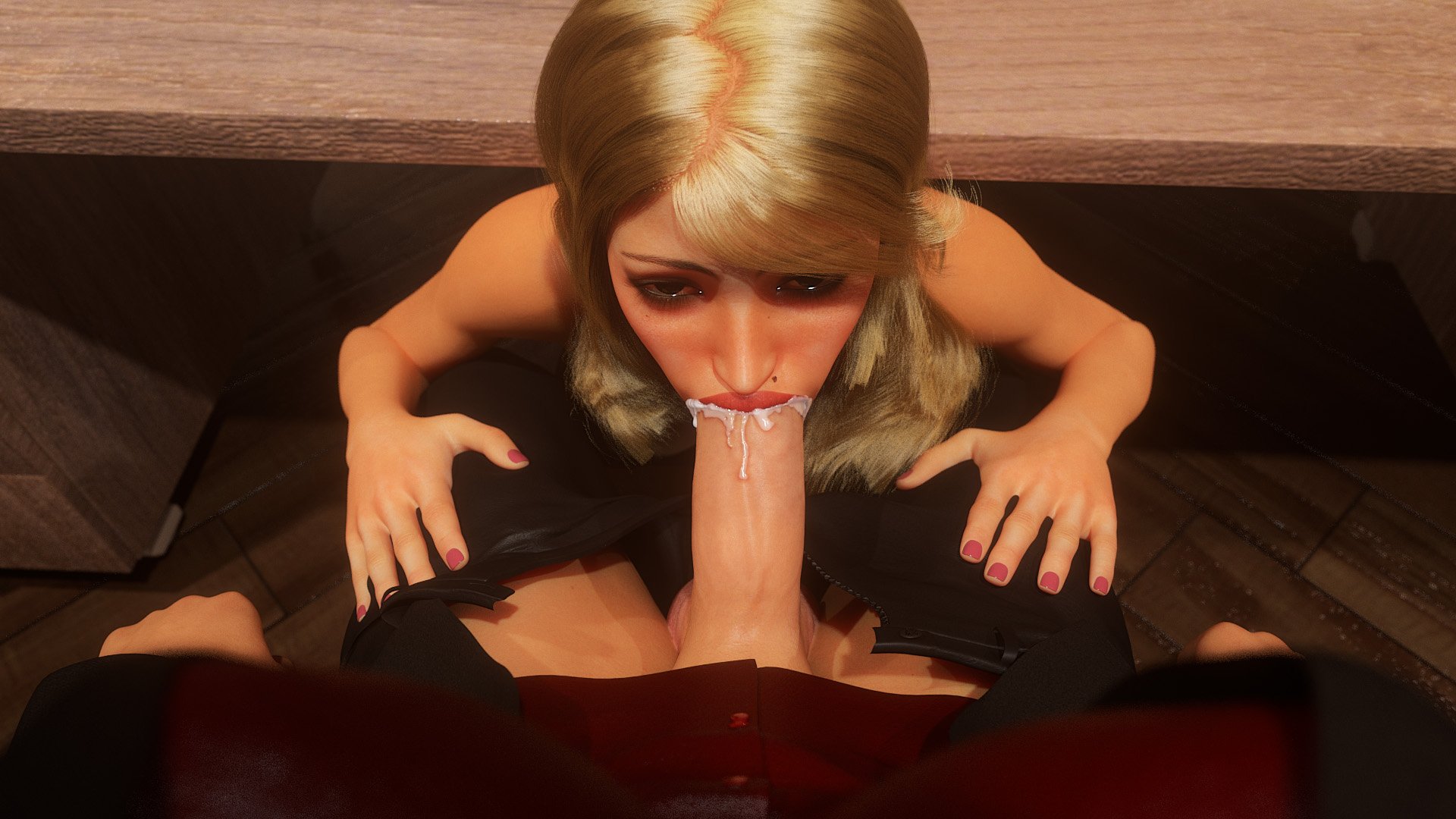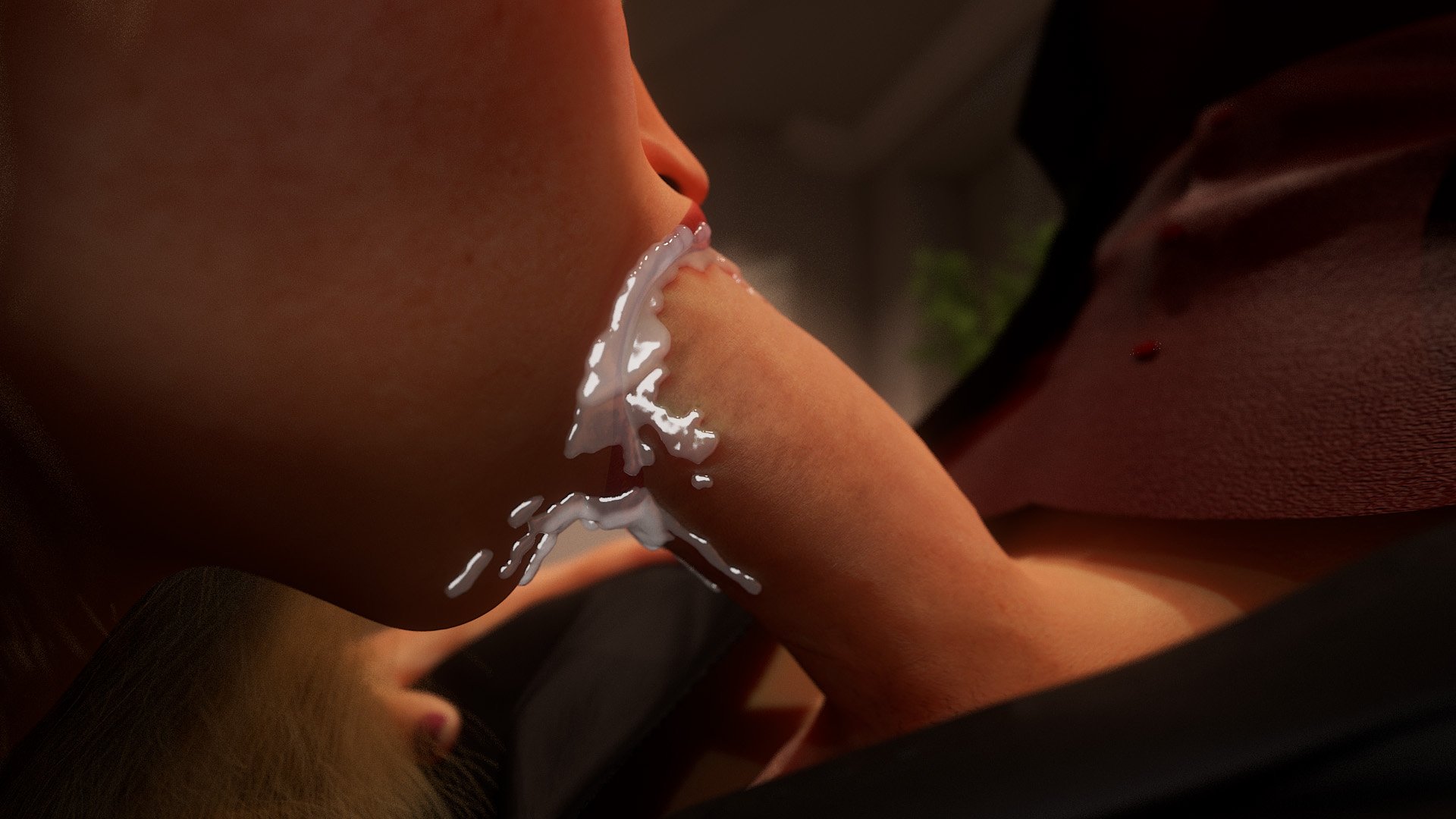 Alex let her head fall back, fuck she was good. Her secretary sucked her cock with total devotion, every inch on fire it seemed, responding to her delicate yet firm touch. And then, without warning, she felt pleasure overwhelm her, erupting from the tip of her cock, flooding her assistant's mouth and throat. The girl, surprised, bulked at first but didn't pull the dick out of her mouth. She swallowed the flow of cum that poured down her throat. Every drop was taken in. Alex moaned.
The secretary, thinking her job was done, crawled from underneath the desk and stood. She was used to men who, once they had cum, were done. But Alex had other things in store for her assistant. She stood, letting her pants drop, her cock still fully erect. The brunette walked around her desk to her assistant and seized her by the waist. She was taller than the Italian by at least a few inches. The girl let herself be handled, her own arms delicately embracing her boss. Alex kissed her, tasting her own cum, before pushing her back against the desk and hoisting the woman's dress above her waist. She then ripped Alessandra's tights and pulled the lace thong aside, revealing a perfect shaved mound already moist and hot to the touch.
The boss lifted her secretary up onto the desk and spread her thighs. She knelt down and kissed the ripe clit that presented itself to her, parting her lips with her fingers as she did so. Alessandra, true to her expressive Milanese nature, cried out in ecstasy.
Alex licked the woman's pussy for what seemed like hours, inserting a finger inside and making the girl cum. Then she rose back to her feet, grabbed her cock, and rubbed it against the now soaking lips. She pushed forward, her tip slipping effortlessly inside her assistant who could only gasp.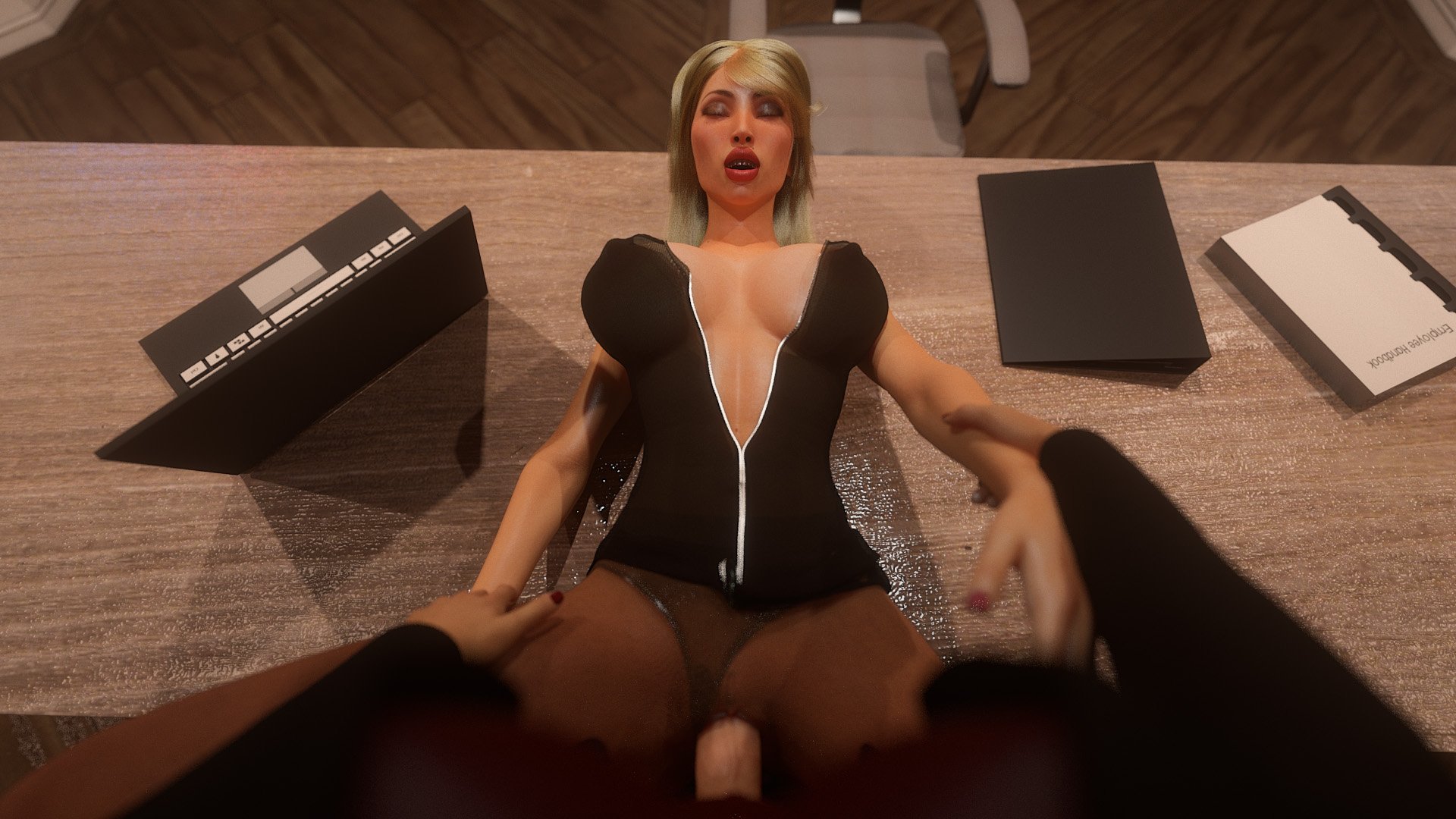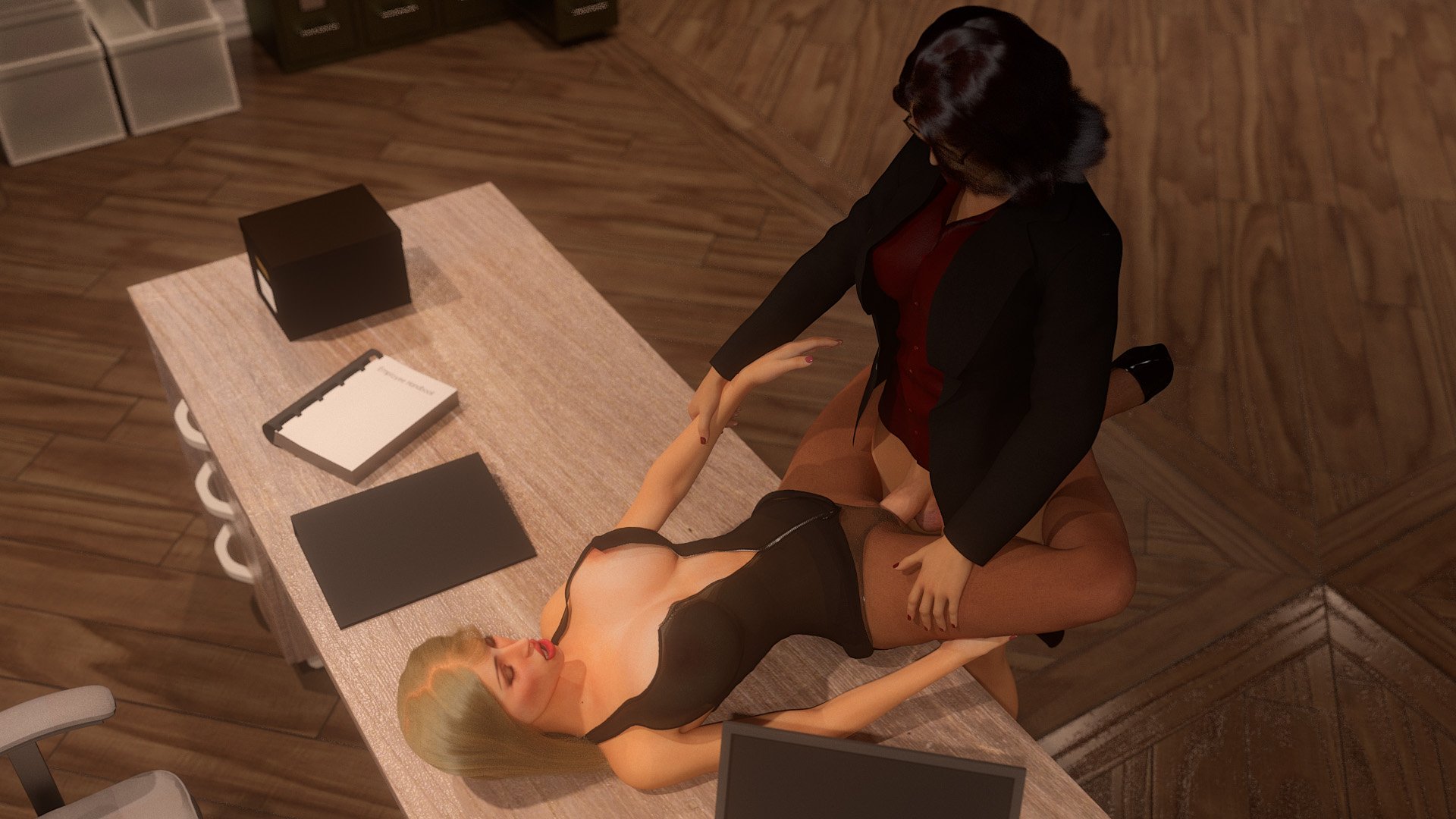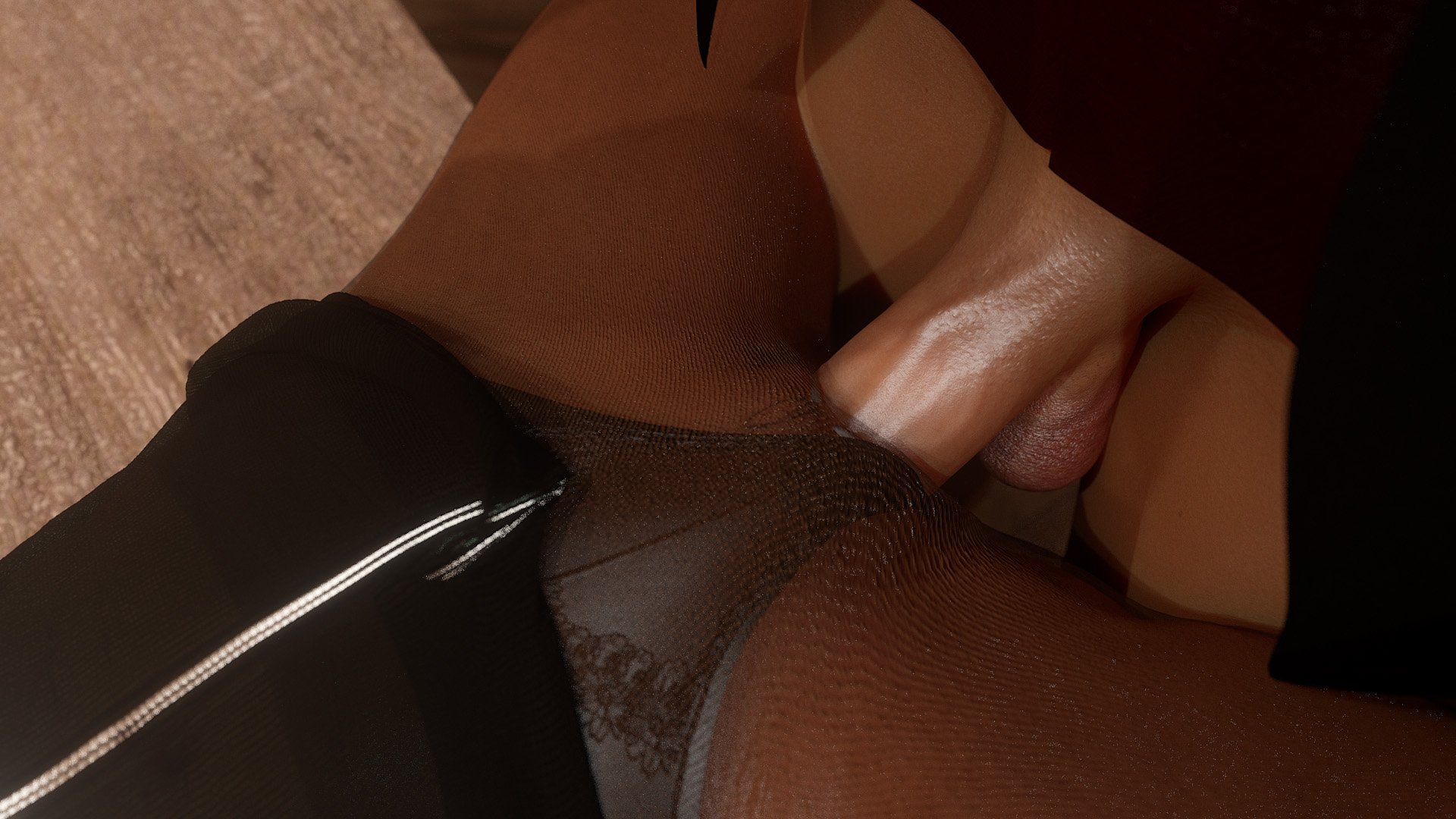 The stunning dickgirl fucked her secretary senseless on her desk, hands wrapped around her waist, letting all the anger and frustration out, her waist slamming against Alessandra's ass, her cock sinking deep into her. The two came simultaneously, another powerful jet of cum pulsing out of her tip, into her new lover.
Alex didn't regret her decision.