The car rolled to a halt, rumbling over the loose gravel of the courtyard. Alex and her two accomplices stepped out. Aside from a few creases in their dresses, Alessandra and Sophie appeared totally normal. It would be impossible to guess that just half an hour before, both had received the massive load that Alex had let flow onto their eager faces.
The trio climbed the stone staircase to the intricately sculpted entrance of the old manor. A few others were still arriving but it seemed as if most of the guests were already present. Surely enough inside, the main ballroom, decked out with tapestries and lush furniture, was buzzing with the polite chatter and conversations of the guests. Alex led her two lovers in. Almost immediately, Alessandra began networking – walking off to say hi to a group of finely dressed men the company had done business with.
Alex was greeted by the host – a tall and handsome man whom she had only met once. But it seemed he was eager to discuss a business move with her, perhaps even a merger according to her Italian secretary. Alex took in the goods, admiring his strong build and sharp features. He couldn't be more than thirty she decided. The brunette dickgirl introduced her lover and she noticed how the man's gaze looked her over from head to toe. The three talked and laughed and the tall host introduced them to other guests. But even as he said their names, his eyes never left Alex.
The night wore on. Alex found that she had become quite tipsy. As the handsome host – whose name was Jonathan – had talked and laughed with her, she had accepted glass after glass of champagne without thinking of food. But now she was hungry for something else entirely. Sophie also seemed to be enthralled by the sexy Jonathan and Alex had no trouble picturing the state of her lover's panties right now. In fact, she was having a hard time concealing her own excitement. She had tucked her cock in between her thighs but now it sought to break free. Alex wanted to let it do just that and for this man to witness that. But she hadn't been fucked by a male in years. She never knew how they might react. Most were confused and unable to deal with the surprise. Some showed themselves submissive and let her fuck them. Whilst others, and she suspected Jonathan might be amongst them, simply saw the situation as a chance to treat her as they would any other woman, even more turned on by the fact that she had a cock. Alex hoped that was the case. She wanted Jonathan to fuck her.
It was at this moment that the striking host leaned towards both Alex and her lover and whispered
"Feel like getting out of here?"
Both "girls" nodded and Jonathan smiled, "Let me show you the house."
He led them up the monumental marble staircase that stood, beautiful and massive at the back of the ballroom. The two lovers followed him down a long, ornamental hallway. It was lined with doors and towards the end of the corridor he opened one to the right and ushered them into a sumptuous bedroom. In the centre, a heavy post bed stood. The room was richly decorated with ornate furniture and lush carpets. As soon as the door closed, Alex felt a change in the mood. Jonathan still bore the same interest in his eyes but now he seemed hungry as well. His gaze no longer simply admired her, it bore into her.
"Get undressed." Was all he said
"But -" Alex attempted to explain that she wasn't quite what she seemed but Jonathan was having none of it,
"Both of you, naked now."
Sophie glanced over at her lover. Alex paused for an instant and then threw caution to the wind. The two lovers rapidly stripped, Alex out of her suit and Sophie unzipping her tight dress. She kept her stockings but peeled off her lace lingerie beneath. Jonathan smiled as he took in her naked beauty. And then Alex took off her underwear. There was no hiding it now. His gaze shifted once more to her and his eyes seemed to widen for an instant, before reverting to their initial intensity.
"Interesting." Was all the host said before walking over to Sophie.
He kissed her, his arms wrapping around her, one hand reaching for her ass and the other finding its way to her already hardening nipples. Alex could only watch as the man took possession of her lover. Her cock had become fully erect, springing from its prison. She began to stroke it. Jonathan immediately reached out and stopped her.
"How about we get Sophie here to show us both how well she does with that mouth of hers?"
Sophie smiled and kneeled. Alex helped the tall man undress. Naked he seemed even bigger and stronger, his body muscular and taught. The pants fell and the boxers, once removed, revealed an already rock hard cock. It was just as big as Alex's, much to her relief and amazement. Rarely had she met men who were able to match her in that region.
Sophie immediately took both penises in her hands. She began stroking the two, her eyes shiny with amazement and perhaps even a glimmer of fear. The two cocks were huge and she seemed at a loss over which to satisfy first. But Jonathan left her no choice, his hand pressing her head on to his tip. He sighed as she showed no resistance and her lips parted to great him. Alex watched as her lover sucked this man lovingly. Her hand remained clasped around her own cock but her full attention was devoted to the host.
Sophie sucked for a long time, every now and then shifting her focus to the man's heavy balls. Finally, it was Alex's turn and her lover switched to her own bulging erection. Jonathan watched, mesmerized as the girl took her dickgirl lover into her mouth. The same attention and love were given to Alex's cock as had been the case with the tall host. After what seemed like a blissful eternity, Jonathan seemed to break free of his trance and pushed Sophie's head back.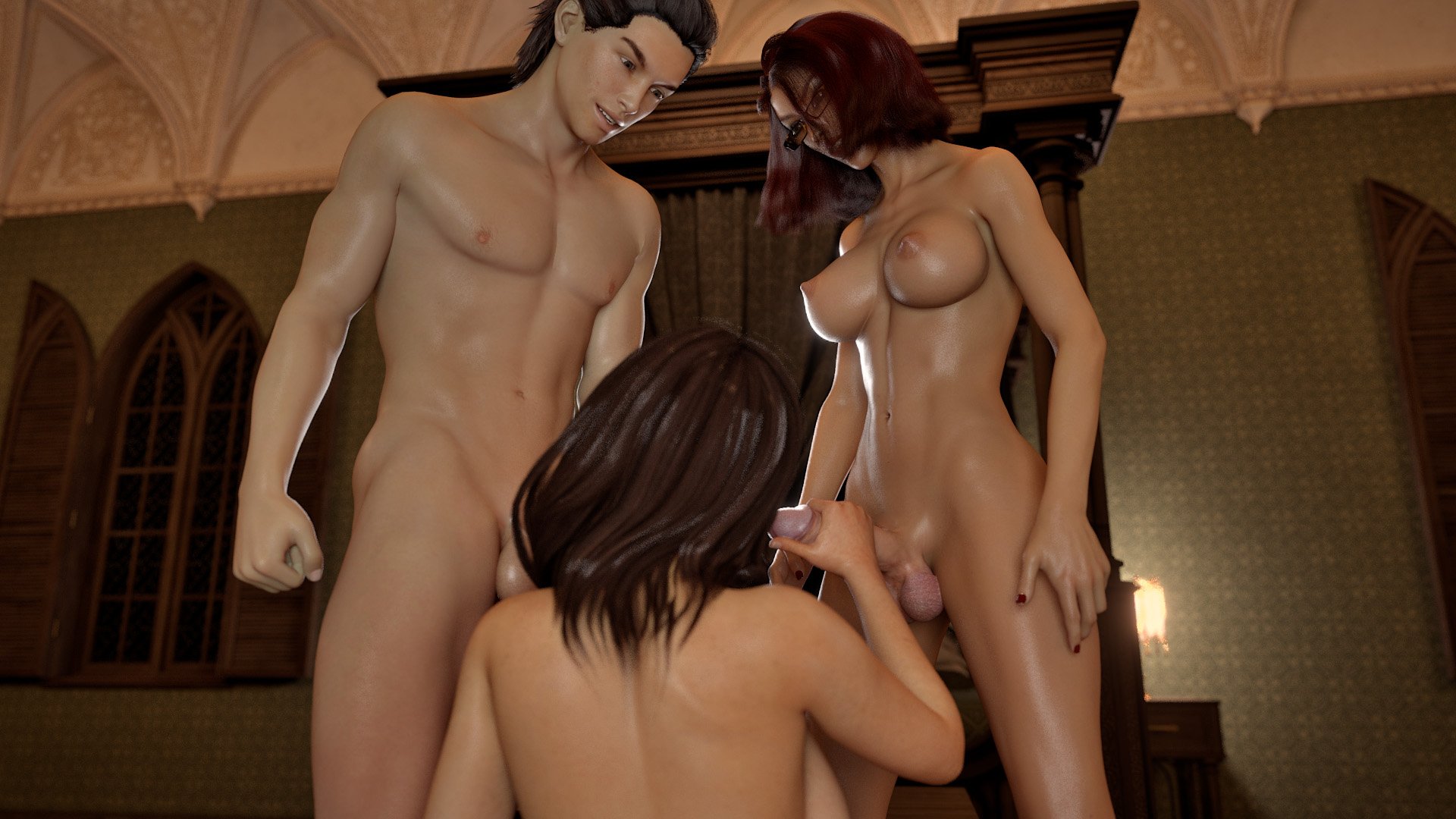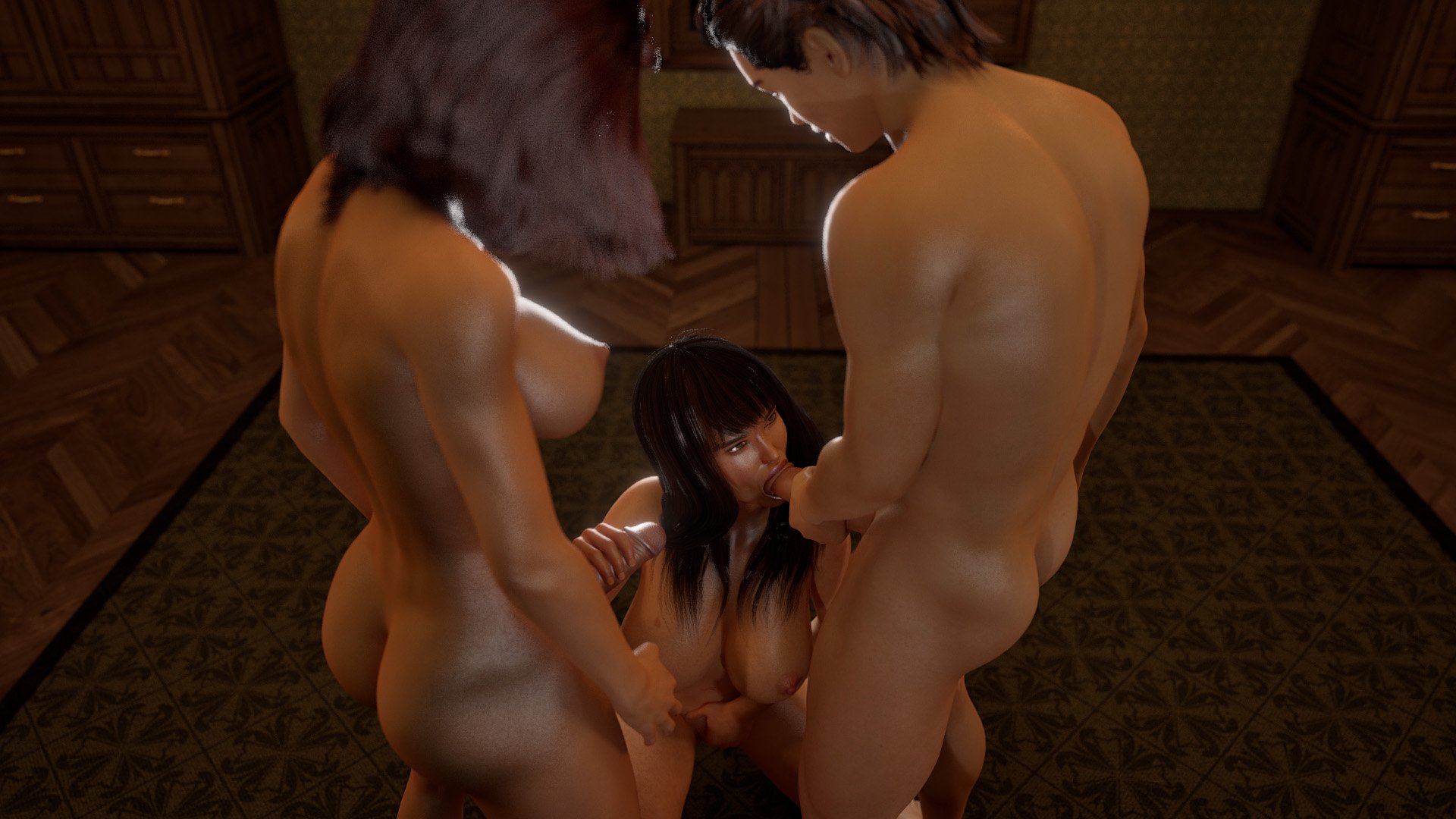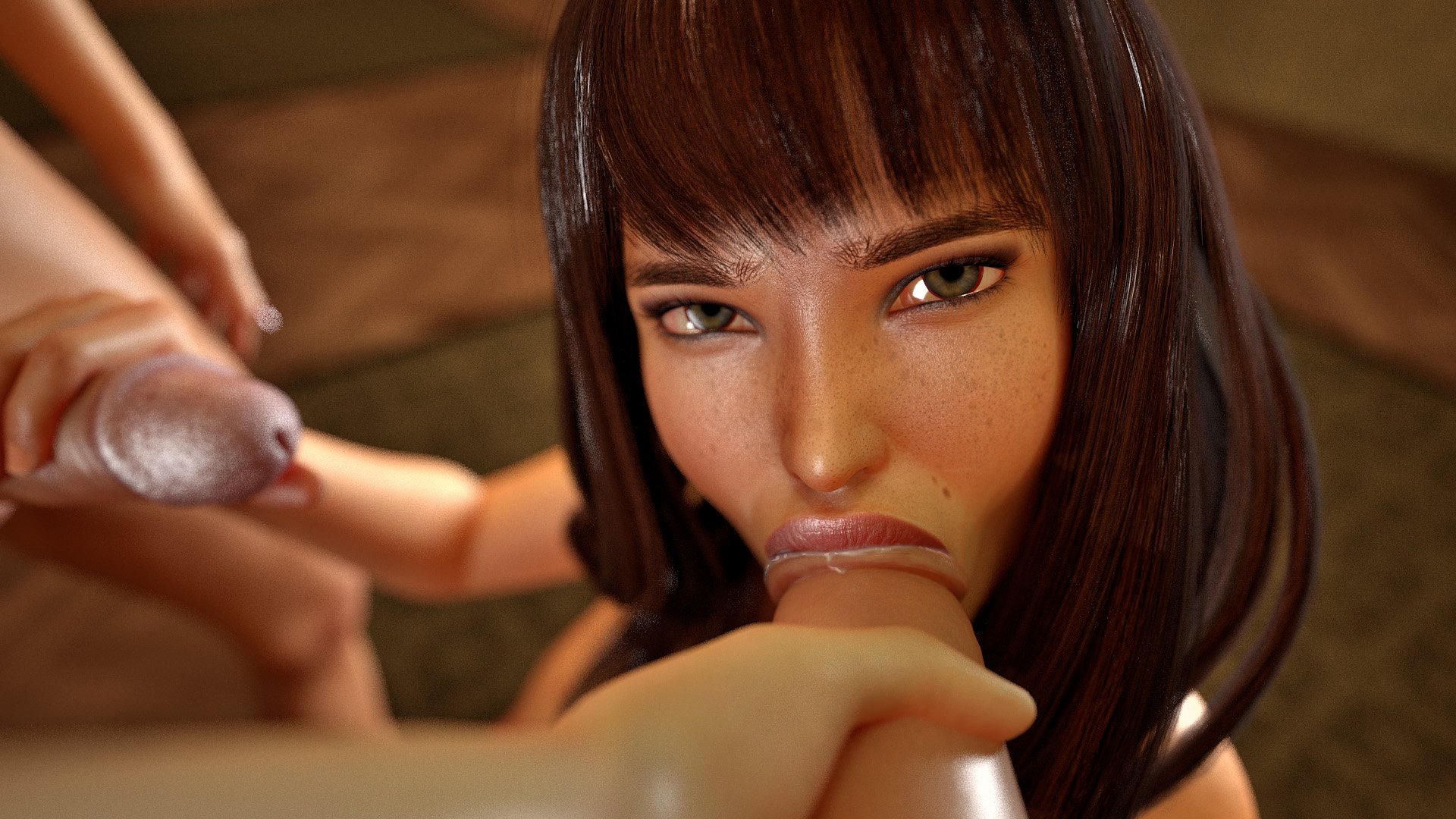 "Now let's see how good you are at that." He looked at the dickgirl.
He kissed Alex before gently but firmly pushing her to her knees. Alex looked up – she couldn't remember the last time she had sucked a cock. Jonathan smiled and she turned her gaze to his erect monster. Gingerly, she took cock and balls in both hands and began to stroke. She marveled at their size, experiencing what she so often imposed on her own lovers. Then, as with Sophie who still knelt beside her watching, she felt Jonathan's hand on the back of her head, bringing her forward. The tip of his cock touched her lips and she had no choice but to part them. His member slid into her mouth, forcing her to open wide. He kept going until it reached the back of her throat and she had trouble breathing. Then he relaxed his grip and Alex began naturally moving her lips back and forth along the long shaft. She devoted herself totally to the task – almost determined to show she could do as good a job as her lover. Both Sophie and Jonathan watched with amazement as Alex deepthroated herself on the massive cock before paying attention to the tip and then balls.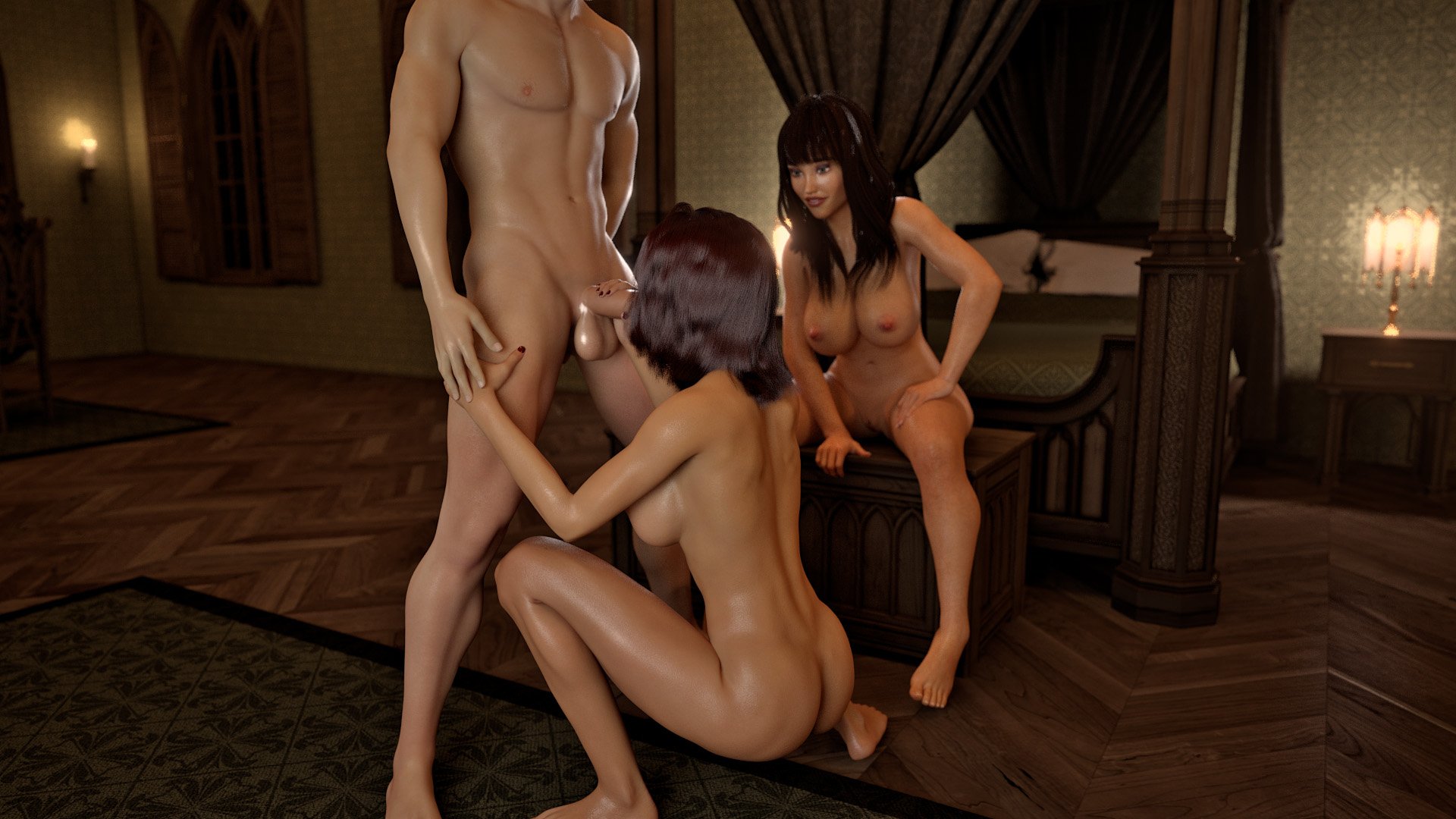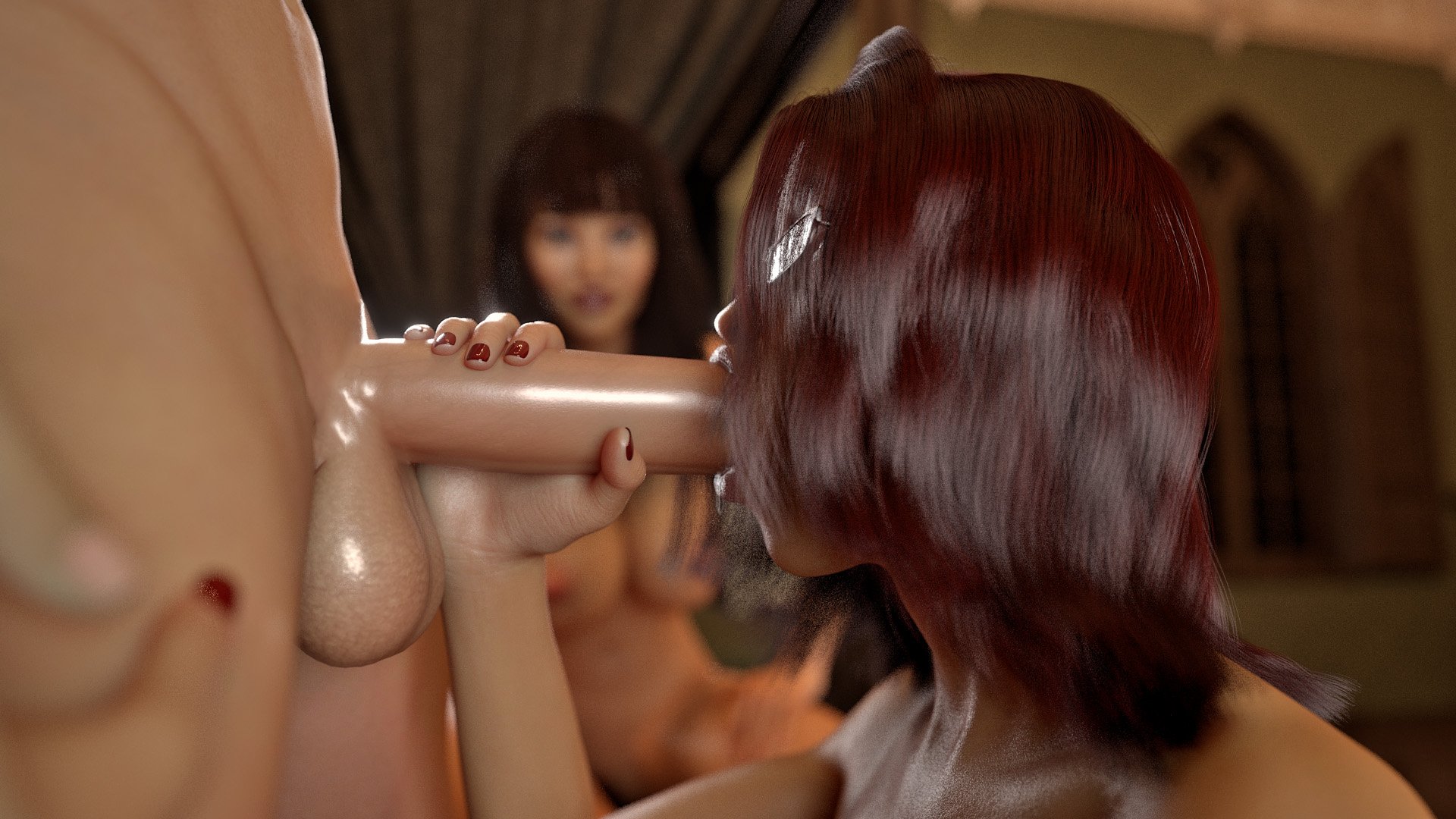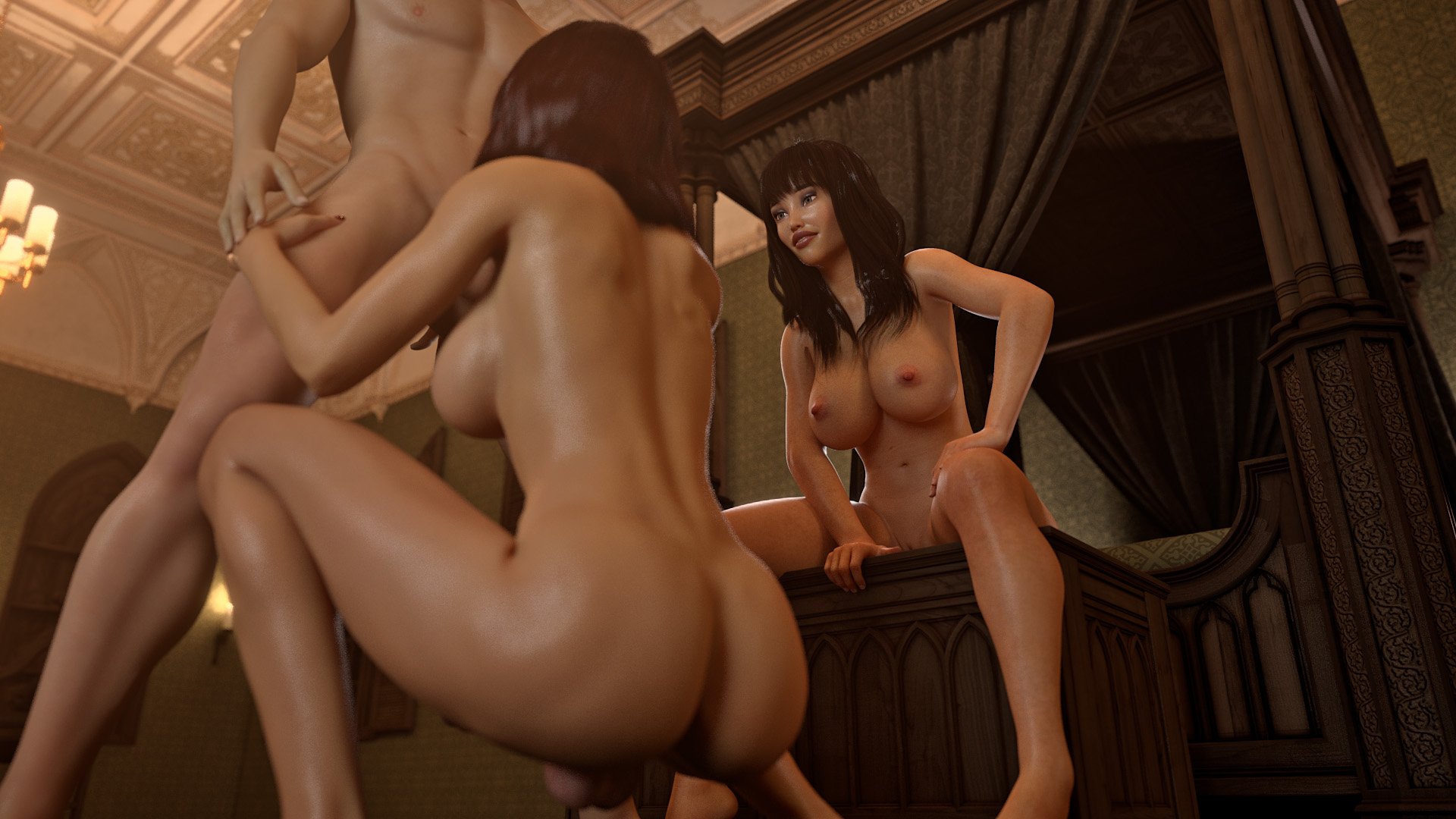 Finally, the three headed towards the bed. Sophie automatically got on all fours and Jonathan positioned himself behind her, placing his hands on her waist. Alex knelt in front of her lover and offered her cock up to her mouth. The handsome host didn't wait and immediately slid into Sophie's drenched pussy. Sophie, her mouth now full of Alex's member, could barely moan as the two had their way with her.
The brunette lover came as Jonathan fucked her hard and Alex kept her cock down her throat. The two then switched, Alex fucking Sophie as she sucked Jonathan's cock.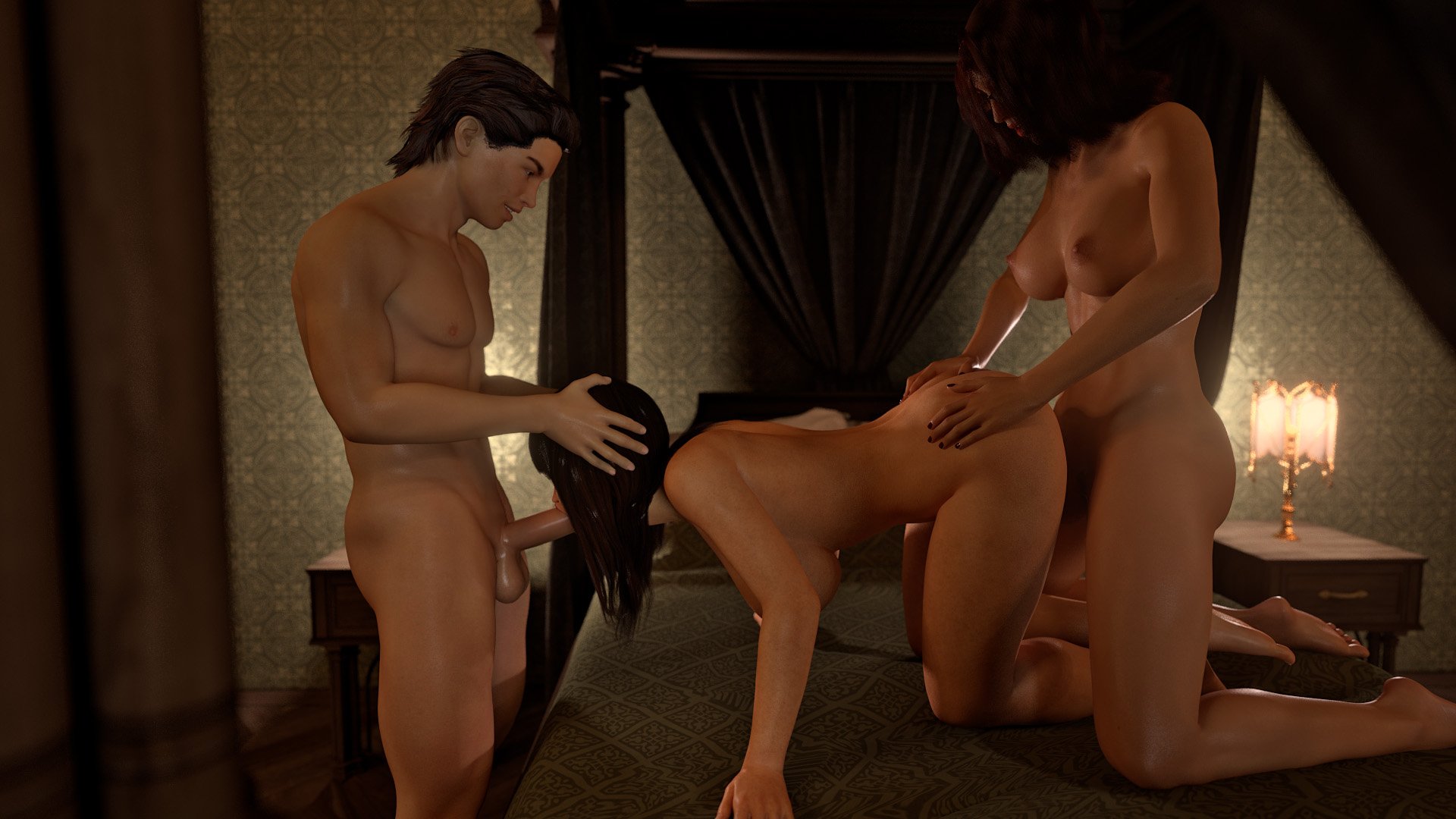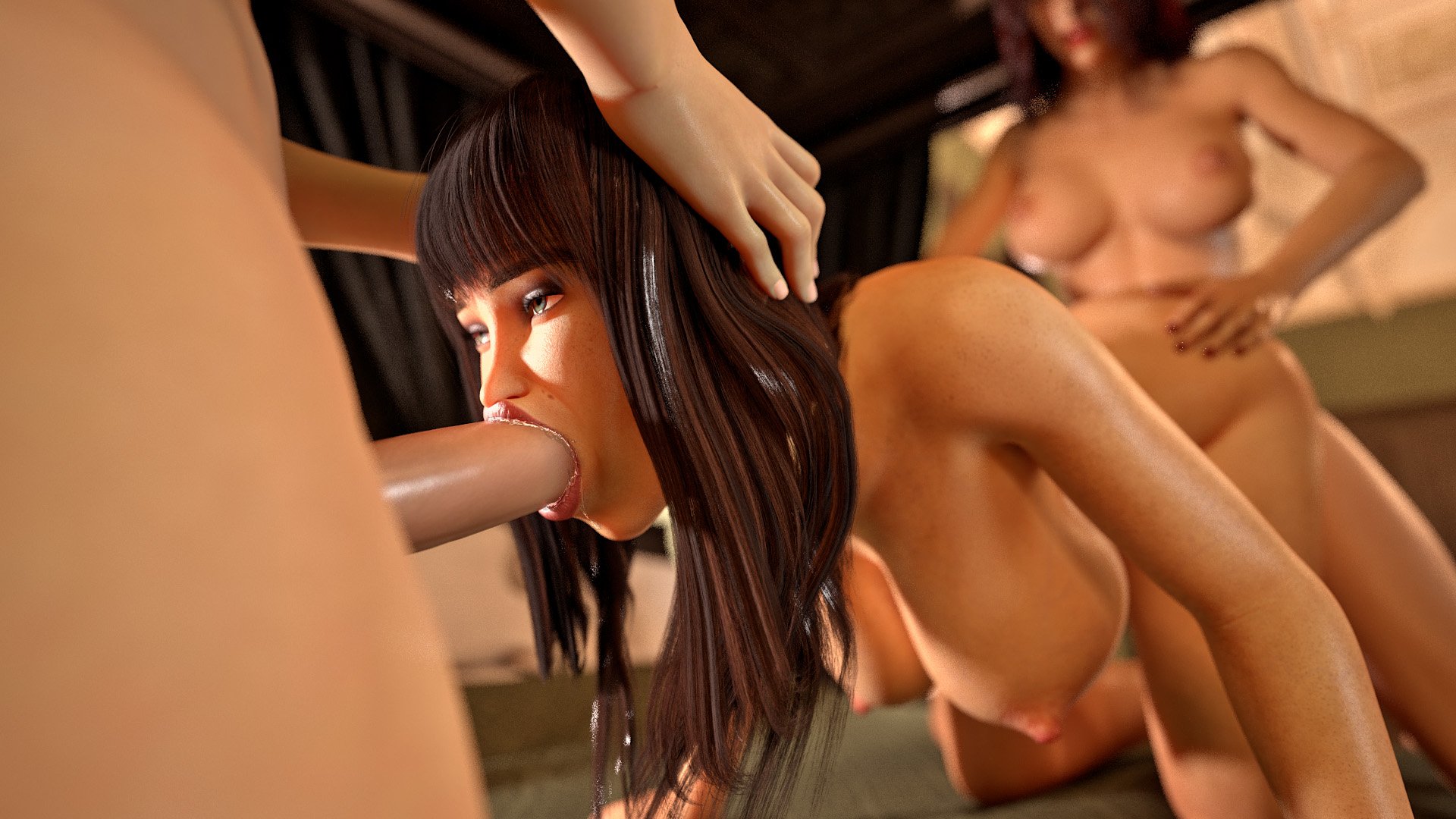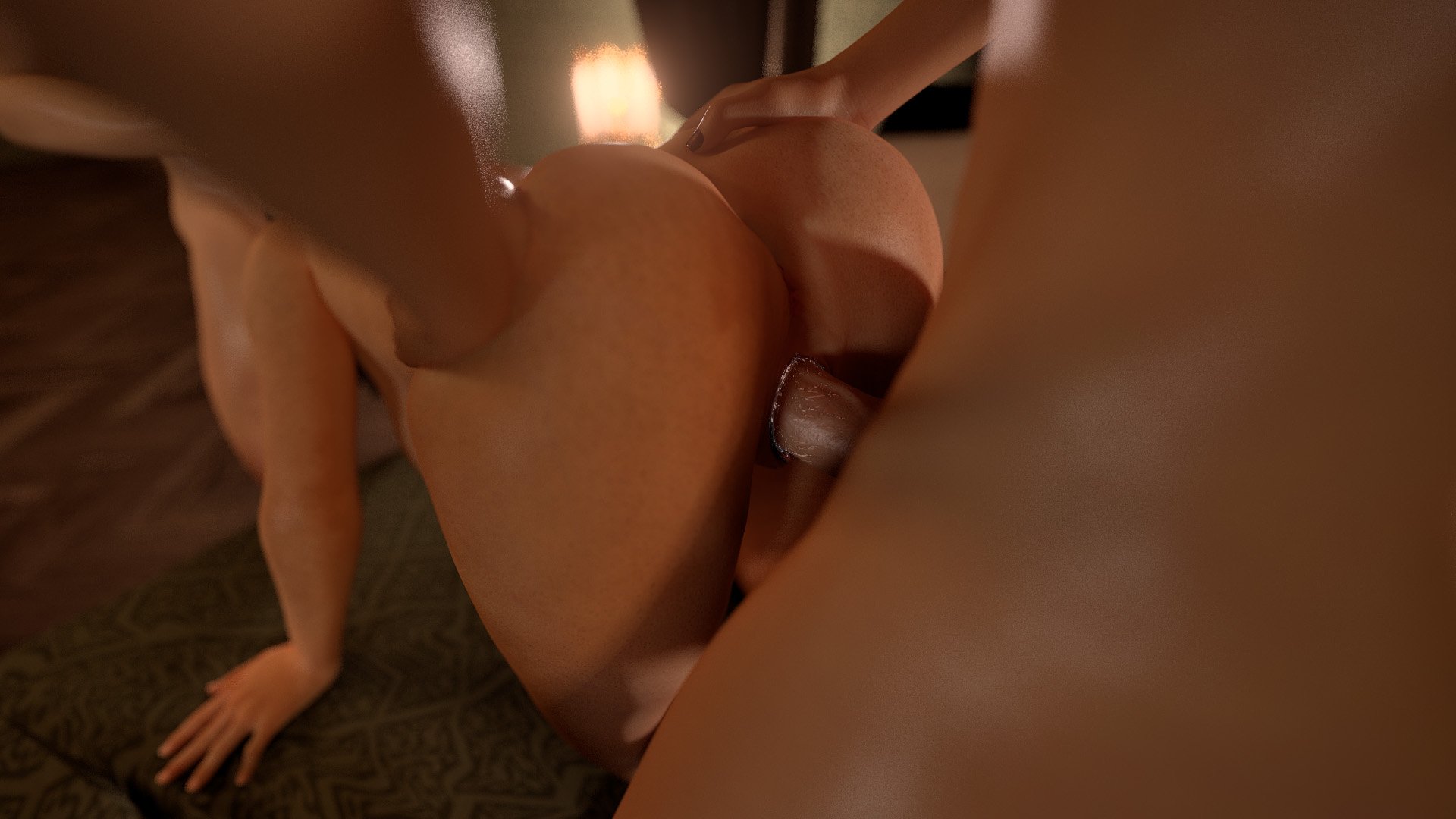 Then, the male's gaze shifted to Alex, her face flushed with pleasure. He pulled out of the woman's mouth and beckoned the dickgirl over to one of the bedposts. He made Alex stand and lean against it, bending at the hips as she did. Her ass was positioned perfectly for him to fuck it. Sophie watched from the bed, still panting from her orgasm. Jonathan's cock slid in between Alex' thighs and she could feel the tip still dripping from her lover's pussy. He positioned himself and thrust into her, making her cry out in surprise. She relaxed as he filled her and the small dart of pain she had felt at first was replaced by a mounting pleasure. Jonathan began to fuck her, slowly at first, one hand on her waist, the other grabbing her right tit. He progressively thrust faster until he was fucking her deep and hard as no man ever had. It wasn't long until Alex felt herself close to cumming. Jonathan seemed to be growing tenser as well and Sophie watched, her face only a few inches from Alex's cock swaying with the motion of Jonathan's thrusts.
Then, Jonathan grew still, gave a final thrust and both dickgirl and host came simultaneously. The tall man emptied himself in the dickgirl whilst her own cum sprayed onto her lover, still on all fours on the bed.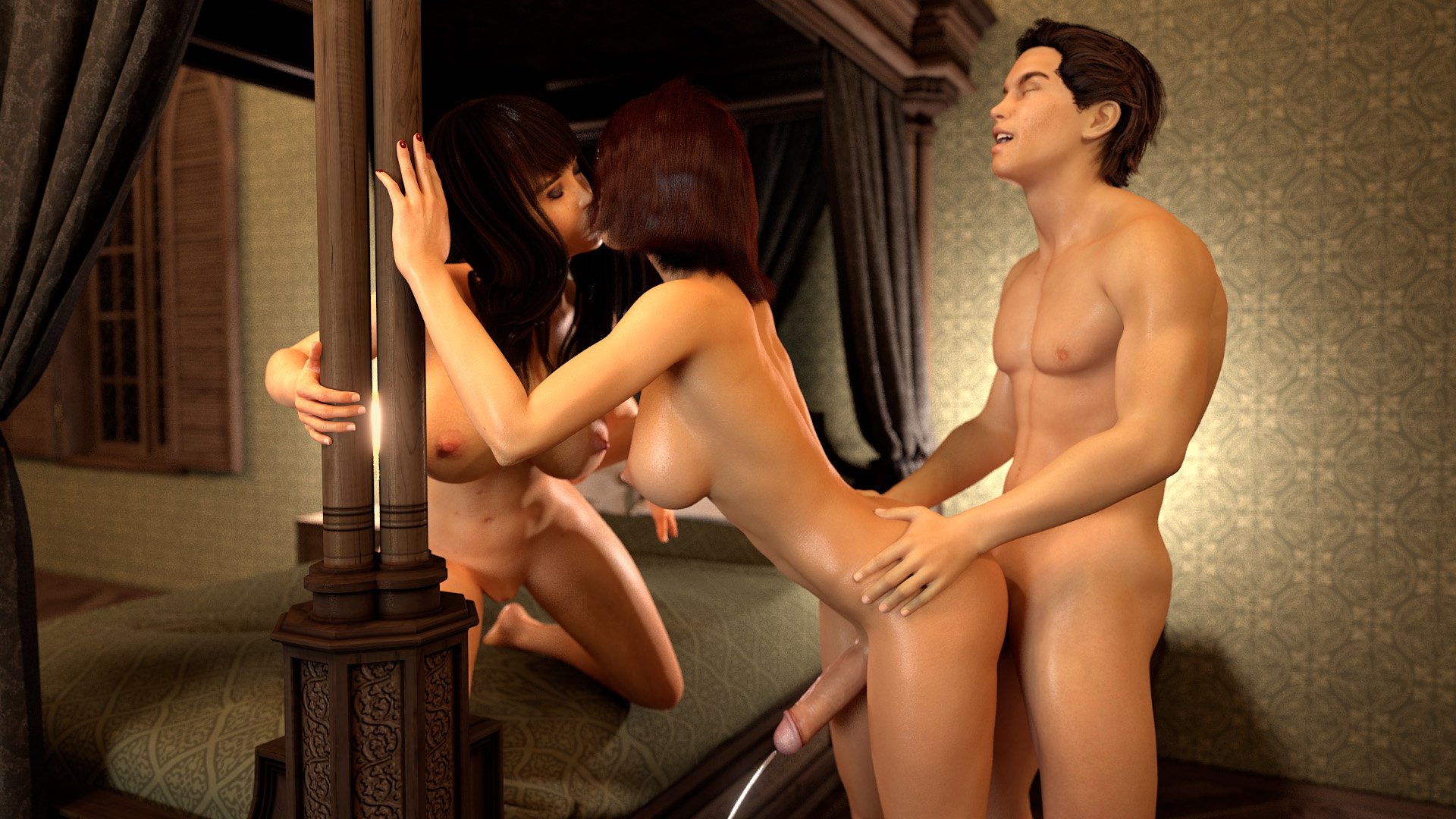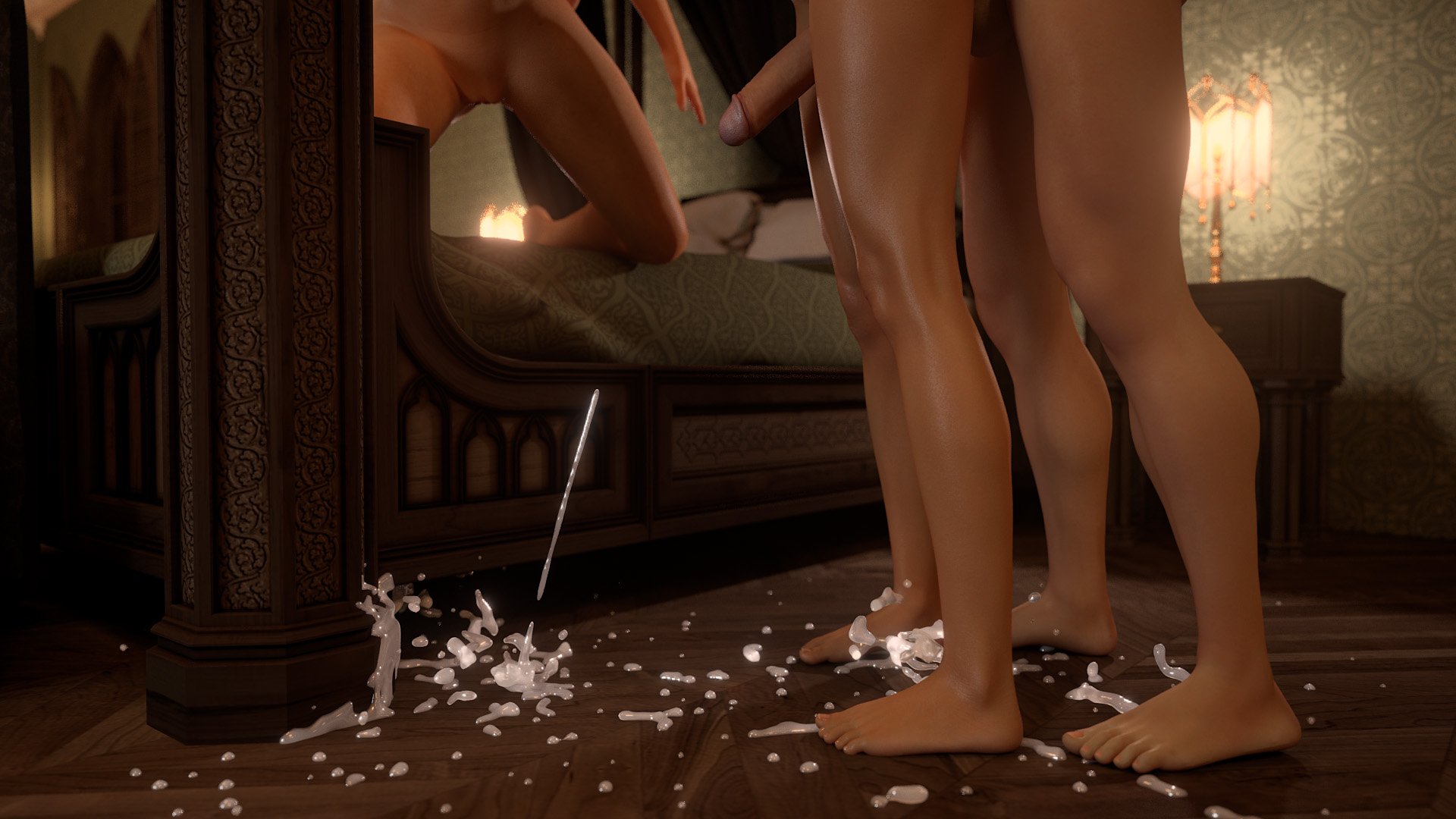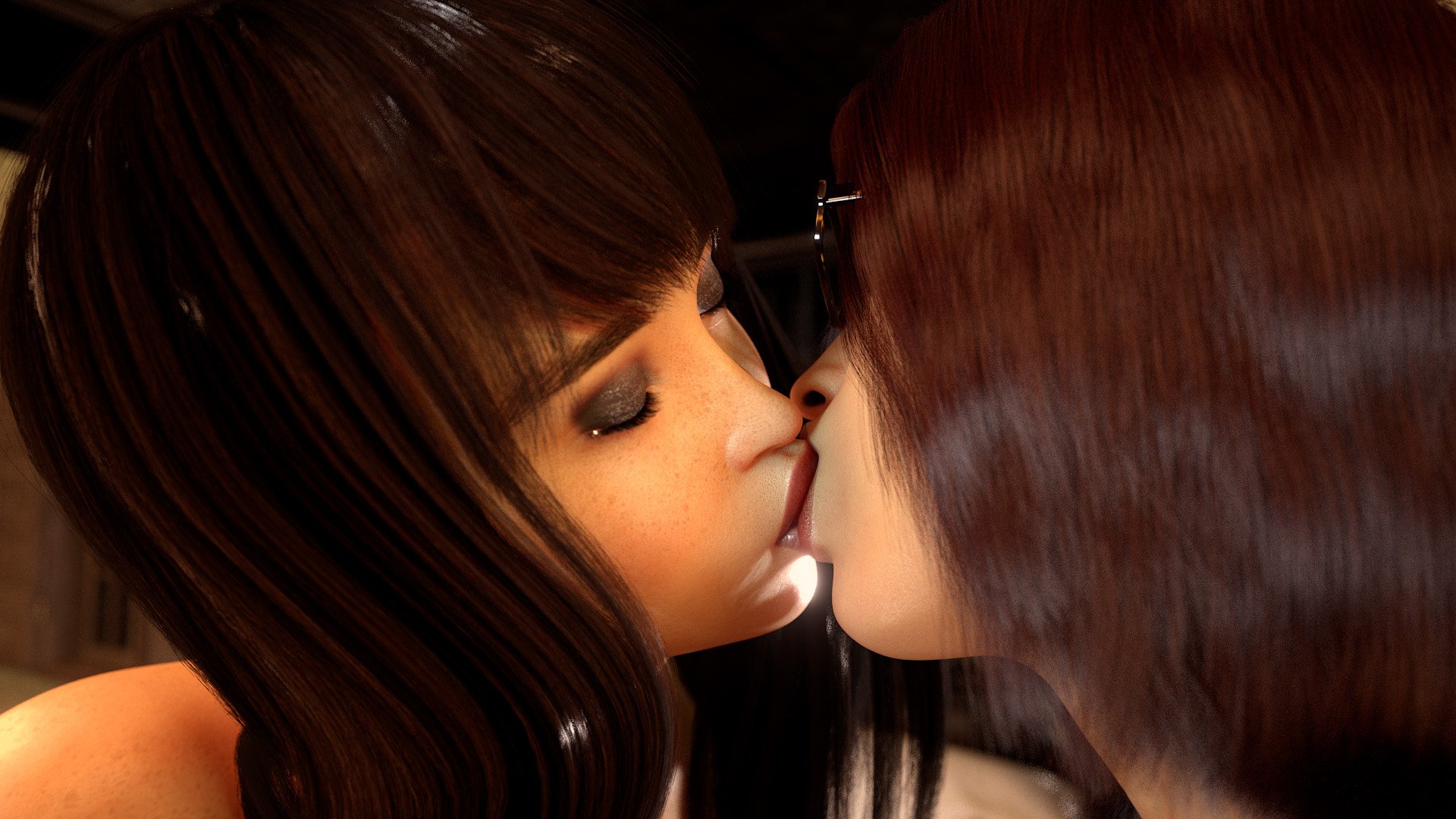 Alex would definitely be attending more of these "soirées" she decided.