I waited patiently for the doorbell to ring. She had just texted "Almost there. Be ready". I knew she had something special planned. Maybe it was that new ensemble she had just ordered? Fuck I hoped so. The previews she had sent me – closeups of lace on skin, fingers delicately lifting the gossamer fabric – had driven me mad for the past week. I wasn't disappointed.
Like a script from an old movie, the doorbell rang. She brushed right past me, heels clicking, the hem of her gray raincoat fluttering against her leg. Once we were in the living room she turned and stared me straight in the eye – "On the couch". I obeyed without hesitation. She walked over slowly, each movement feline, deadly in its precision and control. As she stood before me, she began running her fingers down the lapel of her coat. Then, tentatively, teasing me, she undid a button. My lover put her left leg up on the couch, between my thighs, the heel of her stiletto sinking into the cushion. She undid a second button, then a third and her coat gave way, folding back over her skin to reveal a masterpiece. My eyes cruised from where she had just placed her foot, up along the delicate line of her leg, clad in black nylon, to her thighs. I felt like a conquistador, discovering a magnificent temple – the first to lay eyes on a place of exquisite beauty. Lace sighed delicately against her milky skin, the taut bands of her garter belt adding to my ever growing desire. I continued up, over her perfect belly, to the tilt of her breasts, also clad in black and red lace. What a sight… And then she turned. I knew I was lost then, hers to command.
There's been a lot said about lingerie in porn and 3DX, but I feel like it's one of those subjects that deserves to be regularly brought back to the surface. I don't know about you, but man do I love a girl in lace, or even a bit of leather for that matter.
I've spoken in the past about triggers. Addicts have them when it comes to compulsions. And, sexually speaking, I personally have a few of my own. Lingerie is definitely one of them. Of course, like anything, it can be overdone. Too much of anything can ruin the moment. Well, with lace it's no different. But when a girl has just the right amount of lace, mystery and skin shown, she can do whatever she wants with me. It's about control and balance, about showing just the right amount, but leaving a shroud of mystery. Show too much and the spell is broken. In that sense, I personally find I'm more easily aroused by a girl who's wearing lingerie than one who's completely naked. At least to start, of course.
A few years ago, I dated a young woman who had an amazing collection of lingerie. She was blessed with exquisite curves and knew just how to highlight them, without going too far. When we first started sleeping together, I was simply unable to last more than a minute, much to my embarrassment. To her though, it was like a victory. She would undress slowly but leave a piece of her ensemble every time. It might be her bra or her thong. Perhaps her stockings. And every time it would drive me crazy. Fortunately for my pride, I managed to control myself with time, but man did she know how to dress, and more importantly – undress. She knew how to take her time.
I always feel disappointed when things go too quickly – especially in porn. There might be a scene with a stunning actress clad in a beautiful set of lingerie. But, rather than take it off piece by piece, the actors either rip everything off in a couple of seconds or just get straight to fucking. Sometimes the scene just skips the undressing altogether. In that case, what's the point?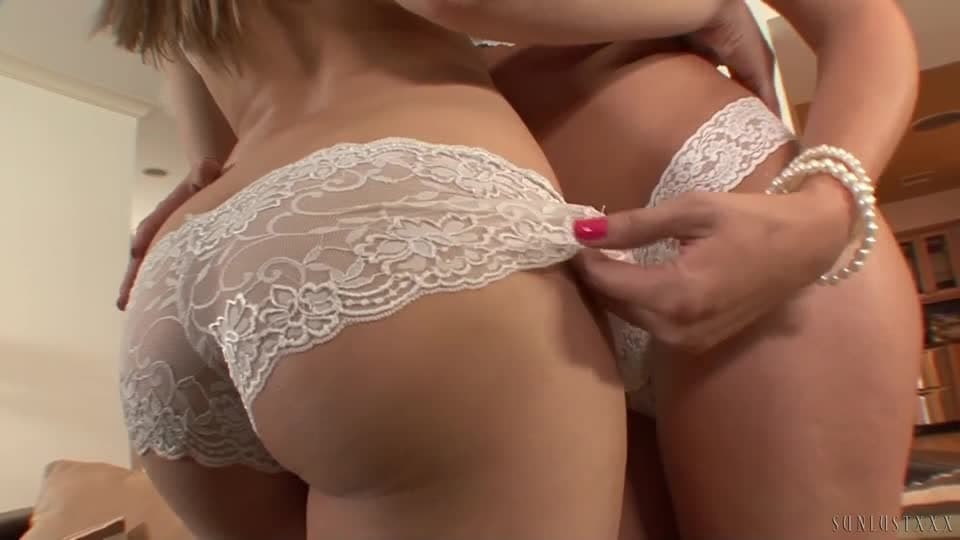 Naturally, there's also something to be said about getting straight down to it. Maybe that set of lingerie is just too hot to take the time to take off. You just remove any immediate barriers, the strict minimum to start fucking. And it can be a tool to, something you grab onto during sex. The sensation of nylon or lace, leather or latex on skin can also help to augment the senses.
History
Lace has been around since the sixteenth century and although it has democratised itself, high quality lace remains a luxury item. And with good reason. It's a painstakingly difficult and time-consuming fabric to create. It's also highly fragile and ephemeral if not taken care of. To this day, traditional lace makers in Northern France, continue to produce top quality fabric using basically the same principles as four hundred years ago. (You can read more about the history of lace here.) Patterns have changed and novel approaches have been found to keep things interesting, but a demand for hand-made lace persists. Of course, the industrial revolution and the advent of cheaper, more easily made lace, helped drop the prices and aristocratic base for this unique fabric. But high quality lace remains a luxury item to this day.
It's that perfect combination of transparency and fragility, stretched tantalizingly across skin, that can hide just the bare minimum that makes it so appealing in my mind. It can also help to spice up an otherwise sober outfit.
Leather on the other hand, speaks (at least personally) to a "cruder" side of desire. It's everything lace isn't: resistant, opaque, in your face. It makes a sound when slapped against skin and it leaves its mark on it. It can be taught without fear of snapping. Leather exists in every sexual genre, stream and culture. You can use it to assert control, or to show submissiveness. It can be employed as a mere decoration or a functional part of sex. It can be used to induce pain or simply to dress. Unlike lace, leather has a martial quality that screams of a primal instinct, one that often brings out desires we didn't even know existed within us.
But, as is often the case with opposites, if combined the right way, when lace and leather compliment each other, well… all I can say is lord have mercy. Harnesses worn with lace lingerie, are especially in vogue. I don't know if they ever went out of fashion, but it seems to me that up until recently they seemed to be viewed in a very eighties S&M light. And I mean pejoratively. Of course, there is always at least the suggestion of kink when wearing leather, but modern brands have been able to turn that to their favor – to maintain a veil of mystery and allure that seemed to have disappeared in the 1990s.