Continue reading Franaus' exploration of lingerie in and out of 3DX. Check out What lies beneath – The Art of undressing Pt 1 if you haven't already!
Latex has always unabashedly championed the world of kink. Whereas leather (and metal) are heavy and sometimes difficult to wear – ie you have to adapt to it – latex is made to sculpt itself to you. I guess that's why full body suits are so unique. The ability to completely hide a body, to dehumanize someone by fully dressing them in latex is no doubt what makes it so appealing. That, and of course the unique alien feeling of latex on skin.
Courage and Control
In any case, no matter the texture, fabric or form, it takes courage to wear lingerie, to unashamedly highlight your body. And to me that's what makes it even more appealing. There's a kind of "fuck-off" attitude with lingerie. But it also makes a person vulnerable. By showing yourself in another light, by completely trusting your partner, you are completely at the mercy of their judgement. But then again, as I mentioned earlier, it's also a deadly weapon.
More and more, men also have their own options as far as lingerie is concerned. And I don't just mean for gay men or cross-dressers. There are things for cis straight guys too. But beyond the fact that lingerie and lace are pretty much designed to highlight curves (that said a man can have curves too), I think it's about control. Most guys simply don't have that intensely delicate balance between light and power. And by light, I mean the opposite of heavy – légèreté in French. Of course I don't speak for all men here, but personally, I'd just find myself ridiculous if I were to don lace. And not just because I'd look terrible in it, but because I don't know how to wear something like that. I don't know how to turn, how to suggest, how to poise myself to really gain the upper hand sexually speaking. I remember a line from Samantha in Sex & the City about blowjobs – that you may be on your knees, but you have his balls in your hand. Well, it's the same with lingerie. She may be the one who's had to dress herself up, take the time to get into something that's not always the most comfortable or easy to put on, but you're the sucker who's going mad for her, which is of course, part of the reason it's so exciting.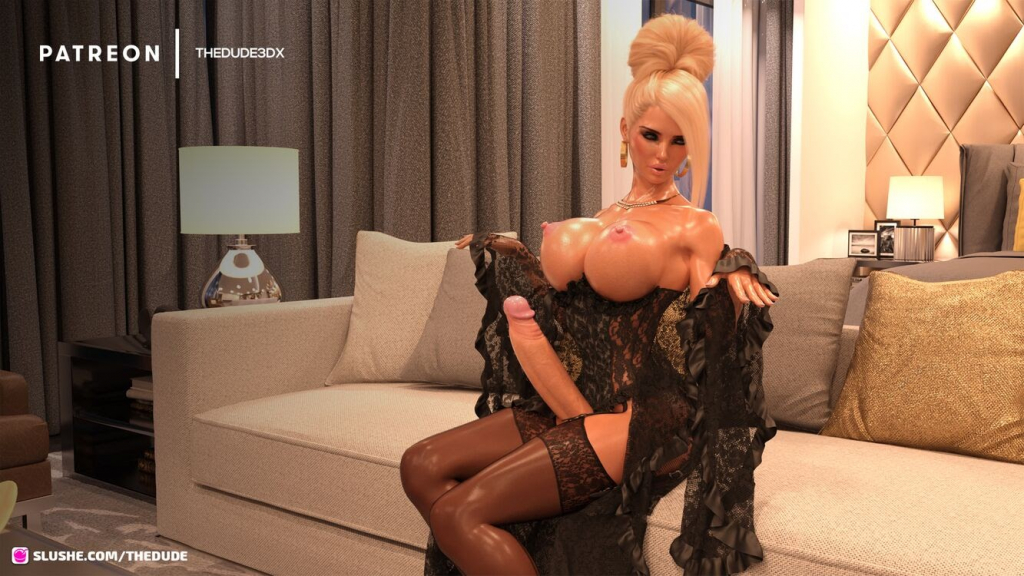 In 3DX
Clothing and lingerie, in my view, can either make or break a 3DX set or image. If the 3D model hasn't been set up correctly, if for example it's too low poly, a set of lingerie can make a character seem bulky, tipping it into ridicule. But used correctly, as some very talented artists are able to, well then it's much like real life – you've created a perfect balance. This is naturally the case with female characters but especially, I find, with futas. There's something strangely electrifying about barely dissimulating a massive cock on a perfect female body behind a thin veil of lace, or maybe a leather strap or latex glove. You know it's there, it's undeniable, but it's just out of sight. Or maybe it's just the contrast between something so delicate and a massive, throbbing cock. Or the fact that a pair of huge tits can barely be contained by something so light as lace, they just seem to be bursting to be released. And only 3DX can really allow us to explore those contrasts. You, as a 3D artist, have complete control over this. You can create situations that are borderline impossible in the real world, contrasts that otherwise just wouldn't function.
Naturally, artists like The Dude have made this a central part of their work. He also chooses to bring out the luxury side to lace and lingerie that I mentioned earlier.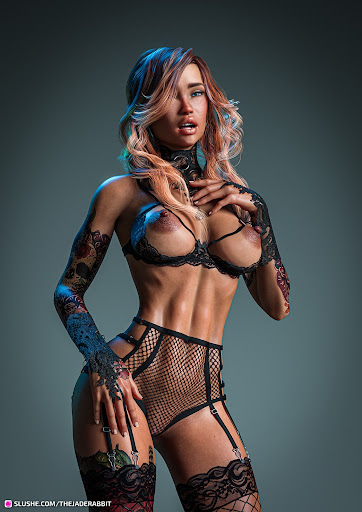 An artist I discovered fairly recently is TheJadeRabbit. The use of fishnets, lace and leather in their pieces, combined with insanely hot girls set in neon lights and blurred backdrops, really helps to create a naughty, primal and raw vibe that makes their work so hot and unique. Their models have an intensity about them – mainly communicated through their gaze. It's this presence that makes the lingerie complementary. In other words, this artist knows how not to overdo it, how to really create that balance I talked about.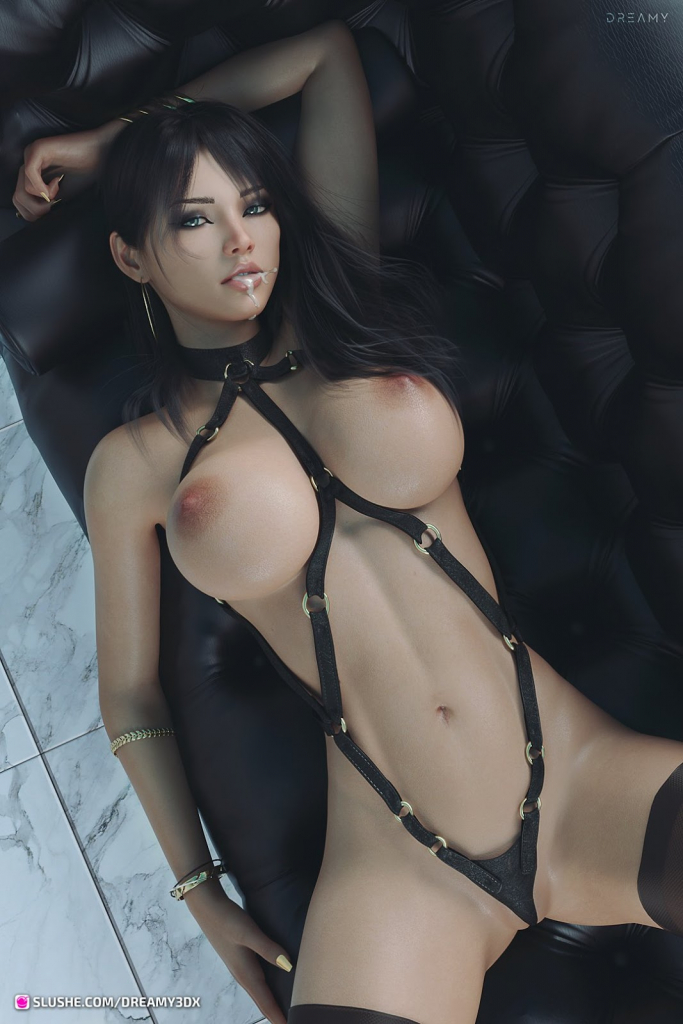 One of my favorite images this year was by Dreamy3DX. Similarly to TheJadeRabbit, there's an intensity in this girl's eyes and the way she so proudly stares at the camera, covered in cum and wearing a leather harness. We can clearly see she's just blown a guy to nirvana, probably on her knees. Maybe the dude even used the harness to keep her close as he fucked her before. But she remains imperial in her demeanor, completely in control.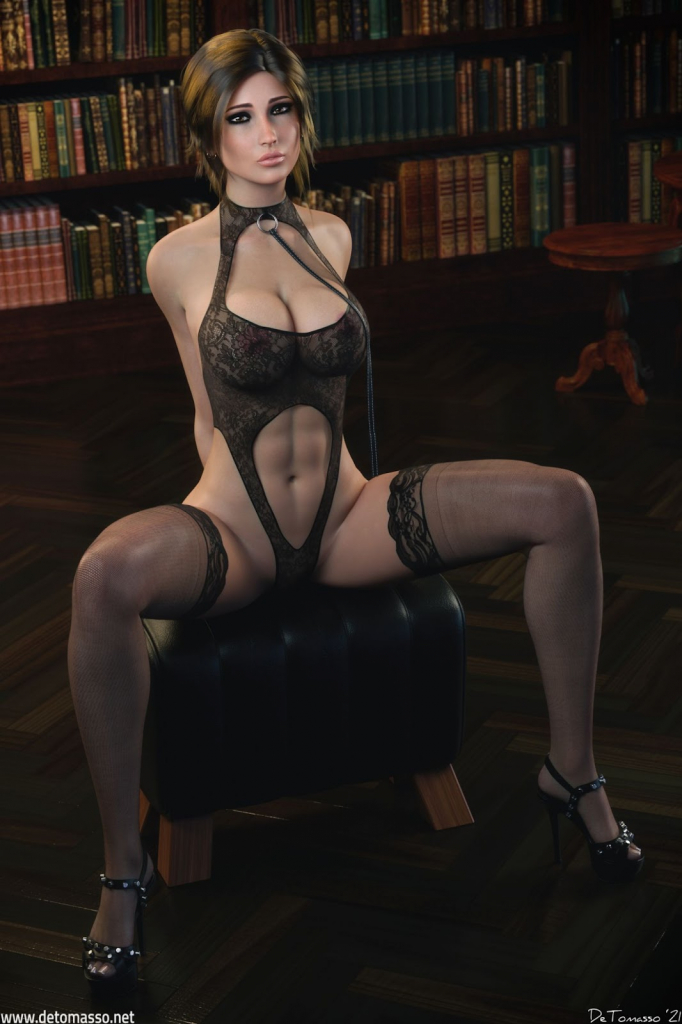 And in this piece by Detomasso, both the look of innocence on this babe's face, combined with that insane lingerie set, make me want to fuck her straight off the bat. It's one of those 'leave everything on' situations. And the touch of metal and leather really help compliment the delicate lace, as well as bring a taste of kink to the scene.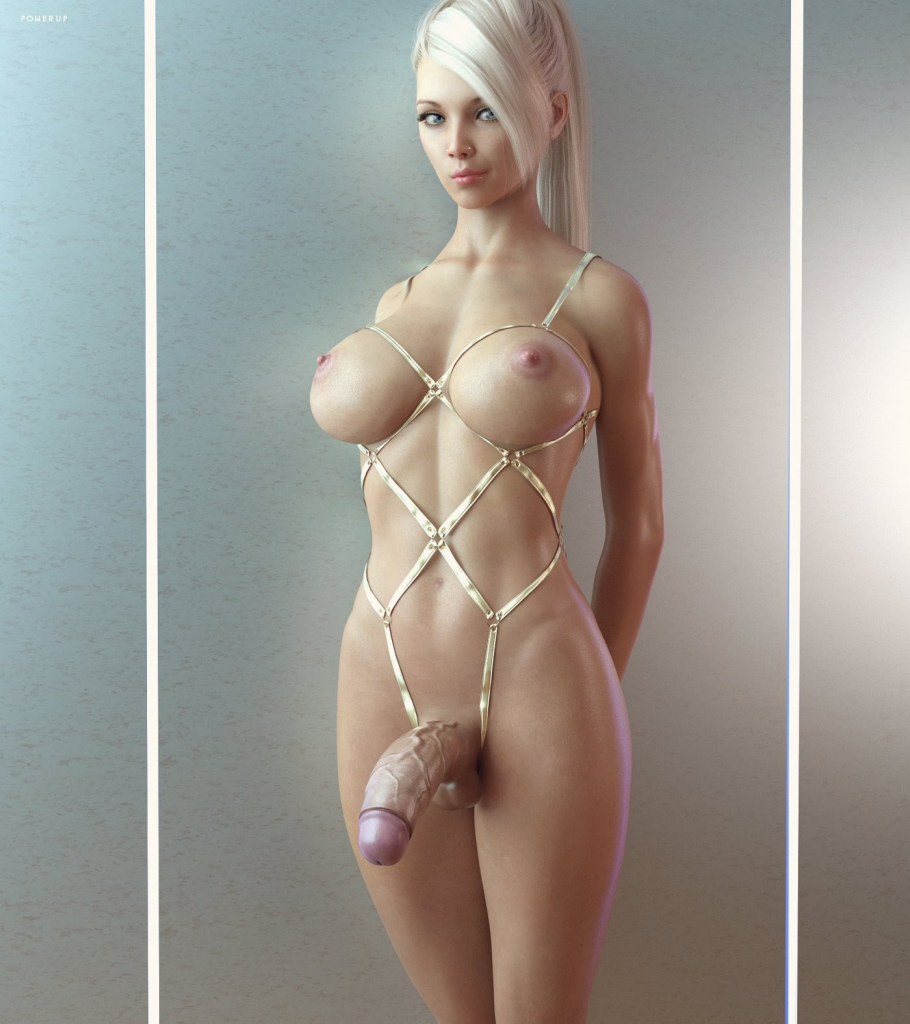 Of course, we can't mention lingerie in 3DX without talking about Powerup3DX. Whether it's female characters or futas, this is one artist that knows how to use lingerie to highlight their assets. In this case, the delicate and sophisticated nature of the harness really helps highlight the massive, in-your-face side to her cock, as well as perfectly mould her body. It makes her even hotter than if she had just been naked.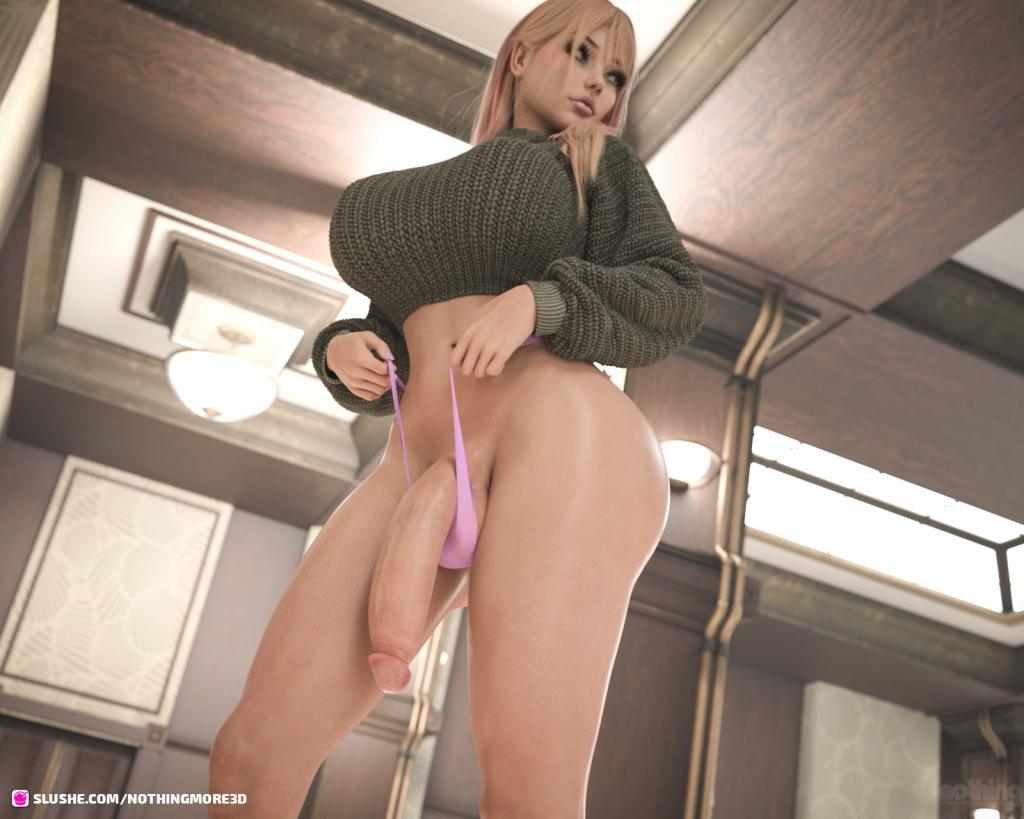 Just like this fun piece by NothingMore3D. She may have her cock unashamedly out, but the way she cups it with her thong, and the feminine curves to her pose, make her all the more appealing.
Whether it's as a means of spicing up your sex life, or showing a naughtier side to your personality under an otherwise sobre veil, or perhaps even a means of splurging on something luxurious, everyone, at some point, finds lingerie appealing. That can even be just for the pleasure of taking it off. But just as perfume is master of the senses and seduction, lace, leather, nylon and latex, are the undisputed rulers of intimacy and touch. Lingerie is both delicate and brutal, aggressive and passive, visible and transparent. Porn has long, often clumsily used it as a means of spicing up movies and pics. But I think 3DX, through imagination and creativity, can really employ this unique weapon of seduction, to its fullest capacity.