Welcome back for our November WIP update! We've got lots to catch up on, so let's dive right in, shall we. 🙂
Goals For Future Releases
Whenever we start working on a new project we take some time to reflect on what we could still improve about our production workflow. We've reviewed the feedback we received from you all in the Bloodlust: Cerene – Royal Descent Survey. (We're still accepting survey responses if you'd like to submit a review! 🙂 )
Based on your feedback, here are our key focus points for our current project:
Increased sexual intensity – we want to add more buildup leading up to the sex in the form of more explicit banter and interactions between the girls. Dirty talk during sex is also a biggie. We want to make you feel more like you can relate to the characters and their growing excitement (among other things…).
More natural flow, less looping –  we used to focus on making the sex scenes work with the old software setup by looping the sex animations. With our current project we're getting out of that mindset. We want to focus on the movie experience first, so it'll feel more like you're watching a scene that flows naturally. We'll then set up the software in a way that supports the movielike experience. Creating an enhanced software application is also on the agenda.
Improved cum shots – we've made some good progress with the cum shot workflow while producing Royal Descent, but we're looking to improve even further with this project.
Shorter release cycles – we're working on reducing our production time and we've decided to try out a new release method for this project. I'll cover more details about our plans in the next topic.
The Two Part Release
The plan is to break down a full release into two parts, which are released in phases.
Let's assume that a full animation is roughly 20 to 25 minutes long. We'll split that full animation into two 10 to 12 minute parts, which will each have their own production cycle.
The first part will be released with roughly half the content at half the price. The second part will complete the full release. Once we have finalized part two, we'll combine both parts and release the full length animation at its full price. Part one will be removed from the store by then. The people who've bought part one separately will be able to buy the full animation for half of the price. So everyone who wants to watch part one as soon as it's ready can do so and everyone who prefers to wait until the full animation is released in the store can skip the interim release.
By splitting the release cycle into two phases like this, we can release new content more frequently. Another benefit of this approach is that we'll be able to have a feedback round for part one with you, meaning that we can address any constructive criticism you may have about part one before we release the full length animation.
What do you think of this new approach? Let us know your thoughts in the comments. 🙂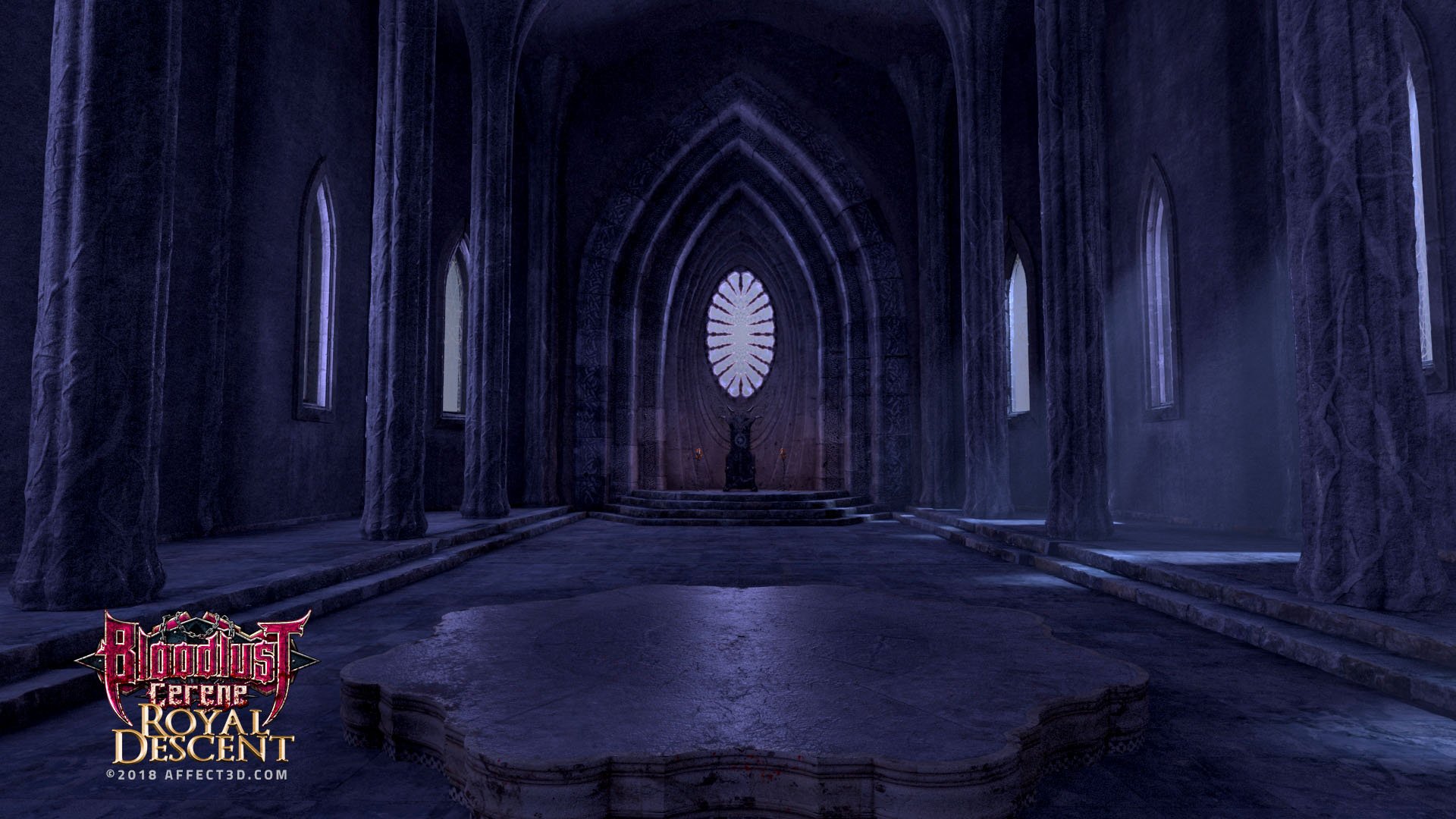 Lanessa's Lair
For our new project we're leaving behind the cathedral's red portal and we're stepping into the shadows of Lanessa's throne room. As you can see, the aesthetic of the cathedral, and Lanessa's tastes in interior design are like night and day. (Perhaps this will give you some clues on what Lanessa's personality is like? 🙂 ) This environment is darker than any other setting we've worked with up until now, but don't fret. Our production team has already done camera and lighting tests with the girls to ensure that we'll be able to see every inch of their sweaty, glistening bodies when it's time to play. Some parts of Lanessa's lair are still a work in progress, but the overall look and feel is there and we're quite happy with the change in atmosphere.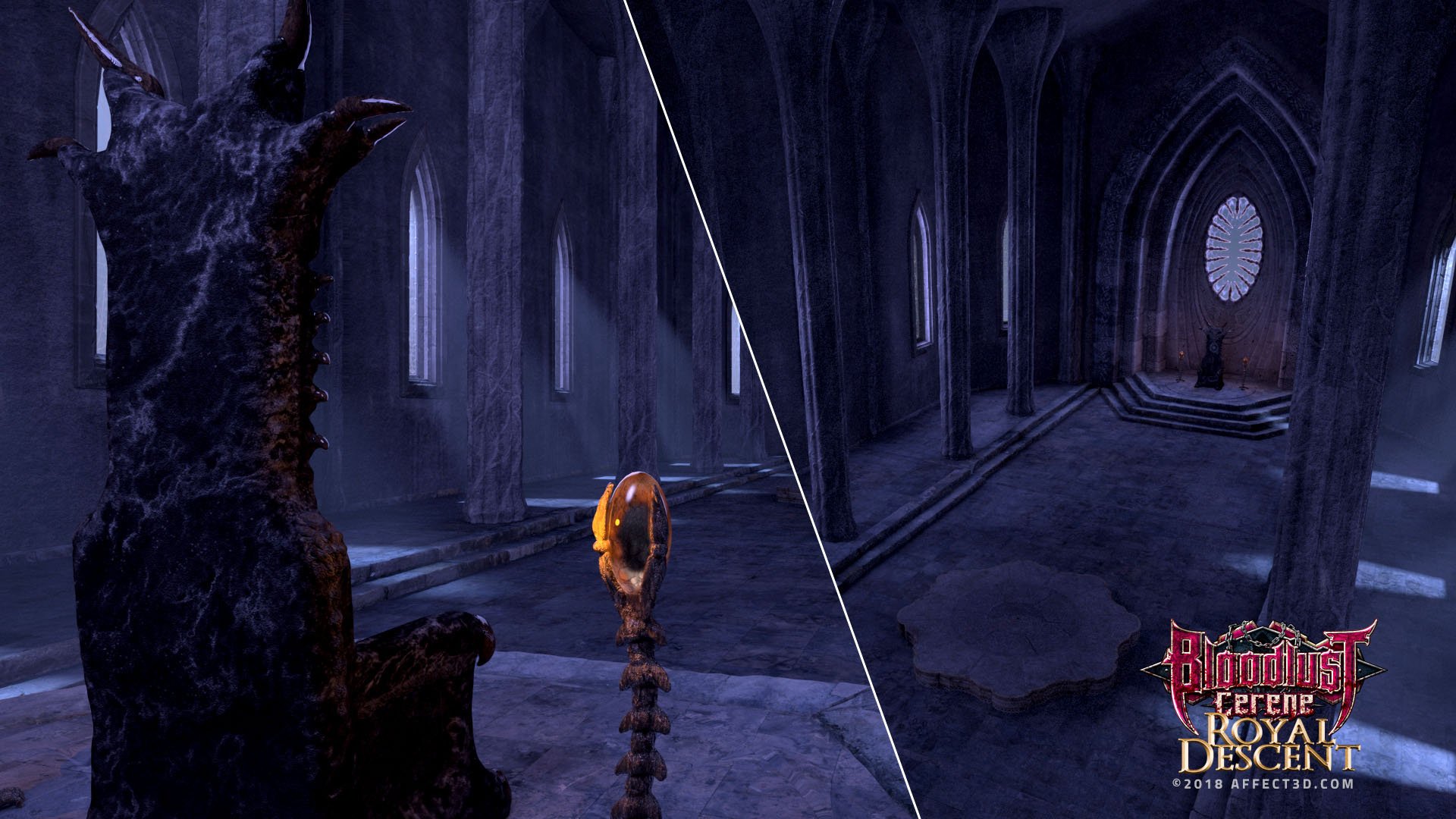 Time To Play
There's no better way to give you a taste of how our new playground will be used than some previews of a sex position in the making. We know that many of you have dreamed of being squeezed in the fleshy vice of Cerene's cleavage and your prayers are finally getting answered! 😀 Sophia will have the honour of sliding her new cock between Cerene's breasts, so she can ease her way into experiencing all the pleasures of being a dickgirl.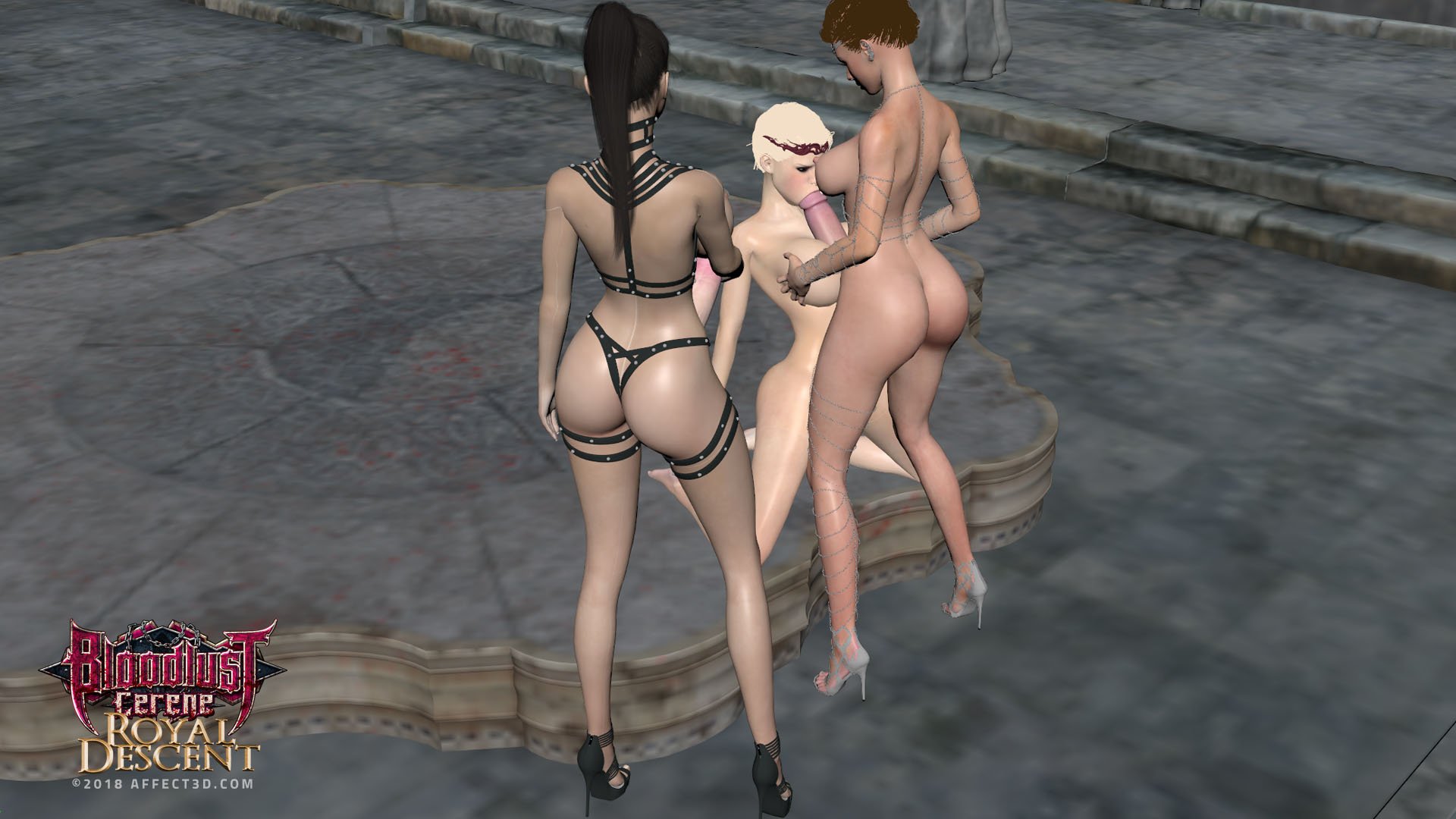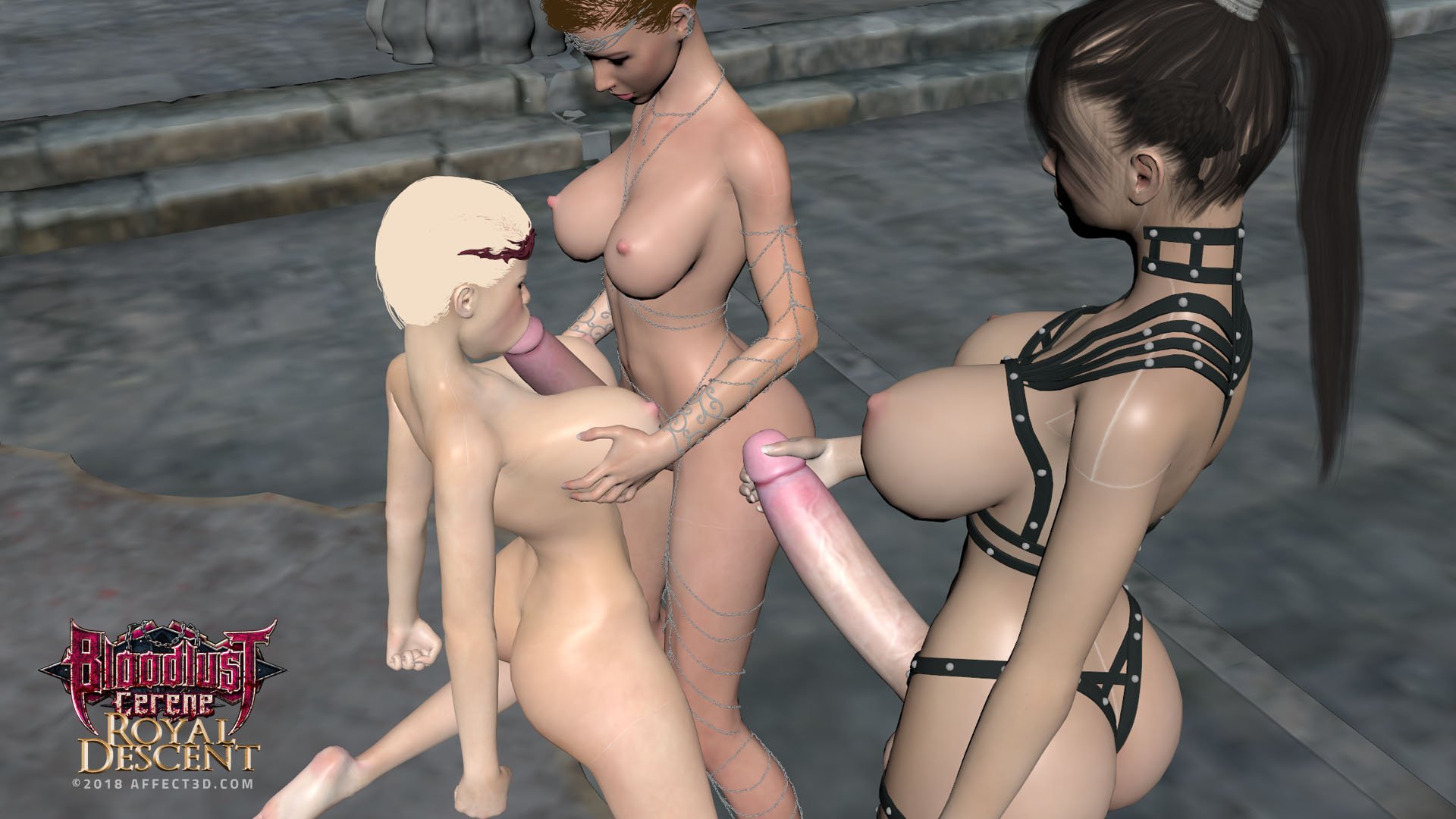 Let's Compare Sizes
Speaking of Sophia and her new dickgirl form, miro has worked out her official length: she is 13.9 inches long. Below you can see a comparison of all our Bloodlust dickgirls together. Lanessa has the longest cock, Cerene has the thickest cock, and Sophia has the smallest dick.
What do you think of the variation in shapes and sizes? Is there another type of shape or size you'd like to see in the future?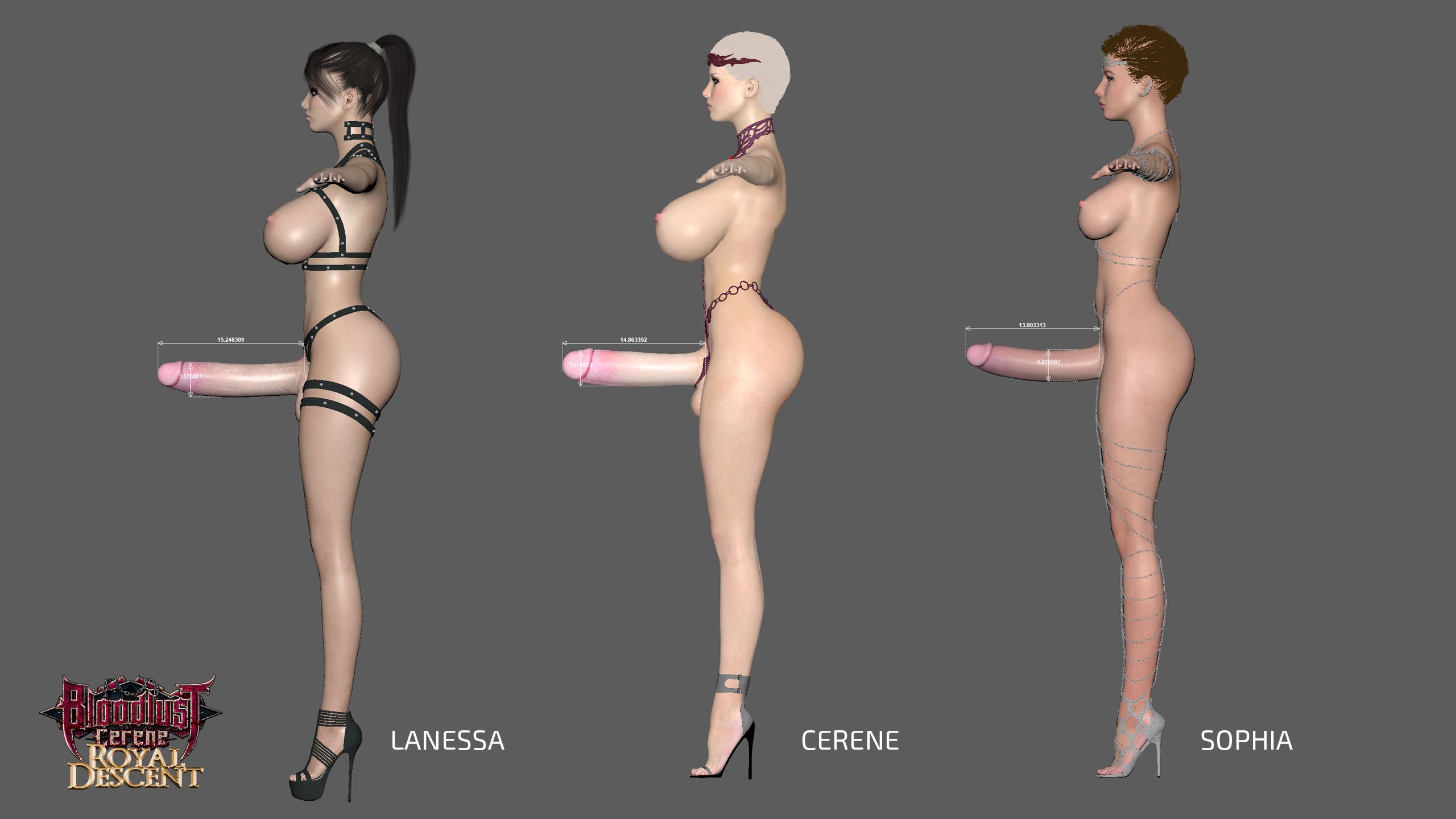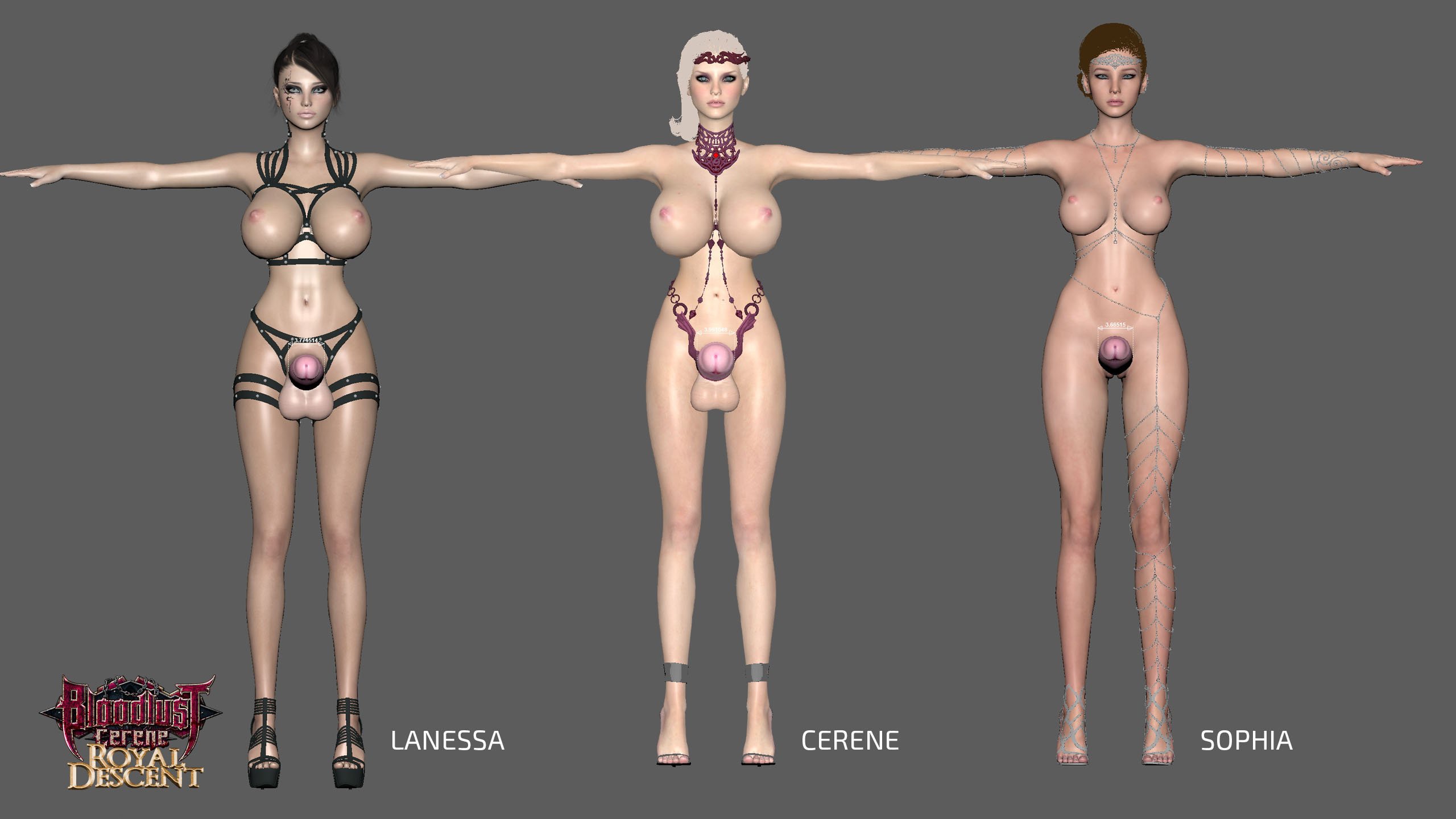 Happy (belated) Halloween
Yes, I know, I know – we're way past trick-or-treating, but we have a treat for you that would be a sin to miss. On the darknest night of October all creatures from the underworld came out to play, so naturally our vampires wouldn't be left out. Raising hell isn't really our girls' thing, but they're wickedly good at making other things rise as we all know.
We're sharing a few preview images of a Halloween inspired mini image set that miro published on his Patreon. The keyword for this mini image set was "vampire bite," which was fun to play with because we haven't had the pleasure of witnessing an official bite in the Bloodlust: Cerene series (yet!). On top of that we just revealed our new vampiress Lanessa in October, so what better timing could there be to put those fangs to good use than All Hallows' Eve! 😀
We put some of our patrons in charge of deciding on who should bite who and where. Any guesses on what they voted for? Of course, one thing tends to lead to another, so this image set may involve a liiiittle bit of tongue and throat action…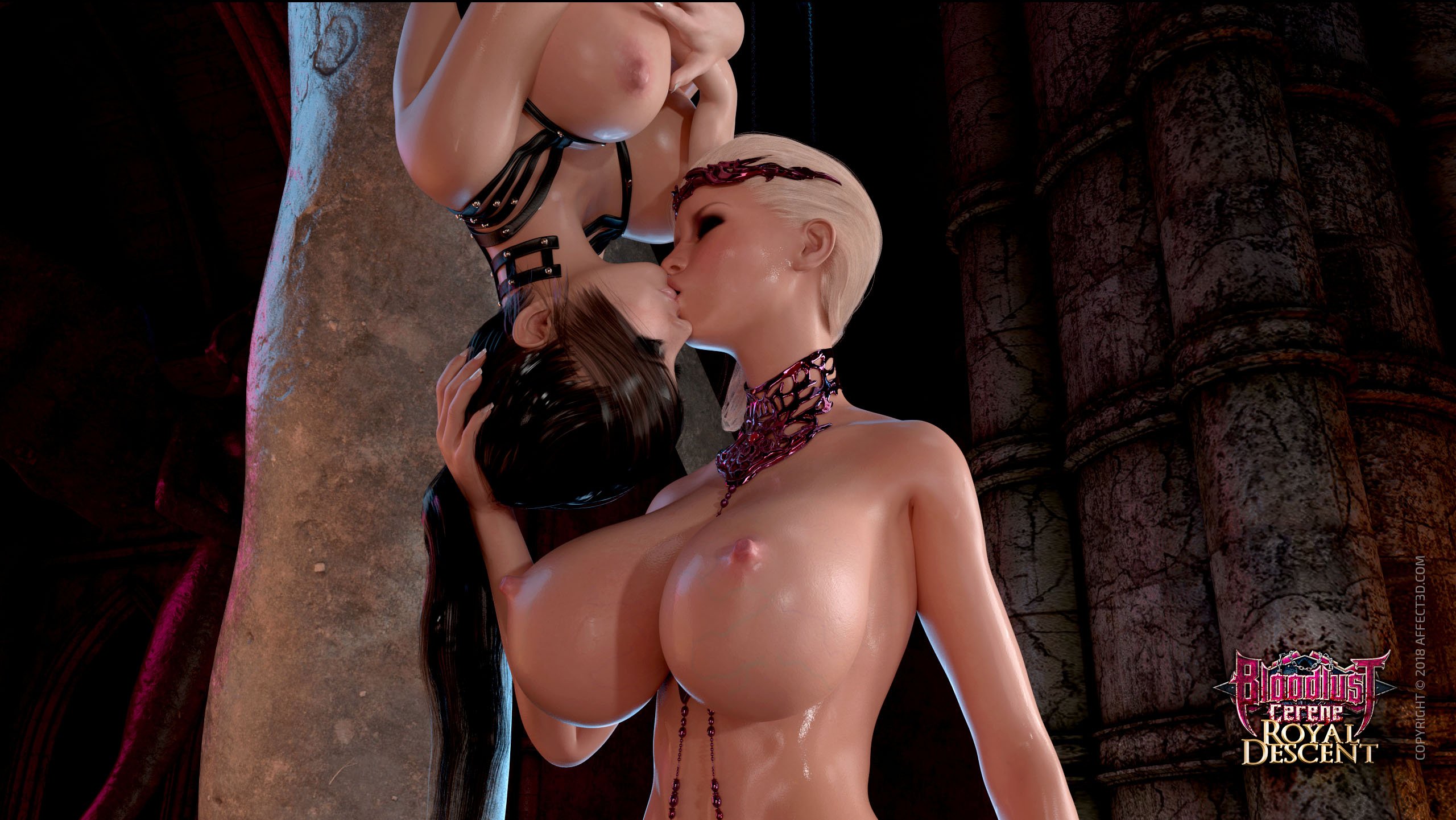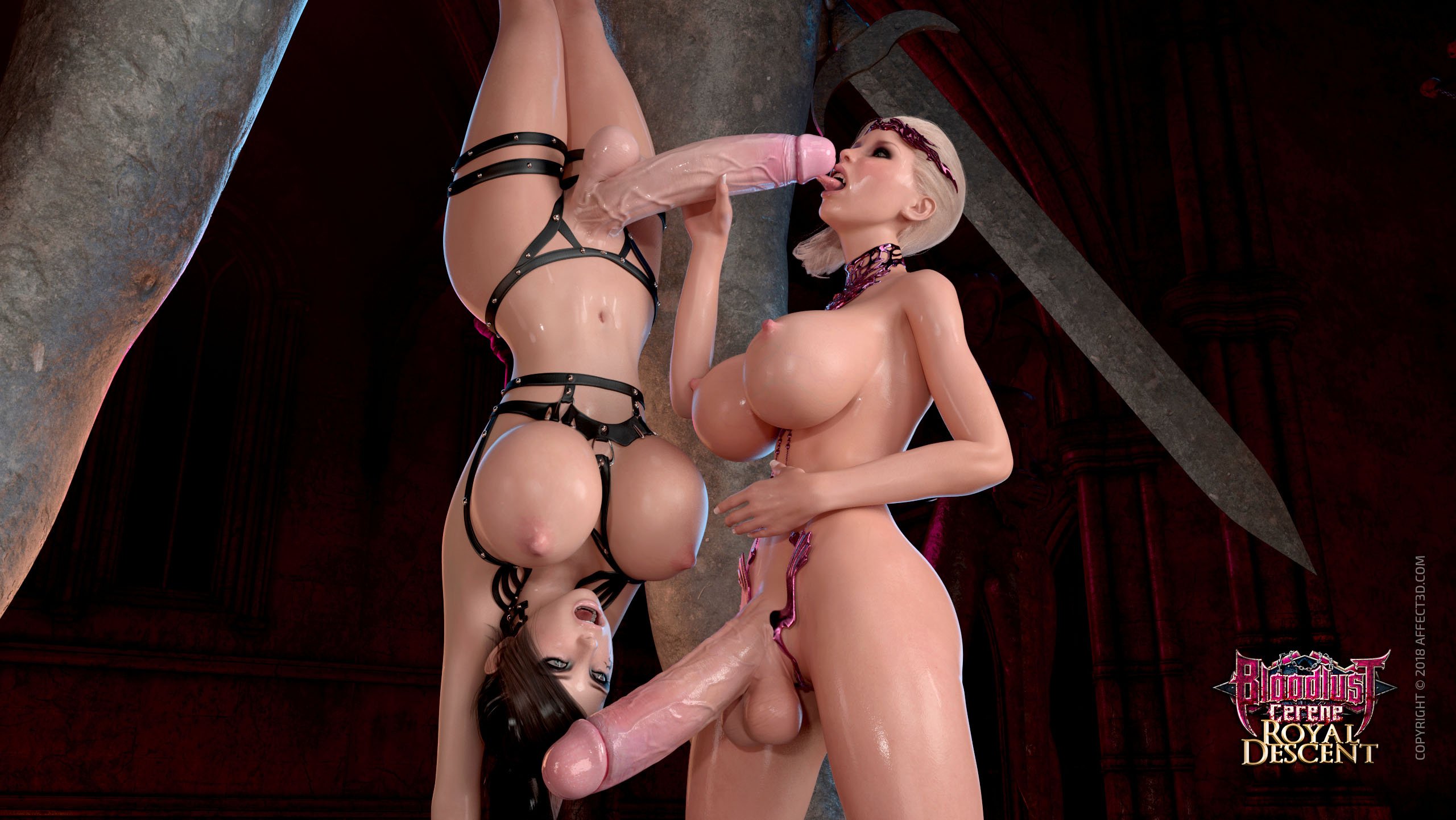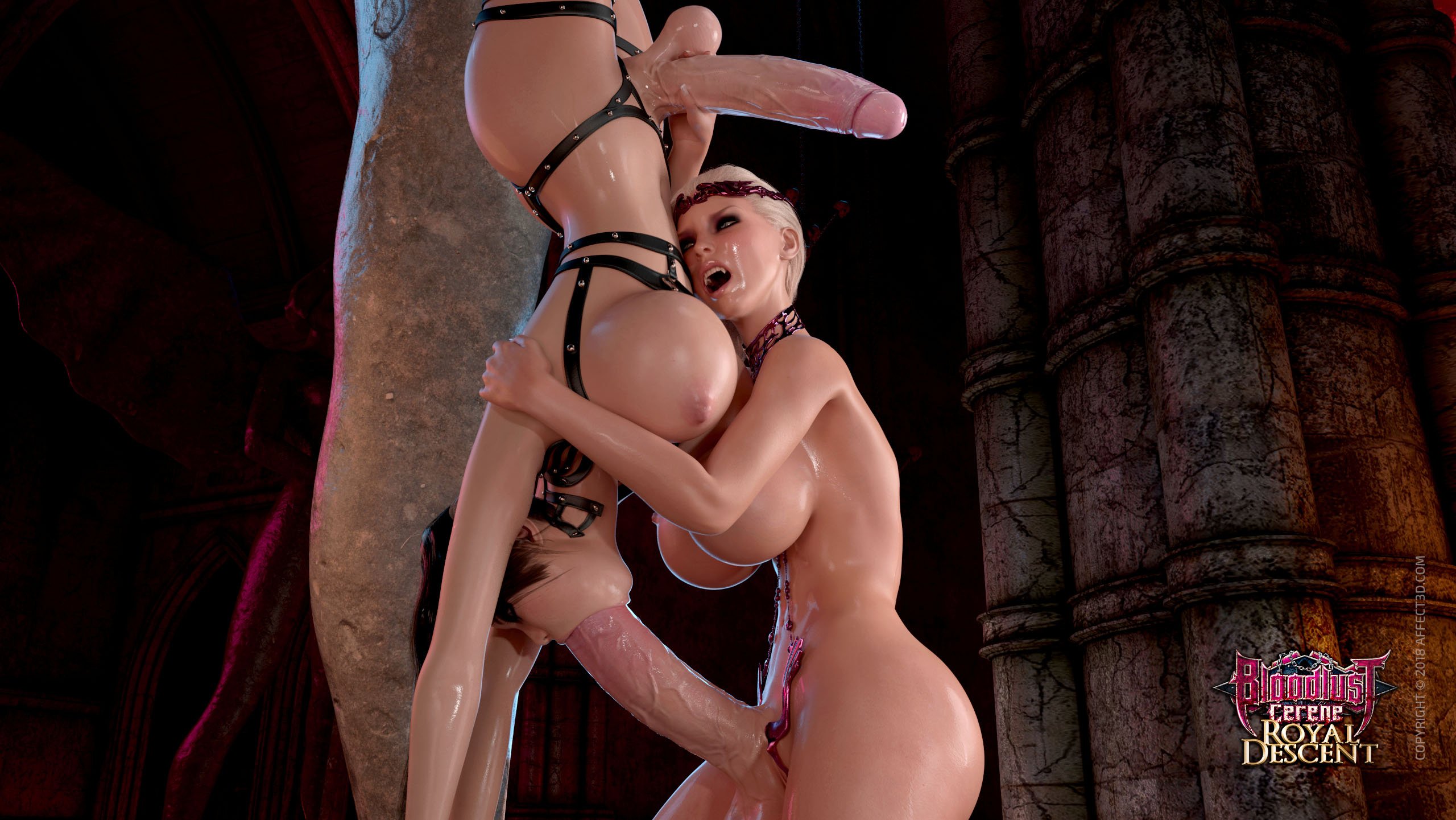 Halloween Mini Image Set – Full Preview
Here is a preview of the full mini image set! It's currently only available through Patreon for Tier 1 and Tier 2.
Christmas Mini Image Set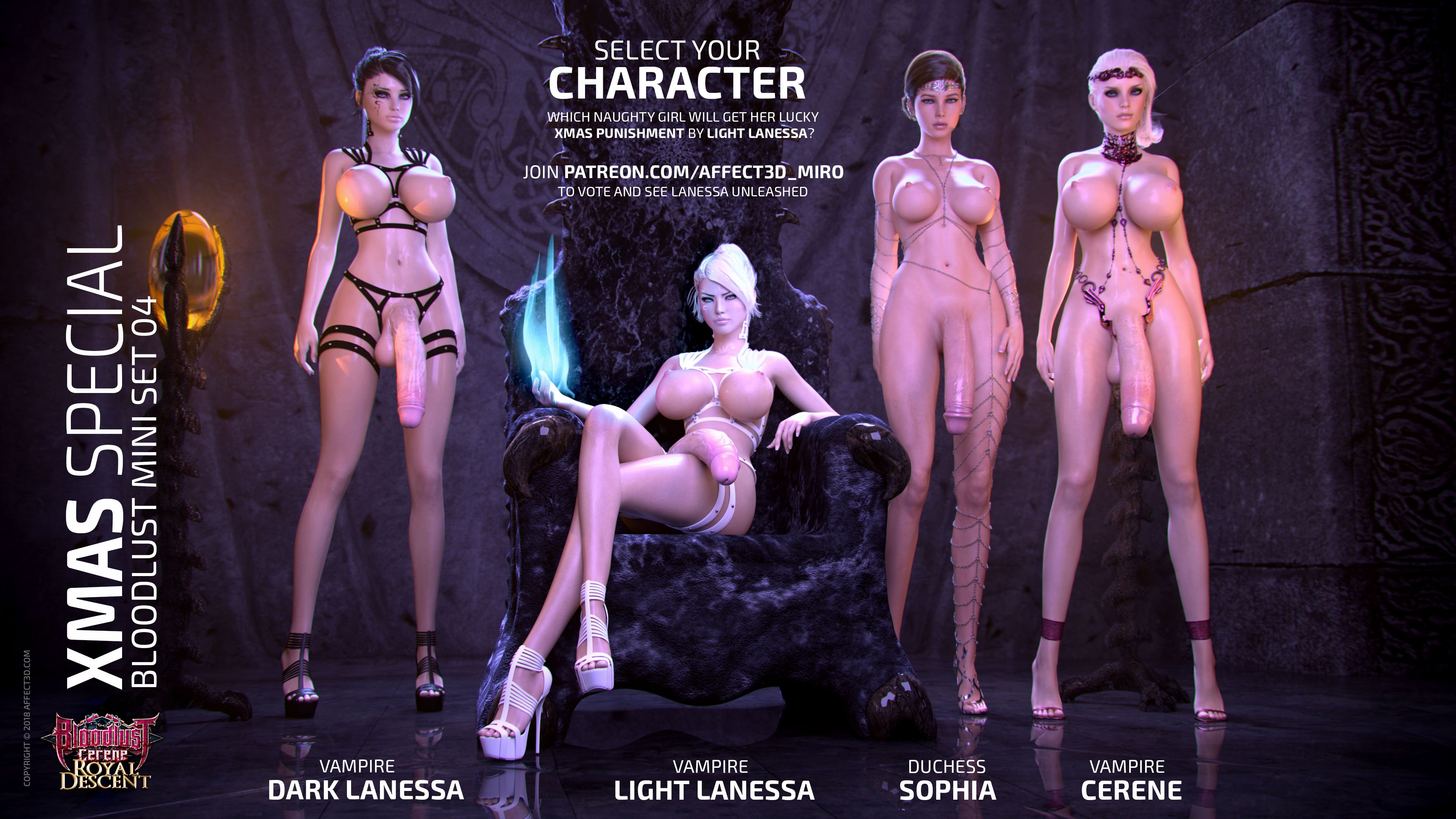 We're kicking off a Christmas inspired mini image set on Patreon in December! 😀 Above you can see a preview image we posted for our patrons earlier this week. We asked some of our patrons to help us decide which of our Bloodlust girls is going on Santa's naughty girl list this year. Santa's little helper and our special holiday guest: Light Lanessa will be paying the naughiest girl of them all a personal visit for some good old fashioned spanking.
We don't know who the lucky girl is yet because this Patreon poll is open until 1 December 2018 at 10:59 pm GMT (5:59pm New York/US Eastern time), so it's possible to vote before the deadline expires! Please note that only patrons in (Founders) Tier 2 have the ability to vote. 
December WIP Update & Miro's Patreon
The next monthly WIP update will be published on Friday 28 December. If you'd like to receive more frequent status updates before then, you could join us over at miro's Patreon. Depending on which Tier membership you sign up for, you can receive early viewing access to production status updates, WIP images,  preview videos of (Fun Stuff) sex positions, mini image sets and more.
You can check out the details of all the available membership types on miro's Patreon page! Follow the link below to head over there: