Sayako's new model changes
Last time we ambushed you guys with a very special, very voluptuous guest. We received a lot of positive feedback on Sayako's new look and we also got to read about some interesting reactions to Sayako's new look from our Staff. Thanks guys!
Now Sayako will be joining us again for round 2! 😉
Additionally, at the end of this post you will also find a new poll, so don't forget to vote!
Full body shot
First of all, I'm sure you can still recall the teasing video clip of the camera gliding down Sayako's delicious curves, only for the scene to fade out just before the big reveal. Well, enough with the teasing. Behold Sayako's full body shot! 😀

Update on planned changes
Initially, miro created two different looks: face A and face B. After testing some close-ups and faraway shots, miro decided A suited her best.
He also made a list of changes he wanted to tackle:
Play with Sayako's hair style (anyone with nice suggestions, feel free to leave a comment!)
Minor makeup changes.
Fix teeth gap.
Make her arms slightly thicker.
Increase the size of her breasts slightly and give them a more natural shape.
Slightly reshape her nipples.
Add more definition to her abs.
Flaccid cock's final shape.
Erect cock's final shape.
Add more definition to her legs.
Cute feet (that was the most common request, if miro's count is accurate 😉 )
Big smile… of approval for every girl that manages to take her cock to the rim! 😀

WIP Forum Debate
A major topic of debate in the Bloodlust WIP Forum thread is the current look of Sayako's flaccid cock, because some people believe it is perfect as it is while others say it is too vascular and large to pass for a soft cock.
NacNac, one of our regulars at the forum, is one of the latter people for example. NacNac actually created a GIF to illustrate their own suggestions for Sayako's model enhancements. It looks so good that we decided to feature it in this week's post as well! 😀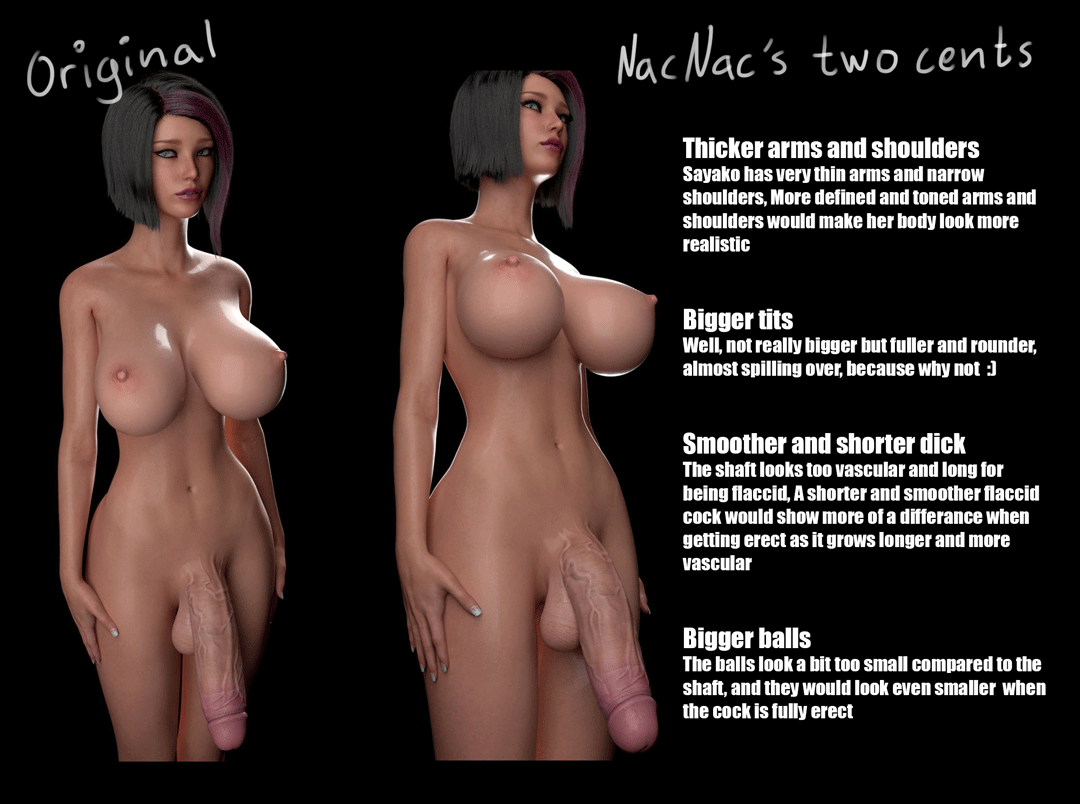 Miro already left his feedback on the GIF, saying he liked the suggestion. The only issue with softening the look of the cock would be that the veins are baked into the texture. Although it would be possible to edit, doing so may not be worth the effort. After all we all know the only reason for Sayako to be flaccid is to get her hard. 😉
However, if there were a scene which involved a lot of down time just begging to be animated, then of course miro may reconsider… Any persuasive suggestions out there?
Poll #1: Sayako's haircut

Miro has been experimenting with a few new hairstyles and we want to know what you guys think of them! Have a look and pick your favourite:

Vote for your favourite haircut in the poll below!
Take your votes here:
Which of Sayako\\\'s haircuts do you like?
1201 vote - 42% of all votes

568 votes - 20% of all votes

526 votes - 18% of all votes

494 votes - 17% of all votes

I don\'t like any of them.

3%, 73

votes

73 votes - 3% of all votes
Total Votes: 2862
September 29, 2017
-
October 3, 2017
Voting is closed
The poll will close at midnight on Tuesday (3 October), so don't forget to vote!
As always, visit the Bloodlust WIP Forum thread for frequent updates on the Bloodlust Dick Girl DLC!