We're back with the second installment of the weekly Bloodlust Dick Girl DLC WIP update!
This time miro is treating us to a stunning preview image of Cerene and Sophia in full color. Each and every delicious curve of their bodies is illuminated by the warm glow of the red portal. I think the animated version of this captivating scene could go either way.
Sophia willingly parting her legs wide to let Cerene sink that hard cock into her slowly and deeply. Then, Cerene might take her time to let the brunette adjust to her size, rotating her hips in perfect circles to feel every inch of the Duchess' throbbing sex.
Or perhaps the vampiress would simply find it impossible to contain herself. Instead of going slow she would plunge her cock inside and start fucking the Duchess hard and fast right from the start. Blue eyes flitting from Sophia's bouncing breasts to her wide eyes and reddened cheeks.
Slow and deep. Hard and fast. Which way would you prefer? Choices, choices…
On another note, there has been a lot of feedback from the forum members of the Bloodlust Cerene DLC WIP thread on a different scene. Remember that screenshot in which Cerene holds up Sophia with the tip of her cock? The one we showed in our first Bloodlust Dick Girl DLC WIP update? Below is a recent screenshot of variations on arm positions that miro has been experimenting with to compare to the original pose. What do you think?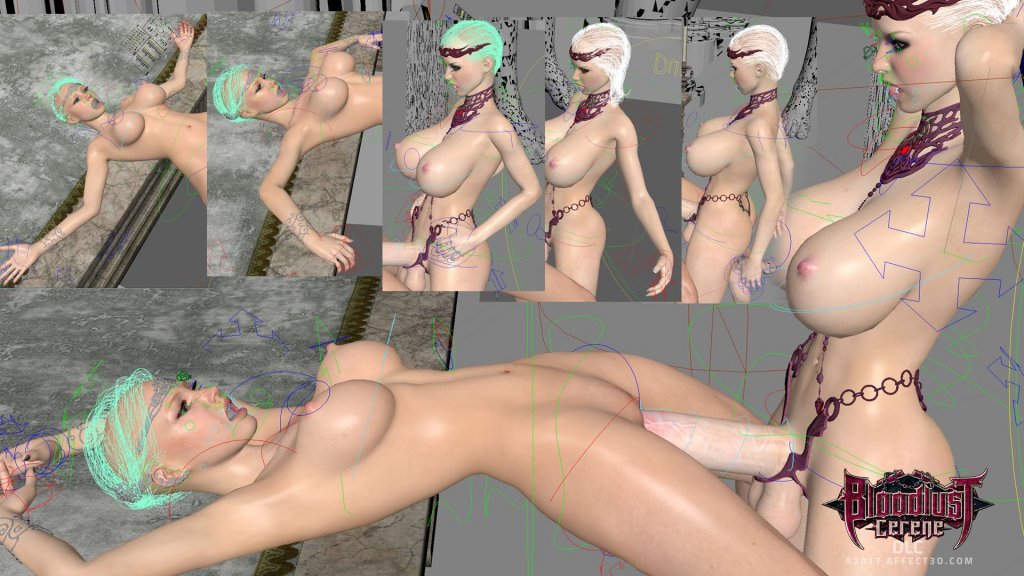 Some people thought the initial position itself was hot. Other people suggested trying a variation on the stance. Nevertheless, there is no question that a hands-free position could involve all sorts of subtle (and not so subtle) displays of the sheer power Cerene holds over Sophia.
For instance, one forum participant commented that it could allow Cerene to play with her own breasts. Perhaps pinching or rolling her hardened nipples between her fingers. (Personally, I too would love to see something like this.) Other participants mentioned that such a dominating position calls for some dirty talk from Cerene, which I think we can all agree on.
There has also been a recurring request on the forum thread for a scene including a visible stomach bulge. For those of you excited for this, I can confirm that miro has promised that there will be at least one position that'll show off Cerene's swollen cock buried deeply inside of Sophia. 😉
Finally, I can imagine most of you have been anxiously waiting for an animated preview clip. Although it's not an actual animation, miro has uploaded a recording containing a few sequenced frames of a new pose. I think you will enjoy it. See for yourself.