Welcome back for the WIP update! Just a quick little note: last month we announced the full title of miro's next release: Bloodlust: Lanessa – Blood Crown, so I'll be using it in the title of the WIP updates from here on. Now let's dive in.
Hardware & Software Specs
Our main goal is to bring you a high quality end product, but we also like to share practical info with fellow artists and curious fans.
Every now and then miro receives questions about the type of hardware and software he uses, so below we left a summary of his current hardcare specifications and the software setup for the production team. For reference: rendering one 1080p frame currently takes around 20 minutes per GPU. 10 minutes of animation is around 18,000 frames (10 x 60 x 30fps), but with draft renders and cam tests the overall frame rate per 10 minutes is around 60,000 frames. We send the bulk of our rendering jobs for animation to our rendering farm.
Main computer
CPU
GPUs

1 x RTX 2080 for display
1 x RTX 2080 Ti for test renders

Ram
Storage

2 x SSDs 500GB and 1TB
2 x HDDs 10TB and 12TB

Monitors
Software
Maya 2018.5 – main 3D software
Redshift3D – for rendering
Ornatrix – for hair simulation
Cinema4D with Xparticles 4.5 – for fluid simulation
Zbrush 2018.1 – for some blend shapes
Daz Studio 4.10 – for some asset imports / conversion
After Effects CC 2019 – for video editing
Audition CC 2019 – for sound editing
Photoshop CC 2019 – for editing still images
Renderfarm 40 GPUs
3 x GTX Titan X Maxwell
11 x GTX 1080 Ti
26 x GTX 1070
Lanessa's Outfit
Last month we talked about Lanessa's character design; this month we'll focus on her outfit design. We already knew that Lanessa timed her entrance into Cerene's lair to get straight down to business, so we chose her get-up with that in mind. Lanessa's skin-tight body harness accentuates her best assets and it doesn't get in the way when it's time to get down and dirty.
She probably could've just as easily waltzed in there completely naked really, but we wanted her to wear some kind of statement piece to give people an idea of her personality. Physical appearance sets the tone for everyone's first impression of a character after all, and each of our girls have their own personal style. In Lanessa's case, we wanted to make sure that whatever she was wearing showed off the bold, confident personality of a woman who means business. And who doesn't look hot in black leather? 😀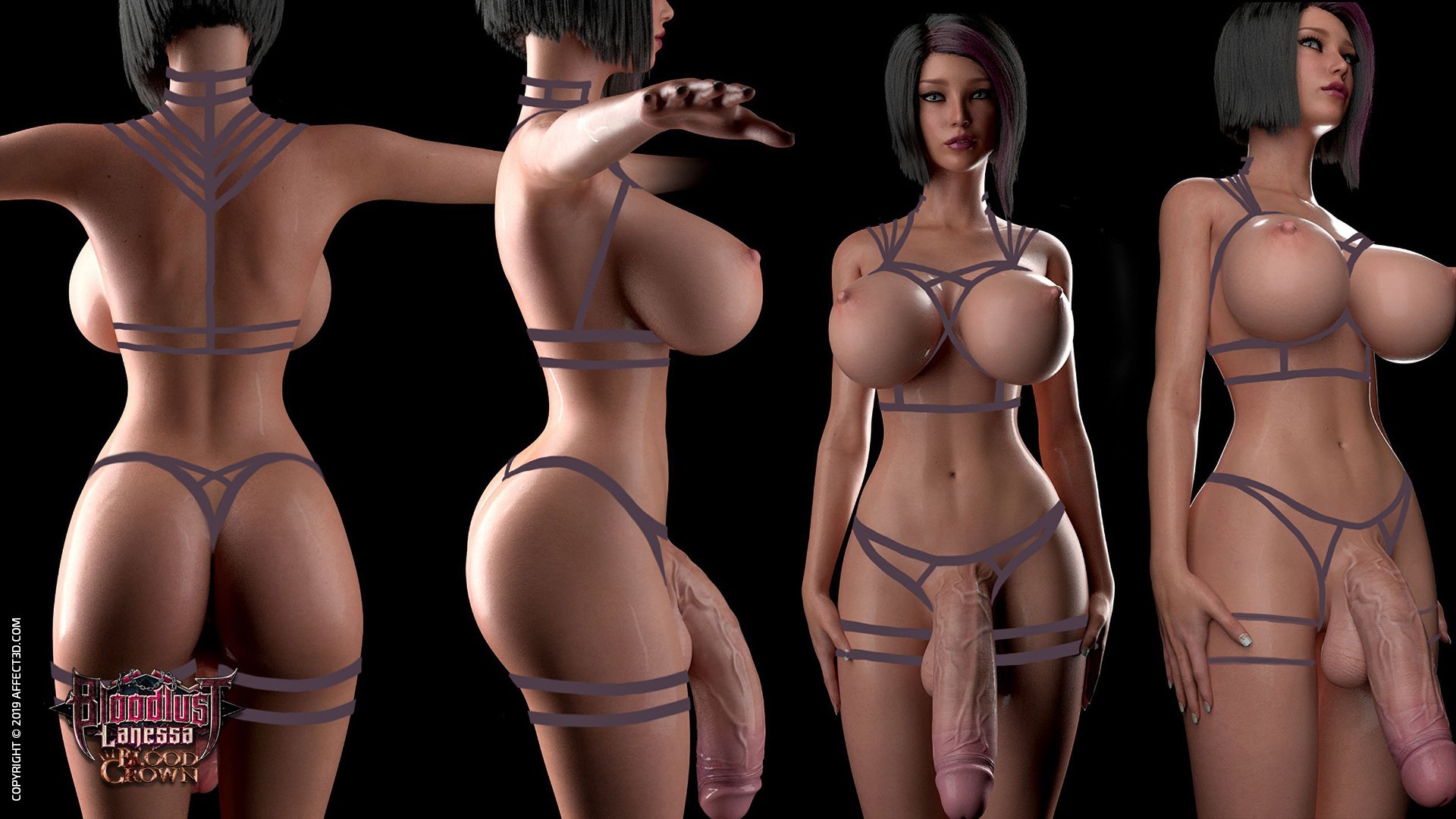 Lanessa's leather body harness was custom made by one of our modelers. Our voice actress Marie actually came up with the mockup for the outfit! As I'm sure you all remember, Sayako's model was the base for Lanessa's character design, so that's why she is modeling this mockup outfit. If you missed this little fun fact, check out WIP update #5!
Below you can see some previews of Lanessa's outfit after we just finished it.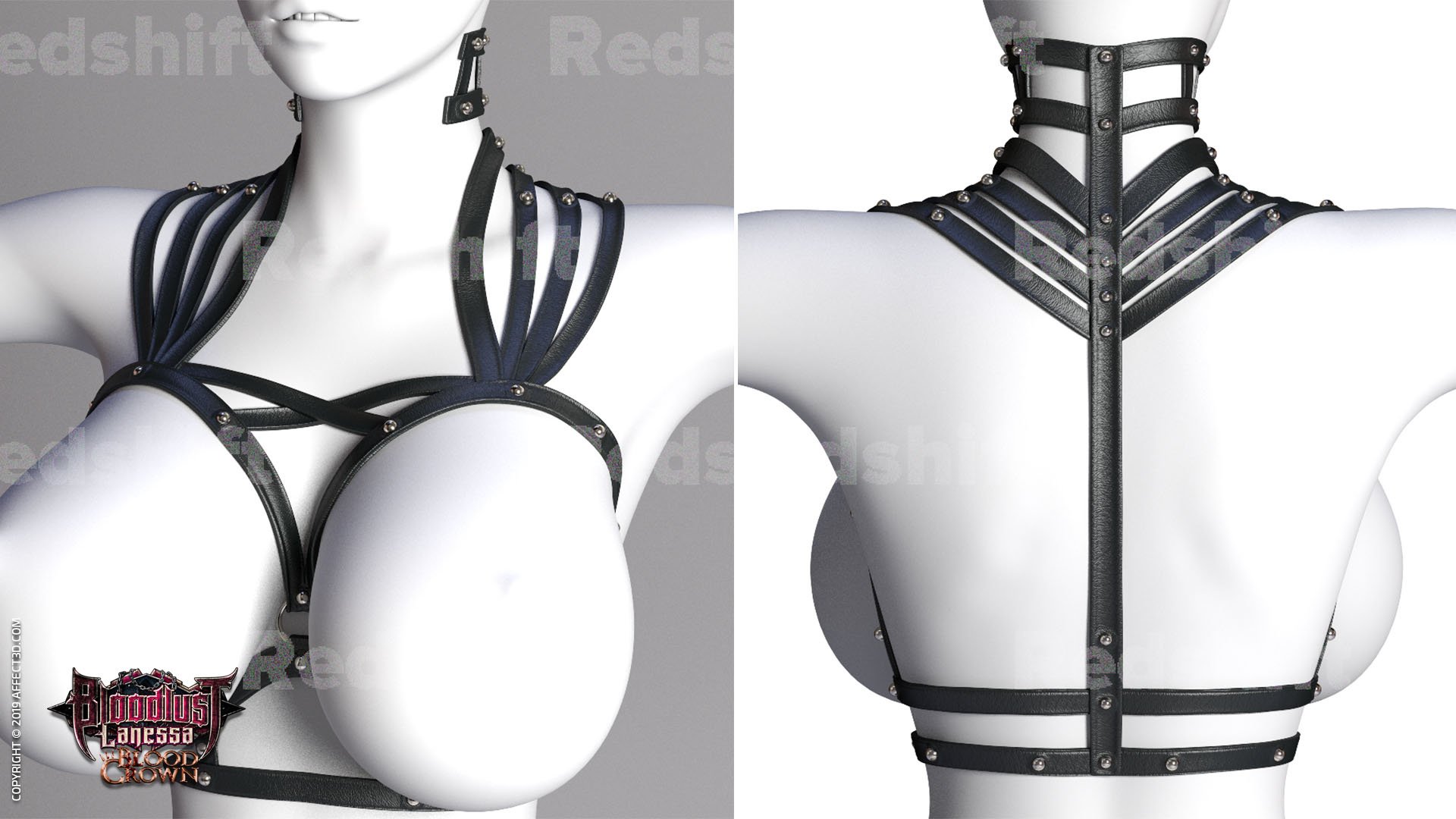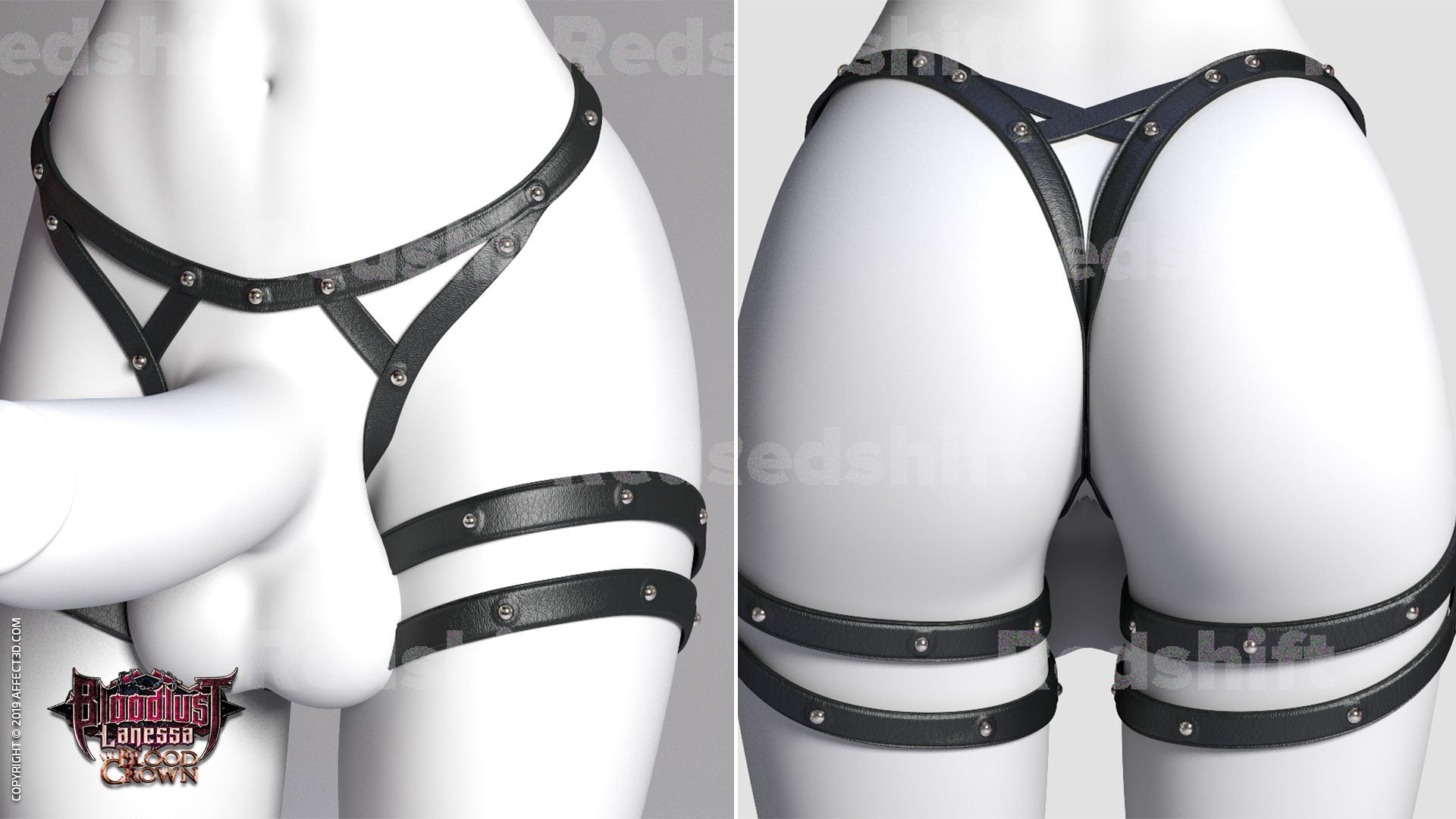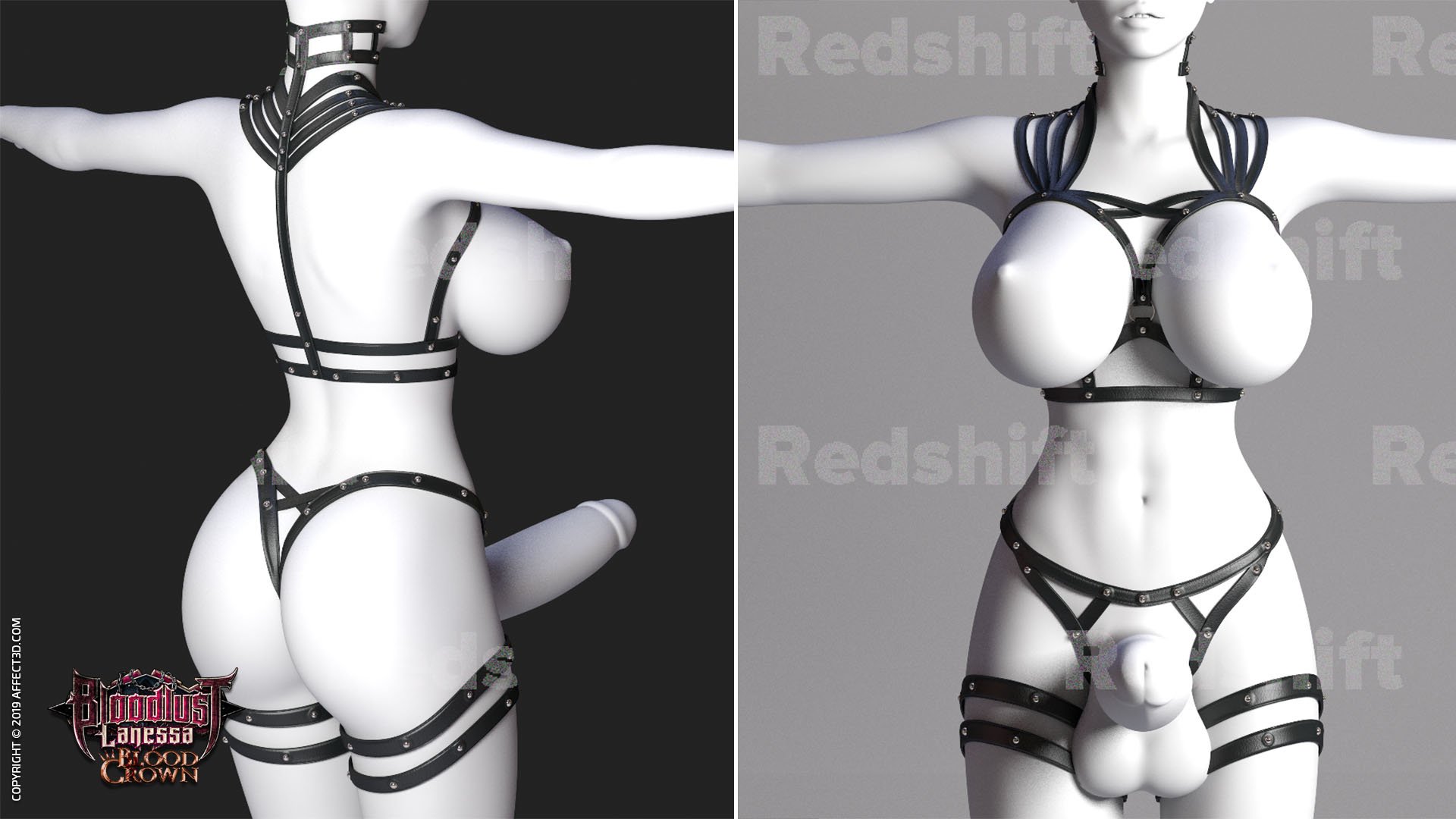 A closer look at the blowjob scene
Miro made a short WIP video so you can take a spin around different angles of the blowjob Cerene gives Lanessa in Bloodlust: Lanessa – Blood Crown. If you stick around till the end of the video, you'll see a little bit of the animation. Enjoy!
Circle of Love Mini Image Set (Preview images)
Sophia, Cerene and Lanessa treat each other to the gift of pleasure on Valentine's Day. After a bit of foreplay, Lanessa puts an enchantment on Sophia's cock to maximize everyone's enjoyment. She gets first dibs on a taste of the duchess' elongated cock, inch after glorious inch disappearing down her throat. Sophia is happy to oblige but when you've got a front row view of Cerene's perfect round ass (don't worry you'll get one too), there is only so long you can resist…
Previews below! Go, go, go!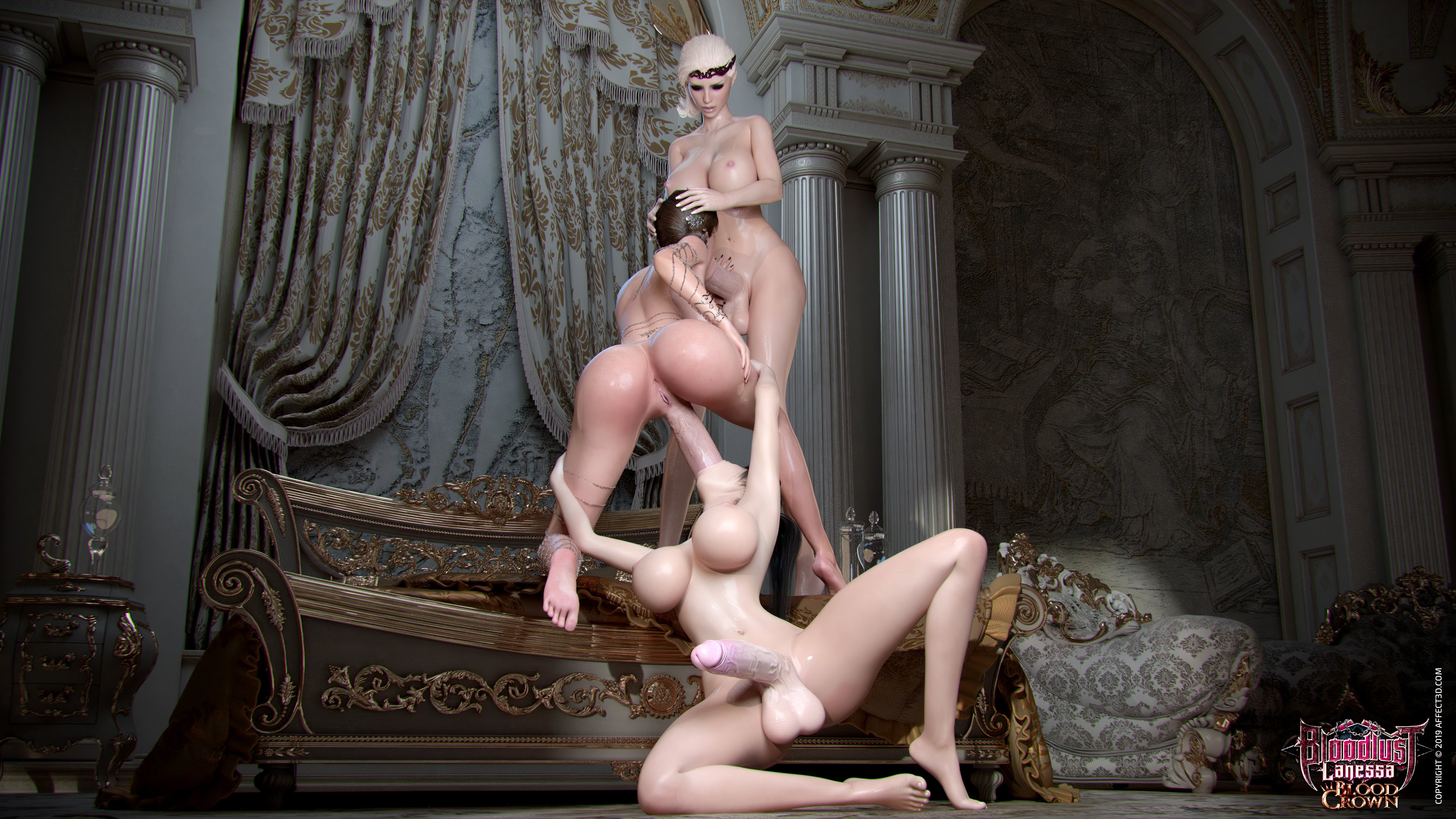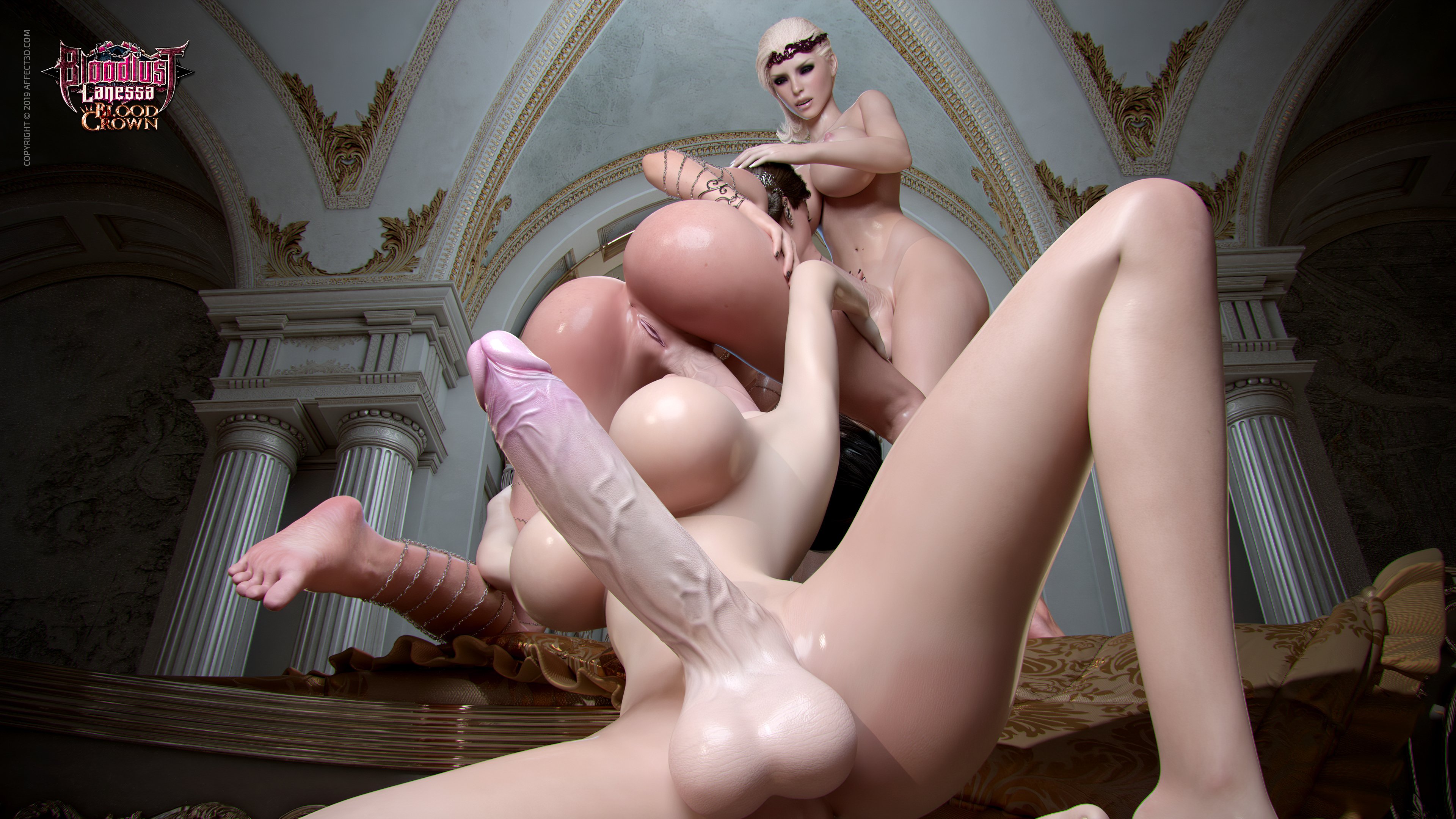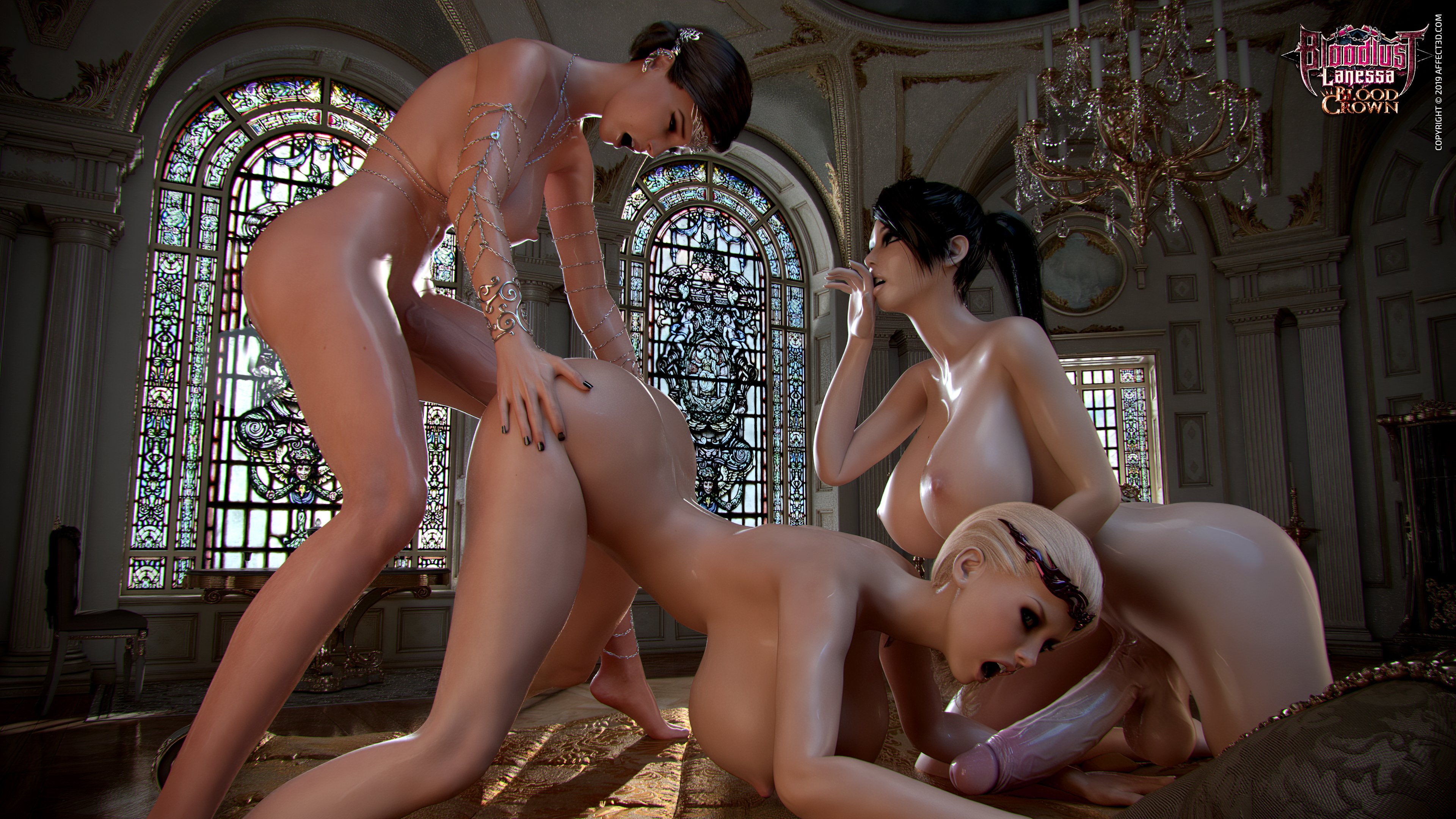 Circle of Love – Full Preview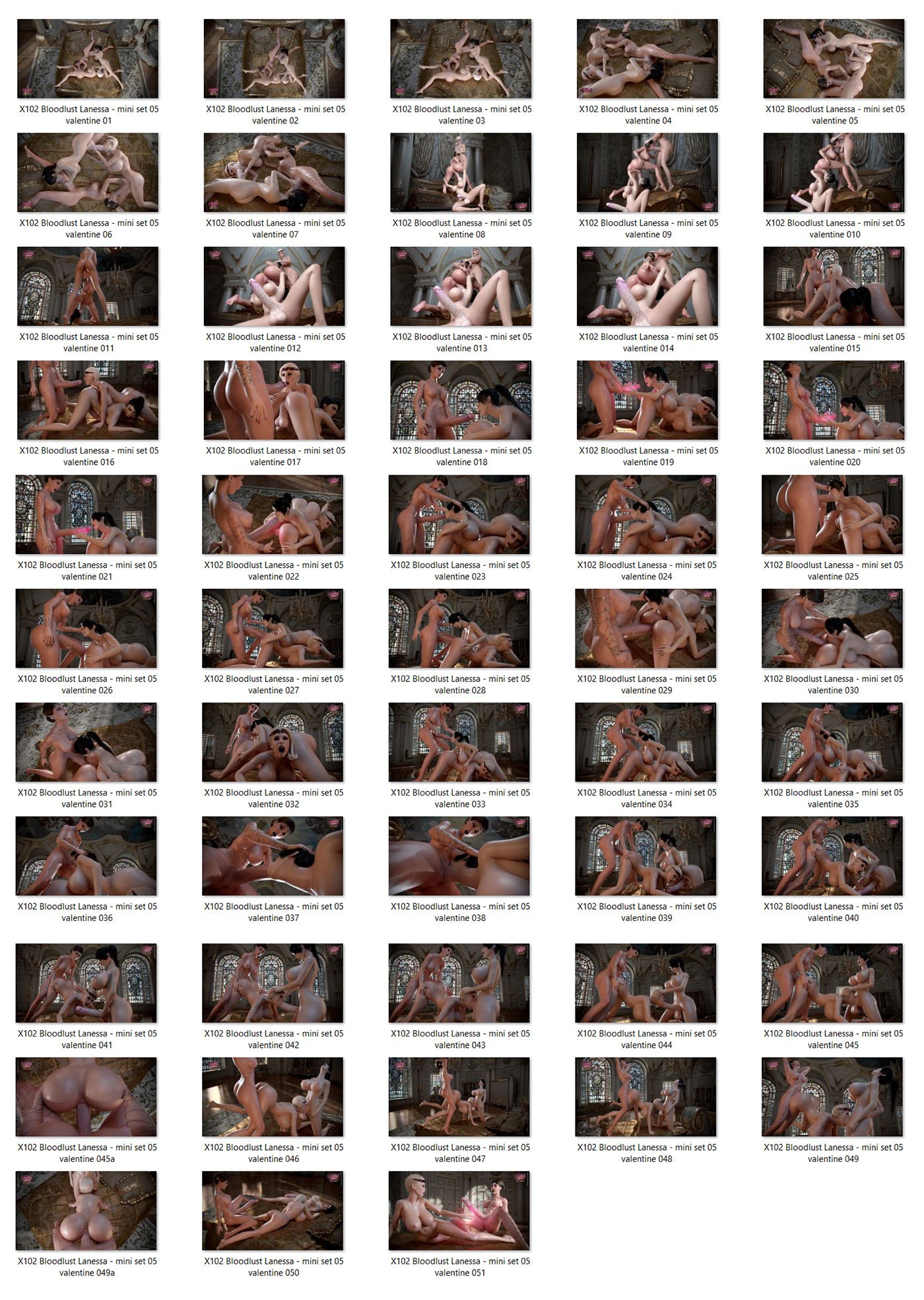 We're currently on part 5 of the Circle of Love set and part 6 is in the making! The Circle of Love and all miro's other mini image sets are available on his Patreon for members of (Founders) Tier 1 and (Founders) Tier 2.
April 2019 WIP Update & Miro's Patreon
We'll publish the next WIP update on Friday, May 3rd. If you'd like to receive more frequent status updates before then, you could join us over at miro's Patreon. Depending on which membership you choose, you can receive early viewing access to production status updates, WIP images, mini image sets and more.
You can check out the details of all the available membership types on miro's Patreon page. Follow the link below to head over there: