Motion Capture Viewport Render (WIP Video)
Last month, in WIP Update 2020#01, we posted a viewport render of one our initial experiments with motion capture used for Blood Crown. Below you can find another work-in-progress scene produced with the aid of mocap. In this scene we see Sophia approaching a bound Cerene while Lanessa watches them. The three girls exchange a few words after which Sophia takes Cerene's breasts into her hands and the video ends with the Duchess' cock sliding up those tits.
Duchess Sophia Voice Samples
Next up, we've got some ear candy for you. As you probably already know, Pip – Duchess Sophia's original voice actress – had to retire after Royal Descent came out. Our new voice actress Ko Clover will step into the role of the Duchess of Toren during Blood Crown. Her voice has the soft-spoken classiness and charm of the duchess we know, but Ko also brings her own repertoire of sexy sounds.
We're interested to hear what you think of her voice, so you can have a listen to some audio tracks below. The first audio track contains a few snippets of Sophia's lines in Blood Crown. The second track contains some bloopers from the recording sessions. We don't often share voice acting outtakes but we thought these were especially cute. Let us know whether you'd like us to share more behind-the-scenes content like this from the girls behind the microphones. 🙂
Lastly, we've included some moaning samples of Ko voicing Sophia during CyPunk image set sex animations.
1. Sample lines of Bloodlust: Lanessa – Blood Crown
2. Outtakes
3. Sample moaning voice overs of Sophia in CyPunk image set sex animations
CyPunk – Image Set Sex Animation
Speaking of CyPunk image set sex animations – here's a sample.
CyPunk is a cyberpunk inspired image set that borrows Cerene and Sophia from the Bloodlust universe, but the characters meet in a completely different setting. In this alternate universe, Sophia is a dickgirl biker babe and Cerene is a punk chick who's always up for a ride.
CyPunk's official store release comes with an image collection and a 48-second, looping, deepthroat sex animation. The sample animation above is an additional sex animation loop outside of the store release. We'll likely create extra sex animations for other image sets in the future as well, so every now and then you may see one of those animations included with the WIP update. 🙂
Pure As Sin – New Image Set – Previews
Miro and the artists of Affect3D released part 1 of a new image set called Pure As Sin on Patreon this week. You can probably guess the theme of this story by reading the title – we're pairing up a lusty demon with an equally lusty – if not lustier – angel. It's a classic fantasy couple that Miro has been wanting to work with for a while.
In the previews down below you can see the new cast for this image set: Celeste (Angel) and Lilith (Demon). Celeste is an angel-in-training who hasn't earned her halo yet. She's not sure if she's fit to become an archangel, so she's given 7 days to decide. During that time she may use whatever resource available to her to make up her mind – including the depths of Hell. Celeste descends into the underworld to explore. On the seventh day she encounters Lilith, the mistress of the realm of Lust.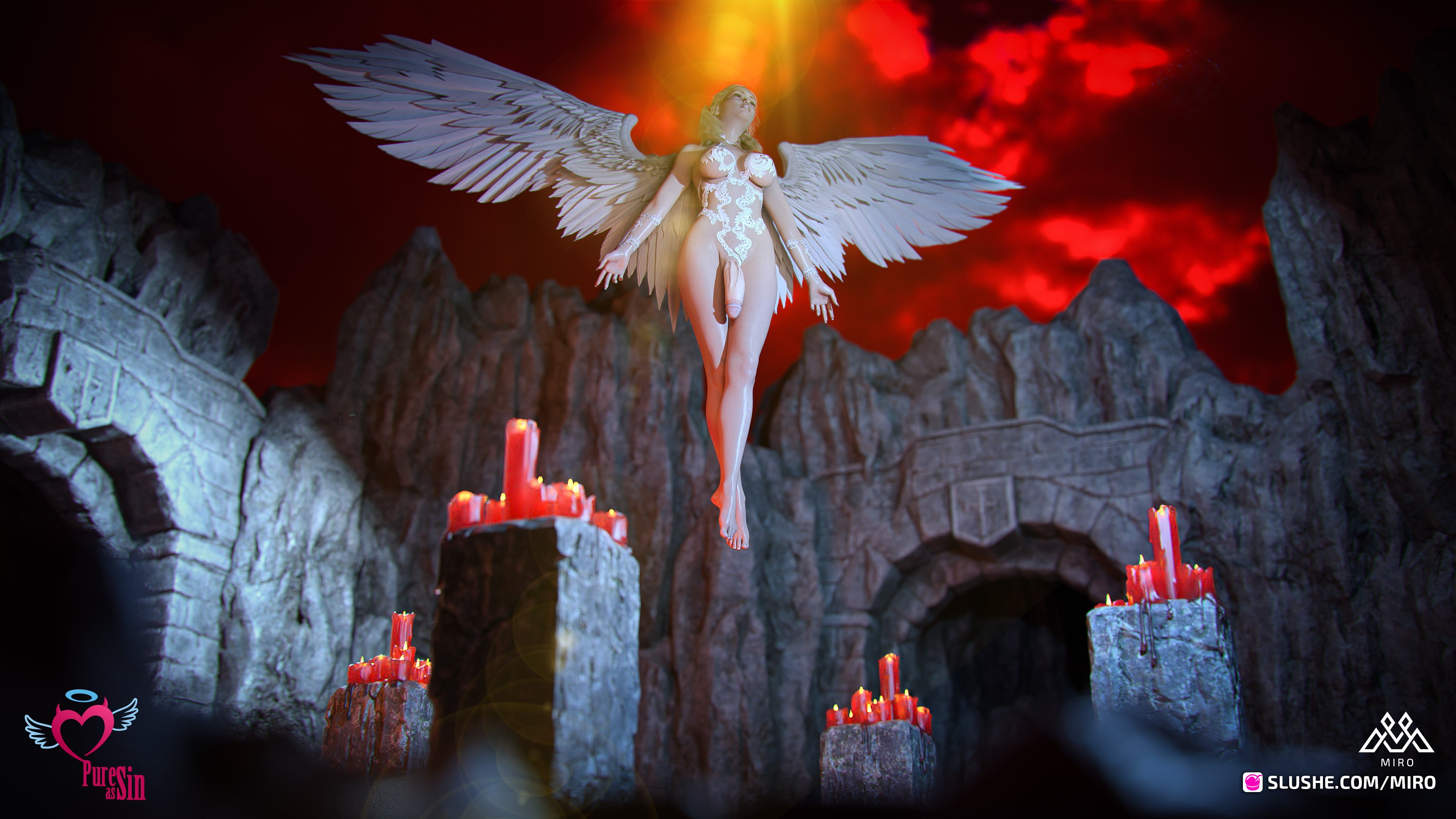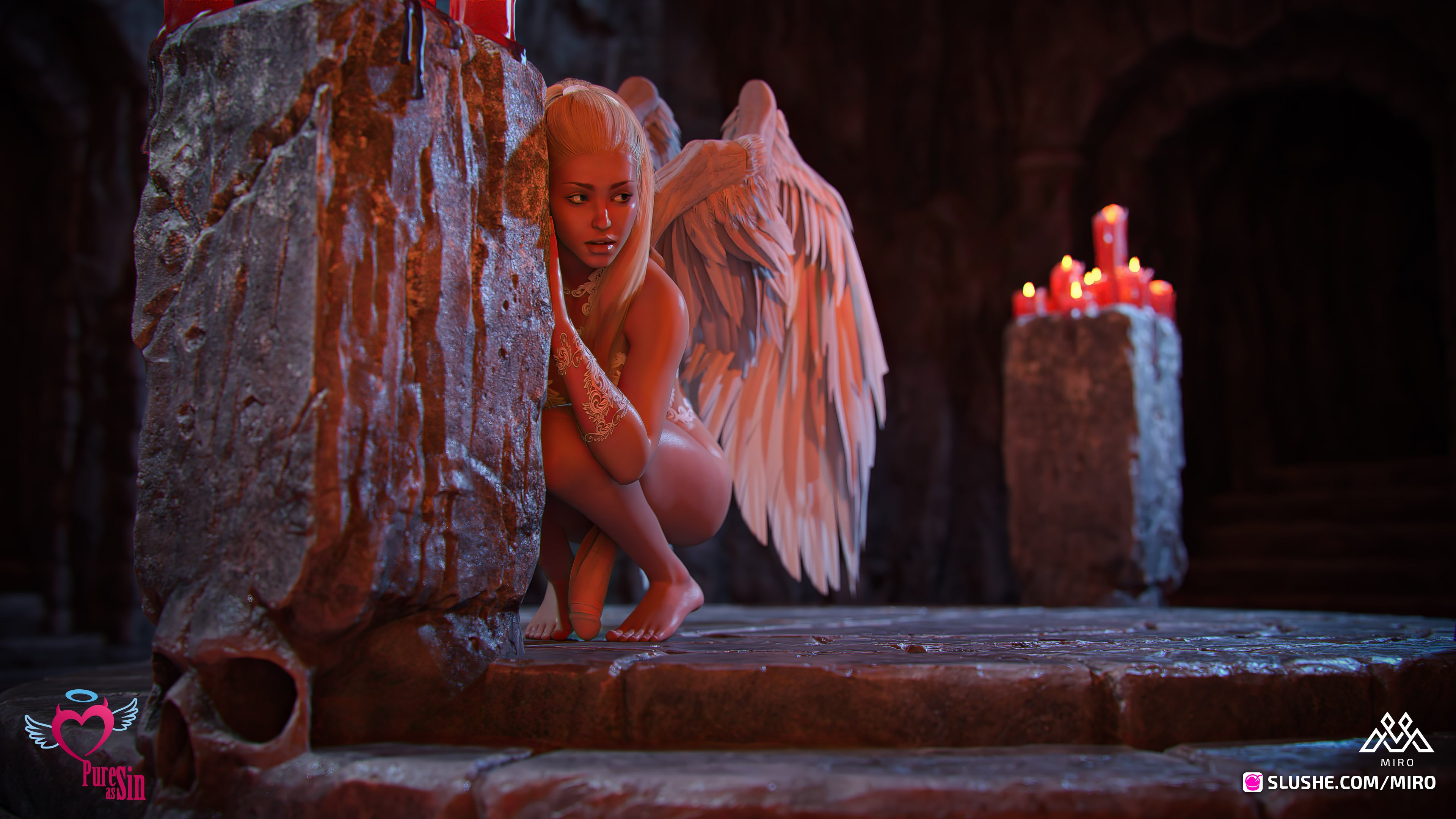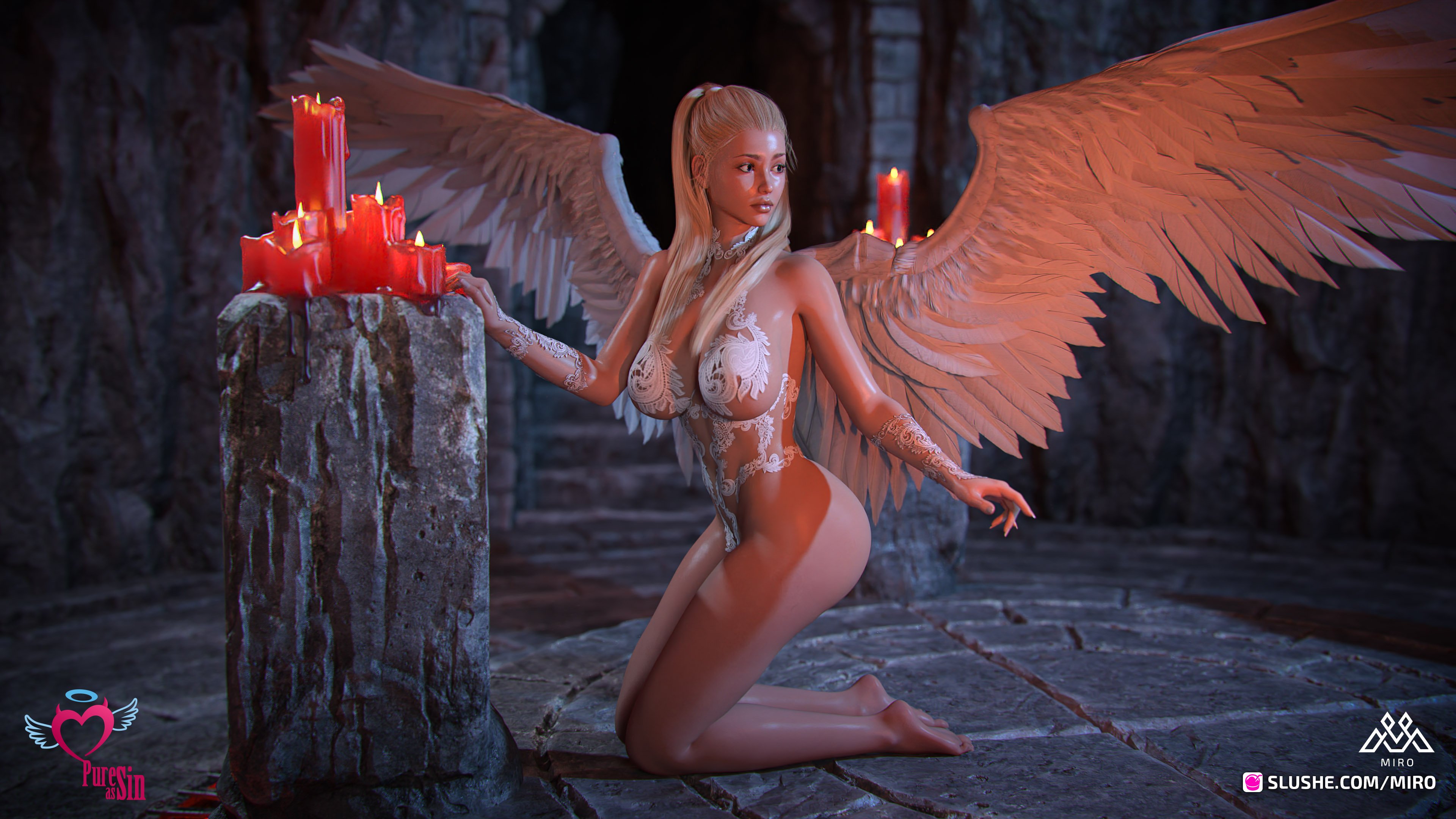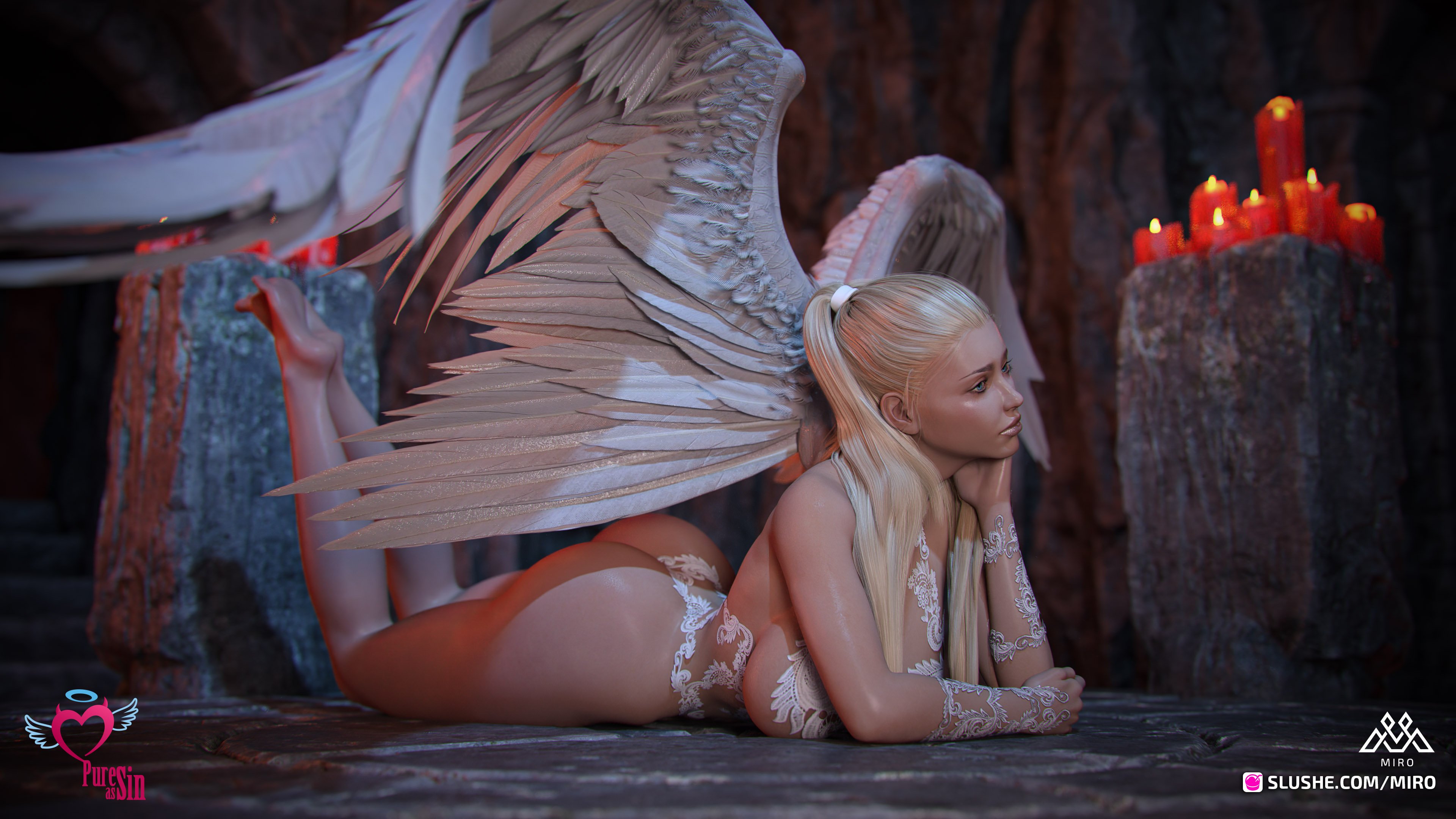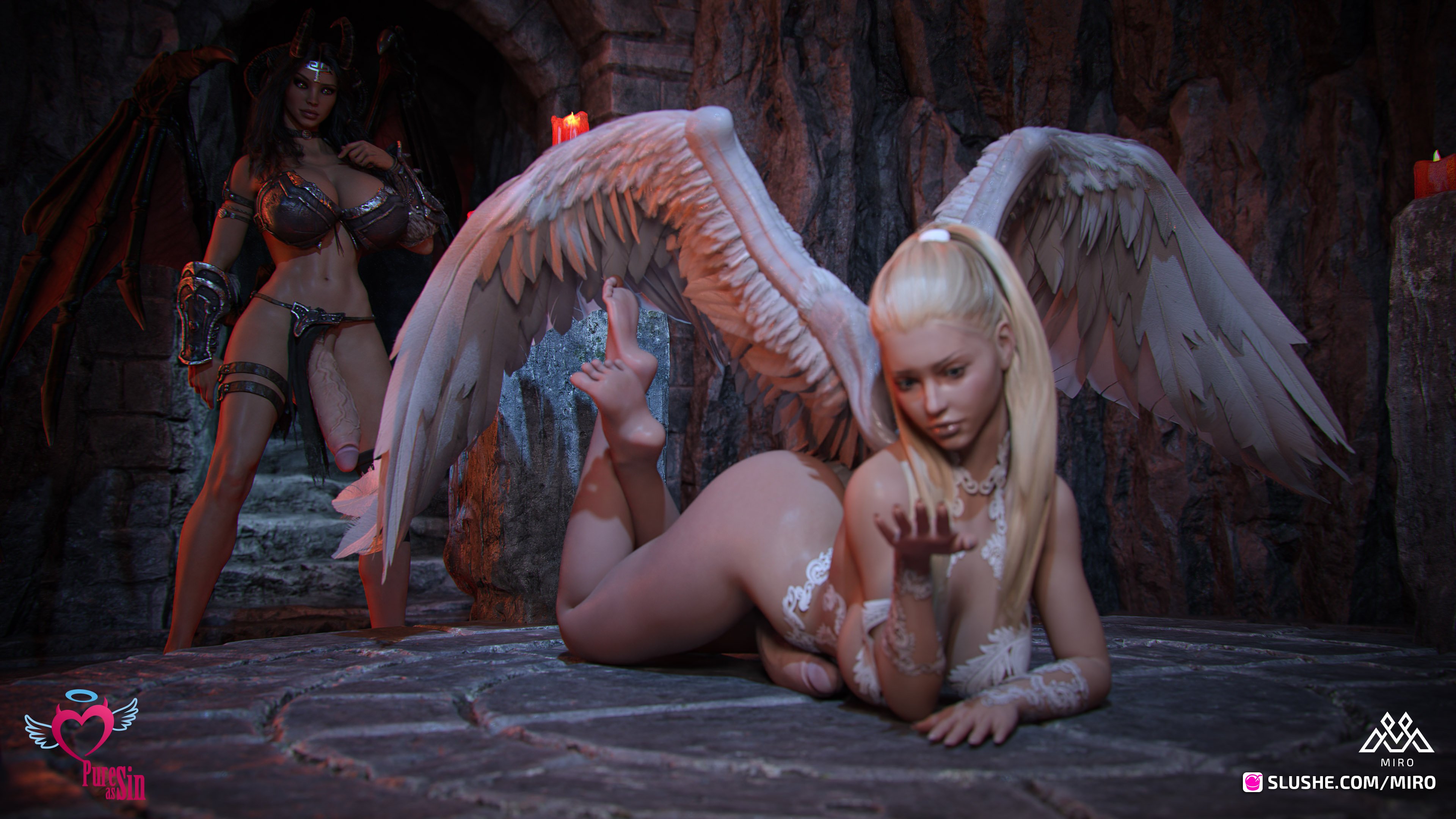 More parts of Pure As Sin will be released on Miro's Patreon over the next few weeks until the image set is complete. If you'd like to collect all the images with early access and you also want to help fund this project, you can do so by joining Founders Tier 1 or a higher tier.
Alternatively, you could also wait until Pure As Sin is released in the Affect3D Store.
Miro's Slushe Page
For future previews of Pure As Sin, you can check Miro's Slushe gallery because he'll release them there first. His image gallery on Slushe also contains full size preview images of older works such as Lady of the Tower and Love Thy Neighbor. Follow the link below to browse his gallery.
Miro's Patreon
If you'd like to support the creations by Miro and the artists of Affect3D, you can become a patron. Financial contributions we receive through Patreon are used to fund the production of all Miro's ongoing projects. This includes image sets, sex animation loops and Bloodlust: Lanessa – Blood Crown.
There are 5 memberships to choose from, ranging from $1 to $10 per month. In return for your pledge, you could receive early access to image sets, sex animation loops, polls and production updates. Check out his Patreon page to find out which membership suits you best!