Bloodlust: Lanessa – Blood Crown – Cum Simulation Test (WIP Video)
In the WIP video you'll see a cum simulation test that the production staff worked on. They used the cathedral scene of Blood Crown with Sophia and Cerene, but Sophia and Cerene themselves aren't moving. The test was solely focused on the ejaculation so that we could see what the cum looks like and how it behaves. So Cerene is basically a canvas for Sophia's cum painting.
Some of the improvements that we've seen in cum sim tests like this one, are:
Cum streams are smoother and they reach further, so we get nice layers of cum on Cerene's body when they land.
Cum splatters that hit the same area blend together nicely.
You can view the WIP video below. Cum sims are still a work-in-progresss so your feedback is welcomed. 🙂
Software Update – Transition to Unity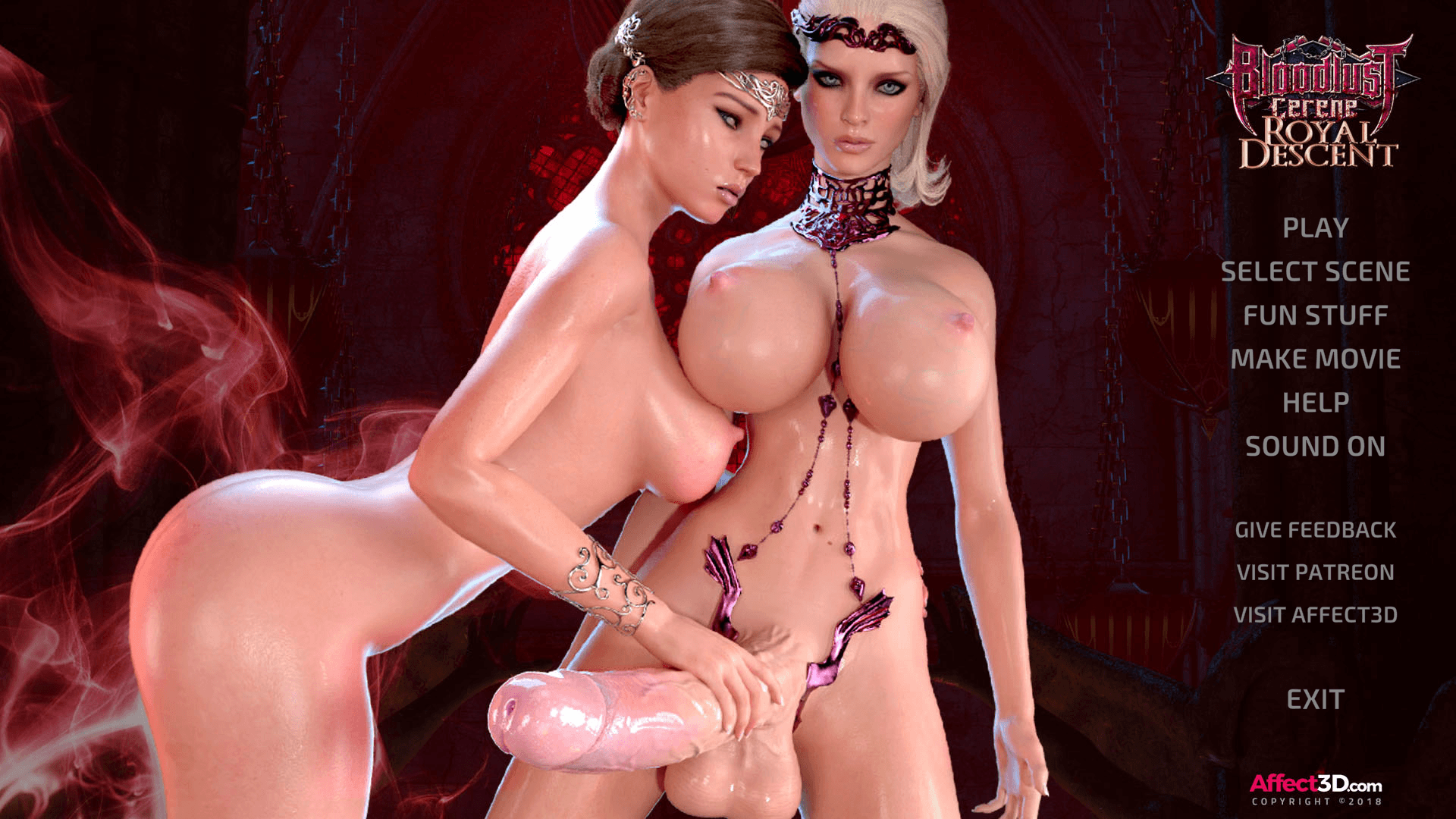 I'm going to show you some screenshots of the future Unity software app that will eventually replace the current Adobe Flash app of Miro's movie Bloodlust: Cerene – Royal Descent. It's been a while since we last talked about the software app but it is an active project, so I'll fill you in on what's been going on.
Long story short – we began working with a developer to build a new software application to replace the Adobe Flash Player, found out along the way that he couldn't deliver what we needed, and then we had to start over again from scratch. It took us a while to find someone reliable, but I think we've found the one now. We've been working together on the Windows and Mac apps since April and he's been making nice progress, so let's check out what the app looks like so far.
Windows & Mac Unity Applications – Screenshots
Below you can find some screenshots of each section within the Unity app.
The app is still a work-in-progress, though this is mostly to do with internal testing and technical tweaking. The design is close to final. Not much has changed aside from some layout stuff to make it look a little cooler. The structure of each section has stayed mostly the same, and stuff will work in the same way you're used to.
The biggest change is in the programming itself because the app is being made with the Unity game engine.
What to expect when the Unity app is done
Our Adobe Flash Player has been around since 2007-ish. It has given us its all, but the coding is too old to continue patching up, so we'll put it to rest when the Unity app is done.
At the moment Miro's movies Bloodlust: Cerene – Royal Descent and Girlfriends 4 Ever are still using the Adobe Flash apps. We'll replace those with the new Unity apps once they're ready, in this order:
first Bloodlust: Cerene – Royal Descent
second Girlfriends 4 Ever
And any future movies by Miro will also get the new Unity software app.
G4E – Tara's Genesis 3 Model Update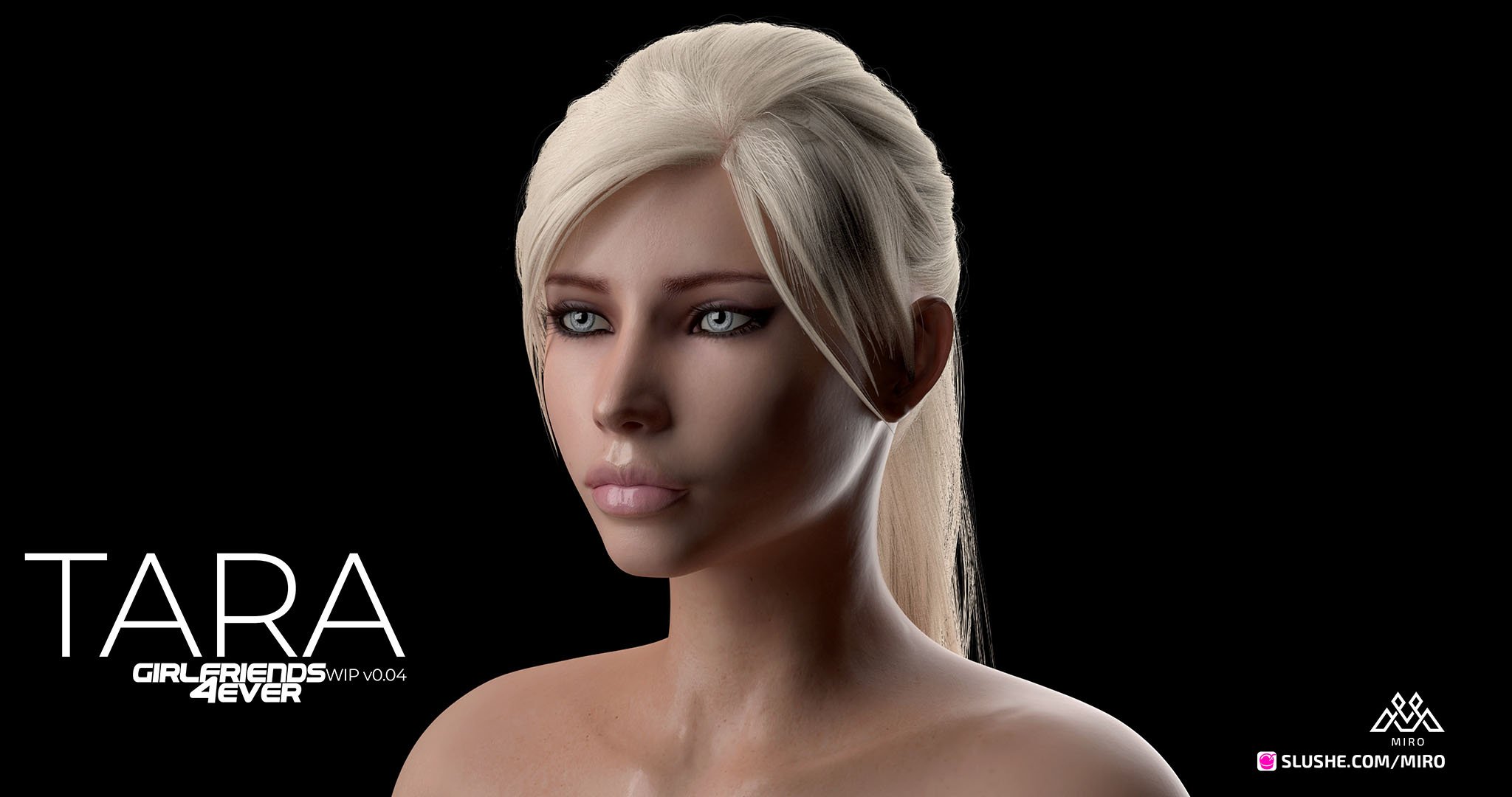 Moving on to another old (girl)friend – say hi to Tara of Girlfriends 4 Ever!
Although we're currently not producing a Girlfriends 4 Ever release, we have been working on Tara's model. The production staff has taken Tara's old model and rebuilt it as a Genesis 3 character so that we're able to use her in future productions of G4E. We've had to make this transfer because Tara's old model won't work in Maya.
Below you can find some work-in-progress images of what Tara's Genesis 3 model currently looks like. For comparison, we've also included comparison renders of Original Tara (left) vs Genesis 3 Tara (right). Whenever we import an old model into a new program, they don't quite look like their old selves from the get-go, so we have to get hands-on to make it happen.
Tara's skin texture, makeup and face shape is pretty much done. Her hair is still a work in progress. Her body shape is also still being worked on. If you compare Original Tara to Genesis 3 Tara, you'll notice she's become a bit curvier in the bottom half.
Anyhow, it's all still a work in progress, so let us know what you think of Tara's new look so far. 🙂
Pure As Sin – Image Set – Affect3D Store Release!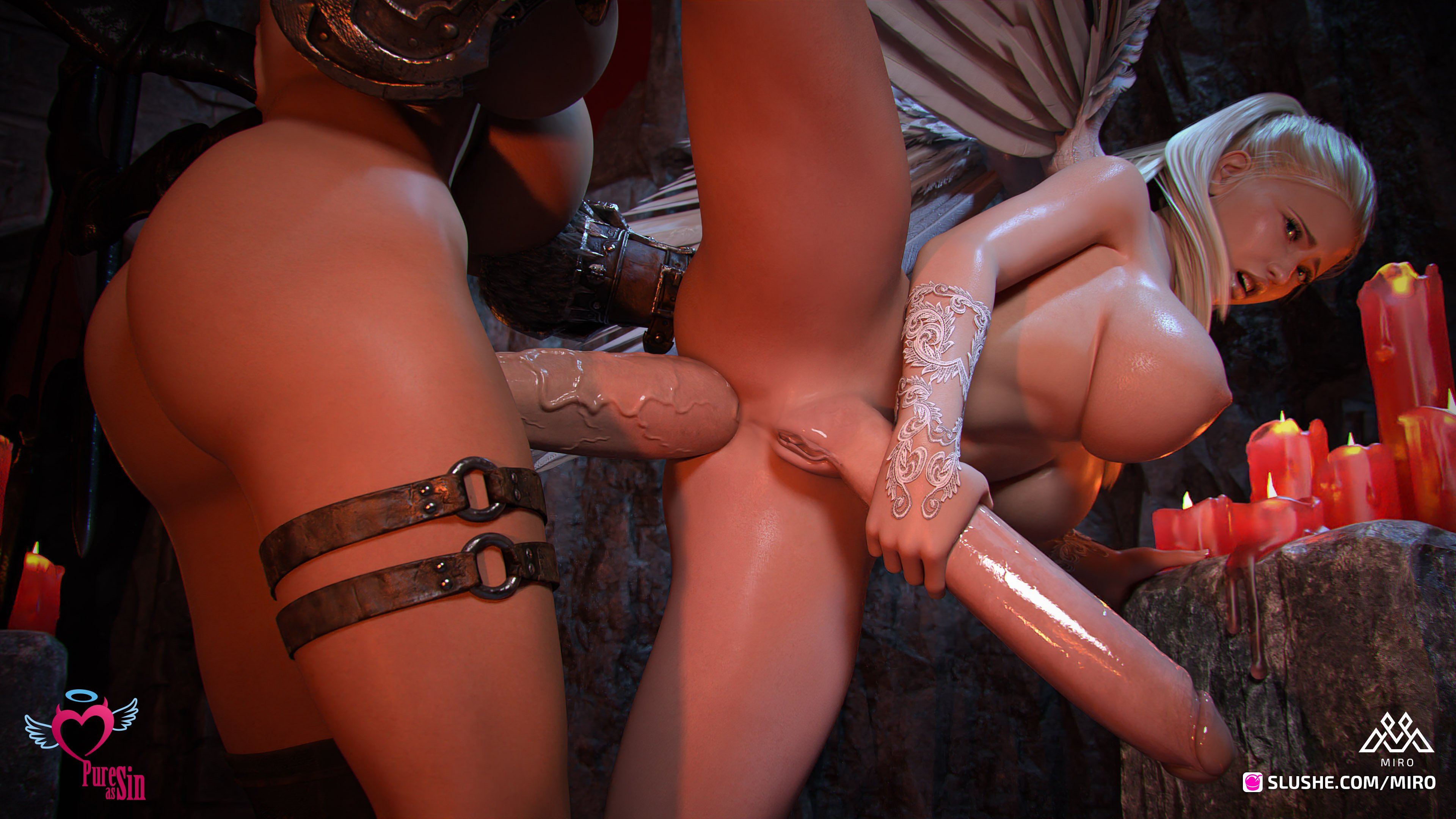 Miro and the artists of Affect3D have produced a new image set called Pure As Sin to add to your porn stash. Pure As Sin will go on sale for  $10.00 in the Affect3D Store on Saturday, May 23rd. The product contains 200+ images filled with sinful delight – blowjob, boobjob, footjob, self-sucking, cum scenes, airborne fucking, this set has it all. Keep reading for preview images and more info!
Storyline
Before their training is complete, angels are sent to hell for a week of temptation. It's the final test before they can claim their place in heaven. Once completed, they can choose to don their halos or stay below. And whilst many are quickly turned by the power of deception and lust, one particular angel isn't impressed. Indeed, it's Celeste's last boot camp day in hell and so far she hasn't been converted. Despite this, she is however, a little bit curious about sex. Lilith, a succubus from the lust department, immediately recognizes this weakness in the angel's resolve. She makes it her mission to corrupt the innocent trainee.
What's Included
206 HD images in JPG format:

159 final images

of which 20 cum scene images

10 alternative variation images
37 outtakes
Important for Miro's patrons: if you are an active (Founders) tier 1 or 2 subscriber of miro's Patreon, you already have access to this image set via Patreon!
Pure As Sin – Preview Images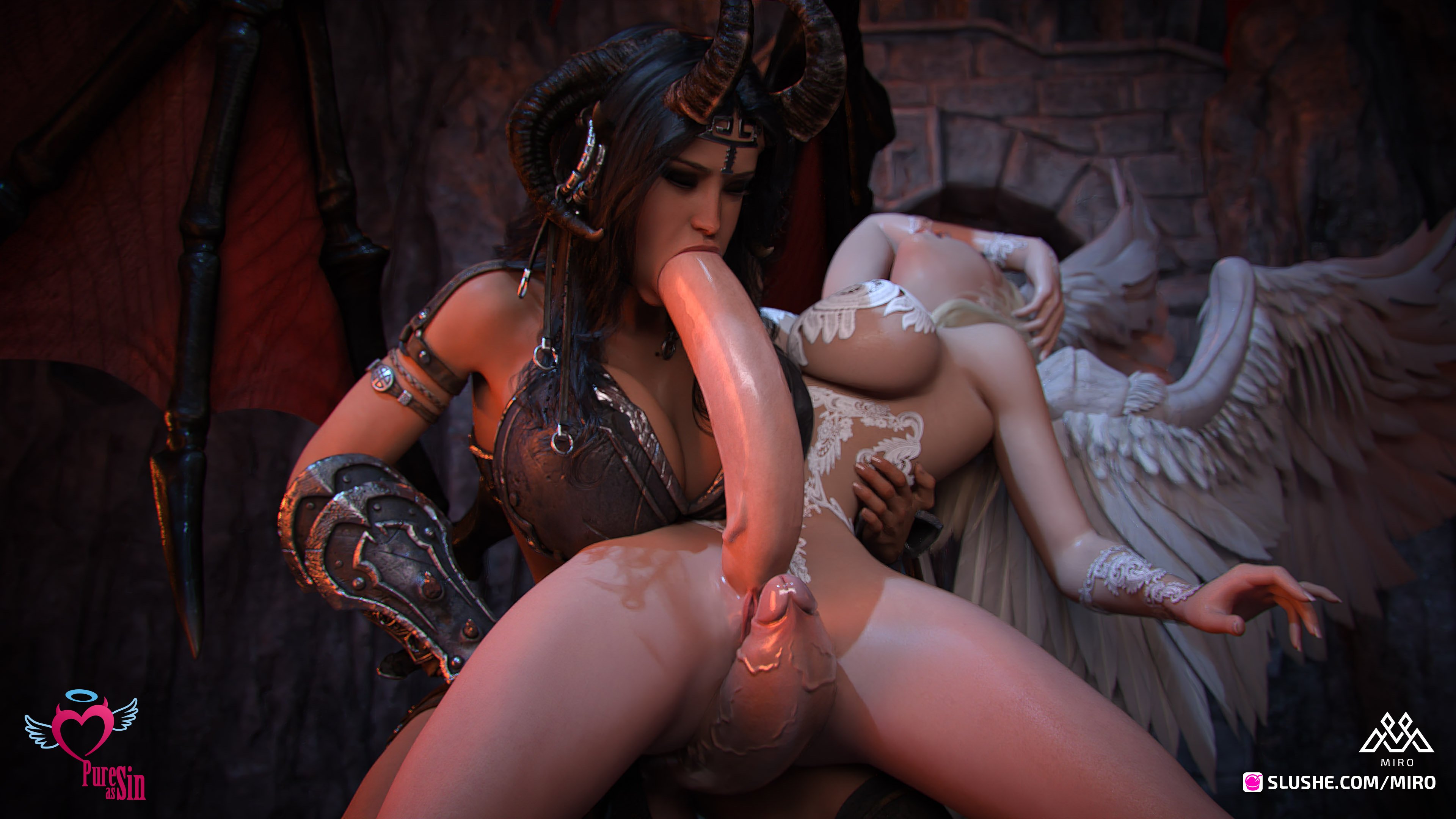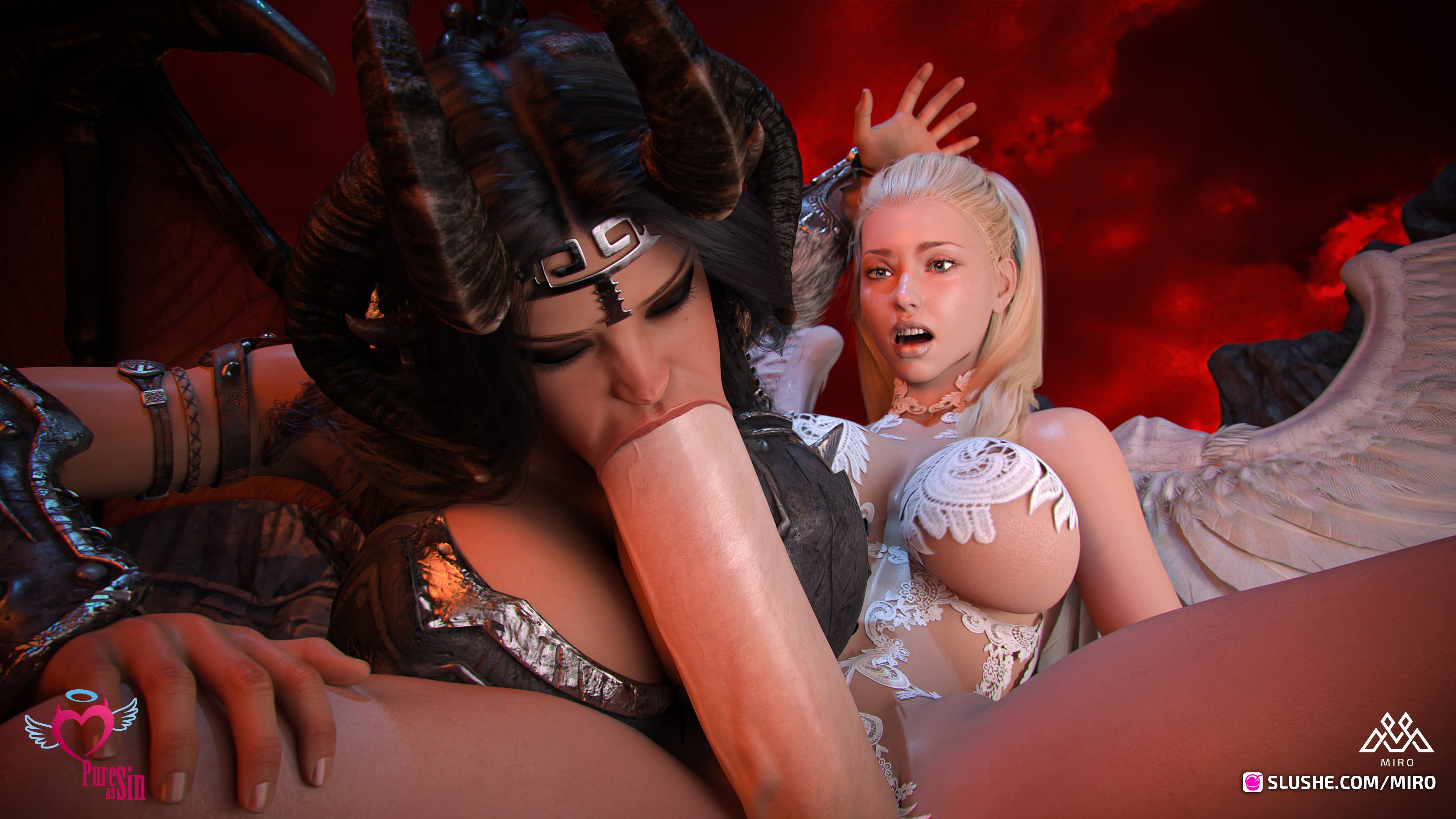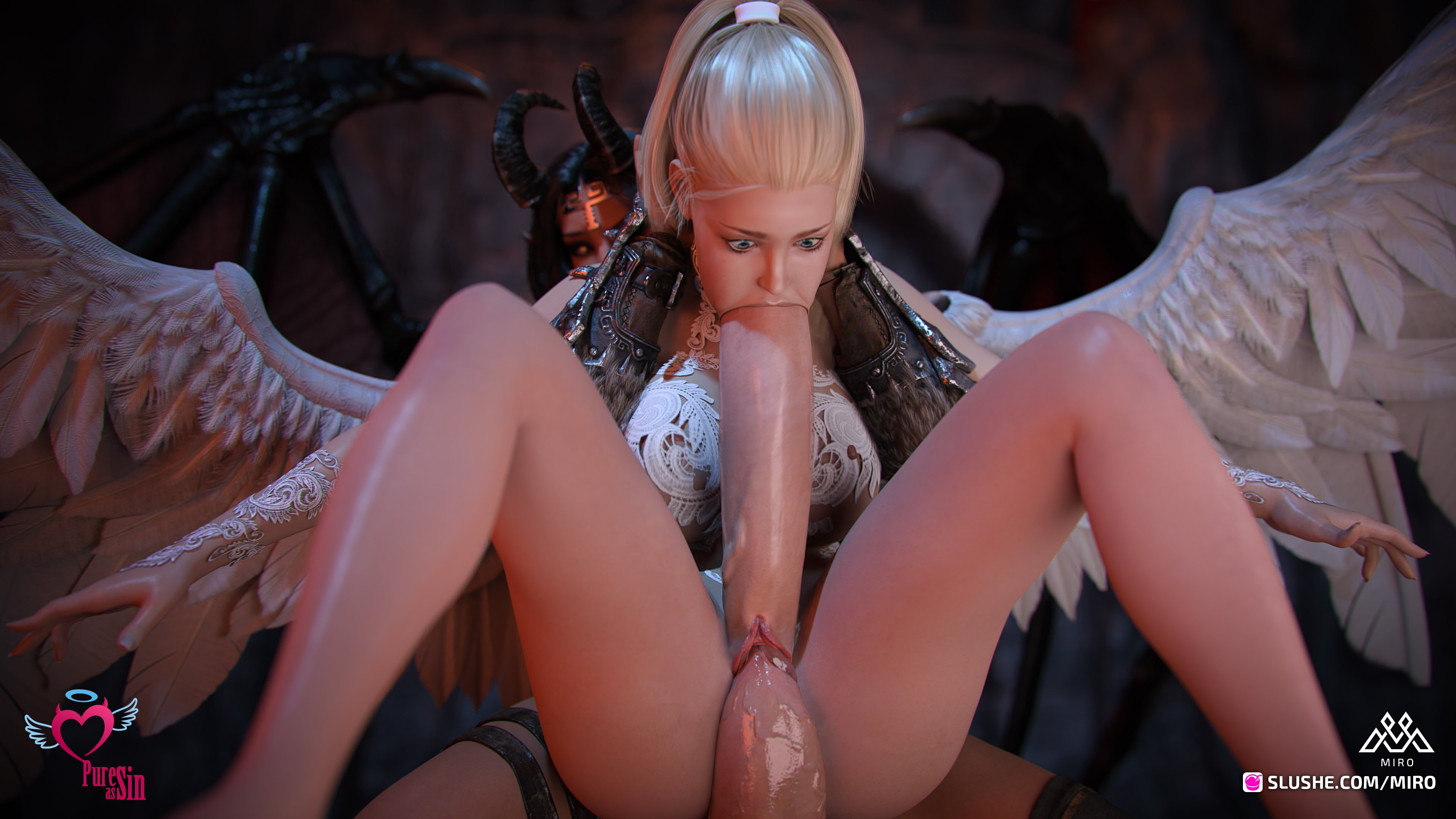 Pure As Sin – Full Preview

Miro's Slushe Page
If you're excited to see more of Pure As Sin, you can check Miro's Slushe gallery for more preview images of the image set!  His image gallery on Slushe also contains full size preview images of older works such as Lady of the Tower and Love Thy Neighbor. Follow the link below to browse his gallery.
Miro's Patreon
If you'd like to support the creations by Miro and the artists of Affect3D, you can become a patron. Financial contributions we receive through Patreon are used to fund the production of all Miro's ongoing projects. This includes image sets, sex animation loops and Bloodlust: Lanessa – Blood Crown.
There are 5 memberships to choose from, ranging from $1 to $10 per month. In return for your pledge, you could receive early access to image sets, sex animation loops, polls and production updates. Check out his Patreon page to find out which membership suits you best!