Ah yanderes. They're a personal favorite of mine. Nothing says "till death do us part" than an overly attached girlfriend! I like to consider myself a connoisseur of hentai and I've read quite a bit under the yandere genre. Here's a list of some of the craziest one-sided love stories I think you'll enjoy.
10. Kochiya Sanae wa Yuganderu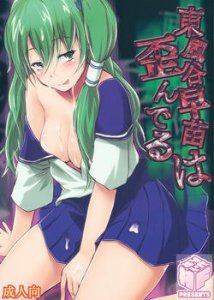 Fechi's interpretation on this cute little Touhou character takes an interesting direction. It's definitely a "notice me senpai" yandere story, but it's the simplicity of it that makes it a fun read. Fechi wastes no time getting it on by entertaining us with Sanae's obsessive love for her senior. This Touhou fan work is a bit more contained seeing our heroine is more "dere" than the usual protagonists who share the same genre. Just because this version of Sanae is sweeter than most yanderes, her approach is psychological warfare. She's willing to break senpai's mind for his affection by having repeated sex until he loves her. Not a bad deal if you ask me.
9. Holdup Problem Rising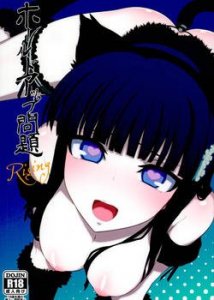 This fan work is a personal favorite of mine. In this The Irregular at Magic High School doujinshi Komagata explores the obsessive tendencies of the series' female lead Miyuki Shiba. It's very well written and portrays the characters quite accurately. Komagata's exciting tale wastes no time on showing Miyuki's yandere side and desire to breed with her elder brother Tatsuya right from the beginning.
It starts with Miyuki's jealousy of the close friendship blossoming between her brother and his classmate Erika. She questions his feelings toward her and like any responsible older brother; his affections for her are familial only. The result of this confrontation caused the dignified Miyuki to break down and only intensified her determination of winning Tatsuya's love. To his surprise he was greeted by his little sister wearing nothing but revealing feline-themed lingerie that would shake his calm composure.
Komagata cleverly writes a "what if" scenario between the Shiba siblings that's as hot as it is entertaining. You're in for a real treat.
8. Ai wo Shinji Utagawanaikoto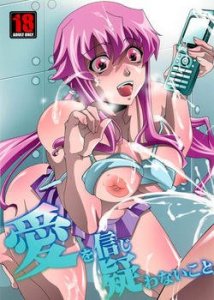 If you're familiar with the Future Diary series then I'm positive you knew Yuno Gasai was going to appear in this article at some point. She practically wrote the book on 50 Shades of Crazy when it comes to her violently jealous behavior.
Asterisk Raijinoh's story begins as a continuation from the original ending. The narration is in Yuno's point of view who feels her relationship with Yukki is growing distant. Things take a turn for the worst when she stalks her boyfriend to find him talking with one of his gal pals and sees him showing the girl a ring. This prompts Yuno to go on a murderous rampage to keep any girl associating herself with Yukki away from him. It's pretty dark for the beginning of a doujinshi right?
At this point, Yuno isn't in her right state of mind and proceeds to force herself on her precious Yukki with the intention of keeping his attention on her. The author brought out a steamy scenario fitting for our heroine's personality, but remember this is a yandere doujin, beware the bad ending.
7. Layers of White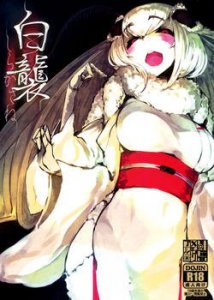 SOLOPIPB's original story is a tale of a young man's curiosity of trying to discover the secret of his past which leads him to the clutches of his constant torment, an extremely possessive and powerful moth girl. This story is quite intriguing actually. There aren't many yandere stories with monster girls from what I've read so it's interesting to see a yandere's predatory instincts being portrayed by a monster.
It turns out that the protagonist encountered the moth girl years ago, but she is capable of erasing his memories to the point of leaving a lingering curiosity so that he will always return to her. SOLOPIPB create a chilling read that explores a variety of fetishes fitting for the obsessive heroine, the most fitting one for our leading lady is femdom. She takes great pleasure in teasing our hero to the point of breaking his sanity only to have him escape to continue his endless cycle.
SOLOPIPB's Layers of White is a two part story with a cliffhanger ending. Fingers crossed for a part three!
6. Absolute Kirino Territory 2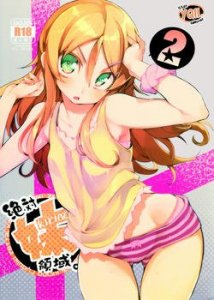 There may be a lot of backlash for Oreimo because of Kirino's overly tsundere behavior, but there's no denying the quality waifus that appear in the series. Hyocorou's continuation of the Absolute Kirino Territory story develops into a tale that alters our heroine's trademark haughty personality into an unstable little sister clinging to the warmth she once shared with her brother.
Prior to the events of the previous story, Kyousuke is dating Kirino's best friend Kuroneko. They've been dating for a while, but Kyousuke wants to get intimate with his underclassman and confides in his sister. Kirino decides to take on her brother's lust in place of his girlfriend which results in the two Kousaka siblings crossing the line until morning. When Kuroneko arrives at their doorstep for another date, Kirino insists on pretending nothing happened between them. While Kyousuke agrees, something inside her begins to change.
Hyocorou-sensei writes through Kyousuke's point of view; a self-depreciating narration racked with guilt between cheating on his girlfriend and taking his precious little sister's purity. He feels responsible for Kirino's mental state as she forces herself upon him and decides to satisfy her needs for her sake. The story ends with a possible continuation due to the fact that Kuroneko may have discovered how "close" the Kousakas really are.
5. Extraordinarily Pure-Hearted Sister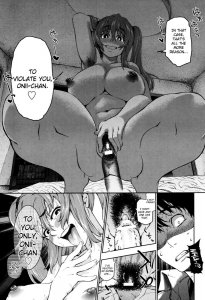 There's just something about yandere little sisters that I just can't get enough of. KANZUME writes a twisted love story between an overly attached younger sister who lives with her hardworking brother. After a hard day's work, the protagonist is greeted by his cute doting sister Natsuki. While she prepares his dinner, he unwinds in his room fantasizing on how adorable she is and how ample her breasts are. He immediately shook off the thought to deny his sister complex only to discover a digital camera under his pillow.
The images he found are various disturbing pictures of Natsuki having sex. Assuming it was some chump boyfriend that forced her to take these pictures; the hero confronts his little sister but catches her adding love juices to his soup. Appalled by what he just witnessed, he became pinned down by Natsuki who decided to get off on his face instead. After having forceful intercourse with his sister, the MC snaps and proceeds to have his way with her leading to a prey becomes the predator scenario. It has a vanilla ending in a sense, with the two siblings isolating themselves from society to engage in their immorality.
4. Confinement Paradise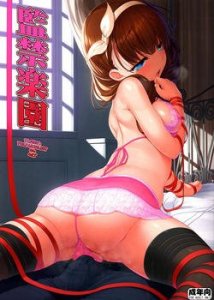 Kirin Kakeru also known as "Kirintei." Speak this author's name in hentai forums and the fans would agree that yandere stories are his forte. In this doujin, Kirin tries his hand with THE IDOLM@STER CINDERELLA GIRLS series. It seems that the character Mayu is a recurring choice for the unstable role. Right from the beginning Mayu is savoring her alone time with her beloved (and restrained) producer. While enduring the forceful waves of pleasure from his client, the producer began to wonder how he ended up in this situation.
The story flashes back to Mayu requesting an extended leave because she feels that she is overworking the producer and in her subtle way of hinting she would like to spend her days off with him. Like any responsible professional, he politely declines reminding his client that he has other idols that he has to help with their careers. This notion was quickly denied and Mayu's true nature was revealed. As the nation's current top idol she was able to save a large sum of money and literally bought the producer from his office. Hentai logic right? It only escalates from there. Kirin illustrates Mayu's sadistic side in a style that is both erotic, yet terrifying with its immersive dialogue. If you haven't read any of his works, I recommend doing so.
3. Offline Game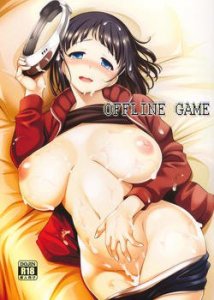 This story almost took the number one spot by how twisted it is and once you read it you'll see why. Yasui Riosuke puts a spin on this Sword Art Online parody by using Suguha's affections for her cousin for darker purposes. It starts off with some hot and heavy romance with the waifu Asuna in SAO, but in reality, all the sensations Kirito's avatar is feeling is actually what he's feeling with his first cousin Sugu on his hospital bed!
Yasui creates a duality between the real world and the virtual so it's twice the action in one story. There's plenty of foreplay for your viewing pleasure and a straightforward plot to keep you intrigued to the very end. As you read, you'll see just how much Sugu really loves her "onii-chan."
2. Aishite Yamanai Shoujo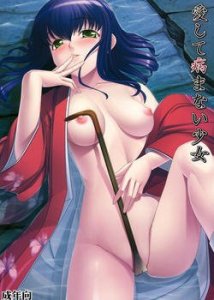 Another one of Kirintei's works! This time it's an original. This story creates an eerie atmosphere from the start. Our protagonist Hiroki visits his hometown to pay respects to his late grandmother. Due to past events between him and his childhood friend Ayame, there is tension with the family he is staying overnight with. It has been revealed that Ayame endured strict training for the sake of running the family inn, but she has been desperately clinging to the childish promises she made with Hiroki.
Once she discovered that her mother was hiding the fact that he was staying the night, she could no longer contain herself and found him by following his scent. Ayame gives off an air of cuteness and instability that catches Hiroki off guard. Unable to fend off her monstrous strength and ultimately giving into his lust, he finally became one with Ayame. They have their heated first time in the inn's hallway and proceeded to go for a second round in her room, but little did Hiroki know, once he entered Ayame's room, he was never coming out.
1. Shin Ai Chocolat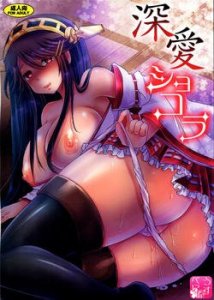 And finally, number one! Out of all the yandere stories I've read, Usubeni Sakurako's Kantai Collection doujin definitely deserves the number one spot. There have been other yandere doujins involving the other ship girls like Tatsuta, but the best girl Haruna is used the most. This story's kinky, but it quickly turns into an eerie, stomach churning read.
It's Valentine's Day and after a long day's work, Haruna treats her beloved Admiral with homemade chocolates. Since she made him sweets of a mass quantity he suggests that he'd like to share them with the rest of the crew. This request was immediately denied and his bubbly secretary gradually shows just how much she's crazy for him. There's some chocolate foreplay and some wild vanilla sex, but after their happy moment draws to a close, Haruna reveals just how much "effort" she put into making the Admiral chocolate. Let's just say true love is eating menstrual blood filled chocolate and that's just one of the many different "flavors" she added. Haruna is determined that every last chocolate is eaten.
That's all for my yandere recommendations, but I'm always looking out for more. Do you have any favorite stories of overly attached waifus? Feel free to share in the comments below! I'll be more than happy to give them a read!