Marie and I have been discussing the topic of futa history, status, and origins for a little while, and it's interesting how every artist has a different take on these aspects of their characters' backgrounds. To me it's kind of like Stewie in Family Guy – we can hear him talk and see how intelligent he is, but it's unclear if anyone except for us and Brian can actually hear him. Similarly, futas and dickgirls' status in society is rarely obvious. It's either not mentioned or vaguely alluded to. Fair enough, the focus of most 3DX pieces isn't the complex history of a possible third gender, rather how fucking hot these characters are. Fair enough, but who doesn't love an origin story? So I thought I'd ask a few artists for their take on things and just how they perceive these sensual creatures.
First off, I want to give a little bit of background. Futanari is a Japanese term referring to hermaphrodites. Traditionally, Japanese folklore has long included depictions of characters and heroes in sexual limbo. Deities such as dōsojin (roadside guardians often symbolized as a couple) represent fertility and harmony. They can also be represented by either female or male genitalia. It was therefore difficult to pinpoint their gender. In fact, many ancient deities in Japan aren't directly attributed to either female or male.
But there are also many references to Hermaphroditism in the west. Take the greeks for example, in Plato's Banquet from 400BC, "there are three genders: male, female, and androgyne—a gender identity with simultaneous feminine and masculine characteristics." In fact there was even a god Hermaphroditus described as a female with male genitalia. Sound familiar?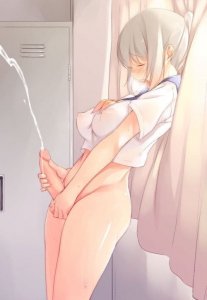 Since the 1990s, the notion of futanari (or females with both female and male genitals) has spilled over into manga and particularly with the advent of hentai. I'm sure there are plenty of people far more versed in hentai than me, so I won't delve any further into the genre.
Futanari in 3DX
Just to be clear, I will be differentiating between dickgirls and futanari (futas) in this article. The latter will remain hermaphroditic in nature, with both female and male genitals, while dickgirl will be used to refer to a female character with a dick and (usually) balls. Most of the questions being asked, however, will be the same for both "genders."
Now, as I've mentioned before, and like many others here, it was Girlfriends 4 Ever that really captured my attention back in 2014-2015. I became a regular visitor to Affect3D before applying for a writing position in 2016. In my view, the big names in 3DX such as The Dude, Puppetmaster and of course Miro, have always been able to create interesting futa characters. By this I mean that they're not just perfect fucking machines. Rather, they have doubts and imperfections like the rest of us. For Sayako, it's her inexperience and shyness. She obviously still hasn't come to terms with her sexuality and amazing physical assets. She is also seemingly unaware of her appeal to others. For characters like The Dude's Kayla or Mari, despite the fact that they were "engineered" as perfect fuck dolls, they can't help but feel a pang of revolt at their situation. We get the sentiment that their subservient status won't last forever. They might always have an insatiable desire but it won't necessarily rule their every waking moment.
Other artists such as Rikolo, have also pitched "real life" situations involving dickgirls that seem to be globally accepted as perfectly integrated into society. The only surprising thing tends to be the size of their cocks.
Then you have the more fantastical take with Lord-Kvento's elven princesses or forest goddesses. In this case, I guess accepting the fact that what appears to be a very hot woman having a massive cock is easier because she is set in a magical world.
Someone recently mentioned that the new game Cyberpunk 2077 allows you to recreate futanari and dickgirls. I've yet to test it out, but I guess, once more – in a futuristic world where body modification is the norm, it's far less surprising. In a sense though, these genetically modified individuals are more akin to post-op trans person (in theory of course). They began physically as a male or female and underwent procedures to change their physical appearance to conform to the gender they identify with. And it's a given that with time, gender reassignment surgery in our world will become far simpler than it currently is.
But with regards to futas and dickgirls within 3DX, the limits are far less apparent. Do these characters exist in parallel universes for example? Can they be regarded as a third and fourth gender? Perhaps they're even on the path to replace men?
Come to think of it, it has become increasingly rare to see dudes in 3DX. Actually, one of the only recent pieces I can remember that features a direct comparison between two futa and a dude was done by CrazySky3D. Of course, the dude lost.
Anyway, let's get some of the artists' takes.

Miro
I asked how the founder of A3D and creator of G4E (amongst many titles) viewed futanari with regards to their place in society. Are characters like Sayako fully out in the open? In the case of the original G4E she is still discovering her own sexuality and what I think many of us love about her are her uncertainty and timidity. But is this something that is bound to evolve and does it apply to other girls like her? Are there others like her?
Are they a whole other gender? Perhaps they have an activist side? Are there futa rights? Are they different from hermaphrodites?
[Note from the editor: as the author points out at the start of the article, every artist is different in how they think of their characters. In this section, direct quotes from miro use the term "dick girl" in the same way "futanari" or "futa are used throughout this piece.]
"At the time G4E was created I'd also imagined dick girls existing in a parallel universe. I saw them literally as regular girls with dicks, that's why I refer to them as dick girls and not futa. I'm not exactly sure what the genital make-up of hermaphrodites is, so I don't know how similar they are. In the G4E universe I have two types of dick girls. Women with a pussy and dick and then with and without balls.
"To me in the context of porn (sexual fantasy), men are more or less cock holders, because there's little sexual attraction. So having dick girls is the ultimate turn on since you have the best of both worlds and the ability for them to have sex (with penetration) with each other.
"And in the context of their place in society I saw their relationships similar to homosexuals or transsexuals of 30 years ago, tolerated but somewhat hidden and with potential social repercussions.
"Sayako within the G4E storyline had always been attracted to girls but was still shy about coming out and showing off her special gift but also navigating the mostly unwanted approaches of men. Tara on the other hand, a heterosexual cis woman, is now dealing with strong but mixed emotions towards Sayako, and now her sexuality in general.
"Are there dick girls activists? Yes, in the sense that anyone whose existence is not fully acknowledged or even shamed would resist. They're not all out organizing protests, but have a strong mindset towards social and cultural change.
"With recent storylines I see dick girls as more open and out."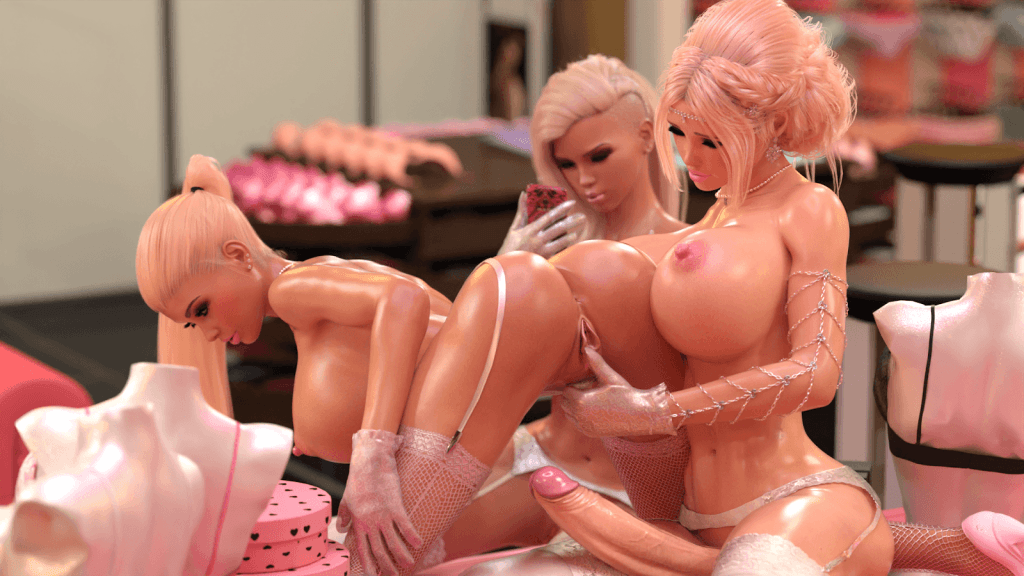 The Dude
His gorgeous characters are a little different to other artists' in that they are genetic creations by Carter industries. They were literally made to serve one purpose – satisfy the immense sexual needs of a rich upper class with highly deviant appetites. And yet, despite their awesome power of seduction, these girls remain uncertain about what they really want. They don't seem to be down with just being fucking machines. It's kind of like an AI that is gradually realizing it doesn't need humans. But this constant questioning makes them human. Almost more human than their lovers who seemingly just want them for their bodies and sexual stamina. Are we heading towards a futa revolution?
"Initially, when I got started in 3DX, I wasn't really sure what my 'voice' as an artist was. My whole idea was that I just wanted to make hot futa bimbos initially, but that over time it would have to evolve into something more. I think the basic idea for the Lust Unleashed world didn't really start taking shape until late 2017.
"Over time, Lust Unleashed began to show hints of futurism and sci-fi. The story takes place several decades ahead of ours. The girls are all artificial creations made through gene editing and cloning, and so forth. But these have never really been foreground elements, I always wanted to keep the focus very much on the sex and the aesthetics.
"I think 2021 is a good year to now start really pushing the story to the foreground. At the core, Lust Unleashed is about two opposed forces in Yelena and Kayla, the girls I initially started out with the Museum release of 2015 (and recently remastered).
"The cast has since grown a lot, and each girl will have the role to play in the story as it unfolds. What makes a person human? What determines their worth? Should beauty and desire be luxuries only for the elite, or can they change the world in a more fundamental way? These are questions I'm going to be addressing. Ultimately, good porn is the minimum, but there has to be a little more to it than that. That's what I'm hoping to achieve."
Puppetmaster and Marie
I wanted to take Puppetmaster's Sensual Adventures series as an example. Marie has done a lot of the writing in this one, so Puppetmaster suggest I chat with her to figure out just where characters like Brittany and Trinity stood in society.
Marie answered by saying that they were essentially hidden from the world. On the outside and in everyday life, they appear to be a pair of hot lesbian babes. But in reality of course, they are equipped with far more than any man could ever dream of. Like most futas, they also possess that uniquely high libido that drives them to fuck each other everywhere and at any time. Be it a museum, an Egyptian temple or in plain view at a tropical resort, these two don't shy away from fucking. Which kind of makes it a miracle they haven't been revealed to the world yet. I guess Jasmine can keep a secret… After all, she does have her mouth full most of the time.
Marie also mentioned that there are even trans women in the series that haven't appeared yet. So in this case, there is a clear difference between futas and trans. Are futas therefore another cisgender?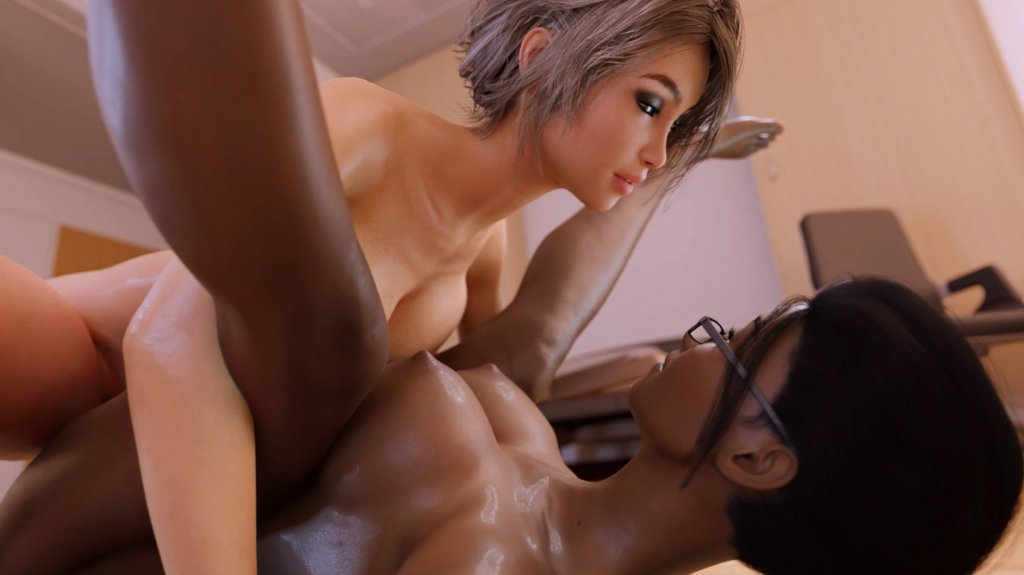 Rikolo
Rikolo is by far one of my favorite artists and his response to my questions cracked me up. When asked where his girls stood in the society that surrounded them, he replied
"I'll be honest, I don't think about this stuff too much. In Generous Donation nobody is surprised about seeing 'females' in a sperm bank so I guess it's no secret that futas exist. I don't think they would just let it out in the open, they would cover it the same as men would, maybe they wouldn't worry about the bulge too much."
He also pointed out that the ambiguity surrounding the existence of dickgirls adds to their mystique. Fair point. I guess the casual way in which these gals whip out their cocks makes it all the more appealing. They're unashamedly hot and confident.
The futa revolution
Let's imagine for a moment that many of these stories are happening in the same universe. Maybe that world is based on a Westworld style approach where dickgirls and futa are created in a lab, or perhaps they've always existed in hiding. In any case, as 3DX has grown, so has their importance in porn. Perhaps we're headed towards a futa revolution of sorts? Maybe, like in traditional Japanese folklore, gender really doesn't matter as much. What does, is the notion that both sets of genitals bring more pleasure and not less? I certainly hope so. Perhaps one day they'll have their own pronouns/clothing/Status? Or maybe they don't need to?
Will they completely replace men in 3DX? I doubt it, there is still so much "traditional" work with guy-on-girl style action. But it's undeniable that these ambivalent creatures are taking a leading role in the 3DX community. Perhaps it's their exotic nature or the contradiction in an incredibly feminine body and a massive bulging cock. Or maybe it's also the powerplay side? Rikolo does this well – with characters often switching between dom and sub. I mean futas can even fuck themselves! Speaking of which, are futas gay? Or are they bi? Or who cares really? As long as they remain as hot and awesome as they currently are. It's a brave new world.