So, we here at released our first e-book last month, Lust Unleashed: Awakening. To say this was a one-off opportunity would be wrong. The collaboration was a long time coming between The Dude and myself, working out the backstory and developing the characters from a certain standpoint. We see it as a launching point for future stories and characters in the franchise, whether in image set or e-book or even comic.
But more importantly, for Affect3D, it presents us a new direction from which to deliver new products. It also means the 3DX community can do more without feeling limited. When you create a new world of erotica, you have to transcend the limits of the old world to some degree. And that's what we're trying to do here.
A Picture Can Only Say So Many Words
For many artists, the image set is the go-to source for creating a release or product, whether here or elsewhere. It's been the way to show your product for years. There are multiple variations of it, including textless, with text, 3D, and so on, but the underlying foundation is the same.
However, as one artist told me, there's a certain ceiling to doing image sets. For one, you're fairly limited in terms of developing story, characters, and lore, simply because there isn't enough space to convey it. That may not seem like much to worry about to the average porn viewer. But in reality, it often means you limit the potential scenarios where sex can actually happen. So there's less porn going down! That's never a good thing, is it?
Additionally, the amount of resources that go into an image set is pretty extensive. An artist has to figure out the poses, camera position, lighting, facial expressions, and more, then render it for every single image. That's a lot of time (and possibly money) spent on getting things right. It leaves little room to actually get creative on the subject. More importantly, such resources mean that artists will feel more compelled to do simple scenarios, since complex scenes require a lot more time and resources to complete effectively.
With this sort of situation in play, it's important for any artist to ask themselves, "Can I do more?"
While the answer is yes, the obvious follow-up is "How?" To some, the answer is "animation." Nothing wrong with such ambition: Animations are a big step up, and they're very popular. There's something quite visceral about seeing and hearing the porn move, after all. Plus, there's been an increase in accessible 3D animation programs.
Animation: The Ultimate Risk
So why don't we see more animations? Simple: It's extremely difficult to create an animation. The chasm between doing mere images and creating animations is wide, GIF creation notwithstanding. Think about it: Many image sets are about 60-120 images. In animation terms, that's 2-4 seconds of animation time at a reasonable 30 fps, a little more at the cinematic 24 fps. Not a lot to work with, no?
Some will point to the success of Source Film Maker, and we cannot deny that it has made it easier to create 3D animations. But SFM is extremely limited in nature, backed by the simple fact that it uses a 3D engine that's more than a decade old. Many technical aspects we take for granted in 3DX still images – fluids, dynamic cloth, natural weight mapping – are just not there in SFM. Eventually, even well-known SFM animation artists and teams move on to more complex programs to do quality work, and that's where the slog begins.
Animation is no simple task. Considering it takes a decent amount of time to render a single image, that scales upward for even a minute of animation, which is essentially equivalent to 3600 images at 60 fps. Even with the best quality hardware at the non-professional level, a render takes a minute in the right circumstances. So that's five days straight of rendering for a single minute of animation. (And suddenly, the two years it took to complete the Girlfriends 4 Ever DLC makes a tad bit more sense 😋). That's not even considering you have to add music, sounds, and voices!
This is not to say that artists shouldn't do animation. When it's done, it's a very rewarding experience for everyone involved. People love animations. But in case you can't reasonably do animation, what do you do then?
Beyond the Limits
The answer is to think outside the box. The new world of erotica is about transcending the boundaries we placed on ourselves, and that includes how we deliver quality goods.
If you need an example of thinking outside the box, here's one. To the left is Victoria 4, still a very popular model used in 3DX because of its use in both Daz and Poser. As you can see, the model really shows its age now, being ten years old. The skin textures look dated, the framework very simplistic, the default facial structure is lacking.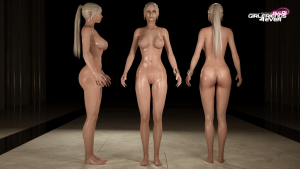 Now, let's take a look at Tara from Girlfriends 4 Ever on the right. Even though it's been nearly 4 years since her appearance in that animation, her appearance still feels fresh to many. Everything about her is still of great quality, from her skin tone to her elegant body shape. So it might bemuse you to find that Tara is based on Victoria 4. Seriously. How did that happen? Miro got outside the box: Rather than limiting himself to what Daz has to offer, he pushed farther, using 3D programs such as Maya to make her into the girl we know and love. So it's definitely possible in 3DX to create amazing work by going against the limitations in place.
More than Words
So we think outside the box. An e-book is a good example of this. For one, you don't have to entirely illustrate what's happening in an ebook. Instead, you let the words do it for you. Now, you can take a minimalistic approach with just a 3DX cover, like DizzyDills did for Oddman and Bones' free ebook Becoming. but you can also be like The Dude and I and offer some illustrations within the text. The point is that it's another avenue from which to deliver quality 3DX, and it's less work too!
It also presents opportunities to extend beyond Affect3D and elsewhere. Currently, The Dude and I are tweaking Lust Unleashed: Awakening for release on Amazon's Kindle Store and other ebook shops. This includes new illustrations better suited for this release and other adjustments. It's a huge risk, but if it does well, it will pay off very well for all of us. It could very well open a new audience to us.
But consequently, our efforts are already paying off, regardless of whether we were actually successful. Already, more than one A3D artist spoke to me about the possibility of doing ebooks themselves. That alone signifies that we've opened new opportunities.
Going beyond e-books, this month's release by The Dude will be a mixed-media effort, and our first product in that field. Alongside an image set will be an erotic audio recording by our very own Marie Fasolt. While they mentioned it briefly in their previous discussion, the fact that this is being done indicates even more opportunities to branch out from image sets without having to take the big plunge to animation right away. It also opens up chances for writers, editors, voice actors and more to contribute to 3DX without having to learn the nitty-gritty.
If we want to build a new world of erotica, we have to adjust from the old ways. By making a more diverse selection of media, we can build a larger audience. And that will only make 3DX better for all of us.