I turned my head to the side but it didn't fix the issue. The picture before me was atrocious, even by my meager standards. It wasn't the mismatching background, and it wasn't the poor lighting cutting a swath of poorly placed shadow across the props. It was the naked girl bending over, bare bottom towards the camera, fiddling with her private bits to no avail. Why? Because those self-same private bits were a mess!
For the tenth time that morning, my hand moved towards the mouse, clicking to open up my email account. I needed help but who could I contact? I switched to a forum I often visited, peering at one of the general discussion sections. Did I dare post? Did I dare expose my ignorance of modeling and rigging to the world? I had to. I wanted this prop, these injections, to work so badly. So I posted my message, and waited. And waited. And waited some more.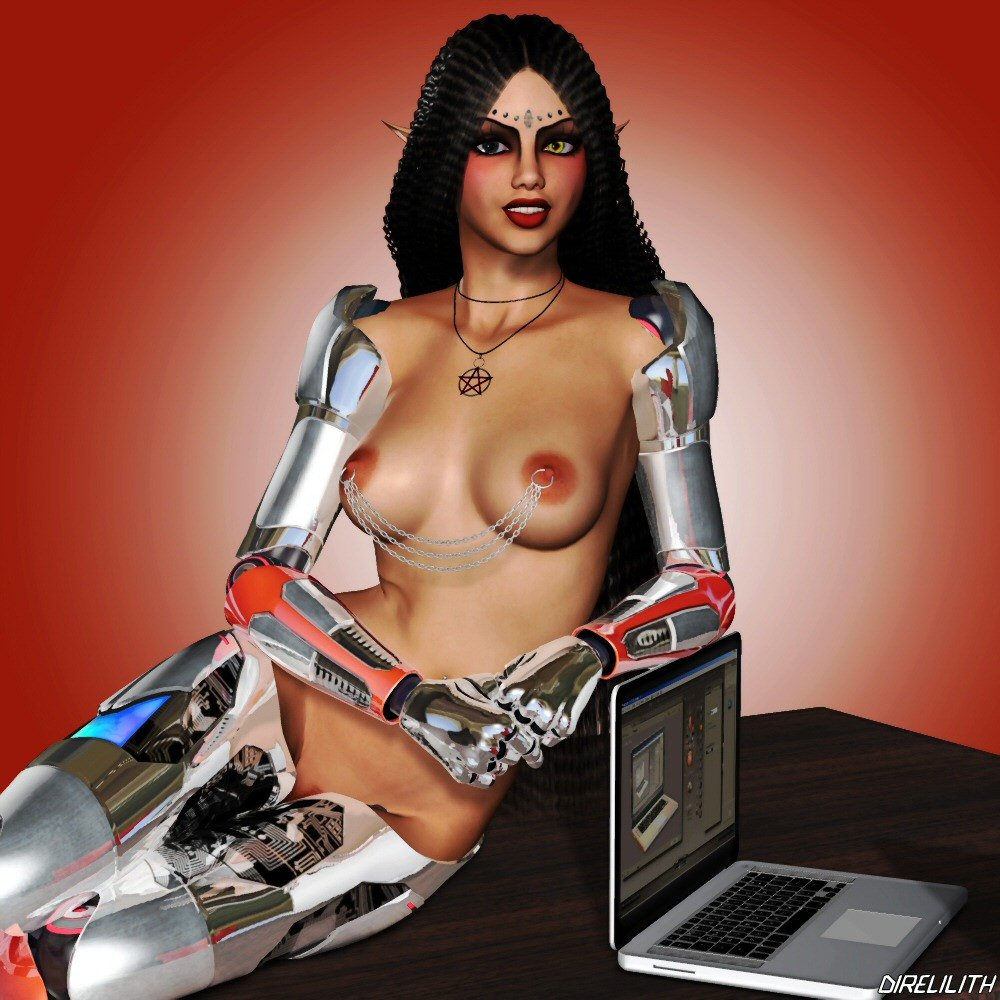 Finally I received a bite. Someone was willing to help me and I was so excited! But as the conversation went on, I realized I wasn't talking to another artist with experience in a realm where I had none – but in fact this was a direct helper/contributor to the product in question.
Why did my hair stand up on the back of my neck? Why did I shake every time I got an email from him?
Because I had not paid for the product directly. And I knew it was wrong, and I knew I could be in very serious trouble.
File sharing is an issue in the 3D art world as much as it has been a problem anywhere else on the internet. File sharing is when one person purchases a product for money from a legal distributor, then shares the file with someone else who has not paid the fee or anything at all really, without becoming a legal and licensed distributor themselves. No money gets back to the merchant who worked on the product, no money goes to the online store, and no one is responsible for how the product may be used.
File sharing can be done privately, when one person shares a file they purchased with someone else, either in email or by uploading to a private host or ftp directory. It can also involve bit torrent sites or protocols that permit peer to peer sharing. People share safe information that allows others access to certain parts of their computer, and those who acquire the information can safely transfer files from someone else's system onto their own.
One of the most common forms of file sharing used to be with music. People in real life would make mixed cassette tapes and hand them over to others all the time. There was even a black market for it in most highschools, where someone would get 'bootleg' editions of rock concerts or unreleased material and share it most times for free.
Bit torrent sites and file sharing expanded rapidly once people realized the ease with which they could acquire almost anything on the internet. Movies, audio files and music were the most popular, but soon there came a push for software. The programs we all use on a daily basis in 3D art are often able to be acquired with relative ease; all one has to do is 'hack' the program once it is installed, to be able to operate it without a serial number.
And all of this was and is illegal.
Once popular rock stars caught on that their backstage work, unreleased material and secret songs were being shared on the internet, they became outraged, and there was a legal backlash. The most popular file sharing music programs were sued and shut down, and hefty fines were doled out to anyone who dared to try and usurp the power of the government or authority in question. Even an infamous 'bay' of piracy has suffered legal ramifications including massive fines and jail time. It's inevitable that people get caught for sharing files at some point, whether it's the distributors or the freedom fighters.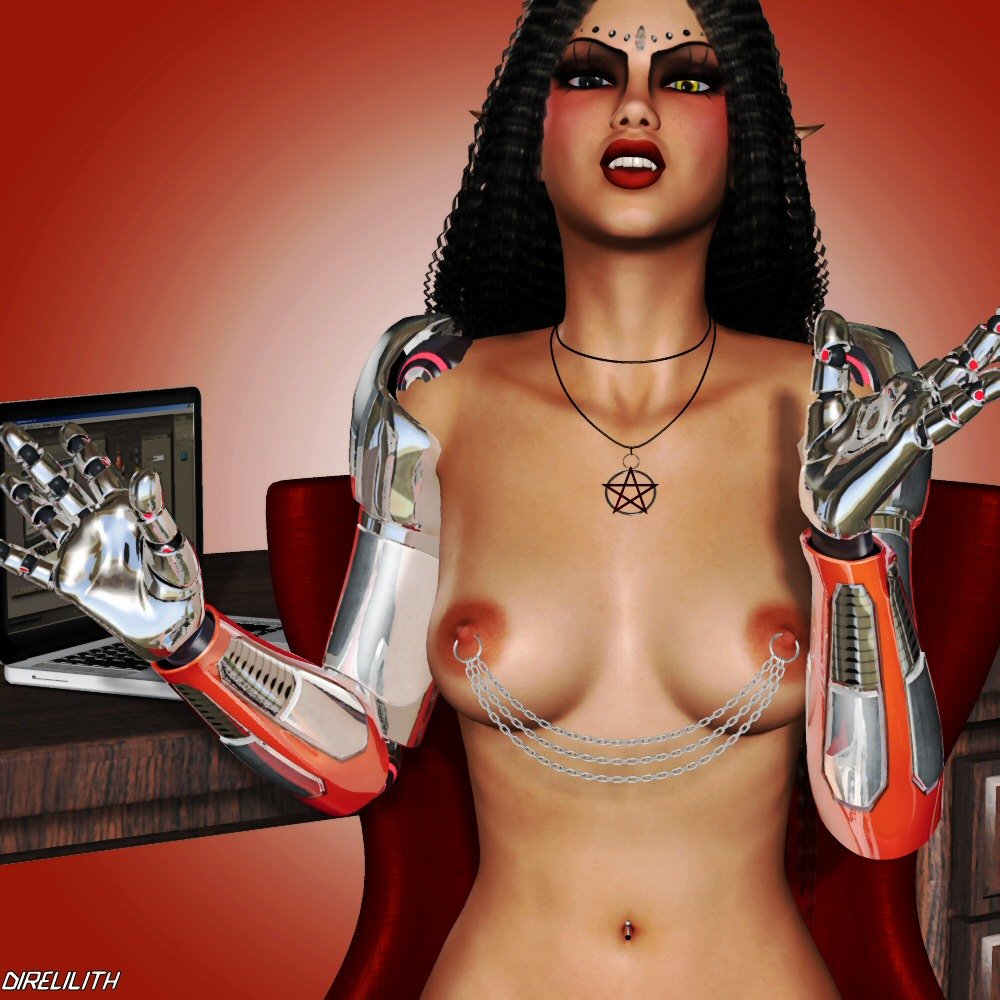 But what does this have to do with the sexy private parts of my poor bent over model, staring at me almost plaintively despite the moan I tried to affix to her face?
File sharing is a notorious habit people in the 3D art world have. And its effects are far more wide reaching than people may realize.
As an employee of an adult online gallery, I sometimes work under the title of artist liaison. This means that I talk with artists who make erotica on a regular basis, helping them with ideas for marketing, often supporting them when they're starting out and feeling down about low sales. I have many little duties that I do in this role, including hand holding and back patting. I'm friend, confidante and comforter.
But I'm also a police force in my own right. I fight copyright infringement on a weekly basis, and at one point I spent an hour every day sending out Cease and Desist letters. People who share music, books and movies have no problem sharing artwork, of course. That's part and parcel of file sharing. But they forget two things.
One, that artist worked hard on that art, and when it's shared freely and without permission, the sales they would have made are lost, because why would anyone pay for what they can get for free?
Two, the law protects the artist first, as wrong as this may seem. In a world where we're told 'innocent until proven guilty', when it comes to the copyright laws everything gets reversed, and the person making the complaint is protected first before a claim is verified.
An artist working on adult artwork may not seem like an artist at all. Many people think because there is a pornographic twist to the work that it must be all fun and games. We joke about having the perfect lives; we play with tits and asses as a rule, flaunting our abilities to get other people off via pixels. We love our lives, they're great! But that doesn't mean it's not hard work. I have seen people cry over 3D programs as much as they would over any kind of computer code. I've seen people struggle to learn how to render properly. And I've seen talented people walk away not because they couldn't do it, but because the payoff simply wasn't enough.
This may be art. But art is a terrible monkey on one's back, beating one over the head with a wrench if things don't turn out satisfying enough. Erotica, while lush and beautiful and sexy, is as hard to do as it is fulfilling. There is nothing that says because something is generated on a computer that it isn't as equal in effort as filling a bag up with dry cement or filing paper reports all day in a cubicle. Coding is hard. Model rigging is hard. And making art people will actually pay for is hard.
When someone downloads an artist's gallery and puts it on a piracy site, they've negated all the hard work that person put into the art. And while no one here really can say what is art and what isn't, because it's all perspective, the fact remains that for some artists, this is a form of money. People pay their bills with money they make from artwork, like any porn star would. When this art becomes a career, it also becomes my right to protect it.
So why would I have a product, a piece of some hard working merchant's efforts, without paying for it?
In my case, the piece was purchased for me. The store in question requires a credit card. And I don't have a credit card. So, someone else was making an order and I asked if they would purchase the product for me. They had no intention of using it and haven't to this day.
But doesn't that make me a criminal? In the eyes of the merchant, it really should. There is nothing different with what I did than someone who is file sharing.
What about popular book and purchase sites online that allow book lending? Someone told me recently that they would love to see a caveat in the end user or licensing agreement for 3D software products that allows people to redistribute an item on a friendly basis. Many people think that if the rules put out by merchants were more lenient, fewer people would break the law. How many artists out there would never be able to create what they do if someone didn't share files with them? It's a lofty question to think about, but where does it matter in the bigger picture?
A merchant, like any artist, has spent a great deal of time creating their product. It may be that the ease with which these items can be replicated and shared makes people tread lightly on the law. They don't think it's that valuable because it's going to be used for porn – and isn't all 3D art software used for porn in the end? I kid, we know that someone out there is only making pictures of fairies with their clothes on and only using lingerie to sell memberships to sites that allow people to live a second life, right?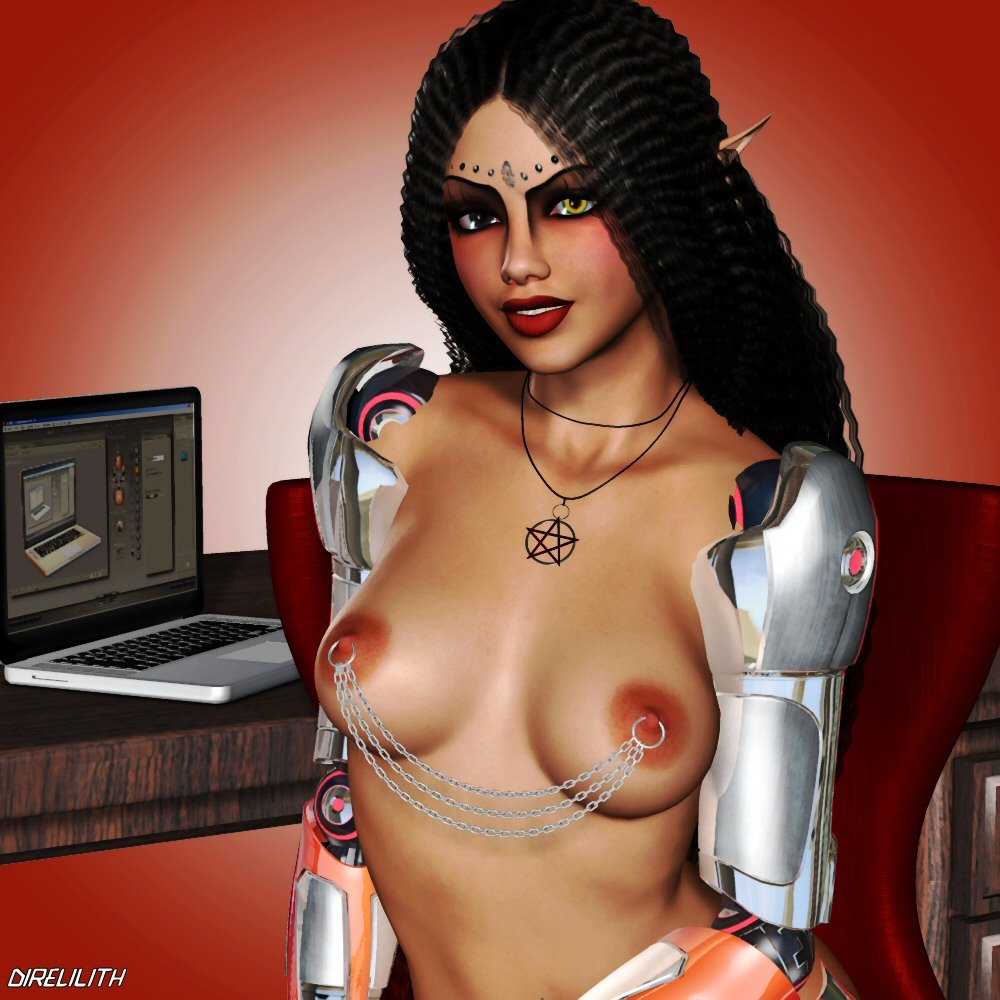 The Digital Millenium Copyright Act protects copyright infringement of intellectual property. If you wrote it, it's copyright to you. If you posted it on a blog, and it's your original thought, you own it. And if you spent time making a picture, or making a product that makes a picture, you have created intellectual property. How far the DMCA protects you is up to you, and up to those who violate the law. You can send a letter of Cease and Desist, but you risk sharing your private name and information with someone who may post it online at their whimsy – that bay I mentioned does this on a regular basis for anyone who dares to complain about file sharing, no matter how high up in politics or celebrity-hood that person may be.
But did you know that the DMCA also requires that your rights as an artist or merchant of 3D software be protected not only by the sites trying to redistribute your items but also by their money processing companies? By the credit card companies? By the very people these people pay to host their files?
You can and should get your property taken down, if you are its creator. You can send a letter to the major credit card corporations' copyright infringement and complaint or abuse emails and they may or may not pursue your query. You can and should consider sending the letter to the file hosting companies or even the ISP of the file hosting companies. Because of the Safe Harbour Act, you are the one protected, and they are guilty until proven innocent. In order to not be a part of any lawsuit you may create, these external service providers must pull the files, must cease operations with the offending parties named, must honour your rights. And they do. I know because I've had to do it myself. I've sent letters to people who ignored my request for them to remove an artist's work from their sites, then had them complain because I sent copies of the letter to their credit card processing company after being ignored two or three times. It works. The system is for the artist, the merchant, not against it, not yet.
But will you do this? Is this what you want to do? And what does that mean in the community, if people start to put their foot down on file sharing? When is lending actually redistribution? And when is file sharing something between a group of friends who would have shared cassette tapes back in the day of illegal rap songs, and not something between strangers doing peer to peer networking?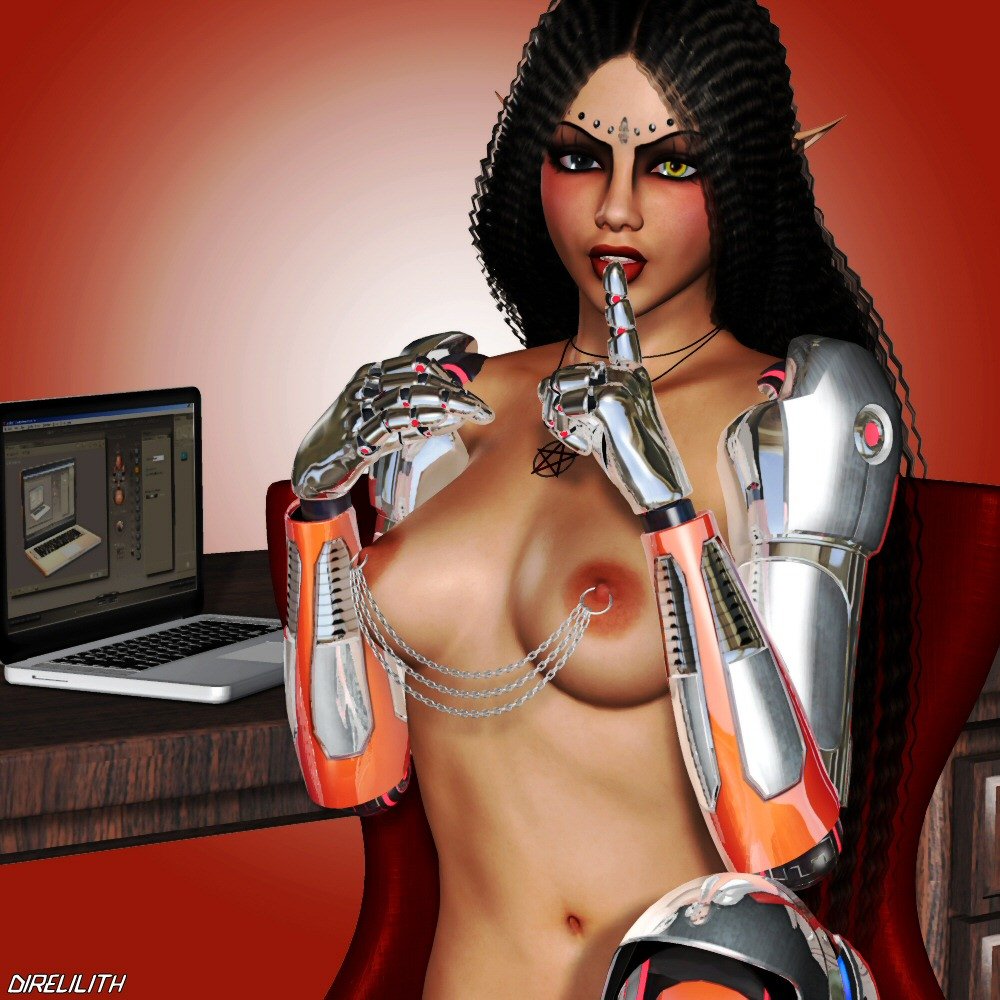 Only you, the individual, can decide. If you're an artist or merchant, you have property that needs and deserves protection. If you're a consumer who would never spend a penny to help an artist or merchant profit from pornographic material, you have to decide which way your moral compass points. And you all need to know where the laws stand on this.
Breaking the law doesn't make a person into a rebel to be touted as a saviour of the free world. It makes them a criminal. But if the law is sick and twisted and leaves no room for individual freedom of enterprise, freedom of expression, freedom of interest, is it a law worth following?
I cried the day they told me 'the email you're sending this letter from doesn't match the order number you provided us'. I knew I would have to explain my foible. I put my chin up and wiped my tears away and prepared to become a pariah. An outcast from the very art community I often protect and defend the rights of. I had broken the law. But more importantly to me, I had overstepped what is comfortable for me. I had done the thing I know the law says not to do, and while it was only a little thing, while I'm no redistributor of hacked programs, no bearer of secret servers sharing thousands of dollars of files freely on the internet, I still broke the law. And I had to deal with that, even if the merchant in question ended up being one of the nicest people to ever have made privacy bits.
We all have to rewrite what is allowed and what isn't allowed, for ourselves. We have to be prepared to face the consequences too. Some people would never share a file. Some people would never lend a book either. And whether or not a person is caught or exposed doing something the merchant says they aren't allowed to do, we all have to question where our motives lie.
If you share software or 3D material, are you a pirate? Or are you a rebel with a cause? You decide.