I'm writing this currently sitting in my very comfy bathrobe, sipping a cup of coffee and pretty stoked about life in general. Why? Because this is one of my favorite type of posts: an artist featurette. And even better, today's feature is about none other than 3DX veteran SquarePeg3D!
Indeed, we've decided to showcase a number of images of his work — excerpts from comics he's produced. And to top it off, we've interviewed the artist to give you an insight into his creative world! So sit back and enjoy folks.
Sky and Red Death
I love everything about this image. Firstly, technically speaking it's a beautiful shot – from the angle to the focus and the lighting. The pitched frame and hazy light combined with the focal length really give the impression that the artist has captured a moment. Indeed, the sweat is dripping down Red Death's amazing body and the cum is still pulsating from the tip of her massive cock. Not only this but the comic text really ads to the image. Sky is literally gagging as her mistress praises her.
And secondly? Well, the promise that this will happen again of course!
Tiffany the slave
"At this point I think Tiffany is just a slave to the D."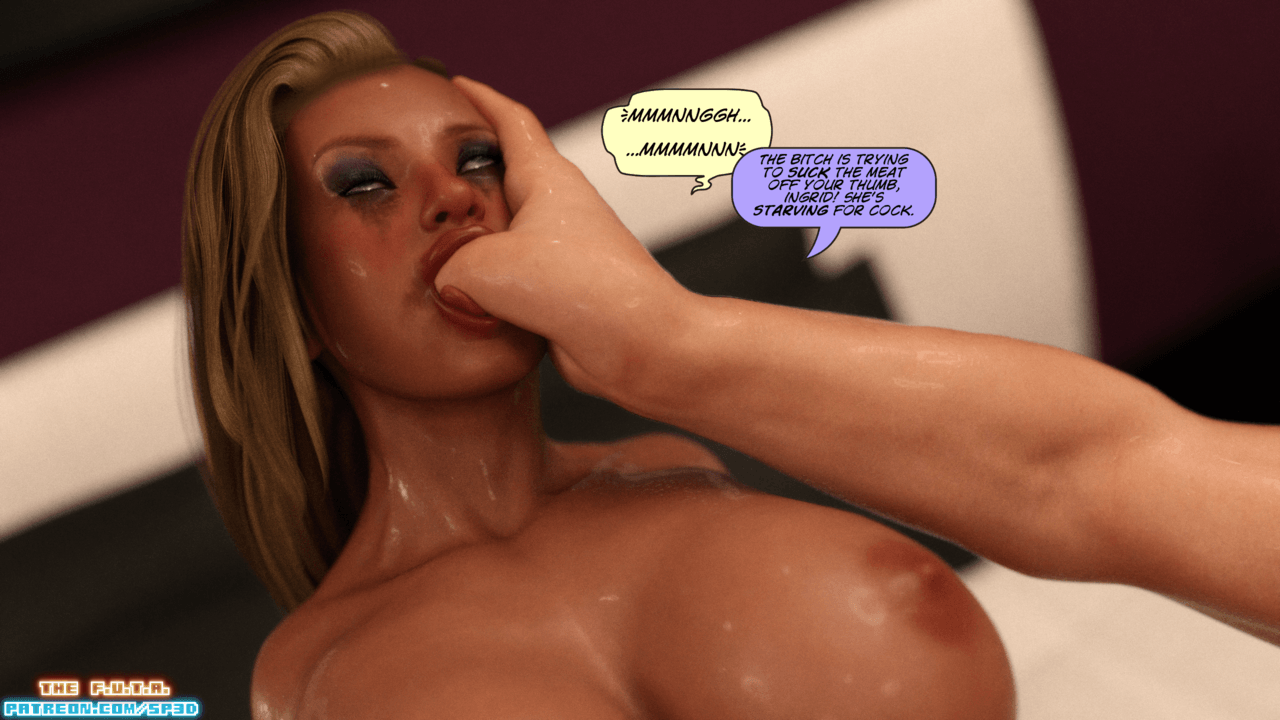 "At this point I think Tiffany is just a slave to the D."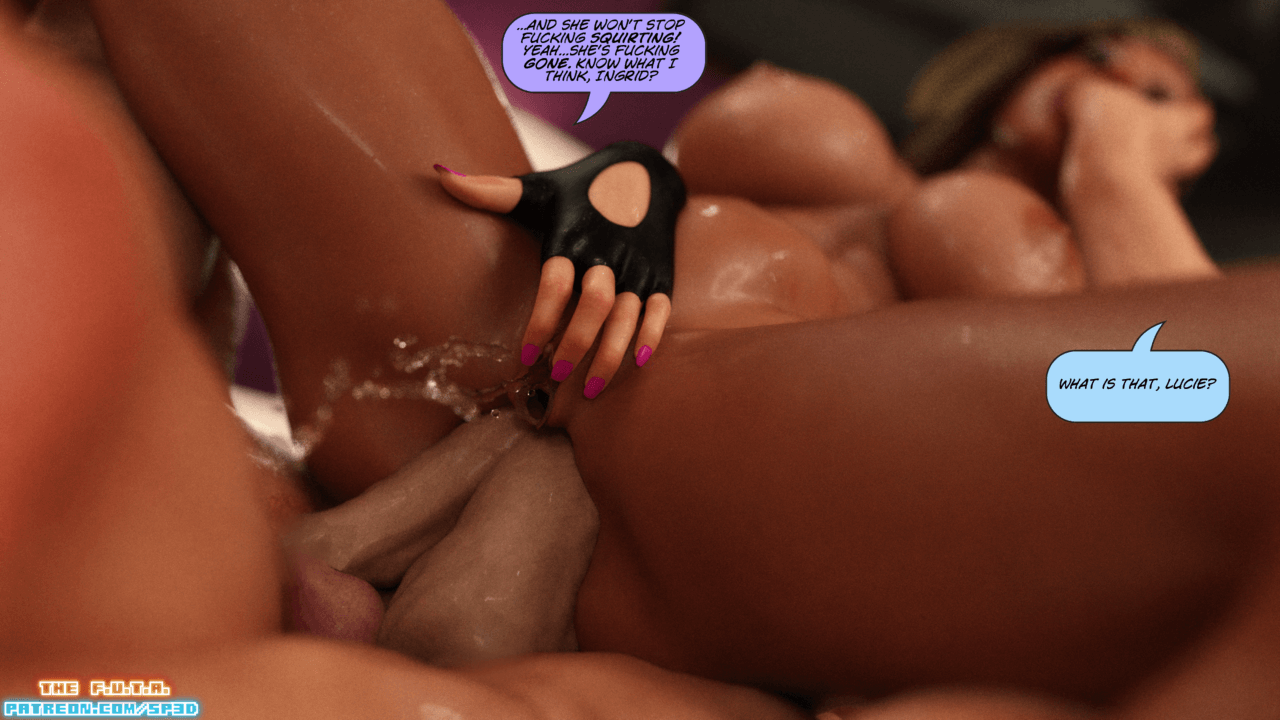 "At this point I think Tiffany is just a slave to the D."
"At this point I think Tiffany is just a slave to the D."
Now with this one, I'd definitely recommend checking out SquarePeg's Tumblr page and following the link to the full comic. Again, the artist uses focal points and framing perfectly to give you the best of this steamy scene as Tiffany takes three massive cocks in all holes! And the textures are just amazing. Look at the detail on that makeup or the look in Ingrid's eyes as she fucks her lover senseless.
Moreover, one of the hottest things in this artist's work, in my opinion, is roleplay. I just love the submissive side he gives his women and the strong dominant character of the dickgirls.
Undeniably, it's literally muscle on muscle here but, like with all SquarePeg's work, it's hot as hell! And it even gives the image something of a classical painting. The writhing bodies and perfect physiques are like something from a Botticelli painting.
THUNK!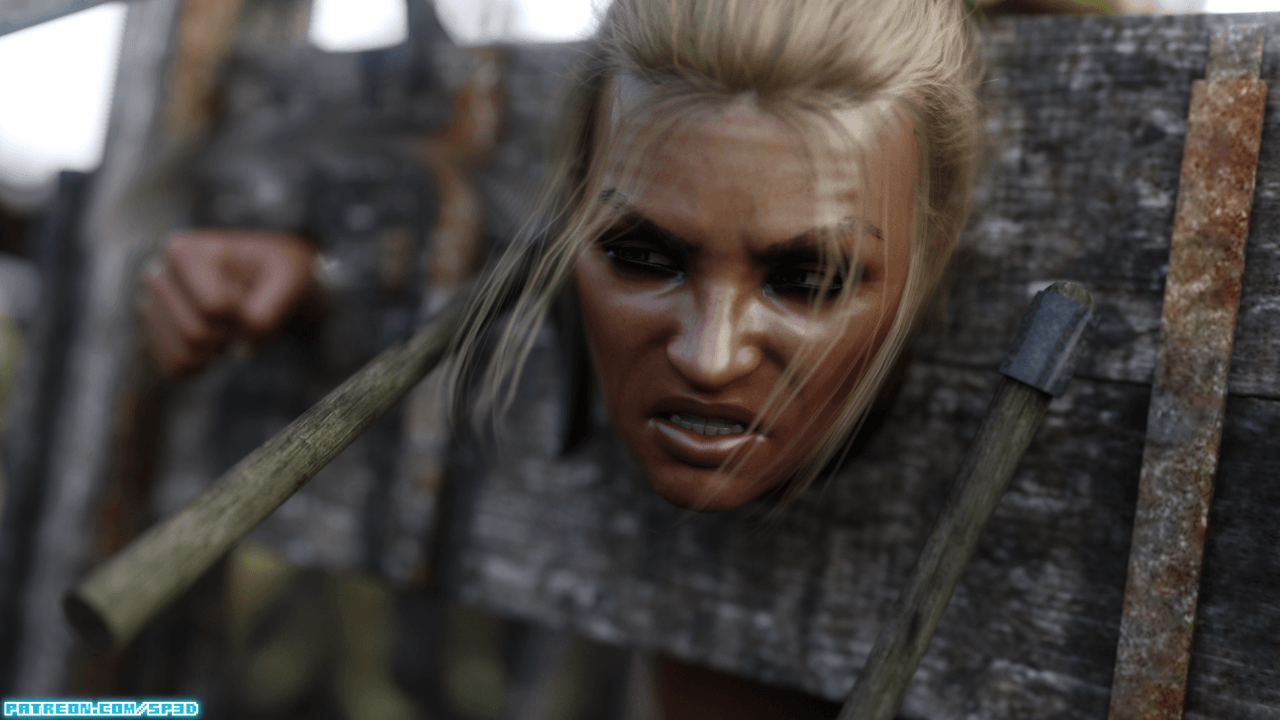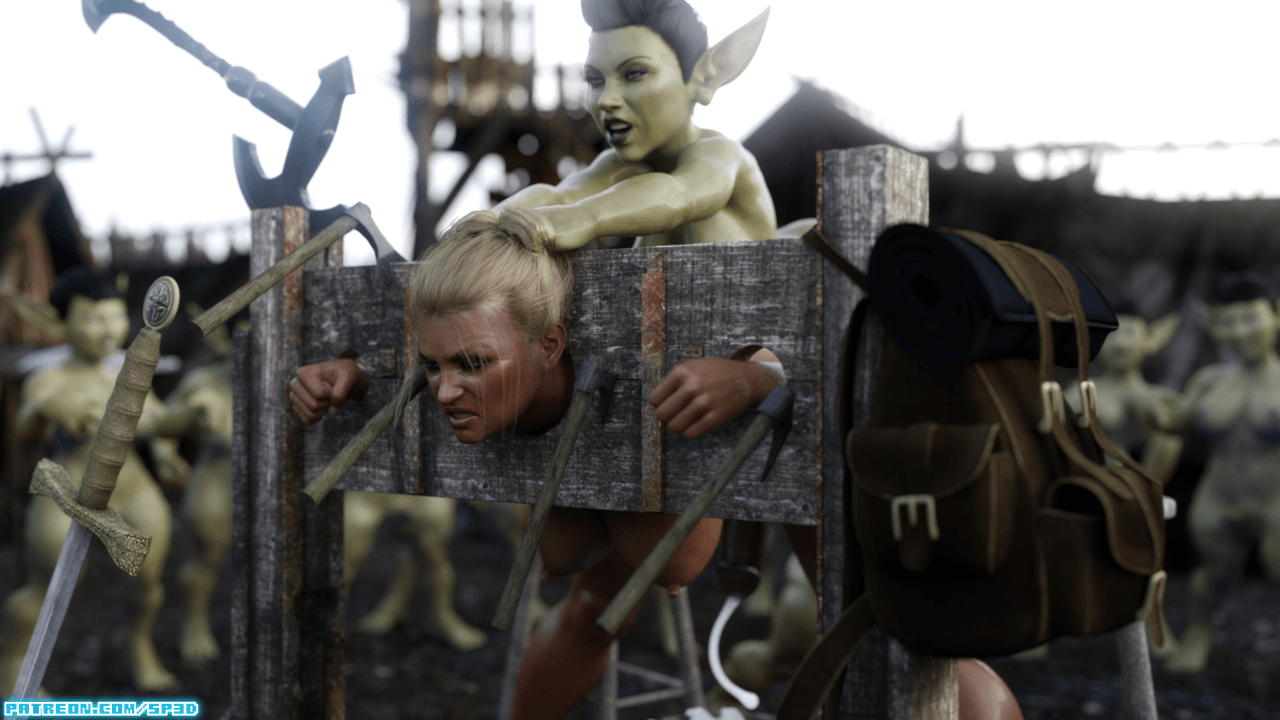 The axe bit into the wood...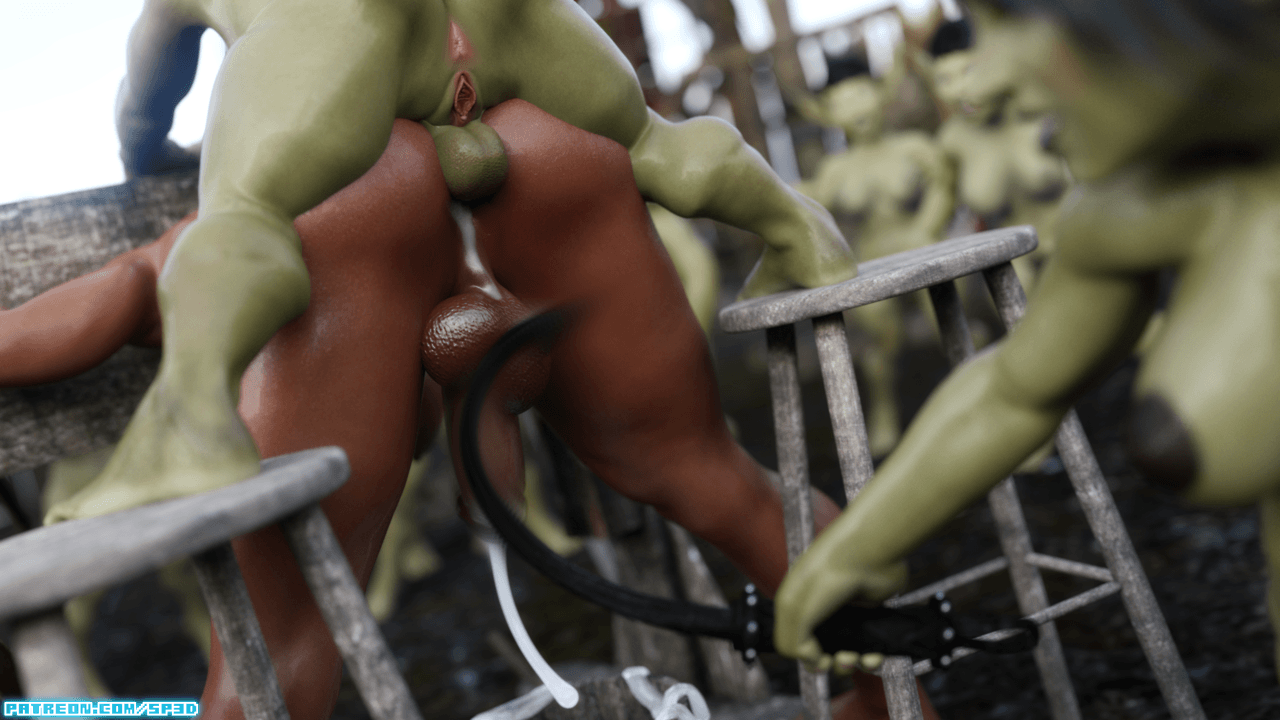 The axe bit into the wood...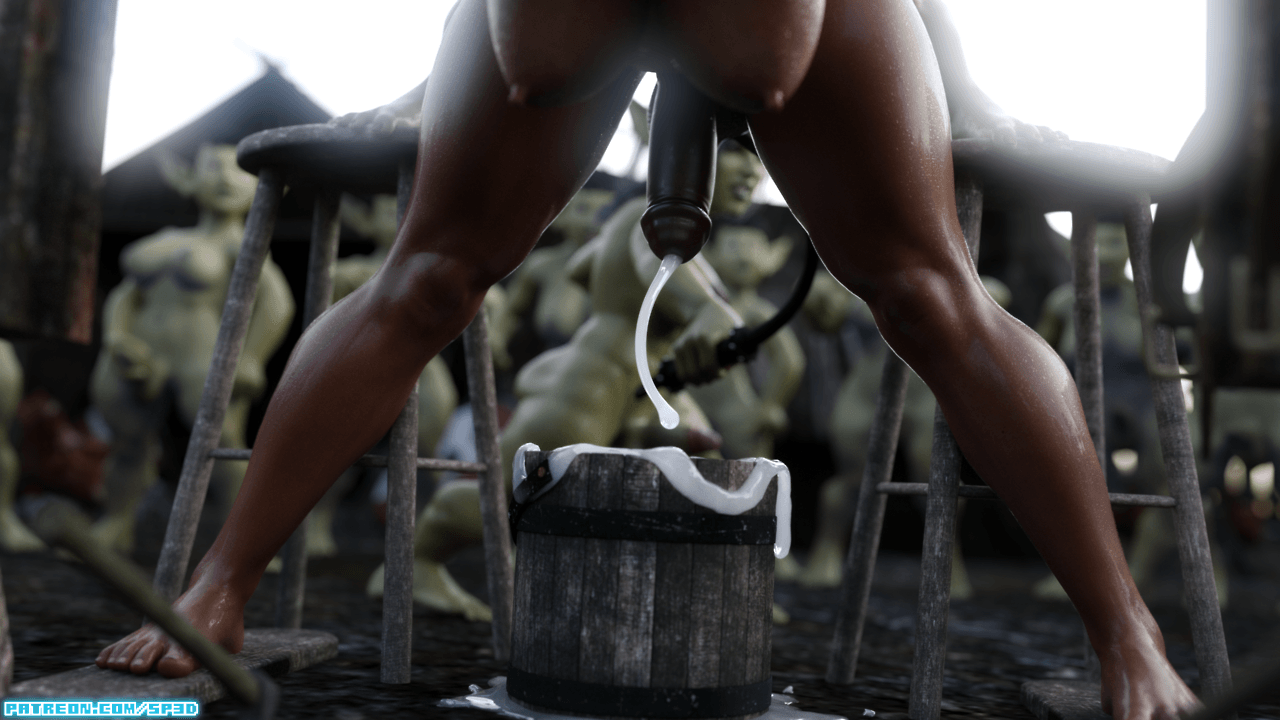 The axe bit into the wood...
Again here, I'd definitely say check out the Tumblr page to read the back story behind this funky situation. And personally, I love it when an artist really takes the time to build a context and scenario. Not only this but one with actual depth and potential. I mean this whole scene just makes me wanna find out more – I need to know just how Delphine started selling herself in such a "unique" way.
Evidently, everything about this is kinky, which is what makes it such a perfect composition! I mean from the horsewhip to the axes and the bucket, you can see there's no lack of imagination here!
Impertinence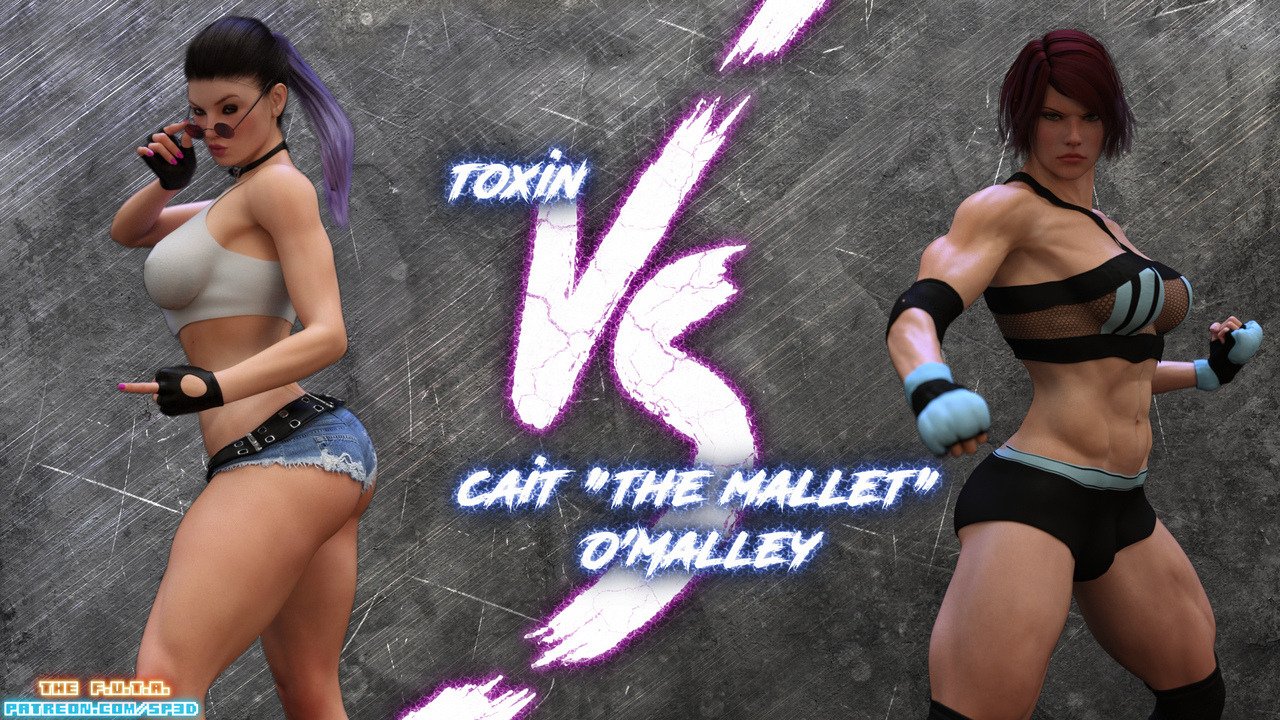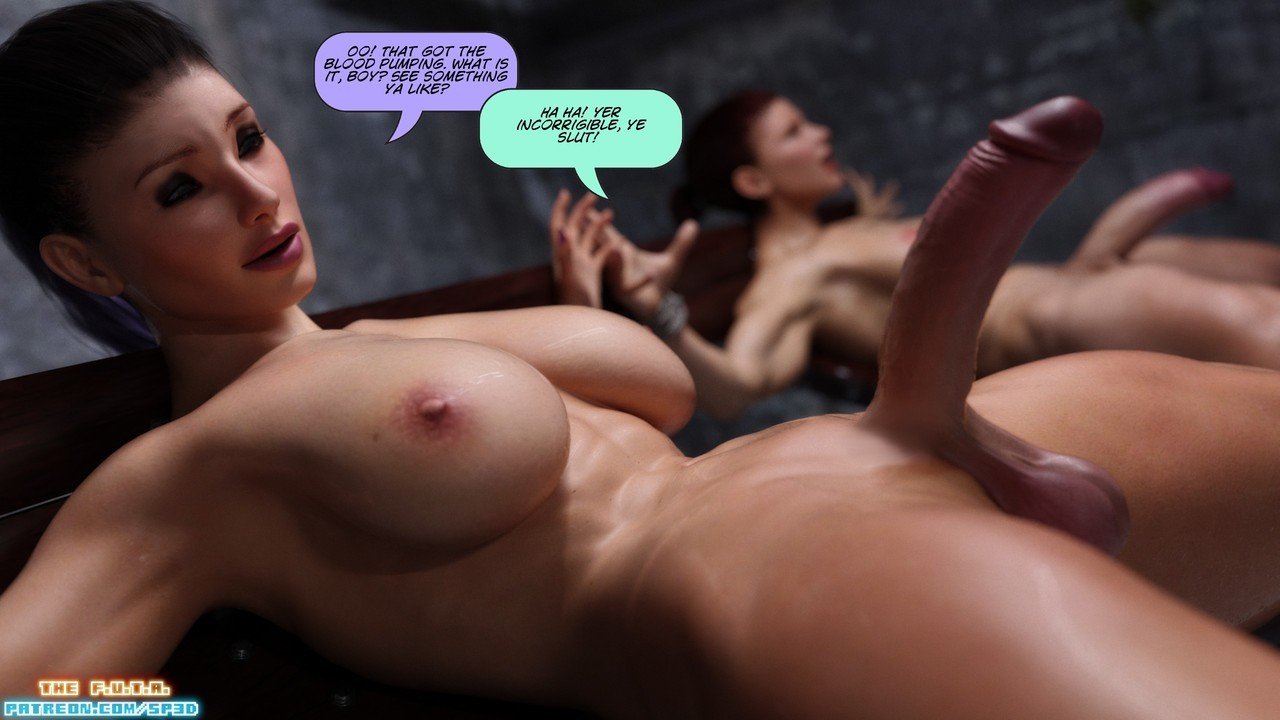 This match takes place in the dungeon setting, and both girls are in for one helluva ride at the hands of Mother Mercy.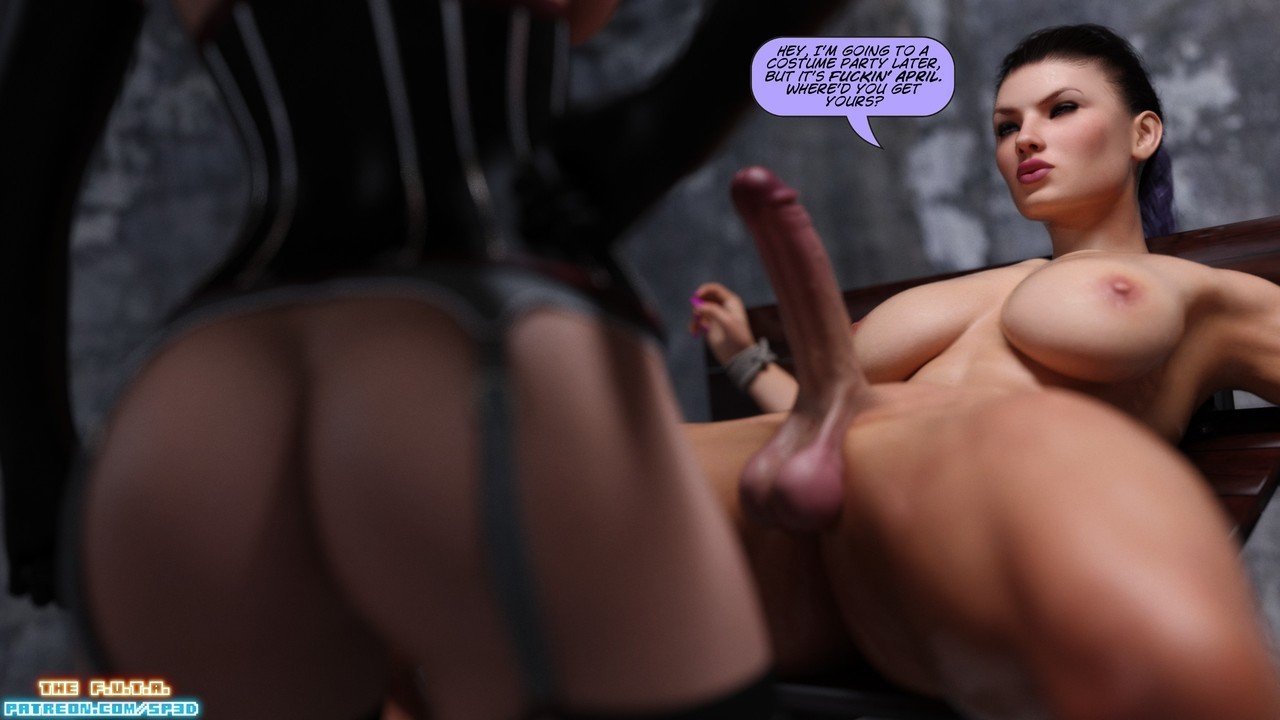 This match takes place in the dungeon setting, and both girls are in for one helluva ride at the hands of Mother Mercy.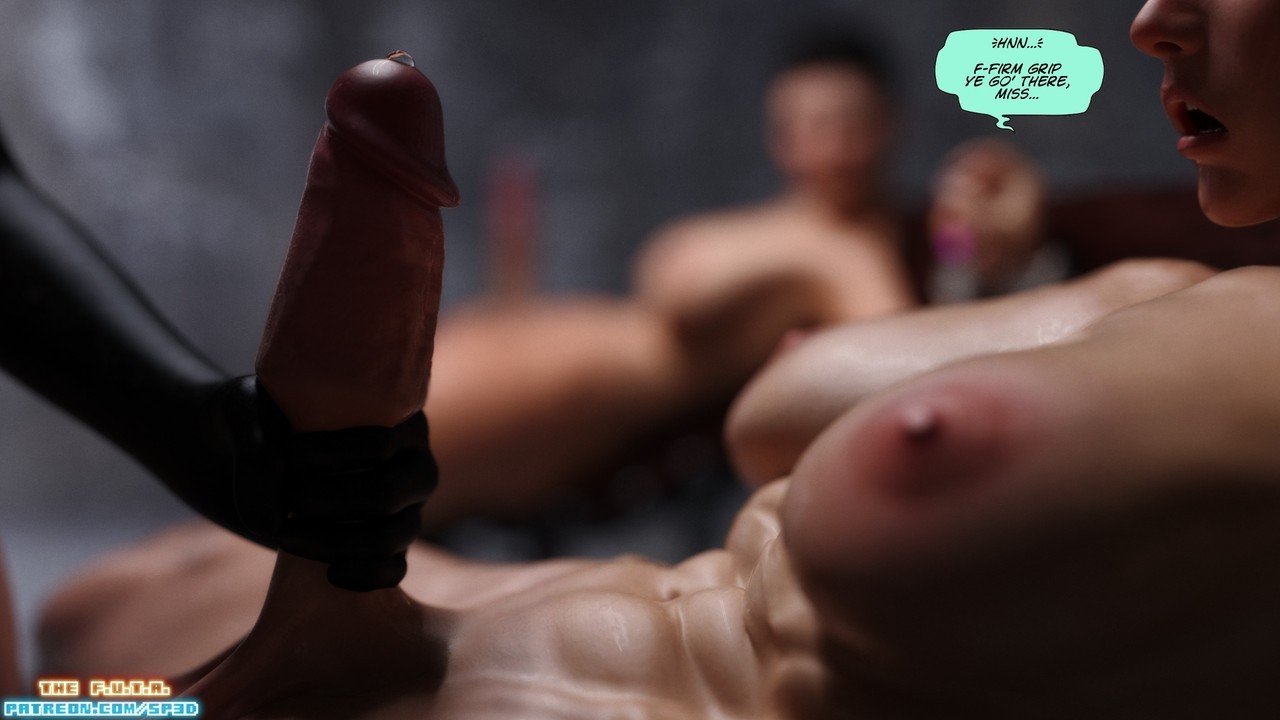 This match takes place in the dungeon setting, and both girls are in for one helluva ride at the hands of Mother Mercy.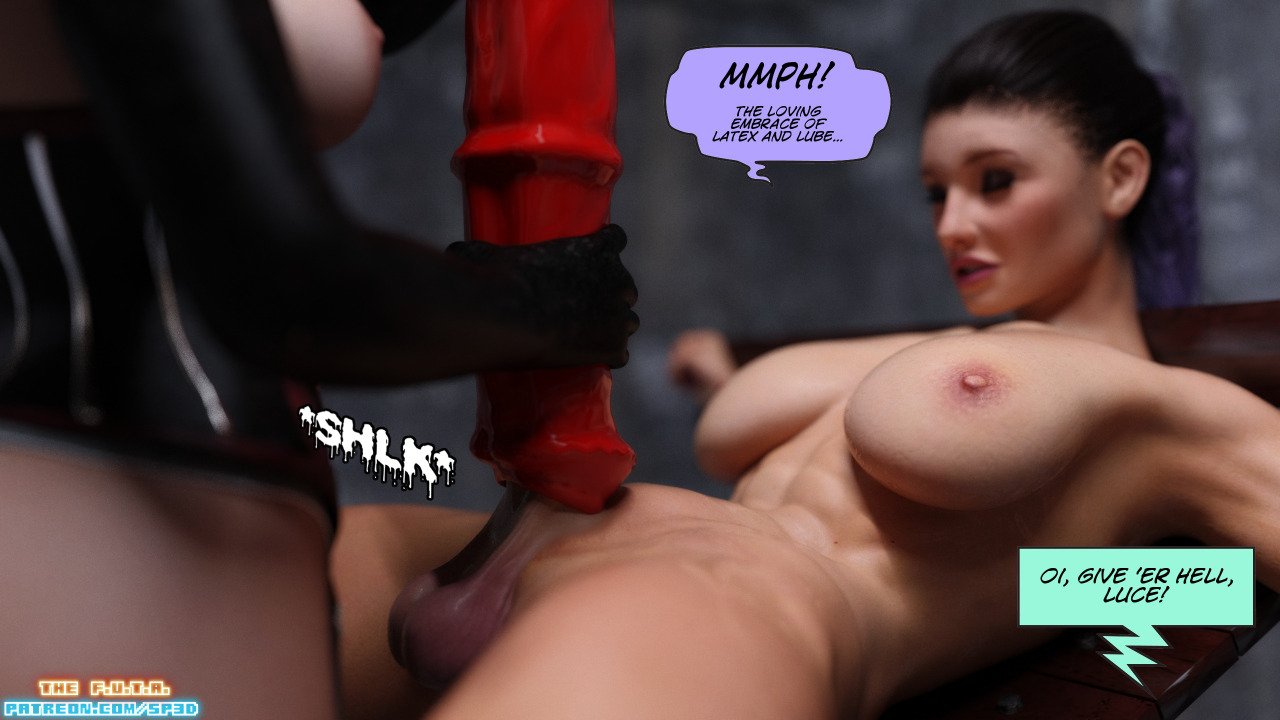 This match takes place in the dungeon setting, and both girls are in for one helluva ride at the hands of Mother Mercy.
First off, I love the Tekken style cover here. And again, there's a serious backstory behind this scene. Secondly, the banter between the captives and the "torturer" is just gold! Indeed, it feels like a much kinkier version of a James Bond or Batman scene.
What makes it even hotter is how by the final image you can already see the resistance draining out of Luce as the unknown woman in the corset throttles her.
A bit more from SquarePeg3D
As I mentioned earlier, we did a little interview with SquarePeg late last week. Marie claims it was more "poking the artist with a wall of text" than an interview, but SquarePeg's answers should more than make up for it.
Marie: Can you explain what The F.U.T.A matches are?
SquarePeg3D: Absolutely! The F.U.T.A. is a comic series that focuses almost solely on erotic competition, and as the name implies it's all between futanari! I created the F.U.T.A. back when I first opened my Patreon, and it was intended as an effort to engage my patrons by allowing them to determine how matches unfold through polls. The "combatants" themselves are the creations of my Gold Tier ($50) patrons as part of their reward, so the hope was that everyone got a little piece of the pie, as it were.
I honestly didn't have an ultimate "goal" with the F.U.T.A. It started off as something that was just meant to entice, and it ended up blowing up into its own delicious, little soap opera! Many of my Gold patrons use their monthly image rewards to build upon their characters' backstories in mini-comics known as "Outside of the Ring." These little glimpses into their daily lives also allow me the ability to test out new ideas, focus on niche fetishes, and really build upon the foundation that is the F.U.T.A.
Marie: I've definitely been enjoying the "Outside of the Ring" comics you've shared, so now I know who to thank.😁 Ok, next question: your work really stands out in the 3DX community, both for the visual style  (strong and "thicc" girls, dramatic lighting, very deliberate use of focus — granted the latter two are becoming more common) and sexual content (lots of domination, rough sex, so on). Do you recognize your content as being very different than other artists?
SquarePeg3D: Aw, shucks! Like I tell everyone, I'm just a guy at a computer makin' porn! There are SO many ridiculously-talented artists out there, and I always strive to pull myself up to their level while helping any other artists that I can in every way I can.
As for my content being different from other artists, I know a common comment I get from numerous 3DX artists is that my stuff is definitely on the fringe. I know a lot of my content may cause a cringe or two, and sometimes that makes it even more fun to keep produce! Some of my favorite compliments are from new fans that tell me, "I never knew I was into this until I saw your stuff." I can't begin to describe how amazing it feels when I get those remarks, and it pushes me even harder to continue to push the envelope.
I suppose my biggest inspiration is my love of "the struggle." Seeing two equally matched opponents go toe to toe can be thrilling, and who doesn't like sex? Like Sublime puts it, "Fucking, fighting, it's all the same." The battle of wills is always going to be one of my primary focuses with my work, as well as domination and (of course) rough sex. There's just something about all these particular factors blending together in a perfect storm of raw sexual energy, plus it's fun as hell to create! =D
Marie: I can't believe you quoted Sublime. Okay, so what are your inspirations?
SquarePeg3D: There are several artists I personally look up to… E.M. Farrow, who does STELLAR post editing on his renders… Forged3DX, who is an absolute master of the subtly sexy… AseraDraws for their sultry lineart and gorgeous color work… Jbtrimar for his unique ideas and characters… Honestly there are so many artists that I get inspiration from, be it content, general ideas, or even just a pose or two. Plus it doesn't hurt that they're all such awesome people!
Marie: Those are definitely some of my favorites as well. Okay, last question: where do you want to go with your 3DX in the future?
SquarePeg3D: Ultimately I want to try and get into animation. I have a few milestones I have to overcome first, but it's always in my crosshairs. In terms of content, again the "battle" will always be a focus, but who knows what else just might pop up along the way?
Wrapping up SquarePeg3D
I gotta admit, I wasn't too familiar with SquarePeg3D's work before today but I'm definitely going to be paying close attention to any future stuff he releases! The detail, unique style, and storytelling combine to form some of the best 3DX out there! Be sure to check out this week's Throwback 3DX too, for a second look at SquarePeg's Unconventional!