The name Final Fantasy will ring a bell for most people. It's been around for 30 years. A franchise that revolves around science fiction and fantasy, Final Fantasy has been a driving force in the video game industry. Throughout the years one thing is certain. There are a multitude of badass and sexy women within Final Fantasy and people in the 3DX world have taken notice. In this column I'll be taking a closer look at some fan favorites.
Tifa Lockhart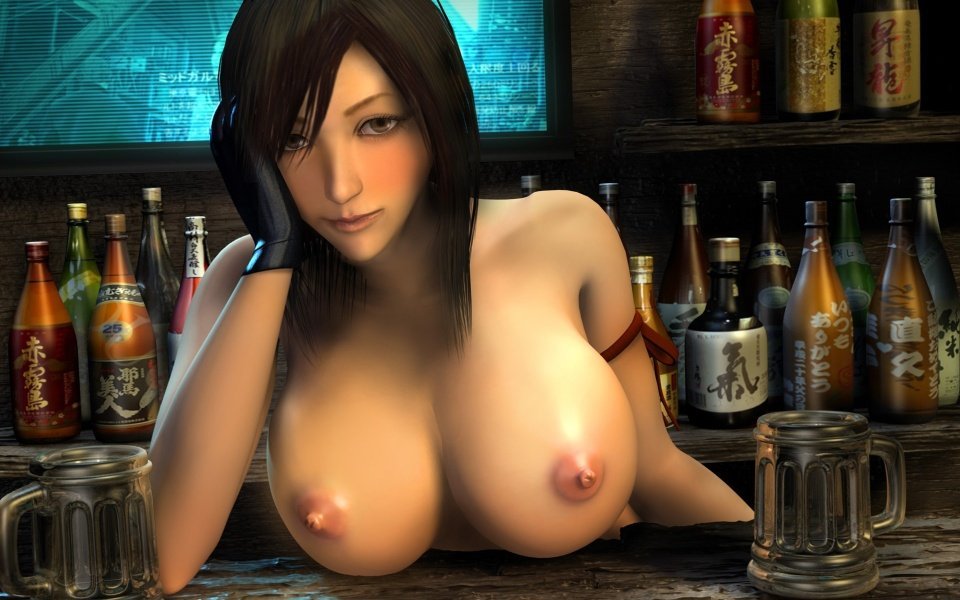 One of the most popular characters in the entire franchise, Tifa Lockhart from Final Fantsy VII has received an extremely positive reaction from both critics and fans.  Much of her reception comes from her sex appeal. In 2013 CheatCodes.com declared her "#1 hottest" female video game character of all time. Thanh Nien ranked her as the most sexy video game character in 2015.
Tifa's sex appeal is something everyone notes. She's beautiful yet tough. Her outfit is revealing but still covers her lady bits. Even though she oozes sex appeal, her demeanor is the opposite. She's shy and focuses on taking care of others. This can play into a submissive role in terms of porn. The contrast between being sultry yet shy is just as enticing as it is intriguing. These attributes play a major role when it comes to Tifa and porn.
She's no stranger in the world of porn. From online sex games to hentai to 3DX, those who aren't familiar with Final Fantasy have more than likely seen her at least once. In most 3DX videos, Tifa wears her original outfit as seen in Final Fantasy VII – white tank top and a black mini-skirt with a belt and suspenders. She also wears red and black gloves and red boots.
Among the videos of 3DX revolving around Tifa there was a common theme, she is willing to please and she is well-endowed. In I'm Tifalun and other videos, Tifa is being fully submissive to the male that's in front of her. All the focus is on Tifa, more specifically her body and what she's doing. From missionary, oral, tit fucking and reverse cowgirl, the main focus is her tits bouncing with every thrust and her willingness to please by all means necessary.
Yuna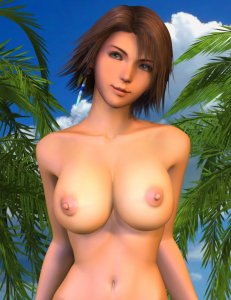 Yuna, from Final Fantasy X, has been praised in particular with her relationship to Tidus as well as her characterization and sex appeal. In 2005 Chris Reitner of Gaming Target ranked her as the third best "Playstation 2 babe" describing her as "the star heroine whose soft features, kindness and her unique story makes her one of the better beauties to love".
With the sequel Final Fantasy X-2, Yuna underwent quite the transformation. She showed a more revealing style of dress and it was accompanied by an adventurous personality. Despite the change, she is still very polite, with a clear vision of what she wants.
We don't see this more adventurous Yuna in 3DX. Instead, artists translate her kindness into a submissive trait. In many videos fans don't change too much of her assets like they do with Tifa and other Final Fantasy characters.
Of course, in 3DX, you often see a more playful Yuna as well as submissive much like Tifa. In Final Fantasy – Yuna you see her in a swimsuit and being playing and teasing the male. The video immediately goes to her being naked on all fours receiving the males cock doggy style.
Lulu, Among Others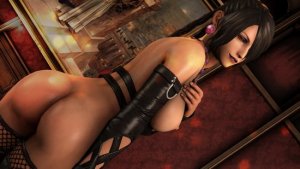 There are other characters to consider as well. Final Fantasy X's Lulu was described as being more of a 'fetish object' than an inhabitant of Final Fantasy's X world. When looking through videos she's either completely naked or in some type of latex getup. Her aesthetic gives a mysterious and/or Dom vibe and it plays into show she is presented in 3DX.
Among the women that we mentioned, there are a few others that you can find in the 3DX world. Some of these women include Lightning, Yuffie and Serah. We even did a review of a Yuffie-based product, GuriGuri Cute Yuffie, last year.
The Future of Final Fantasy 3DX

When looking into the world of Final Fantasy 3DX it is apparent that the women in the franchise take center stage.  From being submissive to mysterious these womens personality traits translate over to porn and shows another side that one may not regularly see them in.
Sources:
Photos: Lighnting, Tifa Lockhart, Yuna, Lulu

http://www.cheatcodes.com/extra/2013/10/21/top-25-hottest-video-game-girls-of-all-time/26/
http://www.gamingtarget.com/article.php?artid=4726