For every hot woman, there's undoubtedly a crowd of men dreaming about sex with her – and a proper "gangbang" is the purest expression of this dynamic. The porn industry has fueled the fire with a wide variety of gangbang content, including the "reverse" gangbang where one lucky man gets the attention of many women at the same time.
"Gangbangs" are an increasingly popular search term on Pornhub, having grown by a staggering 499% from 2009 to 2015, according to statistics from Pornhub Insights. The next fastest-growing term was "teens" at 263%.
But are gangbangs a sexual practice with any kind of following in real life? Do women enjoy gangbangs, and why? For that matter, why would men enjoy standing in line to fuck one woman he must share with a crowd? This month, What's Your Fetish will address these questions and the dark impulses that come with their answers.
Origins of the gangbang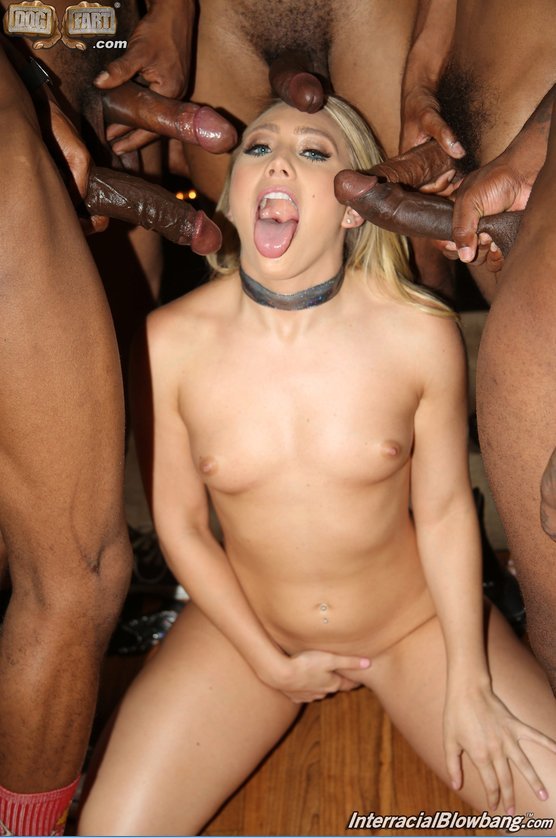 We define a gangbang as a sexual encounter involving multiple people having sex with one particular person, who is the focus of all the sex acts and attention. As is often the case, the earliest records of gangbangs date back to Roman times. Messalina, the wife of Emperor Claudius, challenged a notorious prostitute to a contest to see who could fuck more men. Some of the more depraved Roman emperors were fond of arranging orgies; they often involved gangbangs in order to keep things interesting. This included the emperor personally fucking a crowd of women one by one, in a reverse gangbang.
Today, the gangbang scenario is taken to refer explicitly to one woman being penetrated, usually in all her orifices, by many men. It's a popular porn niche, as the data above suggests. While there were gangbangs in the first mainstream adult films of the 1970s, they were rarely the focus. Now, entire feature-length adult movies revolve around the gangbang, presented as a series of gangbangs that each feature a different pornstar.
Are gangbangs just a porn invention?
Some of the more "gonzo" gangbang scenes depict show one woman being fucked rather aggressively by men. There is an undeniable element of implicit violence, even though the woman consents to this type of sex. Frequently the scene concludes with the men shooting their loads on the woman's face, ruining her mascara. Most female pornstars who shoot gangbangs genuinely enjoy the intensity of the experience; but such scenes pay extra for the effort required from the women.
Indeed, in American parlance the term "gangbang" also refers to something wholly separate from sex: criminal gangs. A "gangbanger" is a member of a violent gang, and in this context "banging" refers to committing violence.
For the male viewer, and I speak from personal experience, the gangbang is about the particular woman being used roughly for sex, almost being punished. It's as if the sex is secondary to the fact the woman is "just taking it," which is somehow arousing.
Indeed, interviews with pornstars who shot gangbang scenes reveal that they enjoy the way men dominate them. The gangbang is the ultimate submission but it's arousing. When asked to describe a gangbang in which she fucks five black men using all her orifices, the pornstar AJ Applegate mused, "it turns me on because it's so gross." She then added with a laugh, "I'm so slutty."
Another species of the one-woman gangbang involves an entirely different demeanor from the woman; she orders the men around instead. It's a dominatrix-on-slave theme, where the sex is similar, but the behavior entirely changes the psychological aspect of arousal. Unlike larger gonzo gangbangs, these scenes are usually two or three men and one woman, lest it become too complex for her to order around a whole troop of slaves. Is this more empowering to women? Or is it no different, since it's often men who enjoy the dominatrix/cuckoldry aspect of sex who get off on these types of scenes? Either way they do offer variety.
Much rarer is the reverse gangbang, wherein one man fucks multiple women. This may still be a gangbang, but it's a completely different animal. The women invariably get to kissing each other or even pairing off to fuck each other as the lone male fucks the other women. They don't hurl abuse at the man, and often support him by helping him thrust, kissing him, or even performing anilingus on him. Is this one reason why dickgirl group sex came up trumps in our latest analysis of poll data?
Gangbangs in 3DX vs. live-action porn
Depicting multiple partners isn't easy in 3DX, as we established in last month's column on group sex. Gangbangs are no different, though they are popular in 3DX. The real advantage of 3DX comes from rendering environments, characters, and costumes that porn producers would have trouble finding or creating in real life.
Cara Lox takes on zombies. And by takes them on I mean their cocks and her mouth, pussy, and ass. Our adventuress gets over her initial reluctance (undead skin can't feel too cuddly) and fucks them into submission in Womb of the Dead by RedRobot3D.
An Orc raiding party raids an elf's body. Massive muscular Orcs gangbang a slender blue-haired elf in X3Z's Heat. There is certainly implied violence, but the high fantasy setting dials down the ethics. We're not talking about humans, after all.
Double vaginal with boggarts. A sexy girl gets out of the shower only to be attacked by little olive-green imps. These horny fuckers gangbang her and put her through some considerable paces, including double vaginal! Check out The Boggarts of Loughcrew Cairn by Epoch Art.
Conclusion
Gangbangs are not merely the stuff of Roman antiquity; they are a clear and present porn niche with a growing following. Whether people indulge in gangbangs in their private lives is another matter. Some women do enjoy domination at the hands of multiple men. For the men involved, it's about sating some primal urges to roughly use an attractive woman, not just for physical pleasure but for the psychological need to dominate. That's my take, but I'd love to hear yours – check out our poll below!
Poll: Do you enjoy gangbangs, and why?
Does the idea of a men-on-woman gangbang gross you out, or make you very horny? What is about a gangbang that turns you on or off? Do you agree that there are darker psychological impulses at work with gangbangs? Tell us this month's poll. We'll share the results in a future analysis article.