Hi everyone! I'm DireLilith, here to review a quick little tool I found on the net for helping you expand your audience and your erotic picture or story repertoire! The tool is called the Global Internet Porn Habits Infographics. I'll tell you a bit about how to use it, who created it and as part of what network, and how you or I or anyone else might use this nifty treat!
When you get to the tool, you'll load up a big graphic that looks like t.v. screens. Get the graphic pointing to some obscure part of the world like Europe or Oceania! Every time you make a choice on where to point the tool, you'll be able to see what the last six months worth of porn searches have pulled up. Move your mouse over different parts of each continent's countries and you'll see search engine stats show up on the menu on the right! If you choose the United States, you can see each different state's sexual preferences – yummy!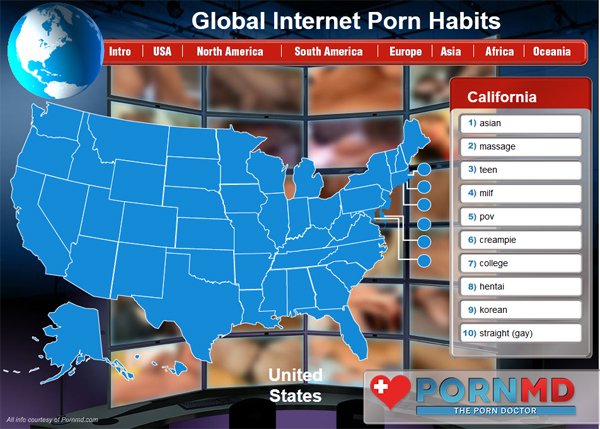 Because the site is connected to a famous porn search engine called PornMD, it's safe to say the statistics rely on searches done specifically at the main site. That doesn't mean the stats aren't worth tracking. They are still a good slice of what people are searching up all over the net. And while we all highly covet our own personal niche, sometimes artists want to explore. Are you ready to challenge yourself with a new type of 3D artwork? Ready to step beyond vanilla sex and see if you can't satisfy a few more people than you were before?
If you're an eager pervert, you might learn some new sexy trends you never heard of that you'd like to look into. Or maybe you won't feel so lonesome next time you're fapping to something really twisted – an enormous and surprising amount of searches are done in Mexico for gay porn!
But what if you're an author or an artist, like me? Well, sweetie, this tool helps you to expand your audience base, and the type of material you're making available. My blog's stats tell me that a vast number of people from Russia end up on my site. I can use this tool to find out what they might have come for, and to show them that yes, I am here to please them too. I'll offer them anal, teen and mature porn pictures to make them want to stay.
Yes, it's true that becoming a trend whore can make it so we stop doing what we actually like and try to only please the masses. This is especially true if you're trying to get paid for what you already love to do. But if you're sure that your art is from your horny and devilish little soul, I think you'll do alright. I feel I would be negligent to use ONLY this tool to decide what I create next – but I also feel I'd be ignoring the potential of such a tool if I didn't take a peek every once in awhile.
Besides, now I have new curiosities to pursue. What is a beurette, from France? Or what do the Greeks mean when they search for casting? As an artist and author who loves to please, I am really excited about having new opportunities, new things to create and inspire me to create more! If that doesn't make this tool worth it, I wouldn't know what does!
Either way, dear friends and fiends, this is a fun little thing to play with. Enjoy the Global Internet Porn Habits Infographics for the sheer sake of it. Have a great time!