Two is company but three is a crowd – unless you're into group sex. The term is vague, but it's yet another type of sex act seeing growth in both porn and real life.
But is a threesome different from a foursome or an all-out orgy? Are these distinct genres? And does 3DX hold the advantage in depicting group outings over the mainstream live-action industry? We'll dive deep into the taboo topic of group sex in this March edition of What's Your Fetish.
Before I go any further, however, I need to dispel the vagaries of the term. For the purposes of this column, "group sex" refers to sex between at least three individuals of any orientation. However, if the group consists of a single person with everyone else being the opposite gender, it's actually a gangbang. The female-on-male gangbang is an exotic, but clearly established subgenre; but no form of gangbang falls under what I'm discussing this month.
Is Group Sex Getting More Popular?
Group sex has long been a fantasy for both men and women, but scattered survey data suggests that threesomes alone have been on the rise. International data seems to put the number at 20% of all couples, while in New York City it could be as high as 31%.
What if three isn't enough for you? Survey data on the prevalence of proper orgies, or swinger parties, is scarce. One article cites a 2011 study that found up to 15 million Americans could be swingers, roughly 4.8% of the population. Whatever the actual numbers, it seems certain that in the age of Craigslist and Google, fans of group sex can easily find like-minded people to indulge their fantasies with.
The answer seems to be that group sex is definitely more popular than before. It's likely due to a combination of factors, from the ease of accessibility to the more permissive sexual mores of the 21st century. Of course, group sex is also ancient history, because when one goes back in time far enough, sexual mores also relax. Consider the Roman Bacchanalia, festivals in honor of Bacchus, the god of wine and fertility. These parties included plenty of wine and orgies, including homosexual acts occurring alongside heterosexual acts. Perhaps the reemergence of group sex is merely the reset of a long historical cycle.
Homosexual vs. Heterosexual Groups?
More partners and more variety is desirable to people of all orientations and genders. That said, when I scanned the sites Craigslist and Fetlife for actual group sex advertisements, I found far more ads for homosexual groups than heterosexual.
There were nearly twice as many gay orgies requested or offered on Craigslist than straight orgies. The same went for Fetlife, though on both sites, the most common group sex request was for a second female to join a male-female couple.
Lesbian group sex events were relatively few; in fact ads for one-on-one lesbian encounters were far rarer than their gay counterparts. Could it be that gay men prefer to use the Internet to find casual sex while lesbians prefer making the connection in real life?
Group Sex in 3DX vs. Live-Action Porn
Modern 3DX artists enjoy some obvious benefits over producers of real porn, but also have more difficulties. Fantastical costumes and sets are easy to render and don't have to be physically sourced. Biology and all physical limitations go out the door. But managing tons of assets and bringing them together can be challenging, especially because so many artists work alone.
I haven't seen many depictions of large-scale orgies in 3DX, which I would set as greater than four individuals. Consider how much or how little each character would need to be rendered. The artist would have to focus the action on the couples fucking in full view while accounting for dozens of other entangled limbs and bodies.
What 3DX does best are creatures, costumes, and settings. All three of these elements feature in the selections of sample 3DX group sex I'd like to share with you. I'm also sharing my favorite live-action choice.
Examples of Group Sex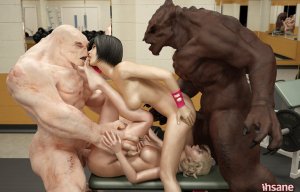 A bestial foursome. Two gym-going hotties, Megan and Scarlett, find themselves in the midst of a surprise foursome when two massive beast-like men show up in Sex Instructors by Insane3D, as seen on the left. The sexy scene touches many fetishes, with the ladies sucking toes mid-coitus and indulging in a wide variety of positions.
Elven girls worship their priestess. A good old-fashioned threesome, which is still group sex, is depicted in Ritual by Namaa. This ornately rendered scene shows two gorgeous, elegant Elven ladies worship their dickgirl priestess. The priestess has her way with both ladies, who also tongue and finger each other vigorously throughout in a very intimate encounter.
An Orcish orgy. In an interesting twist, the hot girl isn't the victim in Attack of the Orcs Part 5: Orgy of Evil by The Merovingian. The damsel-turned-queen Fantasia first secures the loyalty of the Orcish army by seducing the Orcish King and consuming his soul. Now she orders an orgy, a command which her soldiers are all too happy to follow.
Three sorority girls do black guys. Below is a personal favorite of mine: a 40-minute, live-action interracial orgy from Blacked.com. Three sorority girls complete their initiation by fucking three brawny black guys in a variety of creative positions. It's not quite as chaotic as a proper orgy, but it's unapologetically straightforward group sex. There's minimal lesbian action and several synchronized clips in which the girls are all riding their respective cocks in the same positions.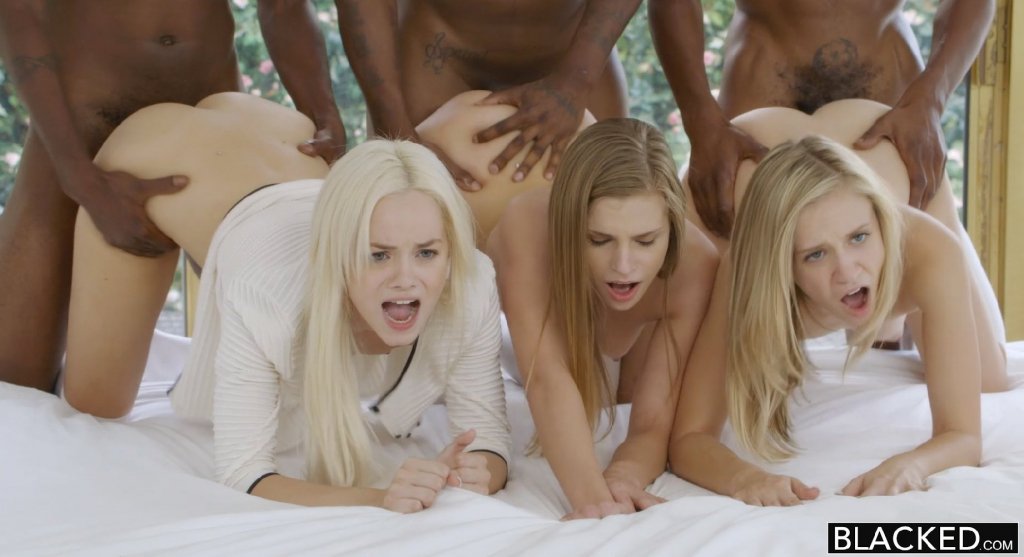 Interest in Group Sex Grows
Group sex is no longer a mere porn genre. The limited data shows that more and more couples and singles are trying it. Nowadays, it's much easier to find people to try it with thanks to the Internet. It doesn't matter if it's a threesome or swinger party that is a one-night experiment or becomes a regular occurrence. Group sex is also one of the few porn genres where 3DX doesn't have an obvious advantage over live-action. That being said, I don't need a dozen pairs of perfectly rendered arms and legs to get off. I am perfectly happy with the intimacy of a passionate threesome between dickgirls. But that's just me – I'd love to hear your thoughts.
Poll: Do you enjoy group sex, and why?
Is a threesome plenty for you, or do you need a proper orgy to fully scratch your group sex fetish? Let us know in this month's poll. We'll share the results in a future analysis article.