We had planned to do a review today but there was a… Let's call it a mishap, okay? So now we're going to talk about dickgirls, instead. Peachy? In my recent collaborations with The Dude, we've discussed a number of relationship dynamics that frequently appear in dickgirl porn. I've mentioned dickgirl-on-dickgirl action in my previous posts, but haven't covered dickgirl-on-girl stuff in much detail. I'd like to say it's because it's so popular, but I just wasn't thinking much about it before.
Well, that changed recently. While exploring potential plot lines for a future story I offhandedly said, "kidnapped by dickgirls."
Well, that resulted in me going on a short but very depraved tangent about how I wanted to be taken by dickgirls, gangbanged by dickgirls, and forced to take every last drop of dickgirl cum until I'm nothing more than the breeding stock of dickgirls. I may have also mentioned a hot episode of The Blacklist. Anyway, the point is, we need to talk about this.
I really meant we need to talk
The Dude: I'
m still reeling from that talk, if I'm honest. It may rank among the hottest things I've ever had a woman tell me. [Marie: The Dude's other job is apparently my Hype Man.] It's funny, because I've run my blog for a year and a half now, and it's always been difficult to measure exactly how many women follow me. They're kinda vocal, but not that vocal, and it really takes a kink queen like Marie to give voice to what a lot of girls out there are possibly feeling. For me, as a guy, one of the hottest parts about futa porn is the dick. That's perhaps unexpected to people who are new to the fetish; but there's a significant section of men who actually love looking at dicks, just not at the guy attached.
Now I said a while ago in my Pretty in Pink post that I love looking at a girl being the girliest possible. If she has a cock, that somehow even adds to the girliness. Crazy how that works, right? But sometimes it's a huge meaty cock that needs to fuck a woman senseless, and that's where dickgirl-on-girl porn shines brightest. Futa-on-futa might even get the most girly out of everything, but when there's a wet pussy in play there's no reason to stop until tongues hang out of mouths and eyes struggle to stay open. And I think this is even more appealing to women than it is to men. Is this where the dickgirl genre finds its female audience?
Dickgirls for Girls™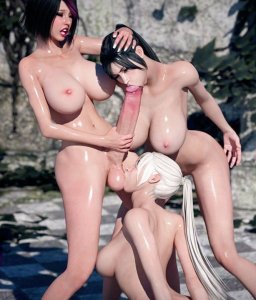 Marie: Maybe? A lot of women really do tend to like erotic content with dominance and submission themes, myself included. I actually find dickgirl porn to be the perfect fit, to the point I can't imagine myself writing a dickgirl story any other way.
In most guy x girl porn, no matter how submissive the girl is, I always feel she holds a great deal of power in the scene. I don't feel that way with dickgirl porn though, because dickgirls are already women in their own right…their sexuality should be more methodical than men's because they aren't just "thinking with their dicks." Dickgirls have dicks, but in my mind, they'd always be in control because a girl's tricks wouldn't work on them the way they work on men. (I know there's plenty of content contrary to this. Sayako is struggling to surrender to her impulses in the original G4E, for example. I'm just addressing this from my own perspective.)
So dominance and submission just seems natural here. Between the dickgirl having a dick, a sharp female mind, and, often, a more feminine body…well, the girl in the dynamic is just always going to be inferior. She will always be measuring herself up to the dickgirl and knowing she can't win. She might resist at first, act like she doesn't care, but in the end she's going to be down on her knees slobbering over a cock while simultaneously wishing she had one of her own. I can't tell you how many times I've fantasized about choking on a dickgirl's cock, while rubbing my own pussy and wishing it was a cock that I could stroke.
On the nature of dickgirls
The Dude: I remember you telling me that you play pretend with your biggest dildos sometimes, so hot. Maybe one of the things I most wished I could do as a futa artist is actually give a girl the ability to be futa in real life. How amazing would that be? Just create them wherever I want!
Marie: In my perfect world, I could do the ol' Bible Black switcheroo whenever I wanted. A dick to fuck the girls, then back to pussy mode when I want to get plowed.
The Dude: Oh, for sure. See, the thing with a dickgirl is that she knows what it's like to be a girl, as much as she knows what it's like to have a cock. The feminine part of her longs for the same kind of domination that she can dish out. And she revels in that. At the same time, there's something she actually cannot be, and that's a non-dickgirl. So there's a dynamic there; she knows how much she would love to get fucked like this if she weren't herself. She projects that onto whoever's on her cock, and that pushes her to keep going further.
Maybe most of the erotic value of the scene doesn't even come from the fucking itself. It comes from the wide eyes, the jaw slightly agape, the quivering that the girl feels as she's about to get a cock like nothing she's seen before. That translates to the dickgirl's arousal, because she knows so well what it's like to yearn for that. To want to be overpowered. This relates back to futa x futa porn, in that this is why it's so ultra-girly (at least, when I make it). Both dickgirls have been busy fucking women, and now they get to unleash all the pent-up sexual energy on each other in a contest of who's the girliest of the two.
Fuck, I need to render something like this. Count on Marie's raunchy thoughts to get me there when it matters. Wait, what were we talking about again? Something about pussies needing dicks? Girl, where are you?
Confidence is key!
Marie: Yeah, I'm not sure I can completely understand the mind of a dickgirl. When I wrote our collab piece the other day, I tried to get in the mindset of a futa girl. What I found was a very powerful place to operate from. I feel empowered just being the hottest girl at work or in my friend group…but a girl like Kayla or Sayako or any number of gorgeous dickgirls? They should be beacons of confidence that know when they walk in a room they own everyone. This element is often missing from futanari porn.
I think us creative types want to make these really sweet, sympathetic characters…but dammit, I want to see some outright brutal dickgirls who take what they want and don't apologize. When I fantasize about having sex with a woman, I'm not dreaming about soft kisses, or a gentle caress! I'm getting myself off to the idea of someone forcibly shoving my face into a girl's hot, wet pussy and telling me to lick if I want to breathe! So when it comes to dickgirls, that's what I want to see more of.
The Dude: Well that just turned me on like no tomorrow. Uhm, I need to clear my head. Tell me, though, what role does a futa pussy play for you when we're talking about a dominant dickgirl fucking you silly?
Dickgirl x Dickgirl x Girl
Marie: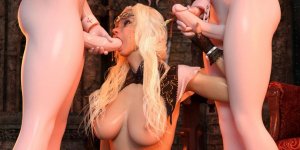 In such a dynamic, I'm not even sure a normal girl has any business interacting with a dickgirl's pussy. She's so inferior, after all. She's better spent having her holes filled with cock and cum. Leave a dickgirl's pussy to another dickgirl who can please her right.
The Dude: I love that, have a dickgirl fuck a regular girl, then have the dickgirl receive a fucking of her own. And in the end they finish by double-teaming the poor lass after they bound her up.
Marie: Yeah, I've seen some artists start to explore this better. Rikolo's The Pearl Necklace comes to mind, and a lot of the work Morfium does (this one in particular), too.
In a lot of lesbian porn involving three or more girls, I always see one girl sort of left out and sitting off to the side. I like the idea of the regular girl in a futa x futa x female scenes, being that girl. At first the dickgirls would include her, but overtime they'd get carried away with one another and ignore her. And it may be strange but I like that sort of cuckquean element to it. I'd love to see Tara invite a futa girl into her relationship with Sayako, only to end up being ignored while Sayako and the new girl go to town. She'd be so hungry for it, I imagine her on her knees with half her fingers up her own pussy.
The Dude: You've just given me a great idea for a new set.
Did someone say gangbang?
Marie: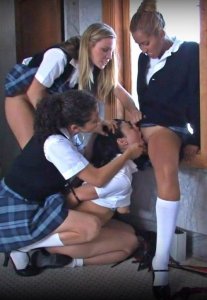 That seems to be happening a lot lately, hm? I suppose that leads me to what started this…the futanari gangbang idea. I've obviously seen futanari gangbang porn before, but it's not a huge thing in 3DX yet. I suppose all the extra bodies take time to render. But that's really what I want to see. There's so much submissive slave girl porn where the girl gets passed around, has all her holes filled, and so on. Well, I want to see dickgirls do that. I want to see Mean Girls, only the porn parody version where all the girls have cocks and use them readily.
I wrote in my last post about how I wanted to be subjected to the sexual whims of every man I cross paths with, so shock and surprise: I have that same fantasy with dickgirls. But in my fantasies when the dickgirls do it they're even more dominant and assertive than men. I want them to shove their massive tits in my face, make fun of my pathetic C-cups, then force their cocks down my throat. I need them to take turns on my ass 'til I'm a gaping, cum-dripping mess. I want them to blow their loads on my face, and smear it in my hair, and tell me I'm a worthless slut, and their personal cum dumpster.
I need…to get off. >_>;