If someone were to ask my what my two favorite porn scenes of all time are, they'd probably be surprised. After all, I make a living with dickgirl porn. I create scenes where big hard cocks shoot showers of cum, and where pussies barely spread wide enough to fit it all in. You'd think I'd be into some seriously hung alpha-male fucking, right? Given that dickgirls don't exist in real life.
Well, you'd be wrong.
The gift of girly girls
My two favorite scenes are actually pretty generic by the standards of the 3DX industry. The first one is a scene from Lust, a Wicked Pictures release from 2008. It features Asa Akira, Breanne Benson, and Alektra Blue. They have a lesbian threesome, wearing black lingerie with a light pink trim, have sex on baby pink chairs, and bask in glammy penthouse-style lighting. It's an incredibly girly theme, and it works wonders for the erotic value of the scene. What they do is fairly tame. There's some dildo play, some pussy licking, and a bunch of posing for the camera.
My second favorite scene is between Molly Cavalli and Spencer Scott for Muffia, which I think dates back to about 2010? They're wearing, you guessed it, skintight pink dresses to complement their platinum-blonde hair. Femininity just oozes off the screen, and the few parts where Spencer poses next to Molly for the camera are almost enough to carry the scene. So neither of my two favorite scenes involve any dick at all, and I could go third, fourth, and fifth favorite and not much would change. Why is that?
It's in the color, really. Men are visual creatures, and in my case there's little that I respond as viscerally to as pink. [Editor's Note: We noticed.] If I were to try and explain it, I would go with this: it brings out innocence and girliness, and it suggests a vulnerability as well as a sense of surrender that is ideal in women from a heterosexual male perspective. It's a conscious design choice a woman makes, one that demonstrates she knows what you respond to and she's willing to be that fantasy. It puts you front and center of the erotic experience, without making you self-aware. It strikes that perfect erotic balance.
The power of pink
When I first began to make 3DX, I wondered to which extent I should prioritize my own visual preferences over those of my larger audience. Naturally, it was impossible to do anything else. I can only render scenes that work for me. Scenes that arouse me. I am my own best judge, after all. To paraphrase the drug dealer's adage: I probably shouldn't get high on my own supply. But at the same time if I feel nothing whatsoever then this job becomes almost impossible, right?
So pink found its way into my scenes, and it's there to stay. But what is its added value to dickgirl porn? You might think that a girl with a dick has some other priorities than being the most feminine possible incarnation of herself? You'd think her extra set of genitalia is introducing some complications there. I disagree.
Dickgirls can be an interesting fantasy to men and women, if done right. A strong appeal to the desires a girl may have is where you find a female audience. There's not a girl in the world who hasn't once thought of what it'd be like to have a dick. And there are many women who have fantasies of dressing up in ways that aren't always socially acceptable. As a guy, it seems to me that for women, clothes and sexuality are a lot more tied-together than they are for men. Women live with the expression of their sexuality through clothing. Men more frequently just look for something to wear.
A full-on fantasy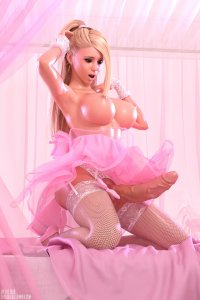 So what happens when you have a girl that addresses the wish-fulfillment part of having a dick, and also clothes herself to be as sexual as possible. A girl who makes no excuses for her sexuality, who places it front and center and indulges in it completely? We're talking about a platinum blonde beauty with a big pair of tits, dressing as tantalizingly as possible in a pink getup, with a big fat cock sticking out from underneath her dress.
When a girl who defines herself through sexuality gets a cock to play with, think about what that must do to her. How she almost owes it to herself, if not the world, to make the most use out of that thing as possible? Imagine the weakness in her legs when she gets hard. The way her hands grab into the fabric of her clothes as she struggles to maintain her composure. The sighs, the moans, the building sensation of an orgasm. It's the girliest thing you've ever seen, and that's not despite her cock, it's because of it.
It can't be just about giving a girl a dick. That's not sufficient. It's about giving the girliest girl a dick, and seeing what she does with it. Whatever she does is bound to be more exciting than what anyone else would do, because sexuality defines her. That is what pink adds to a scene.