Tomb Raider. A title that came onto the video game scene back in 1996 on the Sega Saturn, DOS and Playstation and took the world by storm. Despite the smart level designs and mix of free-roaming and rewarding environmental puzzles, what changed the gaming industry was Lara Croft. She was a woman who explored ruins, shot enemies, scaled walls and was an overall badass. Lara presented a completely different interpretation to what women could do without a male counterpart.
While changing what it meant to be a woman in gaming, she heavily influenced other things. She became an internationally known sex symbol, one of the earliest in the industry. Pornography based on her surfaced due to her popularity and sex appeal to gamers and non-gamers alike. She also inspired many 3DX artists because she was the first lead to have a sexual element to her. What's not to love about this woman? She changed a multitude of things and opened a gateway for other leading women.
Nude Raider 
Nude Raider. Anyone who is a fan of Tomb Raider or Lara Croft in general knows about this. The 1997 mod that became arguably the first attempt at 3DX at any level. While not being the first nude mod in gaming as a whole (there were attempts at nude Samus in Metroid rom hacks before this) this mod in particular probably birthed 3DX and ultimately 3DX porn. A female lead who was not only adventurous, independent and kick-ass but also well-endowed? Who wouldn't want to see what's underneath it all? The nude mods didn't stop there. People have continued to keep the idea behind Nude Raider alive with multiple nude mods for different Tomb Raider games. Here is a site of nude patches for Tomb Raiders 1-8. There is also a nude mod for the Tomb Raider reboot.
Now, there are some people who aren't too fond of their favorite heroine showing all while exploring ruins. But then, others like to keep a rather colorful imagination while playing the game. There is just something that is rather appealing about seeing a naked Lara Croft going about her adventures. Watching her scale walls or climbing mountains bring forth ideas of just how flexible she really is. Seeing her wield guns with a no-nonsense attitude could make for a steamy sexual encounter in real life.
Sex Symbol Status
Lara Croft was created to fight off the predominantly negative female video game roles. She can speak several languages and is knowledgeable with an array of weapons. Lara was born with a silver spoon in her mouth but walked away from it all to travel and explore the unknown. Creator Toby Gard avoided hyper sexualizing Lara as well as avoided dumbed down character traits. The goal? Keep her realistic in build and levelheaded in nature.
It was promising enough until Gard accidentally increased Lara's breast size by 150 percent. The creative team insisted that the change stayed. Thus, a well-endowed Lara Croft was born. Tomb Raider's debut made $14.5 million within the first year. Whether the success was due to being an independent badass or having unnatural proportions, she became someone that everyone had at least heard of if not seen. She landed a multitude of sponsorship opportunities for swimsuits, credit cards, music videos and much more. Robert Ashley of Official U.S. Playstation Magazine described Lara Croft by saying that for the first time ever, a video game character was openly thought of as sexy. Jesse Schedeen from ign.com stated that she is quite possibly the first gaming icon to be a mainstream sex symbol.
Lara Croft has appeared in several issues of Play's Girls of Gaming special and Playstation Magazine's Swimsuit special with layouts portraying her partially nude, in bikinis and in revealing cocktail dresses, either in 3D form or through an actress cosplaying her. In 2008 she was number one and two on two UGO networks list of hottest video game characters. Lara was also number one on GameDaily's "Top 50 Hottest Game Babes on Trial" during the same year.
You cannot overlook the recognition received from her sexiness. And while Tomb Raider itself has undergone many changes including a full reboot in 2013, Lara Croft is still considered a sex symbol; however, it's changed. Tom Meltzer, a writer for The Guardian, states in regards to being a sex symbol still, "I think so, but it's sort of in a different way and it's more than being just a pure visual. It's not over sexualized. It's not the pneumatic breasts and the midriff-revealing top or the hot pants. But I'm not going to deny that she's a beautiful young lady."
With modern console gaming pushing total realism in video games the proportions of Lara Croft from the 90's would look cartoonish today. However, even with these changes, the new Lara isn't terribly different from the old. Her curves aren't so unnatural but she's still enticing. The infamous hot pants are now cargo shorts; however, a few reviewers have mentioned that the new Lara's tank top cut is lower than the combat vests she wore before.
Lara's sex appeal is far from gone. It's just refined to stay with the ever-changing aesthetics of modern day video games. In order to continue to stay relevant I feel it is good to keep up with what's going on within in the gaming world. If Lara Croft had not fit the standards of gaming now she would be a thing of the past and a franchise that used to be something to admire. I feel Tomb Raider as a whole is a staple in the video game industry and should continue to be as such.
Increased Popularity and Inspiration to Many 
With all successful games there is a porn counterpart. In terms of 3DX there are a number of videos featuring Lara Croft baring all. Many showing her in a variety of positions as well as showcasing the rebooted Lara from 2013 to Lara from earlier years. Whether she is riding a man's cock, going down on someone's pussy or has a dick of her own and is pleasuring herself, there is a little something for everyone. Within Lara Croft porn there are some common themes. The biggest theme is her attire. Her hot pants and low cut midriff tank top that shows off her figure leaves little to the imagination.
3DX artists have used her attire and made it more skin tight to tease the viewer and have fantasies run wild. Another theme is the location. Lara is always on an extravagant adventure awaiting new ruins when she encounters someone and gives into her sexual desires. When you do searches for Lara Croft porn it's hard to miss. The elements are the same in game as they are out. There is also a plethora of live-action porn of women dressing in the infamous hot pants and midriff revealing tank top encountering muscular men and ultimately becoming submissive to their lustful desires.
Aside from the 3DX and live action porn of this heroine there was also film adaptations. Nothing can get much better than seeing a mainstream sex symbol on the silver screen. And what better person to portray her than Angelina Jolie. Lara Croft was officially on the silver screen for all to behold and her popularity continued to grow.
Lara inspired many 3DX artists due to being the first lead woman to have a sexual element to her. DeTomasso, an artist who started with CG in 2010, bases all of his work solely on Lara Croft. From nudes, to non-nudes and commissions, DeTomasso shows Lara in a number of different poses. Brunette hair framing her face just right, a voluptuous figure, and seducing eyes, it's no wonder why DeTomasso doesn't work with any other character.
Epoch, an artist known for many outstanding pieces of voluptuous women has a title called Clara Ravens that pays homage to Lara. Clara Ravens is a no-nonsense woman who goes on adventures to retrieve priceless items. She is encountered by someone or something and eventually subdued. Clara caves into her lustful desires and has her holes filled. Speaking of DeTomasso and Epoch, we will highlight them here at Affect3D next week, so keep your eyes peeled for them!
There are Deviantart artists such as forgekyle, SirDeBasik and Vik3DX who have made works featuring Lara Croft. Her curvaceous body and stunning looks can't help but to inspire. Whether to create characters by way of influence or using Lara in various works, she is someone who will remain a permanent model of sorts for 3DX artists now and for those to come.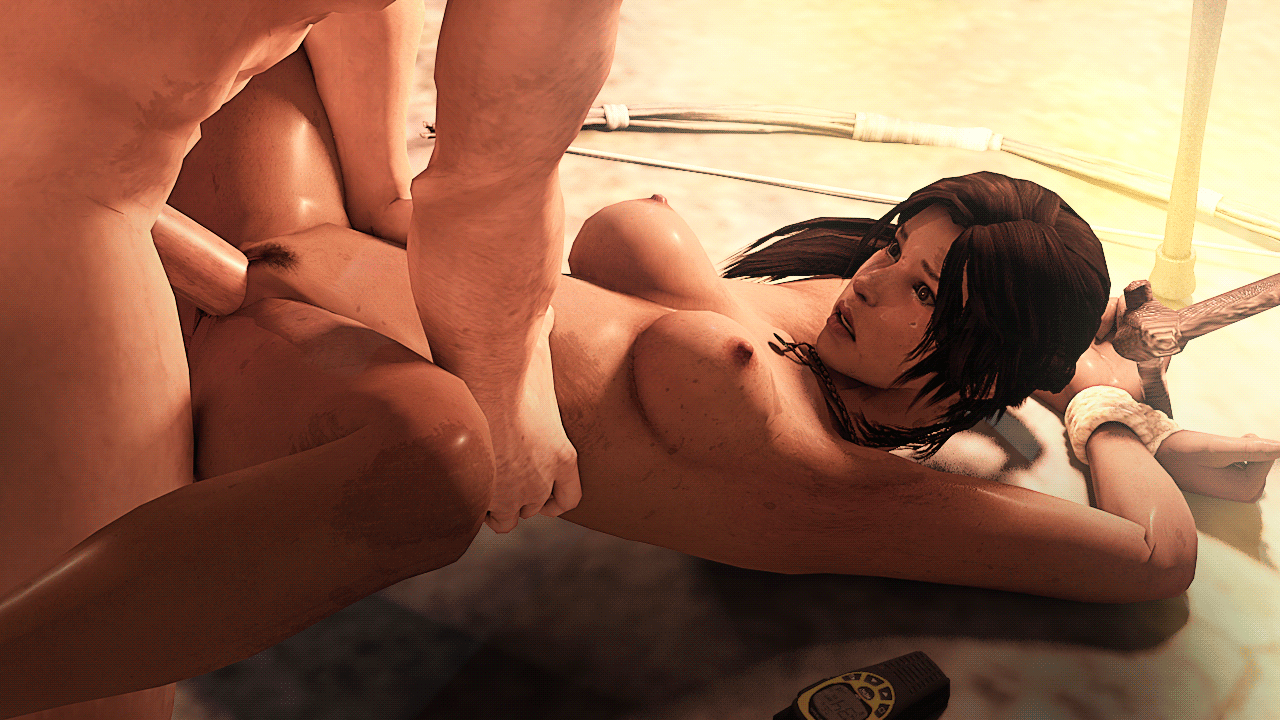 Source
Conclusion
Lara Croft is one of the most iconic women in video game history. A well-endowed and kickass woman introduced a new type of female lead in gaming. She became not only a sex symbol but also a major influence in the 3DX world. As a character she inspired 3DX artists due to having a sexual element to her. She was the first of her kind to birth a new art form. Lara has continued to remain sexy while adapting to the new standards of gaming. She still appeals to gamers and non-gamers alike and her influence will remain a permanent part in both the gaming and 3DX world.
Featured Image by DeTomasso: http://orig14.deviantart.net/d27d/f/2014/235/3/b/croft__lara_croft__by_det0mass0-d7wduxw.jpg