Neck slender and tilted, with skin so soft and eager.
Breasts ample and firm, yet soft and bouncy – the best kind for play.
Legs for days; sauntering; bending; spreading.
Hips made for hugging, for dragging mouths along, and following their curve down to –
Well, that description could fit most porn throughout the ages. What comes next, though… it's a relatively recent happening that there could be anything other than a cunt.
Mixed genitals, or intersex folk, have been known for a very long time, but treated most often with revulsion and ostracization. Even the few cultures that treated them as somewhat transcendant beings still pushed them to the fringes: they were anything but ordinary, and viewed as such. Flirtations with them in literature and art ran roughly along the same lines, turning them into jokes or abominations.
Porn changed that.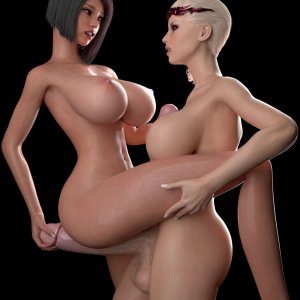 It was hardly overnight, or a binary swap from "horrific" to "gorgeous," but the reviled "shemale" and strange "futanari" gave way to tasty "dickgirl."Ashamed jerking gave way to glorious orgasms, and dickgirl porn proliferated. With the quality of art and effort poured into it these days, one could even say celebrated.
One could say it's a sign of how times change, that the mention of a cock and a cunt on one body could elicit more curiosity and interest than confusion and disgust. It's undeniably that in part, yes, just as we have international trade and digital porn to thank for niche groups expanding into full-fledged communities.
But it still comes down to the efforts of the artists and entrepreneurs who decided that not only could dickgirls be perversely exciting, but they could be real fucking sexy. This kind of porn offered something unique in a world largely populated by pussies and dicks on separate bodies – a fantasy we could easily grasp in 3D art.
These pioneers made porn with the same loving care of any enthusiastic fetishist, brought out into a space where it wasn't illegal smut (for most of us) that could get us thrown out of jobs, families and homes. While any of us enjoying some DIY time to it can attest to our appreciation, this also helps push dickgirls away from 'fringe fetish' toward the fetish mainstream. And that's something we can really give thanks for.
November is a great month for toasting people who've done us right. So here's to the 3DX pioneers, and all the tasty porn to come~