I had completed Bioshock Infinite a little over a week ago. It's a great game with wonderful graphics and some minor flaws, but the thing that left the biggest impression on me was the story. The ending and the story building up to it left me shocked at what happened. After everything I had went through, after building a connection with the characters Booker and Elizabeth, I couldn't believe what just transpired. But after a few minutes, I started thinking about it more and more.
See, back in the day, the most you had for a story in a video game was shoot/hit anything that moves, hit the ball with a paddle or "The Princess Is In Another Castle". But nowadays, video games have driven a new narrative in storytelling, be it from Bioshock, Mass Effect or the new Tomb Raider. If you wanted to get this kind of storytelling beforehand, you would watched a movie, go to a play or read a book. Now gaming has evolved from being just a thing for kids to a form of narrative, one that you can interact with. With storytelling changing the way we look at gaming, is it possible for it to do the same with 3DX?
Just think about it. When you're playing a game as the protagonist, you sorta feel this connection with that character and maybe some of the characters. Or when you're reading a book or watching a movie, they always start with you getting to know who the characters are. Eventually, as you delve deeper, their actions and consequences have an effect on you, whether good or bad. You don't want to see nothing bad happen to the protagonist or maybe you do. Even though they may not be real, you have this connection with the character because of the way the story was presented.
In 3DX, we look some at today's characters and think of them as just for fucking. That's our introduction to them. Instead of seeing them as just that, we could maybe see them in different light. A character will eventually need to evolve. People will want to know more about the character, know what they're likes and dislikes are, what their back story is and what wild adventures they'll have (on top of the fucking). As the interest peaks, so should the development of your character.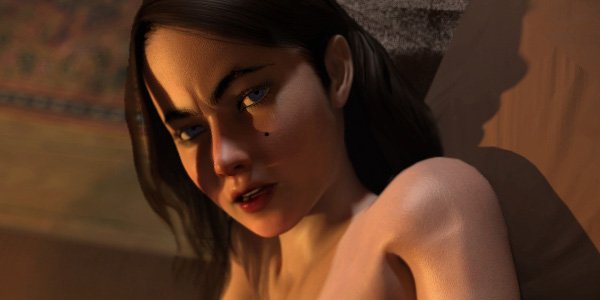 Look at Erogenesis' Lali. If I saw just a pic of her, I would that's a nice looking character. But as I read the comics featuring her, I learned more about her and realized how well built she is, not just graphically, but character wise. The stories provided by the comic created great details of how the character acts, from being playful during her me-time or sex to being dead serious when going on a dangerous mission. Ero even had Lali break the fourth wall, talking to you like you're right next to her and telling you things she tells in confidence. The more I learn about the character, the more I felt connected to her. Instead of just being a pic, they become a vivid character that I had a different view of than before.
That's not to say Lali is the only one. There are countless others like her in the world of 3DX. Fullytank has stated there's more to the paladin and apprentice than just fucking monsters. Characters like Blackadder's Gisela Moreti and Epoch's Clara Ravens have evolve from being their versions of Lara Croft into full-fledged characters. And even Umemaro's Dr. Shoko Sugimoto has more to her than meets the eye. The use of these characters in various narratives helped in creating a better understanding of these character and their motives. Without it, our connection with the character would be minimal.
Although we have established characters, but what about those whose backgrounds haven't been made? There are hundreds, if not thousands, of 3DX girls who haven't been developed enough. There's a few reasons why this may be. For some artists, it could be due to laziness. There's a chance the artist didn't think of the character's background deeply or doesn't want to delve deeper. There's also the factor of time. There can be so many stories or ideas in an artist's mind, yet so little time to complete them. And there's also a change in direction. An artist may feel a character's canon should be changed around, leading to possible confusion between how the character was previously seen and how they are seen now.
Whatever the case may be, storytelling will help provide a connection between you and the character. Eventually, I feel we'll start seeing more character development in the world of 3DX. Maybe there's more to miro's Ayako than just having a roommate and a boyfriend. Maybe there's a reason why my own character Lana doesn't do vaginal. Who knows? What I do know is that by creating more tales featuring these characters, there will be a sustainable growth in the way people look at 3DX.
That or we could just wait for the DLC. 😀