The topic of the Uncanny Valley is all over the internet, and is heavily researched academically as well. That said, it is safe to pull a definition from Wikipedia. "The Uncanny Valley is the hypothesis that human replicas which appear almost, but not exactly, like real human beings elicit feelings of eeriness and revulsion among some observers." The problem is that both this definition, and the vast array of differing opinions on the subject, reduce the Uncanny Valley to an entirely arbitrary phenomenon.
A Matter Of Semantics
So what makes the Uncanny Valley arbitrary? Semantically, "almost, but not exactly" presents a point that is quite hard to nail down. The majority of fantasy races, aliens in Star Trek and other science fiction series, and dickgirls all fall within this potential range. I highly doubt that many of you would find any of the above revolting.
Secondly, "some observers" implies this is not actually a problem of major significance, or that there is uncertainty about the scale of the issue. "Some" is not equivalent to "all," "most," or even "many." What is it such a hot topic then? When the nightmare fuel strikes, the effect is quite powerful.
An Evolutionary Possibility
The power of the revulsion experienced by human-like images in the Uncanny Valley leads many to believe there is an evolutionary source for the phenomenon. The most common possibilities suggested are a relation to mate selection, fear of death, and pathogen avoidance. These theories suggest that the reaction caused by the Uncanny Valley is an adaptive function to aid survival or avoid bad mating choices that would result in an inferior offspring.
However, while these possibilities are intriguing, none of them are conclusive. In anthropology, one cannot seek an evolutionary answer until cultural factors have been ruled out. In the case of pathogen avoidance in particular, the fact that we use pathogens for cosmetic enhancement is a strong counterpoint. Botox, derived from the botulinum toxin (the same source as botulism), is popularly used to reduce the appearance of aging. So, this presents a problem for the evolutionary theories, as we risk survivability for beauty.
Human Augmentation
3DX is a wonderful medium for showing us the future of human augmentation. It is also criticized for falling into the Uncanny Valley frequently. It certainly does provide a medium for exaggeration of proportions, but so does cosmetic surgery. A bad boob job is just as visually dissonant as 3DX balloon tits. Look at natural breasts and surgically enhanced breasts. They don't look, feel, or move the same. We also distort the human form with things like ear gauges, which can also appear unpleasant if you aren't culturally primed to them.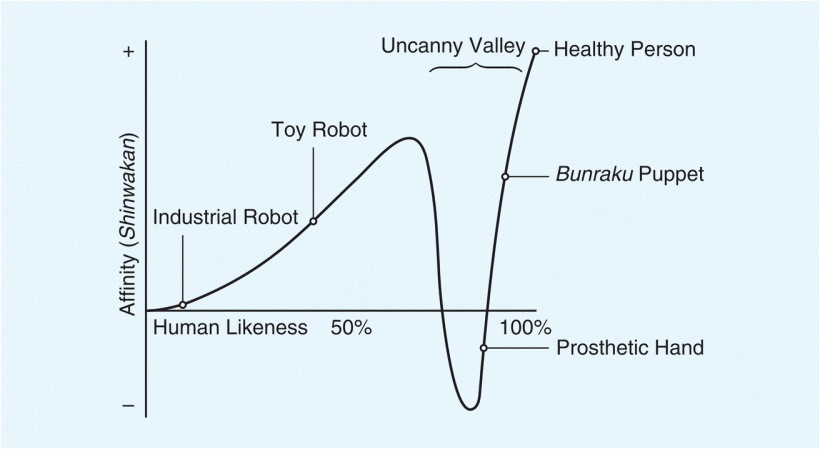 It is the arena of human augmentation where the Uncanny Valley truly applies. Masahiro Mori originally proposed the concept in relation to robotics and prosthetics. In fact, Mori suggests in his essay that we design augmentations to hit the "first peak" of the graph, before falling into the valley. Perhaps this is why characters like Adam Jensen from Deus Ex are sexy or badass, rather than unsettling. While his limbs do resemble the human form quite closely, we are obviously not made of carbon fiber.
Mori also suggests that motion amplifies the effect of the response. Not only are we familiar with the human form, we are familiar with human locomotion. So, if something seems slightly off, we are even more aware of the wrongness when the thing is in motion. What does this mean for 3DX? The still image set is a much more forgiving medium to work with. Contrary to the theory, however, it is easier to pick out details on a still figure. On the other hand, the job of animators is considerably more difficult.
Culture And Exposure
Culture is a major determining factor for our baseline norms and preferences. The ear gauges I mentioned are not dissonant for people where they are a cultural norm. In fact, people in those (sub-)cultures prefer them. Cosmetic surgery has become increasingly prevalent in several cultures, and the results are therefore trending towards preference and desirability. However, this is a relatively recent change.
This leads to the second normalizing factor, exposure. The more we are exposed to something, the greater our tolerance, and potentially eventual acceptance become. The more we see cosmetic enhancements, prosthetics, dickgirls, and other impossibilities depicted in 3DX, the more we will come to accept them. As a matter of fact, Marie Fasolt shared the experience of going from disgust to arousal over dickgirls. She describes the experience as overcoming cultural dissonance through exposure. So there you have it, our very own social media mistress is a case for the point.
However, the method of exposure is also important. This involves additional stimuli. For instance, horror vs. comedy. The same malformed thing can be depicted with the additional atmospheric effects of horror, and we will be moved towards a horrific response to the thing. On the other hand, if we portray it tripping all over itself to some Benny Hill music, we would be more likely to find it funny.
2DX And Alternate Opinions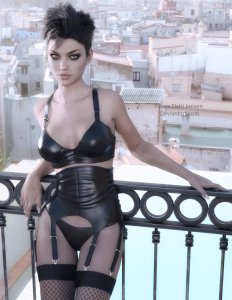 Apparently 2D artists are more sensitive to the Uncanny Valley. I honestly have no idea why. There a many 2D artists, both modern and historic, that produce incredibly realistic work. There are also many that distort human features to evoke shocked reactions. I think this also falls the area of additional stimuli priming your for a given reaction.
Bianca Rose and I both seem to think the Uncanny Valley is silliness. We do have very different opinions beyond that, though. She holds that the effect is the result of an irrational instinct, whereas I hold that it is cultural. In defense of her position, we do see the Uncanny Valley cross-culturally. I just don't believe any of the specific arguments for how it is an evolutionary behavior are strong enough. Nor is the effect consistent enough.
Conclusion
If you Google the Uncanny Valley in images, you will see numerous examples of the graph, with a variety of different characters placed at various points on it. Many contradict each other as to where a character belongs. This is the effects of cultural perception and individual preferences influenced by exposure. The Uncanny Valley is not universal, nor is it conclusively evolutionary. It is completely subjective.
Sources:
https://en.wikipedia.org/wiki/Uncanny_valley (Yes, I used Wikipedia. While this is generally an academic faux pas, the topic is a big one, and the entry references a significant amount of research.)
http://ieeexplore.ieee.org/document/6213238/?reload=true
Image Sources:
https://www.deusex.com/
http://ieeexplore.ieee.org/document/6213238/?reload=true
http://janedj.deviantart.com/art/My-first-Victoria-7-587870710
Video Source:
https://www.youtube.com/user/Popscivideo